Part of our trip to Bhutan this year included bookending a few days in Kathmandu. My wife has been Kathmandu a couple of times before and always had good memories of her time there. Now I will get to see what she was talking about.
We flew into Kathmandu via Emirates Airlines from Newark, NJ with a short stop in Dubai. The Emirates flight from Newark to Dubai was awesome. The large plane was practically empty. My wife stretched out in the 3 or 4 seats in the middle section and I had 3 seats to myself by the window. It's not often you get that situation these days especially on a long, overnight flight like that. The flight from Dubai to Kathmandu was quite the opposite. We made the long journey to the no-frills terminal and waited for a while. It was packed with people too. The flight was also crammed and not the nicest plane either.
We arrived in Kathmandu in the evening. We got a taxi for ~800 rupees that took us for an adventurous ride through the streets of Kathmandu to Patan, which is on the south side of the city. Nothing like having your first introduction to Kathmandu in a taxi at night!
We booked a place called the Yamba Traditional Home in the Patan area near Kathmandu. This area was recommended to us by a lady, we call Jane, that we met on the Dolomites trek who had lived in this area. Thank you Jane! 🙂 This was really nice because it was away from the tourist area and was in regular neighborhoods. We were met by our host Pradeep next to Patan's Durbar square. He led us through the dark, narrow and dusty streets to the Yamba Traditional Home. This place was like a little utopia nestled in a back street of Patan. You would never find it if you weren't searching for it. Our 3rd-floor room was very long and roomy and the bed was super comfortable. I haven't slept that good in a long time. Even with all the dogs barking all night long too.
Patan
We walked around Patan Durbar Square in the morning before breakfast since we were up early. Experiencing Durbar Square first thing in the morning is so surreal. The locals were out and about for their morning prayers. Others feeding the pigeons.
The after effects of the massive ~8 magnitude earthquake that shook the area back in April of 2015 are still blatantly obvious. Many of the very old monuments are covered in scaffolding or propped up by large wooden beams. It is extremely dusty too. Many people, including us, don dust masks while walking around. Just the taxi ride to Yamba Home without my mask had me feeling the dust in my lungs.
Despite all the leftover destruction, Patan was magical. It really makes you feel alive. There is so much going on and your senses come to life. There is so much to see and experience. The ladies selling fresh vegetables along the road, the constant sound of the metal workers hammering out their metal wares, and unbelievable amounts of good being transported on bike and mopeds.
After our morning jaunt around Patan, we headed back to the Yamba Home and made our way up to the roof for breakfast. Pradeep's mom made us a delicious breakfast. We chatted a bit with some of the other guests while ate. Pradeep also gave us some great directions for places to check out. He would have us take traditional transportation to the places we wanted to see and then just take a regular taxi back. It was great and all his instructions were spot on.
Boudhanath Stupa
After filling our bellies with a good breakfast, we headed out and made our way North into Kathmandu to check out the big Stupa in Boudanath. Pradeep recommended that we walk down to the river, cross it and then pick up an electric tuk-tuk to Boudanath. We headed down through Patan and crossed the muddy, smelly river which was laden with trash and cows grazing in it.
We found the tuk-tuk just over the bridge and hopped into the back. It was like the back of a very small pickup truck, with corrugated metal sides and roof and town bench seats on the sides. We bounced all over the place as the little vehicle made its way over the extremely rough dirt roads into Kathmandu. We continually stopped and picked up more passengers until we could no longer cram any more into the small area. It took over an hour until we finally got to Boudanath. Quite the adventure!
We arrived at the stupa around 2:30pm, paid are entrance tariff and headed in. We searched out somewhere to get some lunch. We found Nani's Kitchen with an amazing rooftop view of the stupa, It took a little while to get our food, but it was a gorgeous day and the view was incredible. I had the Nepali Set which was a large plate combining many little portions of some common Nepali foods and no dead animals. It was right up my alley! I washed it all down with a large Everest beer. Yum! Denise had a fish on a plate with some sauce. She enjoyed it.
Walked around the Stupa and the surrounding area while letting our late lunch digest a bit. There is a lot of good people-watching around this area. We also hit some back streets to get a look at some different areas.
We then headed Southwest from the Stupa to the Shree Pashupatinath Temple where they perform open-air cremations. We had cut through Kailash Danda, which is said to be a historical landmark but I was not able to find any information about it. It was a large grassy field on a hill and it overlooked much of Kathmandu. There a ton of monkeys, a few cows and a lot of trash too. We cut down to the river from there and came into the Pashupatinath temple area from the back. We actually got blended in with a cremation processing which was for a child. It was extremely sobering and surreal at the same time.
We eventually got across the bridge and then were able to watch a couple cremations from the other side. It was a moment I still cannot really describe. It really puts death in your face. We sat there watching and hardly said a word to each other. After the bodies are burned they sweep the ashes into the river, returning them back to the earth.
It was starting to get dark out so we found a toilet then hailed a taxi to take us back to Patan. It was much so much faster than the tuk-tuk, but surely not as much of an experience. Although taxi rides in Nepal are not for the faint of heart either.
When we arrived back in Patan Durbar Square, we scouted out a nearby restaurant and had a nice dinner overlooking the Square at night. It was a long day traipsing around the city and we were both ready to hit the hay!
Bhaktapur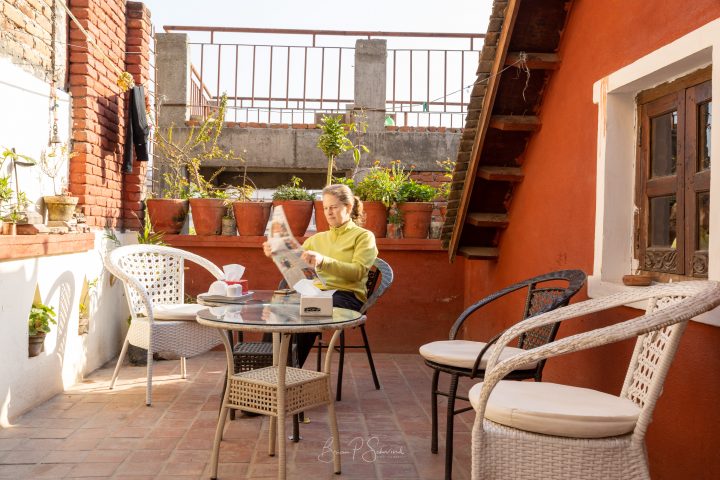 We had another restful night of sleep at the Yamba home and followed it up with a delicious breakfast on the roof the next morning. Pradeep sat with us for a bit and gave us all the information we needed to head over the area of Bhaktapur for the day. He suggested we take a local bus to Bhaktapur, which we could pick up about a mile away and would only cost a few rupees. Much cheaper than a taxi and far more culture!
Bhaktapur is one of the 3 major regions in the Kathmandu Valley and is about 8 miles East of Kathmandu City. It is a UNESCO World Heritage Site due to the well-preserved templates and wood, metal and stonework. Unfortunately, the 2015 earthquake also took its toll on many of these ancient temples and buildings.
We made our way through the streets of Patan following all the different statues and signs that Pradeep had us look for. We entered into a large parking lot area filled with little squatty buses. Pradeep said that the bus guys would know what we are looking for and that we can just walk around and they would find us. Sure enough, after about two minutes a your kid came up to us and said "Bhaktapur?" and we responded "YES!" in a quite amazed fashion. He pointed to the bus and we hopped on to the partially empty bus.
The bus filled to the brim pretty quickly and we were off on our way to Bhaktapur. We took some small roads and eventually got on the main "highway?" which is listed as H03 on Google Maps. The modern Nepali-style music blasted a consistent beat as we headed down the road. We stopped pretty frequently picking up more people than seemed to get off. I was amazed at how the younger kids immediately jumped up from their seats when an older person got on. When people had to get off it was quite a process getting through everyone packed into the aisles. Eventually, we got to Bhaktapur after about 45 minutes or so.
We were immediately confronted with guys offering tour guide services when approaching the ticket area to enter. At first, we rejected them but after thinking it over we decided to haggle a bit with one of them and we got him down to a reasonable fee. It was pretty worth it too. He really explained a lot of the history and what all the buildings were about. He also took us to a really good place for lunch. On a rooftop of course! He did take us to a singing bowl shop and the younger kid salesman explained all about how they make their wares. We didn't buy anything at first but I could tell Denise would want to circle back there again. Spoiler-alert…She didn't let me down.
Our guide then took us through a couple of art places too. Their painting were rather impressive in the amount of detail, but so was the price. We let him know we were not interested in that after the 3rd one and he finished up the tour after Denise headed back to get her singing bowl. Cha-ching!
We walked around some of the surrounding areas of Bhaktapur to take in the local culture a bit. We came upon a powerlifting competition in the middle of the one square. That was the last type of event I would expect to see in this area. However, it was well attended by young and old too. You never know what you are going to see. We also saw many people still living in make-shift Quonset hut-style structures which were supposed to be temporary from the earthquake. This area had really suffered from that impact.
Pradeep had invited us for dinner on our second night, so we picked up a taxi and headed back to Patan so we had time to get cleaned up before dinner. The dinner was excellent and was very much like the Napali Set I had at Nani's Kitchen the day before. I was loving the food here!
Off to Bhutan…
The next morning we had to pack up and head back to the airport to get our flight into Bhutan. We would be spending the next 10 or so days there on the Chomolhari Trek. More on that in another upcoming post. We enjoyed another good breakfast and said goodbye to Pradeep until we got back again. He got us a taxi which was ready for us on time and we were off for a different adventure.
Back in Nepal Again!
We were now back in Patan again after our 10 days in Bhutan. It was adventurous trip with some unexpected happenings, but all-in-all it was an amazing trip.
For our first of our last two days in Nepal we spent the day just exploring the backstreets of Patan. We checked out the places where you could hear the metal workers banging away on their crafts. Many of them had blankets or cloths strewn across their open storefronts. I wasn't sure if that was for our protection or so you couldn't sit there staring at them. We explored more temples that just seem to pop up anywhere. Sometimes we just stood on a street corner watching people go about their daily lives. Some of the things they can transport on a scooter or bike is crazy.
We checked a couple restaurants and bars testing out the beers and mo-mo's. We were trying to figure out who has got the best Mo-mo's in Patan. Jury is out on that. We settled in for the night. Now that we were well-versed in Nepal we decided that our last day in Nepal we would head up to Kathmandu Durbar Square.
The Trek into Kathmandu
We plotted our course and made the decision to walk into Kathmandu City for the day. It felt like a long walk, but my Garmin said it was only like 2.5 miles. It was at least an hour or more. However it was quite the adventure. Crossing streets in Kathmandu is like bungee jumping. There are scooters and motorcycles coming from every direction. At first we would wait for a local and just follow them, but eventually we got the nerve to do it ourselves. It is amazing how they all just go around you. You have to have a ton of trust. But is just works.
We eventually got to Kathmandu Durbar Square which was our ultimate destination. I didn't find it as interesting as the other Durbar Squares. We found a nice little place for lunch and refueled a bit before heading back to walking around some more.
We had a guy on a cycle rickshaw offer to take us back to Patan. At first he said ~1500 rupees and I said I can get a taxi for 700. The guy didn't look like he could cycle 2 feet let alone 3 miles. We decided to take him up on it because I felt bad for him and I also was curious if he could even do it. We hopped on and the guy could hardly get the thing moving. He was pushing the pedals with all his might and we finally started to move. It took him 2 minutes to get maybe 20 feet and then I pulled the plug on that. Sorry dude, but we would not have gotten back to Patan before our plane left the following day.
We hailed a taxi and got back to Patan in a reasonable time. We got packed up and cleaned up, then headed to the square for one last dinner out before heading to our next stop Dubai.
We enjoyed one final breakfast on the roof with Pradeep and then said our goodbyes to him and his father. I almost forgot to pay him which was a bit embarrassing. I know it was probably not an easy thing for him to bring up since there culture is not as up direct with those things as ours. I was thinking I had already paid it on Booking.com, but it was a pay at the place deal. we got it taken care of and hopped our taxi back to the Kathmandu Airport. Farewell Kathmandu!
Kathmandu was amazing. Yeah, it is dirty, dusty and busy but your senses come alive here. There is so much to see and the culture and history are amazing. The food is fantastic especially if you are a vegetarian. I would highly recommend the Patan area for its culture and it is less touristy. It is a little far out from the city and airport but it is worth it. I didn't venture into the Thamel area of Kathmandu which I heard is extremely touristy, so I can't speak too much for that. I would definitely explore Kathmandu as well. I would definitely come back here again!