When deciding on an early season 70.3 race this season, I chose Chattanooga since I thought would be good place for a Spring road trip vacation/race combo. We did a road trip down South last year with our dog Bentley which was fun, so we thought we would do it again.
For our race base camp, we chose a quaint little one-room cabin up on Lookout Mountain which was about a half hour from the race venue. I am not a fan of staying too close to the race area since being close to so many other triathletes can be a bit annoying some times. The cabin was nestled back in the woods and was very relaxing for getting ready for the race.
The race venue was downtown along the riverfront area and next to the aquarium. It was a bit cramped, but there was ample pay parking. The race expo area was in a small grassy area surrounded by a few restaurants and next to the aquarium. The weekend of the race was hot. Especially for May. I don't do well in the heat so that had me a bit worried.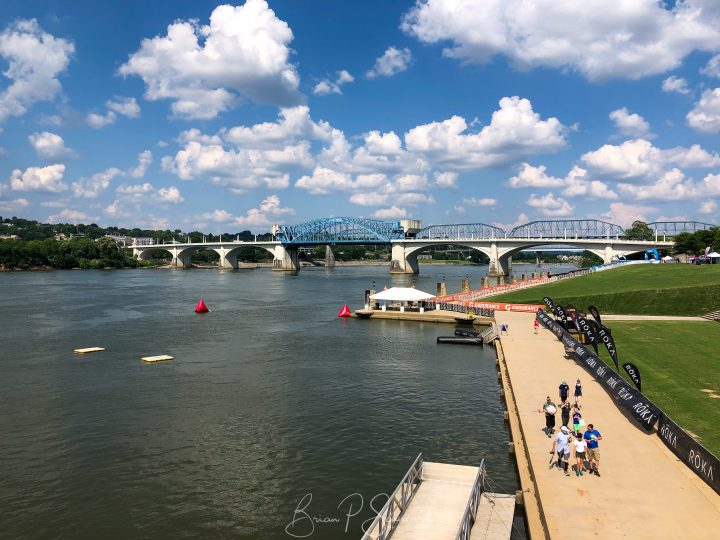 I arrived to race registration a little early. They were still training the volunteers on what to do when I arrived there, so we had to kill some time waiting. We hit a nearby restaurant with shaded outdoor seating while we waited. Bentley was a bit out of sorts this trip barking at everything that moved and every time one of us left which made things a bit tense. We also checked out the river which was just behind the expo area. The current seemed a bit strong. I was watching a paddleboarder paddle against the current and he wasn't gaining much ground.
We headed over to the The Feed Table & Tavern to meet up with my niece who had drove over from Nashville to see us. We had a nice lunch there and sat out on the shaded deck area. I would definitely recommend this place for food and drinks.
Race Day
All of the parking in downtown Chattanooga is fee-based. We were able to get a spot a few blocks away from the transition area. When I got down to the transition area it was very backed up in the body-marking area. I finally got into transition after about a half hour. Fortunately I have transition setup nailed down so that didn't take very long. I then proceeded to a very long line waiting to get on a bus to take me to the swim start across the river.
The bus line moved pretty quickly and I was able to get a seat with a guy from the Ironman Foundation. We had a nice chat as we made our way across the river to the starting area. I put on my wetsuit after departing the bus and made my way to another long swim chute line. Apparently this was a very well attended race because this line was really long. I chatted with another guy whose nephew was racing and would be one of the top finishers that day. This guy hadn't done a half in while and was a little apprehensive. Nice guy though and we had some laughs.
We stood in the swim start line for almost an hour until we started moving. People started peeing in there wetsuits and there were puddles all over the road we were standing on. It also started to wreak of piss. It was gross. When the line started moving you had to dodge all puddles. Nasty!
By the time we got close to the start, we realized no one was swimming upstream for the 200m like we were supposed to. Apparently it took the pros 5 mins to swim the 200m upstream due to the current, so they ditched that for the age groupers. Nice!
Swim
Once I reached the ramp down to the starting dock, we got single file and quickly made our way down and into the river. We swam diagonally across the river and then straight down under the bridges. I swam along the large steps that bordered the shoreline of the river keeping an eye out for Denise and Bentley. I didn't see them though. Before I knew it I the exit ramp was right in front of me. That was the fastest swim I ever. However, my time of 0:19:52 ranked 95th in my 50-54 age group so not really as great as it sounds. My Garmin recorded about 1400yds, which comes to about 1:28/100yds. That is my Z5 pace, so that shows how fast the current was.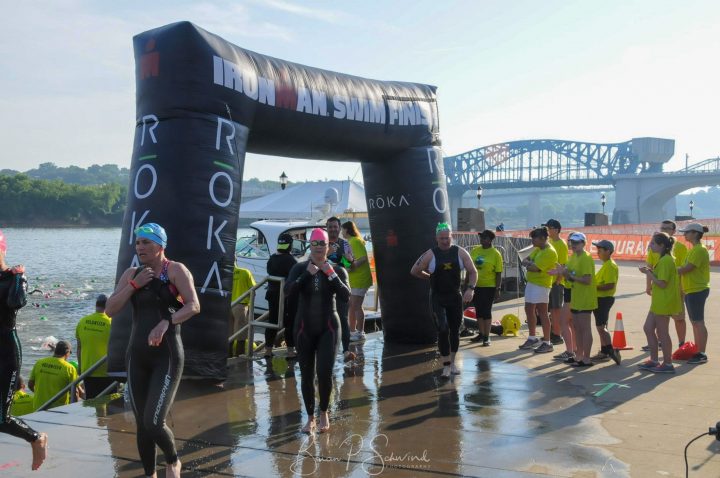 Swim Time: 0:19:52
T1
I exited the steep and slippery steps with some help of the volunteers and ran up the ramp through the crowds. I scanned the sides looking for Denise but didn't see her. Turns out she missed it. It took me just under 7 minutes to get on the bike in the third of a mile long transition area. Kind of long.
T1 Time: 0:06:51
Bike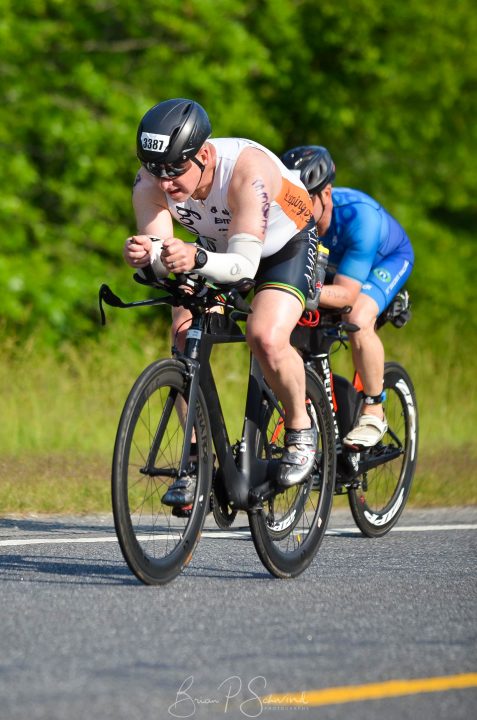 The start of the bike was bit rough. There is a slight uphill coming out of transition and then over some train tracks through a industrial area. The roads are concrete sections that were not in the greatest conditions. I would highly suggest taking your time here and easing into things a bit. A lot of opportunity for wipeouts here.
Once you get out of the city and make a left towards Lookout Mountain things get really nice. You then head South down Chattanooga Valley towards Georgia flanking Lookout Mountain on your right. Saying this is beautiful ride through the country is an understatement. So nice! The course is flat to rolling hills and you can really hold some speed here. It is a pretty fast course. There is a couple decent climbs, like the one after Chickamauga, but nothing too hard.
The course is rated to be around 2245′ of elevation gain over the almost 57 mile course(yes it is long). Both of my Garmin's recorded around 1890′ each and Strava corrected that to around 2020. This race falls right in between the very flat Eagleman and hilly Lake Placid. I finished the 57 mile course in 2:47 and change, with 0.80 intensity factor averaging 20.5mph.

Bike Time: 2:47:22
T2
The second transition took about 3 minutes. Not great for a bike to run transition, but it did cover 1/4 mile.
T2 Time: 0:04:22
Run
The temperature was starting to heat up by the time I headed out on the run. The first quarter mile is a short out-and-back up the sidewalk along the start of the bike course then heads down to the river on concrete(yuk) for short bit before gradually climbing up to the road. You are then on very open, concrete roads that parallel the river with no shade for the next few miles. The course is deceptively hilly.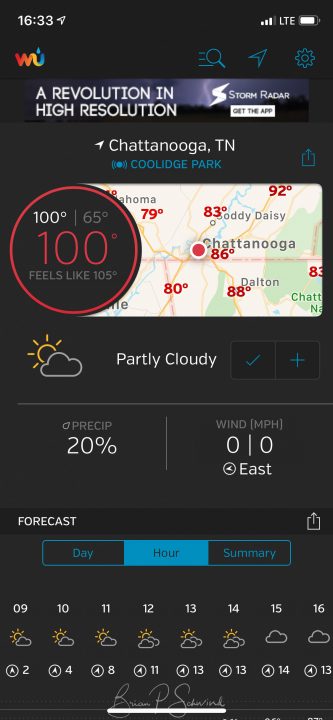 Around mile 5 (and 11) you will make a sharp right and head over the Veterans Bridge to the North side neighborhood. There were lots of cheering fans there to take your mind off of the hills, heat and hurt. Then a quick left and back across the river over the wood plank surface of West Street Bridge. There is also a lot of spectators on this bridge too. Once across the bridge you mill either make a left and then bear right for loop two or keep turning left and head back to the finish line.
The Chattanooga run course is surprisingly hilly for being in a downtown area of a city. The course is rated as having over 900′ of elevation gain. However my Garmin recorded around 515′, Obstri.com ranks the ran as a 3.1 in difficulty, where Lake Placid is a 2.4(912′) and Mont-Tremblant is a 1.9(811′).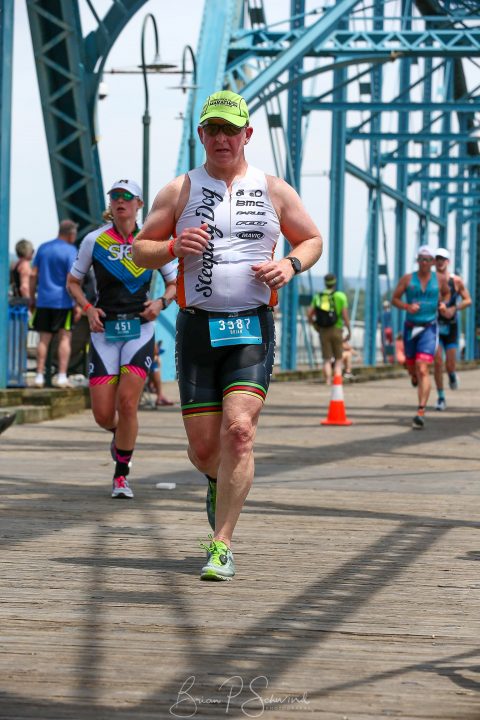 I was probably at my heaviest weight for a race here at about 190 lbs. Typically I am somewhere under 185 or so. With the extra weight, hilly course and the heat up to around 90, this run was not too impressive. I had a few periods of walking especially through the aid stations. My legs were very crampy. It was a struggle.
Run Time: 2:16:13
Finish: 5:34:40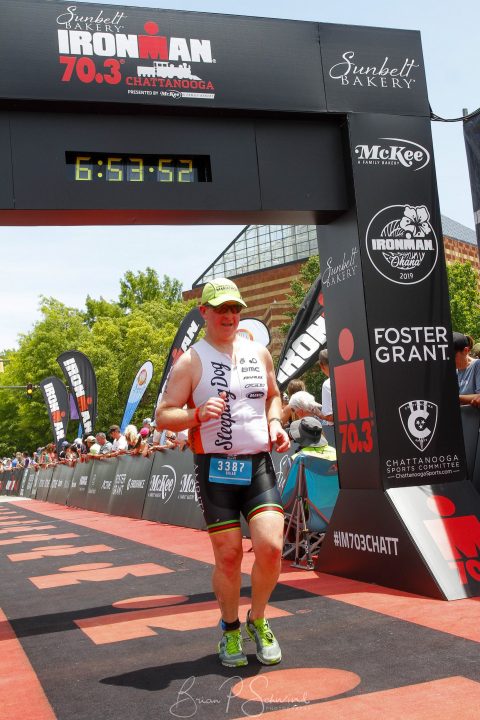 Summary
While my finish time for this race is only 10 minutes off my PB, the shortened and fast swim really throws this off. My bike time was pretty good, but my run just fell apart. Too heavy, too hot and very hilly makes for a bad combination on the run.
Overall, I would not be in any rush to go back to this race. The only part I really liked was the bike course. It was very scenic and fast. It was moderately hilly, but no quad crushers. It was a nice balance of challenging and fast. The swim has a reputation for getting cancelled. I feel like it is not a true 70.3 swim even without it being shorted due to the downstream current. It is hard to compare with other swims like Lake Placid and Mont-Tremblant. The run, well, that was not that enjoyable either.
Chattanooga itself is pretty cool town. There is a lot of good restaurants and places to go. We were a little hindered there since our dog, Bentley, was a bit out of sorts this trip. He was whining the whole way down and then just acting up and barking when we took him out to eat with us. Chattanooga restuarants are very dog-friendly even when you have an misbehaving dog. Next stop…Ironman 70.3 Maine!