I have wanted to do the Musselman Triathlon. I love the Finger Lakes region of New York and had heard it was a really cool local, privately-run triathlon to do. I had done other races in the Finger Lakes like the Peasantman and the Keuka Lake Triathlon and then they never disappoint. Of course Ironman ends up taking over the race the year I decide to do it jacking up the price a bit. I know many people were not happy with this and I really can't blame them. Regardless, my wife and I signed up for 2020 and then Covid hit which put it off another year. We headed up to the Finger Lakes the month prior to the race for weekend of course recon.
There were no major surprises with the swim and bike course since the swim is just rectangle in the lake and we previewed the bike course already. The original run course was a bit of doozy which we found out during our recon. I was not forward to that Barracks Road section around mile 8. However, at the last minute the race director changed the run course to two-laps of the abbreviated original course cutting out some major hilly part and especially Barracks Road. I have to say I was pretty stoked about it and the run would prove to be challenging enough for me since running is probably my weakest leg. A few people complained about it on the socials, but there are always a few purists out there.
We headed up to Geneva, NY on Friday before the race. Due to Covid, we had to pre-select a check-in time that day. We chose the 2-3PM slot since we could not check-in to our AirBnB until 4PM. The parking for the event was in the large grassy fields at Seneca Lake State Park. It was about a 15-20 minute walk each way to the Ironman Village and transition area. Kind of long, but a nice walk along the lake. We brought our dog Bentley along, who tends to overly excited in larger groups of people. He proceeded to jump entirely up onto the registration table and the table where they hand out the race packets and barking incessantly while we were checking in. Fun! Thankfully there were not a lot of people there at that time. Denise and I got sequential bib #'s and would be next to each other transition which was really cool. Hope they continue that.
We headed back to our AirBnB over on Cayuga lake which was about 25 minutes away. I don't like staying right near an even venue because I like to keep that energy low up to a race. We had a nice dinner at Wolffy's Grill on the Lake. They had a nice deck that overlooked the Lake. Our parents were along and enjoyed the place so much they went back again. For breakfast the next morning we headed New Hope Mills for some big-ass pancakes. Yum! That afternoon we did a 25 minute bike pre-check ride on the course. Route 89 right up the street from house. Followed that up with a short 10 minute run then took the bikes over to check them in.
Bike check-in was pretty smooth. We had selected the last time slot so most bikes were already racked when we got there. Transition was rather empty. There was a large open space at the one end and the racks only went up to bib numbers in the low 1000's. I wish they would have compacted it a little and speed up our transitions. Denise and I racked our bikes together headed back home to make our pre-race dinner. I had rigatoni's and Beyond Sausage. Denise had Salmon, potato and broccoli. We hit the pillows around 9 in hopes of a good night sleep.
The alarm sounded at 4 am. We both had an ok night of sleep. We had a quick breakfast and off to the race. We arrived at theh venue around 5:25 and were met with a very long, slow moving line of cars into Seneca Lake State Park. This created a little anxiety since transition closed at 6:15AM and we still had a 20 minute walk after we parked. I dropped Denise off at the park gate so she could at least get a head start since she has more to do in transition and I have been through it many times now. The line eventually started moving a little quicker and I eventually got a parking spot. I made my way to transition, jogging part of the way, and arrived with about 10 minutes until it closed. I quickly got every setup and generated a bit of a sweat which made putting my wetsuit on a challenge. I was ready just in time for transition closing.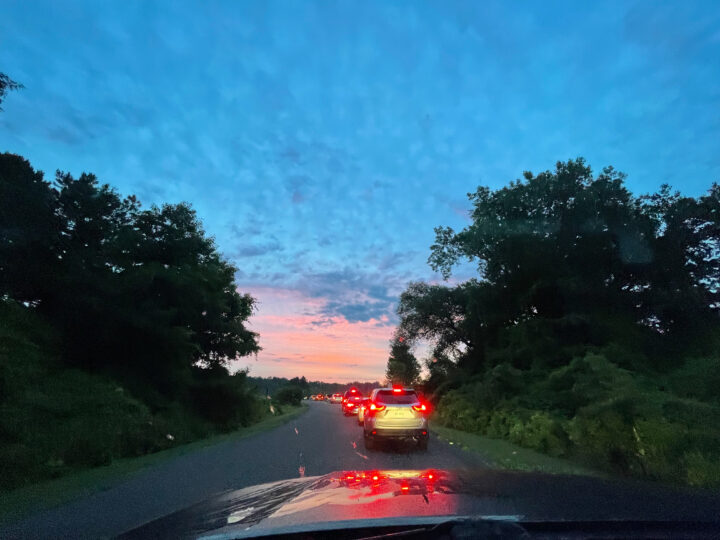 We said our goodbyes and good lucks and headed to the line to seed ourselves in our respective wave times. I lined up in the 37-40 minute range which ended up being exactly where I should have been. I toyed with moving into the next faster range, which sometimes is accurate but it has been awhile since I raced so better to be conservative here. The southerly breeze was looking to make things a little more challenging on the first half of the swim at least.
The Swim
The gun went off at 6:30AM and people started slowly trickling into the water in sets of 3's every 3 seconds. I was in the water by 6:41AM. I was in the middle lane of the 3 which was not optimal. It took a good 20-25′ or so before the water was of swim depth. I settled into the water and began my stroke. I took it easy at first but it still took me a good 300 yards or so to settle down. My wetsuit was a little tight in the chest too, which made things a little more difficult. I wanted to get inside the buoys to swim, but the kayakers were right up against that line which sucked. It is legal to swim in there but I also don't want to be dodging kayaks ever 100 yards, so I stayed outside. I eventually settled into my stroke and the buoys were ticking by rather quickly I thought.
Based on my Garmin track, as accurate that may be in the water, it looks like I was a bit zig-zaggy on the swim out. That would make sense since the wind is directly hitting you there. I didn't feel like it was that bad though. I thought I was off course more on the swim back since the red buoys on that side were so hard spot. Looking at my swim times I averaged 1:53/100y for the first half of the swim and 1:45/100y for the second. The latter being my goal time. Overall, I averaged a 1:49/100yd which is pretty average for me. Was hoping for a little quicker, but given it is first race in a while and conditions not great I guess that is expected.
The exit from the swim is a little tricky. As you make the left turn into the boat lauch area it gets real shallow for a bit and many people stand up and start walking. Then it drops off again, pretty deep too, before getting shallow again for the exit. I would highly recommend to keep swimming through that shallow area. I moved past several other people who were walking through that area. The volunteers then grab your arm and pull up the ramp.
The jog to transition was not too bad. Not a super long run like Ironman 70.3 Maine was, that for sure. I was racked at the other end of transition near the bike in/out so it was about a .25 mile from swim exit to bike mount. Most of it was in the grass which is nice on the feet.
The Bike
The bike was pretty much as expected since I covered it already in my race recon the prior month. The difference this time was the wind was out of the Southeast instead of the Northwest. This really changed pacing a bit and I feel made it a bit more difficult. Or maybe bit was just that I was trying to keep the same paces as I did before with a pretty stiff headwind this time. There was one woman who I way hopscotching a lot that had a perfect pace on the flats and downhills, then I would get into her draft zone on the inclines. I really tried keep with her during those times but I just could not slow down that much on the hills. Perhaps if I did I would have had a better run.
Regardless of the headwind, the ride was still nice and fast. I made a point to grab two Maurten gels every aid station and stash them in my jersey for training. I wasn't planning on using them on race day for the first time. They are expensive and you have to order them online, so I thought I would be my entry fee's worth. I got 4 of them and the last(of 3) aid stations didn't seem to have any.
The section from Vineyard Road, CR129 and the turn onto S. Townline Road, which contains the most elevation gain on the whole course, was a little more tiring than my recon ride due the headwind. You are pretty exposed on CR129, so the wind definitely played a factor there. My average speed dropped from 20+ MPH down to 18+ during that section. I was looking forward to getting past the rough section on S. Townline Road to enjoy some downhill and tailwind to get back into the 20's again.
The next section on County Route 131 is about 4 miles and is mostly downhill. I was able to really cruise here with the wind coming out of the South-Southeast. I think I averaged around 25 mph for this section. We merged onto Route 96A after this for the next miles. This section is mostly flat with a few short steep dips that you pretty much carry your momentum from the downhill to get you back the uphills that follow. The worst part about this section is that is that there are seams in the road every 15 feet or so which are really annoying after awhile.
The next left onto Kennedy Road is a smooth and short downhill. It is relief to get off 96A with the constant bumps every few seconds. The bottom of Kennedy is a very sharp 90 degree right turn onto E. Lake Road, so you really have to hit the brakes before you get to too much speed at the bottom. E. Lake road is pretty flat while it runs along the coast of Seneca Lake for the next 4 miles. Then it gradually ticks up a bit as it approaches an old railroad bridge, then gets a little steeper after the bridge. Regardless is not that steep but it feels worse that it is because you are so used to the flat for most of this course. Next you will merge back onto 96A again. This section was very recently paved and is mostly downhill. So you can cruise to the finish from here with little road seam bumps every two seconds.
The course was actually a bit short of 56. I recorded around 55.2 miles and many others on Strava look to be about the same. This was a really fun and scenic bike course with the farmland and two lakes. I didn't see any horse and buggies at all. Only a Amish family walking down the street in the Sunday best. The wind here can play a factor for sure. I think the optimal wind for this course would be a North to Northwesterly wind. Coming out of the South really slows you down with all those open sections in that direction. The Southern wind also makes the swim a bit more difficult too.
The Run
I ditched the bike and quickly put on my running shoes in less than two minutes. My initial thought was my legs were feeling pretty good as I headed out on the very flat section of the run course. The first 3 miles, ~6 in total, flank the shore of Seneca Lake through Seneca Lake State Park. I was doing a 8 to 8:30 pace and feeling like this could be good run. Many of my brick sessions I did in training were up to two miles off the bike fast and then settle back to a 9-9:30 pace. Most bricks were 20 minutes and a few going up to 45 minutes. So this was feeling pretty typical for me.
As I approached the 3 mile point I was gradually slowing down to around 9 minute pace. I quickly fell back to a 10-10:30 pace when I hit the uphill section going onto Main St. in downtown Geneva. My pace picked up again once I was up onto the flatter section of Main St. and downhill into the college before it leveled out again. The walkway back up to Main St. slowed me down again until I crested back to Main St. and down through town and back to the waterfront again.
Once I was on the waterfront again I settled my pace back to the 9-9:30 area again but my legs were really started to fatigue. Oddly enough this is the end of the range of my brick sessions, so I am in uncharted territory now and it is not feeling good. My last month of run training had not been going so well. My legs had felt so fatigued every time I ran and I felt like I never got in any quality sessions. I don't know if it was from overtraining, the heat and humidity of late, or due the the lower respiratory issues I had been dealing with for the last month or so.
I ran by the halfway point near transition where my Dad and In-laws were hanging out. My mother in-law said that Denise was out on the run already. I thought "oh cool" I will pass her as she was coming the other way. Or better yet maybe I could catch up to her. Or maybe not giving I was feeling kind slow now.
As I was walking through the aide station at around the 7 mile mark, Denise sauntered up behind me running all perky like. I guess that my mother in-law meant that she was in transition? I tried to run with her for a little bit but could tell she was feeling better than I was and I didn't want to hold her back. It kind of sucks because that would have been a great opportunity to run together. I now kick myself for not trying to push it a little more to stay together. At the time it just didn't seem like it was possible.
I kept on pushing trying to keep Denise in my sights. I felt like I was keeping a constant distance between us and eventually she passed by going the other way. She slowly began to go further beyond my sight. Good thing was it gave me something to focus on besides my fatigued legs. I did a little more walking as we hit the uphill onto Main St. again. That was until the girl in the bikini ran by. There was another guy walking in front of me and he looked back at me with big eyes and said "c'mon might as well take advantage of that motivation!" So we both started running again.
I was really hoping that Denise would not pass me again as she was coming up onto Main St. again from the college. That would really mean she was gaining time on me. I made it past that point where people were coming up from the college without seeing her…whew. I had started drinking Coke at all the aid stations since mile 7 and was even doing double-shots now. It really helped.
There was a threesome of hand-drummers on the campus sidewalk as you ran through the college which was cool. I was thinking how tired their hands must be drumming all that time as I made my way through on the second lap. It was pretty cool though and broke up the monotony a bit.
I made way back up to Main St., down again and back to the lakefront and into the finish line. My Dad and In-laws were nowhere to be found at the finish line. What the heck are they doing? They really have a hard time understanding how triathlons work. I eventually found them standing in the middle of the Event Expo area. I finished with a time of around 5:37 which overall is one of my faster times, but I feel that course should have been a PR race for me. My run was a 2:08 and given how mostly flat that run course shaving off 15 minutes is definitely doable for me.
I then waited around with Parents for Denise to comeback through by transition before she headed back to town. She still looked all full of energy and in good spirits when she came through. I planted the parents for a bit while headed to the food tent to get something to eat. The food was pretty lame. They were serving large BBQ'd chicken legs with potatoes and some other stuff. There was no vegetarian/vegan options of any sort. 🙁 I asked the head guy if I could just get some potatoes and he finally agreed with some hesitancy. Denise has asked for this later and they told just take the whole thing. What a waste! The good news is they had Athletic Brewing Co. NA Free Wave Beers there which was awesome. I had about four of them!
As time got closer to Denise getting to finish, I had to forcefully get the parents to move to the finish line. I still don't quite understand what their hesitancy was? Why the heck are you coming to watch a race and you don't want to see someone come down the finish line? Whatever!
Denise came cruising down the finish line all smiles. She did a little "jazz hands" dance as she ran by us. Denise finished in 6:23:29 and even beat my run time by two minutes! I will never hear the end of that!

Denise improved her time by almost 40 minutes from Ironman 70.3 Maine back in August 2019. The swim at Maine was pretty rough so that definitely added some time to her swim. Getting a Triathlon bike cut a 20 minutes off her bike too.

Conclusion
Ironman 70.3 Musselman was a really good race and I would highly recommend it. It is probably one of the easier courses I have done and also very scenic as well. The Finger Lake region is great and there are some many things to do up there. Wineries, breweries and the lakes. If you are looking for a fun 70.3 and want to put down a fast time this is a good race to do it. We will be back again!