Less than 27 days left until Ironman Lake Placid. Week 22 was another tough one. In addition to 18 hours of training this week, the heat and humidity have been brutal. It is a constant sweat-fest! Some of the tougher aspects of the week featured 4x60sec run pickups on Monday and some 2x300m building speed sets in the pool(after some 6x50s fast) on Wednesday had me gasping for the wall. Thursdays 2x8min tempo ride ended up on the trainer since a nasty thunderstorm rolled through with possible tornado warnings to boot. After surviving the shorter, but intense workouts of the week then came the long workouts of the weekend.
On Friday, I headed over to Dutch Springs for my LSD swim of the week. I had off on Friday and was looking forward to getting out of the chlorine and into some cool fresh water. I was scheduled to swim 1:05, so I figured I would swim at least the full 2.4 miles at a comfortable pace to get an idea of what my time would be at Lake Placid and also help determine where I would seed myself. The weather turned out to be nice, but still warm. The top 2-3 feet of water at DS was pretty warm, but just below that was much cooler. Not sure what the temps were, but it was borderline wetsuit-legal on top I think. I made my way around the quarry using a route I kind or preplanned in my head. I completed the 2.4 miles in 1:19 which is a little better than what my original Lake Placid goal of 1:20, and I really wasn't pushing it either. Pretty happy about that. Now I am wondering if 1:15 should be my new goal?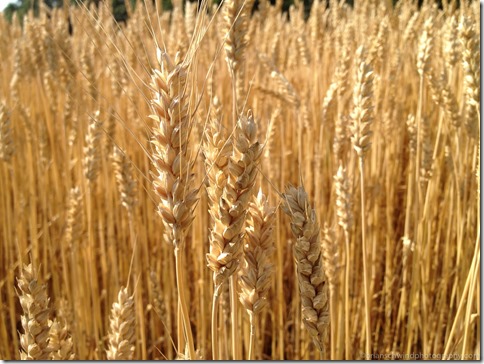 Saturday's plan was a 6:00 hour ride followed up with a 30 minute brick run. I decided to venture out into some new territory after doing two of the last 3 rides on the Quad County Metric course. It was getting a little old. I decided to try out the Leaser Lake ride course which heads North and West from the Lehigh Valley Velodrome in Trexlertown, PA. I had ridden some of the roads previously, so I knew it was going to be a pretty hilly ride. Despite the hills, the ride is so beautiful as it winds up through the farming valleys of Berks and Lehigh counties. The views distract you from the rolling hills.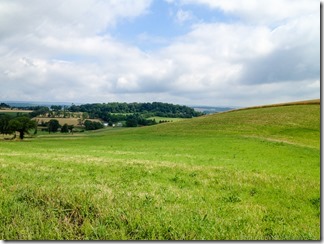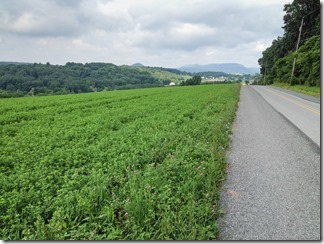 After riding Northwest just short of reaching the Blue Mountain, I made a right turn onto Mountain Road which runs West to East paralleling the mountain. From here you can also connect on to Hawk Mountain Road which will add a nice little climb up and over the mountain. From there you can take another road running west to east and then come back over the mountain again. I chose to stay on the south side and make my way to Leaser Lake. Mountain road was fairly flat and with a nice tailwind at my back I cruised along with ease. The only issue was that with my jersey half unzipped I scooped up a bee into my jersey which proceeded to sting me multiple times in the stomach. I eventually located him on my right shoulder and flicked him into the  field. That is number on this year. If you recall last season I was stung multiple times on different rides. I guess I am sweet and juicy and the bees seem to love me.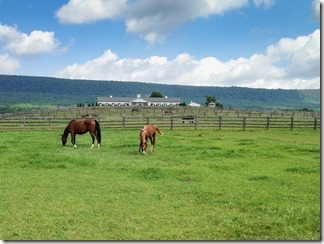 I eventually found my way to the Leaser Lake parking lot to stop for a bio break and snack. I have a friend that lives in the area, who I had thought about stopping to see. It had been a long time since I had seen him, so I decided it was not a good time to see him now since it would probably be a long chat session.

As I was standing in a shady part of the empty parking lot, a white Suburban came slowly cruising down the lot closest to the lake. The vehicle eventually came up beside me and I nodded hello. As I turned away from the car I realized that the driver looked like my friend Vince who lived nearby and I did a double-take. Sure enough it was him and he realized it was me at the same time. Needless to say my break became a little longer than planned, but it was good talking with him and catching up on things. He is quite a character so he had my laughing my ass off as usual. I gave him my updated contact info, and we agreed that we would get together sometime after this Ironman quest is over for the year. As I rode off, I was reflecting on how funny it was that we ran into each other anyway despite me not stopping by his house. Guess it was meant to be?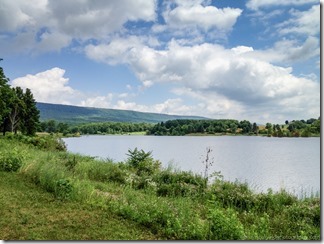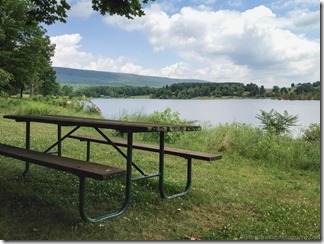 I started making my way back south again after following the Blue Mountain to the town of New Tripoli. The route wound through some back roads through quiet little farms and hamlets. It was a truly magnificent ride. It is amazing the places that you have never seen before that are right near your home. Getting out on the bike is such a great way to explore these areas at a slower-than-automobile pace.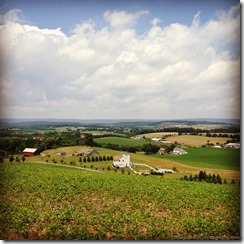 I eventually came back around to the New Smithville exit on I-78 where I was able to re-tool up with some water. I still had about 2.5 hours to go to get my 6 hour ride in, so I headed out to Kutztown and then Fleetwood and back home on some of my typical routes. It was starting to heat up pretty good at this point too.
After finally arriving back home with 95+ miles under my belt, I strapped on my running shoes and ran around town for a 30 minute brick run. I wasn't killing it, but my legs felt good. I could see myself running for a few more hours I think.  I then jumped into the tub for a Magnesium bath to help recover the legs a little quicker for tomorrows long run. We also were meeting friends for dinner and a concert that night, so there was no time to relax and we were out the door again.
We had gone to the Rusted Root concert at the Steel Stacks in Bethlehem the night before, so we didn't get home until ~11pm. Given this, I decided to sleep in a bit longer. I would pay for this eventually since I now have to run in the heat and humidity of the middle part of the day. I went over to the Ironton Rail Trail again. It was crazy hot and my pace was very slow from the start. I was thinking how am  I going to get through 3:15 hours of this when 30 mins was excruciating. I managed to get through about 11 miles and then the rain began. With that also came some thunder which left me a little uneasy, but I continued on. The rain increased and so did some nice cool winds too. This gave me a "second wind"…no pun intended. I made it through the next 9 miles ok. It was a very slow pace, but steady. Probably closer to what Ironman may be like. I always think about how I need to push myself through these painful training times to get used to what Ironman will feel like. I really hope the weather is better though, cause I just don't do well in the humidity.
One more tough week coming and then the taper begins. Hard to believe I have made it through all this. I really didn't know what to expect, but all-in-all it is not that bad. It is so progressive that you don't realize it until you look back. Granted the last month of 5-6 hour bike rides and 3 hour runs on the weekend really work you over. The first couple aren't too bad, but after 3 and 4 of them the fatigue really sets in. I hope I am getting used to it. The weather ahead is looking to be more of the same 80's F and humid. I will be dodging thunderstorms too. Looking forward to some Bike-N-BBQ on July 4th and taking vacation day on the 5th to head back to Dutch Springs again.
Have a Happy 4th of July to all Americans reading and thanks for reading!