It is hard to believe that one year ago I was first posting my experiment with a whole foods, plant-based diet. Now here I sit one year later and I am still doing it with the same, if not more, fervor that I did back then. Many things have changed during that time which I can firmly credit to this change in lifestyle. I have no intentions of going back to my old ways of eating. Here are the reasons why…
Weight Management. I have been able to more easily maintain a healthy weight and body fat % throughout the entire year. I have been at same weight I was in high school for the last year. This is regardless of whether I am training a lot or taking it easy in the off-season and over the holidays when I typically gain back about 20 lbs.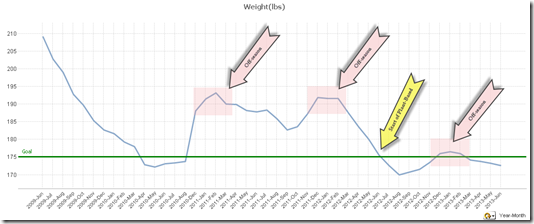 No Calorie Counting. Maintaining a healthy weight has also been done without the need to log all my food eaten and counting of calories as I have done in the past to maintain weight. This had always been so time-consuming and as soon as I grew tired of doing it, the weight came back instantly. Now I just eat. As long as it is healthy and as close to possible to its original form and not processed I can eat and be happy.
Food is More Nourishing. Eating food closer to its original form provides you with the most essential nutrients you can get. Now eating until you are satisfied takes on a new meaning. Now it is not just that your stomach being packed to maximum density to indicate being satiated, it is more of your body feels properly nourished by all the essential nutrients to properly function. It is a different kind of "full" feeling. One you will never get eating over-processed foods devoid of the essential nutrients and abundant with chemicals.
Consistent Energy Levels. I used to have the usual afternoon crash around 2-3pm and the trip down to the company café for a afternoon caffeine jolt was becoming far too routine. This was mostly due to all the over-processed carbs and sugar which would spike insulin levels causing the lethargy of the afternoon. Now without these types of foods and more whole, vegetables and legumes for lunch I am able to keep an even keel through out the day.
High Volume Training Performance. Last summer I trained from 8 up to 17 hours a week of training until September when I completed my final race. This year I have been consistently training from 10 up to 16 hours(so far, more to come) since the end of January(~5 months). I have been able to do this training without any issues or major fatigue and still perform at my best. I have logged 3 personal best times at races at one Olympic and half-iron distances.
Post-Training Energy.This is somewhat related to the High Volume Training Performance above, but after training daily for anywhere from 2 to 6 hours I am still able to function normally with the day-to-day tasks.Previously going for a 4 hour bike ride or a 2.5 hour run on the weekend would put me down napping on the sofa napping for the rest of the afternoon. Now I come home and can be out cutting the grass or other household chores, then out for a some dinner with friends. I do have to admit though, when 10pm rolls around my head is bobbing.
Daily Workout Recovery. Despite long, intense workouts everyday, I am able to get up the next day refreshed and ready to take on that days workout. This is especially evident on the weekends when after doing a 4 hour or longer bike ride and brick run on a Saturday, then follow it up on Sunday with a half-marathon or longer distance run. Looking at my weekly average Heart Rate Variablility(HRV), which is a measure of autonomic nervous system, shows that I am actually increasing my HRV as my training volume increases getting closer to Ironman Lake Placid. HRV is a measure from 0 to 100 with higher score means you are adapting better to whatever stress you are placing on your body. For more on that, read this previous post on HRV.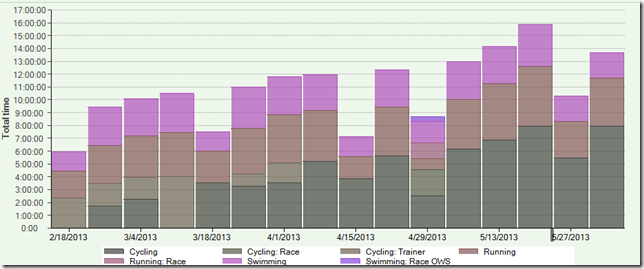 Race Performance Improvements. In 2012, I improved my time in the Half Ironman distance by just over 5 minutes on a much more difficult course(Ironman 70.3 Muskoka) than the previous years race(IM Miami 70.3). This year, I was able to once again improve all other previous results in the Half-Ironman distance again on a even more difficult course at Rev3 Quassy by another 8 minutes. This adds up to over 13 minutes in improvement overall. Hopefully this also translates into my 1st full distance Ironman Lake Placid results in July.
Biometric Testing Improvements

Cholesterol

LDL: 48 point drop(-30%)
Triglycerides: 37 point drop(-40%)
Total Chol: 59 point drop(-25%)

Blood Pressure

Systolic: –12 mmHg (136 –> 124)
Diastolic: –14 mmHg (94 –> 80)

Cooking More. Since I am eating less processed foods, I am now forced to do more cooking. It seems that in today's too busy culture no one cooks anymore. This is pretty sad, since cooking is a therapeutic activity that increases your creativity and your knowledge.
I am sure there is more advantages to this lifestyle change that I have overlooked, but this are the biggest ones in my mind.