Nothing real exciting to report here for my second week of taper before Ironman Lake Placid 2014. I ended up swimming a little more than I planned on Tuesday, but then totally bagged my run on Thursday night. We were heading up to Lake Wallenpaupack again from Thursday to Saturday and I just didn't give myself adequate time management to fit it in. Oh well. I also bagged my 10 minute brick on Saturday too. I seem to be an all or nothing kind of triathlete. When I have a big build training week I usually do every single workout minute, but when it comes to recovery and taper weeks I frequently blow things off. Perhaps it is my way of giving 110% on those recovery weeks!
Power Meter Crisis Averted!
I did have a bit of a panic when I set out on my bike ride on Wednesday night. I was planning to upgrade my Stages Power Meter to the latest version of firmware, but I was unable to connect it to my iPhone via Bluetooth to update. I thought it was just my iPhone Bluetooth causing the problem, but when I proceeded out on my ride my Garmin 910xt would not pick it up on ANT+ either. Hmm.?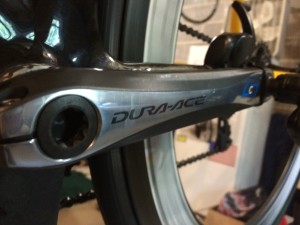 I changed the battery in the module when I got home and it immediately started working again. Phew! I did a little more inspection of the module with a flashlight and magnifying glass later on. When I first received the unit my bike mechanic had broken a couple of the tabs that lock the battery in its compartment. Stages immediately sent me out some new caps, but I was never able to lock the cap in place so I always wrap it with black electrical tape.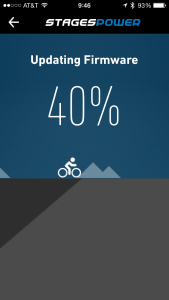 Apparently, when I washed the bike after my last long ride, water got in and shorted the battery. Turns out that one of the little tabs that had broken off was lodged in the compartment locking slot and would not allow me to lock the cap securely. I was able to remove the broken tab and am happy to report it is locking securely in place now. Crisis averted.
I tweeted about the issue after my ride and the folks at Stages quickly replied to get me help I needed(See tweet below). I wasn't able to respond right away and they even shipped me some new caps before I have got back to them. Just a sign of the great customer service they have there. I had a similar experience when I needed those new caps the first time too. I hope to do a gear review on my Stages Power Meter after Ironman this year. Spoiler alert…I have been very with happy it!
@bri_tri2 Brian, Please call us at 800-778-7218 we would be happy to assist you.

— Stages Cycling (@stagescycling) July 17, 2014
Open Water Swim at Lake Wallenpaupack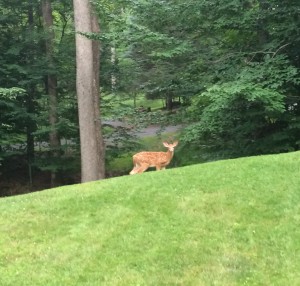 Since we were up at the Lake for a couple days, I was able to get in a little open water swim there on Friday. My in-laws had rented a house on the lake and I could walk right out the door in my wetsuit for a nice swim. I hit it just early enough to avoid most of the crazy boat traffic that starts around noon. We were situated in a very narrow section of the lake and it gets crazy with boats flying back-and-forth there.
It did get a little rough as I rounded the bend heading towards Ledgedale Recreation area. The waves were angling into each other as the boats rounded the bend as well. And apparently "no-wake" zone means nothing to these folks. Once I did get around the bend it did mellow out a bit, but by then it was time to head back. My wife followed along with me in the kayak and I think she was bummed to have to turn back so soon. I only wanted to swim for 30-40 minutes and I was at around 18 by then.
It was a pretty nice swim otherwise. Water seemed ok initially, but I was getting pretty hot by the time I returned to the dock. I averaged around a 1:46/100y pace which is what I did at Black Bear Half  this season too. I would be pretty psyched to get that at Lake Placid too. Or even a 1:47 would be an improvement. Strava totally botched my upload for this too, but I will embed it just for the hell of it.
SSD Workouts – Short, Slow Distance!!
I did my typical bike and run on Saturday and Sunday, although the duration was quite a bit shorter than usual. Instead of calling them LSD workouts I changed it to SSD since they are much shorter. I have to say I felt REALLY good on both of the workouts too. It is that time where you have to reign yourself in a bit from going crazy fast since you feel like the Six Million Dollar Man.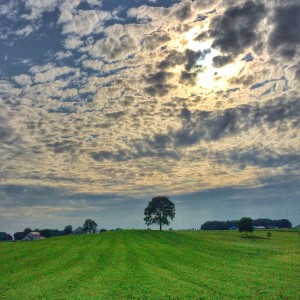 I ended up averaging 18.5MPH for a 36 mile ride on Saturday night and it felt like nothing. By the way, Saturday evenings are the best time to ride. At least were I ride. There is hardly any cars out on the road and it is just so nice. There is usually minimal wind at the end of the day too.
My PMC chart on TrainingPeaks is showing some major recovery with the TSB value heading up towards the 45 mark.  I was up to around the same value last year too, but my fitness level(CTL in blue) is forecast to be around 95 on raceday, whereas last year I was around 89. Not sure how well those numbers translate to real life, but we will see in a week.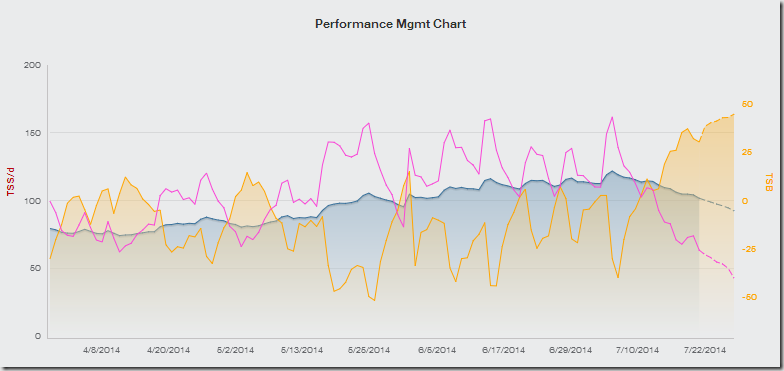 Well this coming week is going to be an even easier one. A couple short workouts early and then on route to Lake Placid for race weekend. I usually do a couple very light, easy workouts up there too just to get the blood flowing a bit. I like to do a little run on River Road after the long drive too just get that blood that all pools up in my legs from a 6 hour drive.
This year should be pretty fun since there are a bunch of people I know racing this year. I am real excited for a few first-timers: Shanna and Ashley. I have a good feeling they are going to kick some major butt in their respective age groups up there. They have had some great success this season so far too. Best of luck ladies!!
There is also a few veterans returning like my Coach Scott, who has done IMLP for the last 10 years. A true IRONMAN out and out! Also Kenrick Smith who is a coach and soon-to-be pro triathlete. His athletic performance is amazing! Also a friend from John Parks is also doing his 5th consecutive Ironman Lake Placid. He is an animal! These are the people that help motivate me to do this stuff. I wish them all the best and love seeing them out on the course.
My bib number this year is 2422. Not quite as nice as my #234 last year, but not too far away either. I suppose that my Ironman Foundation fundraising last year provided me the lowered number.  Well, time to start packing up!
See you in Lake Placid!!