Pre-Race
3:50AM finally came around after waking every half hour since about 1AM. Despite broken sleep I felt pretty well rested and was more than ready get this race started. I had actually felt that way all weekend since arriving in Lake Placid on Thursday afternoon. The time was finally here.
I started the already prepared coffee maker with exactly two cups of coffee. Just enough to rev the engine a bit, but not enough to go into high anxiety mode. Next, the VitaMix was load up with frozen fruit, kale, avocado, seeds, nuts and a can of coconut water. My daily smoothie concoction that starts my days on a high note. I had prepared all my water bottles and nutrition for the race the night before and staged everything in the refrigerator. Special needs bags were loaded up and it was time to head to town.
While I had only done Ironman Lake Placid once the year before, the drill seemed all to routine for me. Perhaps I had run through it in my head so many times it almost seemed real. This year I had much less anxiety than the year before, since I had a better idea of what to expect. Little did I know what challenges the Adirondacks and Mother Nature were preparing to dish out for me this year.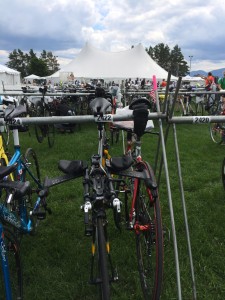 The forecast had said 40-50% chance of scattered thunderstorms all day, but many times they never really happen. We headed out River Road and onto RT 86 into town. Denise dropped me off at the barricades on Main St. by the Sunoco and I walked up the street that I would be running on later that day to transition. I located my bike in the racks and loaded it up with nutrition and bottles of Skratch hydration, went to get body marked, then dropped off my special needs bags up the street. The run special needs bag area is such a long walk from transiton, but I did run into Shanna & Amy and then John & Ashley along with way to wish them good luck for the day. I then changed into my race gear and stashed my morning clothes bag in transition along with my other bags.
I met up with Denise at the Mobil station and then we walked up to the swim start. It was getting close to race start so I put on the wetsuit, said my goodbyes to Denise and made my way into the swim start line. The canon had gone off for the pro men and woman at this point. It was pretty crowded and the line did not move very quickly. I kept pushing my way through the crowd and eventually found my way to the 1:11-1:20 finish time wave area. Ok, here we go!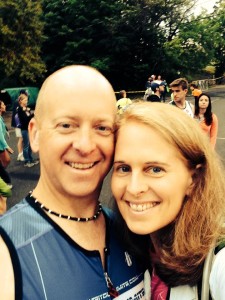 The Swim
The start of the swim has been so anti-climatic ever since they started the new Safe Swim Start. They used to play some really powerful tunes, like Beautiful Day by U2, and Mike Reilly would get everyone fired up. Now the music is really lame and he doesn't say much at all except something like "Go ahead!". I don't understand why it can't still be a more exciting.
Anyway, we eventually roll into the water after a few minutes and I am on my way. I stay to the outer left side in the more open water as I usually do to get started. Occasionally some feckless meanderer comes zigzagging out into my path but for the most part I have open water to swim in for the first loop. The buoys tick away from 1 to 7 and before I knew it I am making the turn to head back to the beach again. I took the first turn wide too to avoid the congestion that usually happens when turning in a swim course. I kept a nice steady pace the first lap and averaged a 1:47/100y for the first 1.2 mile loop. So far so good!
I exit the water and head through the archways to start my next 1.2 miles. While traversing the sandy beach, I hear Mr. Mike Reilly announce "Brian Schwind from Alburtis, PA" over the loud speaker! I raised my arms in acknowledgment of it. I didn't think he could pronounce my name since he barely muttered it last year when I crossed the finish line. My wife Denise actually heard it too and she was down the street along the corral to transition. She said that he only said about 20 names tops during the whole swim. I guess I came out at a good time.
My 2nd loop went along pretty well until about a third of the way when the skies opened up with torrential rains. It was raining so hard that my mouth was getting water in it when I tried to take a breath. I made the turn to head back and started getting a cramp in my left calf. I stopped swimming a bit to stretch it out and probably lost some time there. I did get going again and eventually found myself swimming along the yellow rope that runs below. That didn't last too long because it soon got congested with other swimmers and angled back out to the outer lane again to avoid being trampled.
I exited the water at around 1:17 which was a couple seconds slower than I did last year. I apparently lost a bit of time on that 2nd loop with the calf cramp and meandering a bit too much. All in all not a horrible swim. At least I am consistent. My plan from the beginning of the season was just to maintain my swim performance, which I guess I can say I did.
Official Time(1-1.2 mi loop): 0:37:39 (1:47/100yd)
My Watch Time(2.4 miles):  1:17:56 (1:51/100yd)
T1
I unzipped and pulled my suit halfway down while finding a available wetsuit stripper. I then fell backwards on the ground while the volunteer violently ripped my wetsuit off my legs. I was up and jogging down the finish corral scanning the people along the side looking for my wife. I eventually spotted her down the street, closer to the transition oval. I multitasked a kiss for the wife while high fiving the in-laws and was quickly on my way into transition. The rain was dumping and the thunder was a banging at this point. I entered the gate to the oval and counted my way to the 3rd row of bags in transition and grabbed my bike gear bag. The changing tent was very full and very wet. It was like a little pond under a roof.
I found an empty chair, got my bike stuff on and stashed my swim gear in the bag. A loud blast of thunder ripped and everyone in the tent gave a group "Wow!" I had to switch the lenses in my sunglasses to the light rose colored ones due to the weather. When I did that I forgot to transfer the nose cushion piece along with it. I handed my bag to a volunteer and headed back out into the storm. There was lightning coming down in several directions, all followed by loud blasts of thunder. A volunteer had my bike ready at the end of the aisle and I signaled to him it was mine and I am coming. I headed out of transition and saddled up in the mounting area.
T1 Time(My Watch time): *8:49
*Ironman did not count T1 time in official results due to lightning
Bike
I carefully navigated the 180 and 90 degree steep downhill turns out of the transition speed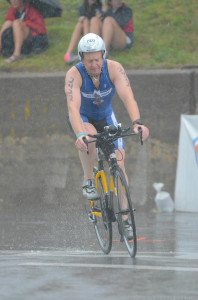 skating oval. My bike has carbon race wheels that require special brake pads that won't damage the carbon rims. They work pretty well when it is dry, but are almost useless when they are wet. I had to squeeze them very tightly just to keep from gaining too much speed. Stopping with them requires a very long distance and is pretty much not happening in an emergency situation. I made it safely down the corkscrew turns to the street below where I spotted Denise and my In-Laws standing under umbrellas. I have them a big "Hey!" and then turned my focus back to the steep downhill street ahead. I had put my sunglasses in my jersey since I thought I might not need them until later. The rain was coming down so hard it was hard to see to navigate the cracks and undulations of the street. I was on the brakes full tilt down to the lower street where it finally leveled out to make a sharp left turn at the hay bales.
The rain continued in torrents as I made my way out of Lake Placid on Route 73 towards the ski jumps. Lightning would flash and very defined bolts would slice through the sky in what seemed like a few hundred yards away. Large ear-pounding thunder followed a few seconds after. I questioned my safety for a brief second, but the task at hand seemed to trump that at the time. Probably not logical thinking, but in an Ironman you are willing to push through things without blinking an eye.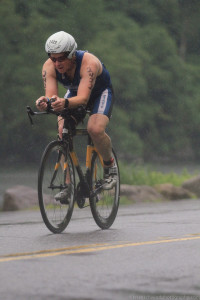 As I spun my way up the ascending terrain towards Cascade Mountain and contemplated the long descent into Keene that followed. I had minimal brakes and 7 mile long twisting descent to navigate. Would I be able to keep my speed down enough to navigate the turns? What if I really needed to come to a complete stop? The thoughts rushed through my head. I hoped the rain would stop before then.
I hit a couple small downhill sections and found that it was impossible to see with heavy rain and the higher speeds. I pulled my un-cushioned sunglasses from the front of my jersey and put them on. The jagged plastic of the lens dug in to the skin on my nose, but at least I could see where I was going now. Things are always better through rose-colored lenses right? Not necessarily.
I eventually reached the Cascade Lakes and begun the long descent down to Keene. It was still pouring rain. I gripped the brakes with a clenching fist that made my knuckles turn white. I was still reaching speeds into the high 20/low 30 mph range. Fortunately they had recently paved the road and at least I didn't need to negotiate the nasty cracks and potholes that previously marred the route down the mountain. Still, a few other riders still flew past me going down the speedy descent. Crazy!!
I had heard several others say later on that they were actually shaking as they rode that early part of the first bike loop from being cold. I am fortunate enough to have a nice little extra layer of "insulation" on me this year being about 5-7 pounds heavier this year compared to last. I really hadn't planned on that, but hey sure came in handy because being cold was not really something I had to deal with today. Although my toes did become a bit numb out there. I am like a human heat pump otherwise.
Well, I made it safely down into Keene without issue. I was disappointed about the time I had lost having to ride the brakes down the mountain, but I was also relieved to have that behind me for now. I made the winding turn onto Route 9N in Keene and could now settle into a nice rhythm on the flat sectionto Ausable Forks. Ahhh!! It was still raining but I now I could just cruise. My legs were feeling good and I just spun at my comfortable cadence and settled in at around 21-22 MPH average speed. I continued to pop Armita Bar pieces and Chunks for Energy into my mouth and washed them down with copious amounts of Skratch Labs Hydration mix to keep the fuel tanks full. I also had a small bottle of Ucan Superstarch as well for a little extra long-term energy source.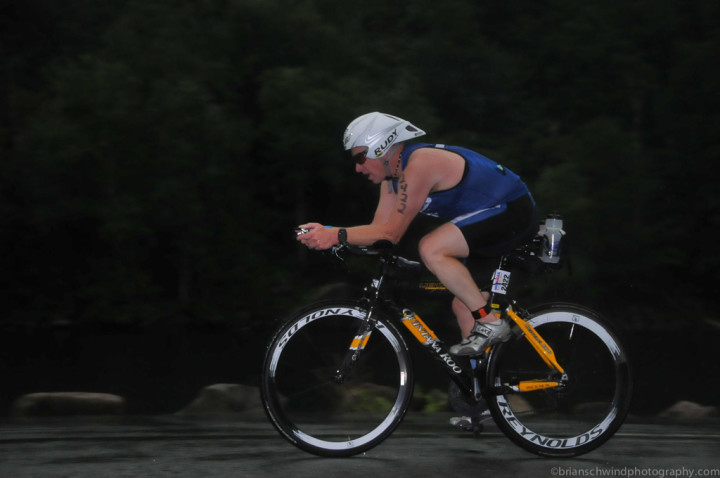 While traversing the uphill section on Route 86 from Jay to Wilmington, I could finally see some breaks in the clouds ahead. Relief! But, along with that I could also feel the wind picking up a bit. I averaged around 16 MPH for the 30 miles uphill section from Jay back to Lake Placid using about 200 watts of normalized power. I felt good the whole time and it seemed to tick by pretty quickly. I ran into John Newman, who I identified from his Amrita tri kit and the name "John" listed on his run belt. John and his wife, Tara, had been communicating a bit with me over the past month or so over social media. John was telling me about how he was shaking so much from being cold down the descent into Keene. He had lost so much time because he was on the brakes the whole time. I said me too, but was on the brakes more out of fear than the cold. Eventually he proceeded ahead of me and I never saw him again until  later on the run.
I reached the "Three Bears" section where folks were lining the road in a Tour de France fashion cheering everyone up the hill. I was focused on searching out my wife who stationed herself out here last year, but saw no sign of her. Hmmm? I made the right turn by Cobble Mountain and continued towards Mirror Lake Drive. On the last little kick uphill by the school I spotted my wifes' bright pink shirt from a couple hundred yards away. I started waving but she just seemed to be staring at me. Eventually she realized it was me and I gave her shit for not knowing who I was. Loop #1 complete.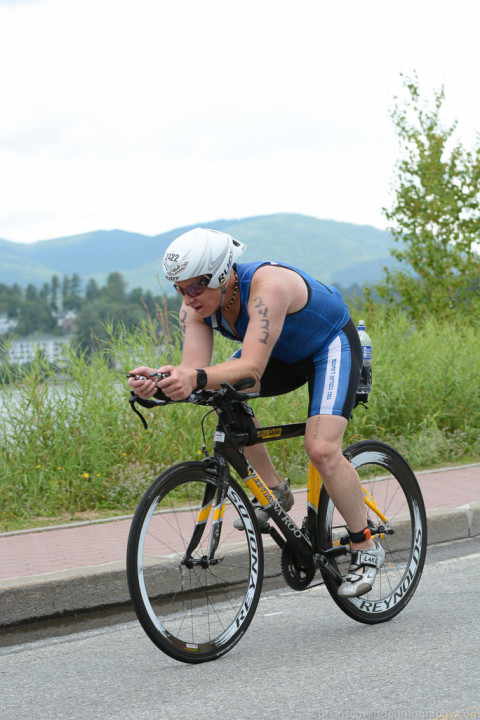 I quickly stopped for my special needs bag and retooled with nutrition and hydration. Best of all was the peanut butter & honey sandwich on white Italian bread that awaited me. Yum! Time to strap on the old feedbag! The first bite always gets stuck in my throat, so I have to wash it down with a big swig of liquid. After that it is just heaven!
The rain had finally ceased and it was looking like a nice day, albeit the wind continued to pickup. I knew I needed to make up some time on this lap if I still wanted to hit my goal of sub-12 hours. I tried to stay consistent without totally blowing my legs out. I still felt good so I figured I was ok. I hit the bit descent again, this time staying in the aero position and not touching the brakes. I was flying baby!! I found out later I was hitting speeds in excess of 45 MPH. On the flats from Keene to Ausable Forks and back to Jay I again was in cruise mode ranging from 20-22 MPH most of the way again.
The uphill section from Jay to Lake Placid on the second loop went pretty smoothly but a bit slower. I averaged around 15 MPH this time with a normalized power of 189 watts. I still felt pretty good but the legs must have been getting a little more tired. I was relieved to roll onto Mirror Lake Drive with crowds cheering away knowing that I had survived a pretty epic Ironman bike leg unscathed. Looking at my Garmin I noticed I was also about to complete a PR bike split that was around 10 minutes below last years time. Apparently the shaved legs worked as they said they would.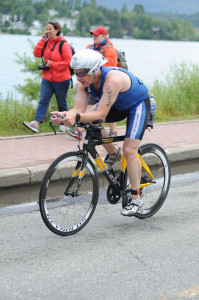 Bike Time(112 miles): 6:15:12 (17.91mph avg speed)
T2
I quickly dismounted my bike and handed it to a volunteer to be forgotten about until after the race. I tried running on the concrete of the speed skating oval with my bike cleats, but it was very difficult. I saw another athlete take their shoes off, which I quickly followed suit. A guy from the med tent yelled out to take our helmets off to cool off. The sun had come out on the 2nd loop and the wetness on the ground made for some sweltering humidity now. I grabbed my run bag and made my way to the change tent. I quickly found a empty chair and a volunteer came over to assist me. He laid out all my stuff on the ground while I put my shoes on so I could quickly get changed. It was a big help. Volunteers ROCK!! I had hoped to find another pair of sunglass lenses with a nose piece but no such luck. I ditched the glasses and just put my run hat on. The volunteer also checked my back for sunburn and said the back of my neck was getting red. I put a pack of sunscreen in my jersey and a Bodyglide stick in the other pocket. I stopped at the sunscreen girls to lather me up good which they did, and then I was off on the run.
T2 Time: 7:08
Run
I headed through the arch that marked the beginning of the run. I heard several people calling my name, but this is typical since it is listed on the front of my race bib. One person that stuck out of the crowd was lady standing under an umbrella on the other side of the street. It looked like Kim, who I had met at a friends New Years Party this past year, but I wasn't totally sure. I looked for her husband to confirm that it was her, but did not see him so I continued on. Turns out it was her after all. Her daughter, Lauren, was racing also and had a great day finishing 2nd in her 18-24 age group on her first Ironman.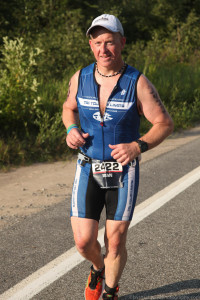 I continued on down Main Street and was feeling really good. Usually the first couple miles of a run after biking 112 miles is a little rough. My legs were feeling ready to run, but I was also going downhill. The real test would be once I hit some inclines.
I ran into my wife Denise and her parents just down the street in front of the sushi place. I gave hugs to everyone forgetting that I had just been lathered up with copious amounts of sunscreen. Sorry! I tried to quickly tell them how crazy the bike ride was while running backwards so not to lose any more precious time. Then I was down the hill towards Lisa G's  for my first loop.
The little rise in the road just past Lisa G's and Liquids & Solids is always a little bit of a wake-up call since it is the first real incline on the run course after the bike. This is when reality tends to strike. Ok my legs don't feel quite as good as I first thought. Hmm? I kept pushing on though.
I continued to maintain around a 9:00/mile pace for the first 2.5 miles until I hit the small little rise about a .25 mile past the ski jumps on River Road. The sun was beaming and it was getting hot and steamy. My quadricep muscles were starting hurt already and the negative thoughts started to well up in my head. "How am I going to make it 23 more miles?" I continued to press on walking through the aid stations to get ice and water. I took the cold wet sponges and stuffed them in my jersey. One of them went down my back which I was never able to get out. I tried to eat one of my Amrita Bars, but my stomach was feeling so full I ended up tossing half of it.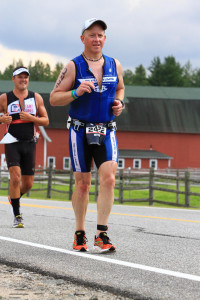 My pace was now creeping up into the 10:00/mile range with the small shifts of walking. I ran by the house we stay at and was a little bummed when I didn't see anyone there. This was such a helpful push last year when they were all sitting out watching. Unfortunately they had to work and run errands all day so they were not able to be there today. Just before the turnaround on River Road, around 4.5 miles, I passed my coach Scott who was coming back the other way. It is always nice to see someone you know to take your mind off the pain at hand. I was also kind of psyched that I wasn't that far behind him. Surely I didn't that I would catch up to him, but maybe I wasn't doing as bad as I though I was.
I finally made the turn on River Road and started back to town. I was really starting to struggle physically and mentally. My legs and feet were screaming. I was now taking walking breaks more than just at the aid stations. My pace was now drifting up in the 10-11:00/mi range, especially given the hills on the route back to town. I reached Denise and her parents and indicated I was struggling a bit. My Father-in-law told me later it was readily apparent I was having a rough time. I walked up the hill on to Main St. but started to get back to somewhat of a trot again after the Lake Placid Pub & Brewery. Perhaps the thought of a cold beer had energized me.
I freshened up my Fuel Belt with some new bottles of Skratch Labs hydration from my special needs bag. My pace picked up a bit with a little help from the downhill from the Lake Placid Pub to Lisa G's. I ran past the dreaded fork where you are either going out for another 13 miles or you are finishing. I made the left and pushed on. I was determined not to let the mental aspect of having to do another loop get to me. I just focused on staying running even if it was slow, just keep the feet moving. It seemed to help and eventually the miles ticked off.
I had passed my coach, Scott again as well as Shanna and Amy and my friend John from work several times. My enthusiasm to cheer them on diminished more and more with each passing. The last time I passed them I was only able to muster up a thumbs up since speaking would have used far too much energy.
I began dosing the Coca-cola on the second loop. I would pour it over a cup full of ice, let it cool for a few seconds and then drink it down. It tasted so freaking good! I don't drink soda typically, but this was just what I needed. It definitely changed my mental frame of mind too. I even broke my vegan ways and had a couple cups of the chicken soup. Sorry chickens! I never had that before in a race, but it was pretty good too. These things definitely helped me get through this last half marathon.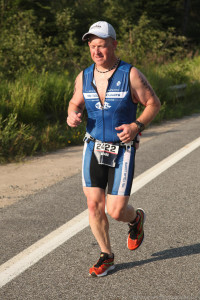 I eventually reached the bottom of the hill at Lisa G's again. There were several slightly intoxicated characters dressed in animal costumes high fiving all the runners as they went by. It was definitely a good boost of energy. I started walking on the bottom of the hill, but soon got back to running again. I said to myself you have to run this last hill up to the brew pub. There were numerous fans cheering and calling my name which gave an added boost. Little kids were holding out their hands for high fives which I always try to do back. I don't want to be that triathlete that takes himself too seriously that cannot acknowledge the people cheering us all on.
Eventually I ran into Denise and her parents who I imagine were glad to finally see me running after how I looked last time. I kept on running from that point as I could taste the finish line now. I rounded the bend on River Road and picked it up a little for the last mile. I hit that fork in the road where you are either going back out for another 13.1 miles or going to the finish line. I made a big pointing gesture to the volunteer guiding everyone there that I was coming in for landing. The spectators nearby starting cheering a little louder and you could not have wiped that smile off my face for anything.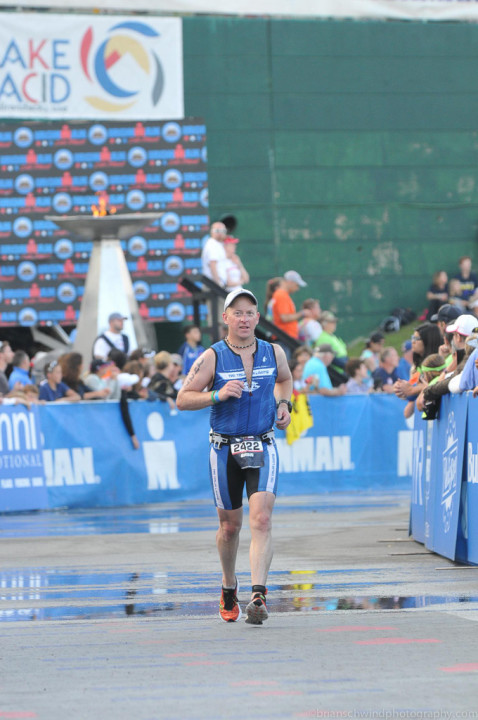 I entered the speed skating oval and rounded for home. A few more high fives to a few kids along the way and then Mike Reilly said "Brian Schwind" and then a long pause. Ugh! Apparently he got distracted. He may have said "you are an Ironman" but it was after such long delay it was almost pointless at that point. I believe he fouled it up for me last year too. Whatever…I was happy to hit the finish line whithout issue. I know I am an Ironman Mike, you don't need to tell me I guess.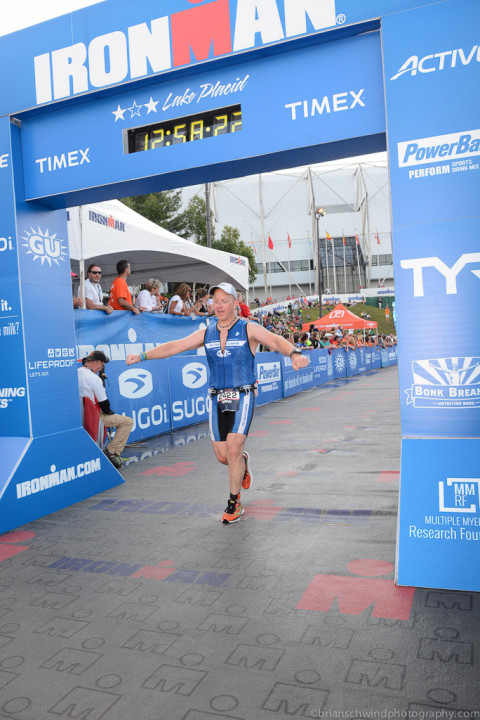 Run Time(26.2 miles): 4:52:55 (11:10/mi pace)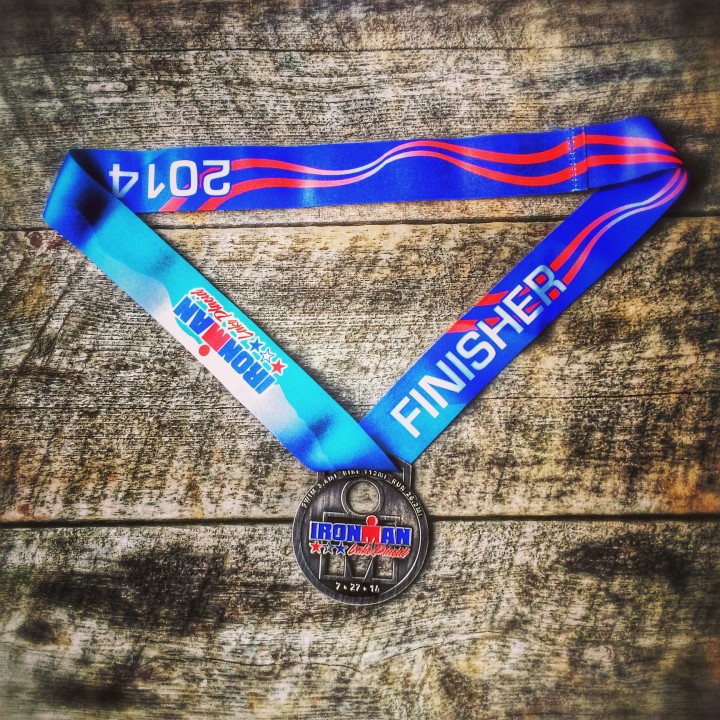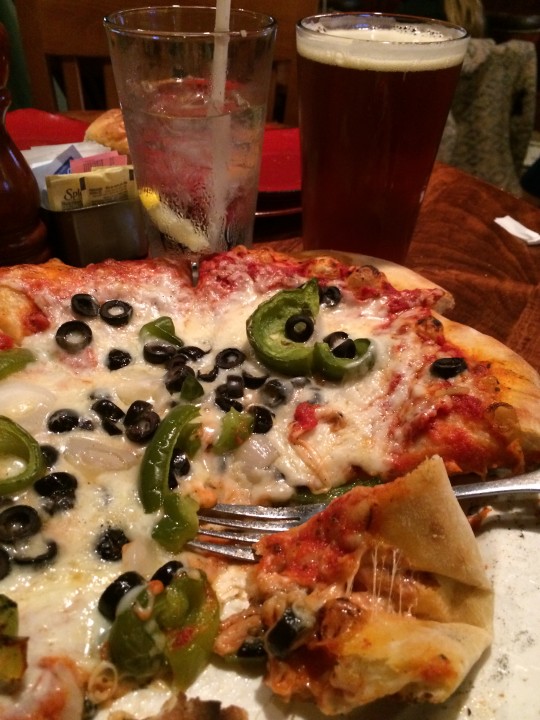 Post-Race
I was met after the race by Denise and my In-laws along with Dan & Wendy and their two boys Charlie & Emmett who we stay with in Lake Placid. It was fun seeing them all and chatting for awhile. I chilled out and had some pizza at the finish line and then collected my bags to get changed.
I had given Denise my Yellow card to pick up my bike in transition while I got changed. I was surprised not to see her when I had finished getting dressed. After some time she showed up with a disgusted look on her face. Apparently the volunteers could not find my bike. They looked around and then pow-powed with supervisor lady. They then told her maybe someone else picked it up. She told them she is the only one with the card and I was getting changed. Then they very non-cholantly told her to come back later that maybe someone else took my bike and they may bring it back later. What??!! Eventually they went and looked again in slot 2242(I was 2422) and there it was. What a run around!
We took the bike to the car and then headed over to the Dancing Bears for my post-race pizza and Lake Placid IPA. On the way my manager, Steve, from work texted me "Great job 11:52". I was like "huh?" My watch says 12:42 , what is he talking about. Unfortunately the cell lines are so busy in Lake Placid at this time I could not get my results on the Irontrac iOS app to see. Hmmm…
Well, I had a goal this year to do a sub-12 hour Ironman. Given the official results for Ironman Lake Placid 2014 I finished in 11:52:54, so according to the official results I did accomplish this. BUT, this does not count the 2nd 1.2 mile loop of the swim or my T1 time. I tried to locate what the actual time was for my 2nd loop according to Ironman, but was unable to find anything. According to my Garmin watch, I actually finished in 12:42 which is about 4 seconds slower than last year. I know in my head I didn't hit that goal, but it was a more challenging day than it was last year. Any Ironman finish though is a success in my book. So I will take it with a big smile on my face. Nothing wrong with back-to-back sub-13 hour Ironman Lake Placid finishes right? Atleast I am consisent!
Another positive was that I PR'd the bike leg by 10 minutes after having a first loop that I was on the brakes for a 7 mile descent. I think if the weather was nicer I may have been closer to 6 hours. I did burn some extra energy on the 2nd loop which I think led to a less than spectacular run. The run was 10 minutes slower than last year, but I did feel like I was able to overcome some major fatigue and developed a little more mental toughness too.
It was a fun day overall and the challenges with weather sure make for some good stories. I will be sure not never to forget that race amongst them all. If was easy everyone would do it right?
Official Ironman Finish Time: *11:52:54
My Unofficial time with full swim: 12:42 and change
* 2nd loop of swim and T1 time not included due to lightning.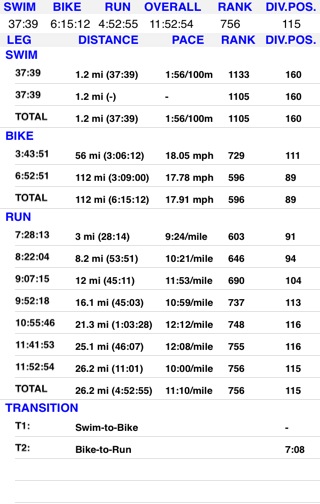 Media Coverage? Me?
One pretty cool thing that I found out from Jason over at Cook, Train, Eat, Race on the way home from Lake Placid was that I was mentioned in a web article on Lava Magazines' recap of Ironman Lake Placid. Susan Legacki provided a pretty accurate depiction of my day just from my Strava Uploads. You can read the article in its entirety here… Performance Highlight: When Weather Rules The Day by Susan Legacki(LavaMagazine.com)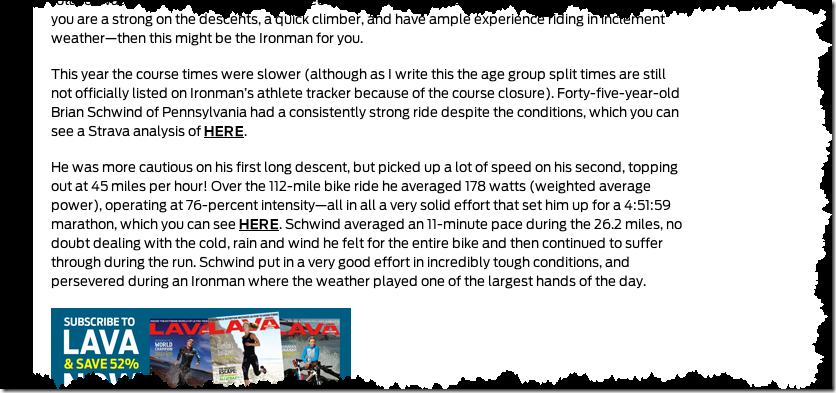 It's Not Over Yet!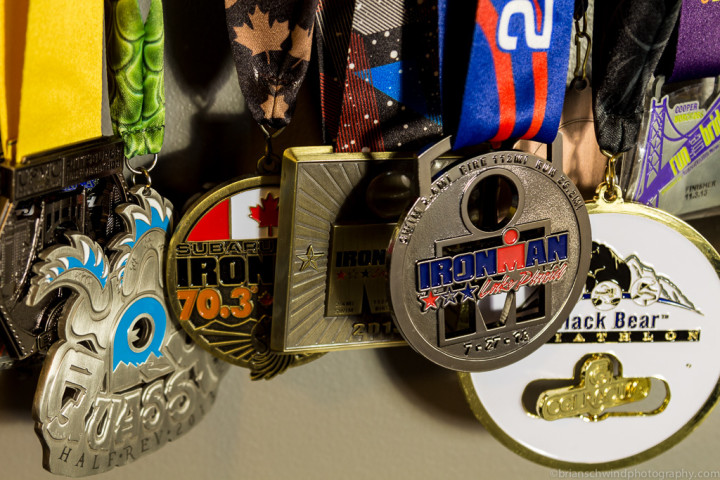 Well my season is fortunately not over yet. I am trying to ride out my fitness this year and am finishing my triathlon season with a race at Timberman 70.3 in New Hampshire in 3 weeks. Last year I was wishing I had something else to do after Ironman, so I decided to give it try this year. I should not have to do much training and still be able to do well at this race. Stay tuned!
Thanks for reading!