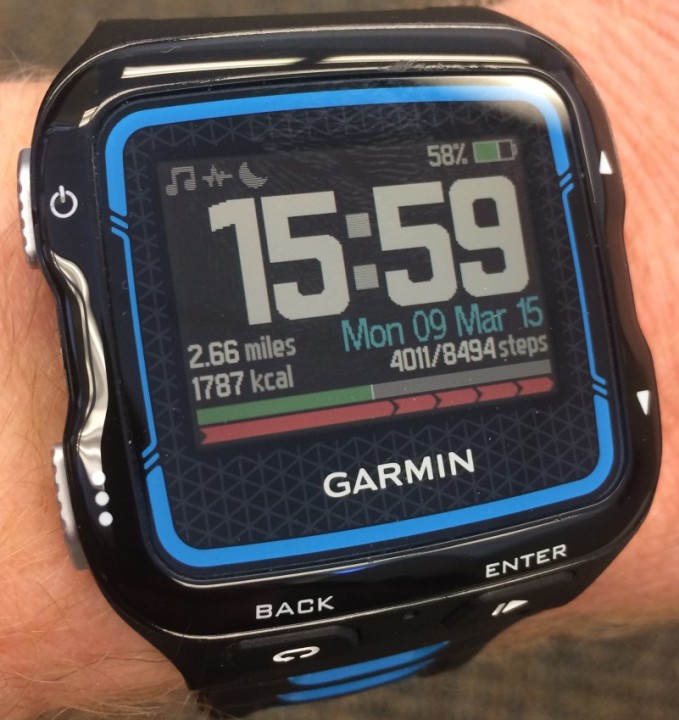 Ever since I heard about the new Garmin 920xt coming out, I have been chomping at the bit to upgrade. I have used the 910xt for several years now(on my second one, since first had to be replaced) and I really liked it. I also use an activity monitor and have gone through 3 Jawbone UP's and 2 Garmin VivoSmarts. The VivoSmart was ok, but I don't want to have to wear multiple things on my wrist. When the first VivoSmart died on me after only 3-4 months I also was not as impressed with it.
I had started putting some money aside for the new device as soon as I knew it was being released. I was going to wait and let all the bugs get ironed out of it before I actually bought one.  I am a regular listener of Brett Blankners' ZenTriathlon podcast, and he had recently purchased one and kept mentioning how great it was. So I could not wait any longer and I "pulled the trigger" on it. Fortunately, I used the PayPal no interest or payments for 6 months option and automaticallly scheduled $100 taken out of my savings account for the next 5 months, so it wasn't too much of a splurge.
BTW…If you are looking for a very in-depth technical review of the Garmin 920xt, please check out DC Rainmakers' review on it here…
Here are my favorite features of the Garmin 920xt so far…
Drill Mode for Swimming
The inability to account for kick and drill sets has always been a big pet peave of mine. Sometime in the last year or so, sites like TrainingPeaks.com and Strava started only using actual swim time(when both arms are moving) instead of total elapsed time from swim workouts. Since kick/drills sets are not registered by the accelerometer on the watch you get no credit for this part of the workout, which is total BS. So then I had to edit every swim workout and change the workout time or use the SportTracks Swimming plugin and edit the workout.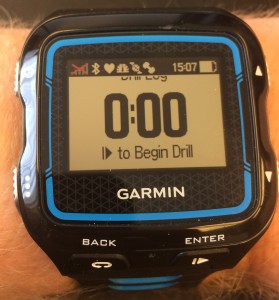 But low and behold, Garmin introduced the Drill mode screen on the 920xt so that you can flip up a screen and hit the lap button and the timer starts up. When you are done you can hit lap again and select the distance that you did. It is also nice for when the watch screws up and misses a lap turn(not too often) or you forget to hit the start or lap button(a little more often). This saves me a bunch of time editing my workouts after uploading.
Automatic workout uploads
Another big time saver here. My wife always gives me crap about how when I get home from a workout the first thing I do is run to my computer and download my workouts from my Garmin. Not anymore! Now, with your watch paired to your iPhone the workout automatically uploads to Garmin Connect as soon as you are in earshot of your phone.
This is one of my top features for sure. And if you have Garmin AutoSync hooked up in TrainingPeaks or Strava, your workouts are also synced up there too without doing anything. One example is when I get done my swim workout I go to the locker and get my shower stuff, my workout starts uploading immediately and I start getting Strava kudos from people while I not even done my shower.
Live Tracking
While I haven't really used this yet other than just testing it out, I think this may be handy for those longer bike rides when my wife tends to worry where I am. It would be really cool to use it in a race, but they typically do not let you have your phone with you. I guess you could just stash it in your bag though. I think it would be nice so your race fans could time being able to come out to see me whiz by at the right moment.
Update 3/17/2015: One issue I have found and also submitted to Garmin Support is when you try to share your LiveTrack via Twitter. If you have more than one Twitter account configured on your phone the Garmin Connect Mobile app will hang the app when you enable Twitter. You will have to kill the app on the phone to get out of it and everytime you go back into LiveTrack it will hang again. You have two options here. Either delete the app from the phone and install it again from the AppStore or remove all but one of your Twitter accounts. I think the latter is BS not a valid workaround.
Update 3/23/2015: One thing I was curious about was how much battery power Garmin Connect Mobile would use while doing a LiveTrack session. In order to do LiveTrack the phone is using Bluetooth LE(Low Energy) and GPS, so I was fearful this would drain my iPhone battery rather quickly. I have a year and 3 month old iPhone 5s whose battery barely lasts a full day with regular usage. Yesterday, I did a 2.5 hour run while using LiveTrack and also listening to an audiobook on Audible app. When I started out the battery was in the high 90's percentage. I was quite surprised to see that it was only in the 70's by the end of my 16 mile run. Impressive Garmin. Next text will be a 4 hour bike ride, so stay tuned.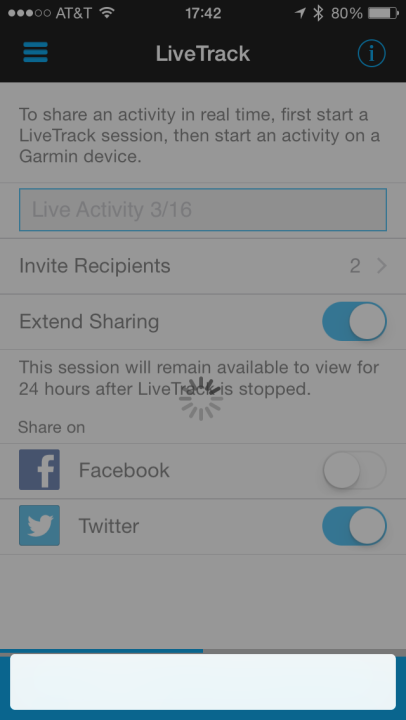 Activity/Sleep monitor & Triathlon watch all-in-one
Like I mentioned before, I had been wearing an activity watch for the last year or so and went through multiple Jawbones and a VivoSmart. Wearing multiple things on my wrist is a bit geeky, so only having one thing to deal is pretty nice.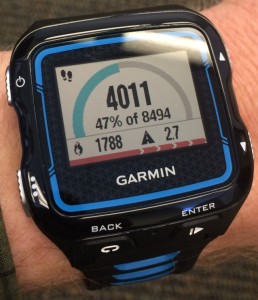 The activity features on the 920 are pretty much the same as the VivoSmart. The biggest difference is that the 920 is a bit more readable and easier to navigate. The sleep tracking in Garmin Connect is pretty lame compared to most other monitors. You just get a graph of your sleep, but no real statistics of how much deep vs. light sleep or snoring etc. I use a Beddit monitor for that anyway.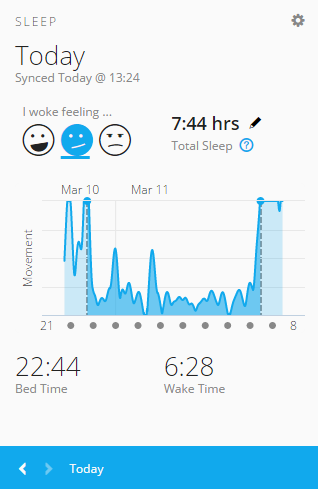 iPhone Notifications
This was another feature that I had on the VivoSmart which I grew to like. Again, the notifications are so much easier to read on the 920. The best part of this is that I can easily survey notifications while I am working and determine if I really need to get my phone out and respond or not. My wife can then just send me FYI texts just to let me know something and I don't have to interrupt my workout or whatever to respond.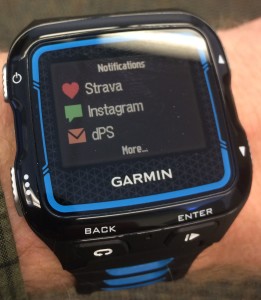 Longer battery life
I noticed that my battery on my 910 was just about out of juice when I finished my last two Ironmans after 12.5 hours. If I was any slower I may be out of luck. The 920 supposedly lasts about 40 hours in activity mode, which hopefully I never have to test that out. You never know though. The longer battery life also allows you to wear this as a regular watch or activity monitor.
I typically charge it once-a-week, but that has been mostly through the Winter where i haven't been using as much GPS. Once I get into more outdoor workouts and the longer bike & runs on the weekends that may become more like twice a week. Charging it hasn't been a big deal though. I usually just keep the charging connected to my laptop and plug it in while surfing the web or watching some TV.
Custom Profiles
The 920 comes with activity profiles for Triathlon/Multisport, running, running indoor, biking, biking indoor, pool swim, and open water swim. This is nice so you can customize each type of workout, whether you want GPS or not and what things you want to see for each. So now I don't have turn off the GPS everytime I do a trainer or treadmill workout. You can also define your own custom profiles for other things like skiing, strength training, hiking, etc.
Programmability – Custom Watch faces & Data Fields
Garmin just released their ConnectIQ SDK which allows you to develop new custom watch faces, derived data fields, widgets and apps for your device(or anyone elses for that matter). Being a developer I was pretty excited about this one. I started downloading the SDK but haven't had a chance to start writing anything yet. It requires Java and learning yet another language called "Monkey C", so it wasn't as straightforward as I thought it would be.
If you are not a developer, you can take advantage of what others have developed from the ConnectIQ store. You can download new customizations via the Connect phone app or through Garmin Express on your laptop. I have updated my main watch face already to the BigTime watch face which is pretty nice.
Smaller size
 Bigger isn't always better. That's why I am not upgrading to the iPhone 6 anytime soon. The 920xt is a bit smaller with a lower profile on my wrist compared to the 910. It definitely doesn't look quite as obnoxious as the older version, so wearing it 24×7 is not an issue. Plus, with everyone else sporting their new FitBit's I think the 920 just looks more like a watch.
So that is basically my highlights for the 920. The navigation and buttons on the 920 are a bit different than the 910, so I did have a little trouble learning that at first but I am starting to get the hang of it now.

I also purchased the HRM Run heart rate monitor strap. This monitor has an accelerometer in it too and it provides some additional metrics like Ground Contact Time and Vertical Oscillation. I thought these would be cool to know from a running efficiency standpoint, but after seeing it the first time the novelty has worn off quickly. My readings are pretty much in the good range, most-likely from all the Chirunning training I had, so I really don't pay attention to it much anymore. Also the strap had rubbed my skin raw just like the previous strap from the 910, so ended up moving the sensor to my Polar strap that I used before.
Update 2/23/2015: One issue I notice is that the accelerometer in the watch does not do a very accurate job for treadmill running. I tend to have a fairly consistent running cadence regardless of how fast I run, most likely a result from my Chirunning training. What I noticed was that the pace on my watch did not change consistently with the speed on treadmill. My treadmill pace is not accurate either, but I would expect to see them change relative to one another and they did not. My 920 basically stay around the same pace, while my treadmill increased. I have paired my old Garmin footpod up with my watch now and wore it on my long run outside on Sunday in order to calibrate it. I am hoping to see more consistent results on my next treadmill run.
All-in-all, I am glad I upgraded to the 920 and it is a pretty awesome multisport/activity watch.