I have the Black Bear Triathlon half iron distance race coming up in a week and half. It is a fairly local race for me, so I thought it might be a good idea to take a run up there and preview the bike course for my LSD ride for the week. I have been up to Beltzville State Park before to do some open water swims but haven't really checked out all the roads in the area. I heard the race was hilly, but I had no idea how REALLY HILLY it was.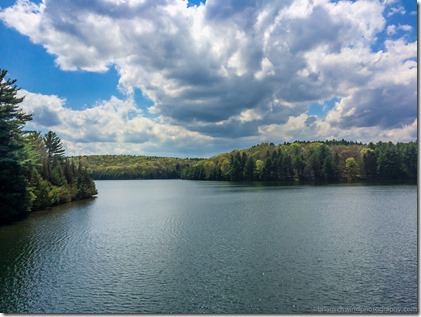 The half iron bike course consists of approximately two 28 mile loops around the area, so with a planned 4 hour ride today I thought I would do at least the two loops and then maybe a little extra to fill in the time. It was a very nice, partly cloudy, with a light breeze of around 7-10mph.
Here is the link to my Training Peaks Workout too…
I arrived in the main parking lot in the later morning, unpacked my bike, geared up, and started on my way out the main entrance. There were a few other cars in the parking lot with bike racks and triathlon related stickers, so it was nice to know there were others out there riding too. There was also another guy in the lot unloading a bike with a Endurance Multisport jersey on, which is a local triathlon club.
The Course
The route starts out paralleling Beltzville Lake on Pohopoco Drive, which is a bit of a rollercoaster ride to get started. A series of up-and-downs, some larger than others, that prohibits you from creating any bit of momentum throwing your legs into a tailspin. The last couple rollers before making a left onto Sheller Hill Road are the worst. When I first saw Sheller Hill Road, I thought "that can't be the first turn". I was wrong and my Garmin quickly indicated this by flashing a "Off Course" on the screen. As I turned around and now made a right onto the road, the Endurance Multisport rider was turning there too. We exchanged a couple pleasantries and then he filed in behind me.
Sheller Hill Road was gradual at first, but then jutted up to a short, steep little climb. I was then down to the intersection of the first out-and-back section on Smith Road. Smith Rd. was mostly downhill on the way out and then a mostly uphill starting at the lollipop-like turnaround and then back again. There is one steeper hill right before a descent back to Smith Rd. heading back again.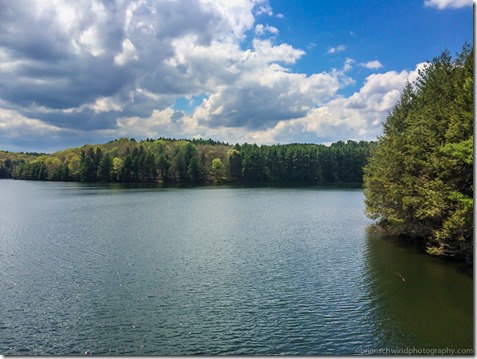 Reaching Sheller Hill Rd again you stay right and then soon make a right onto Penn Forest Rd. You then head downhill for a good stretch, but the road is fairly beat up so you need to stay alert. It eventually levels out right as you pass a nice mountain lake(Wild Creek Reservoir) which seems to be a false flat area. Again the road is pretty beat up still. You eventually reach a new bridge right before it starts descending uphill again. I am not sure how far up the course goes before it turns around. I went half way up the first loop and all the way up the second time. It is a pretty steady climb. Then you turn around and head back again. The ascent up was to Sheller Rd again was not as bad as I thought, but it is another climb in easy gears nonetheless.
Next, is back down to Pohopoco Drive for another roller coaster ride. One big uphill and then make a right on what I think is Lakeside Dr. After a sharp left you come to a fork at Lovitt Rd. When I first saw this road and the steep climb I thought we could NOT go that way, but again I was wrong. This is yet another short steep section. There is a nice long quiet descent through the woods after though.
The course usually turns right onto Owl Creek Rd, which I did, but the road is marked closed and the bridge is blocked off further down the road. It is actually a nice little stretch that you can gain some speed and I was able to slip past some barriers and the large pile of dirt on the bridge to get through. Not sure what they will do for the race though.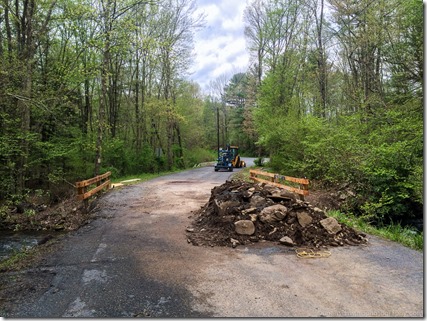 There is one pretty steep climb after the bridge. I found myself saying "you've got to be kidding me" when I made the turn. The really were not bashful with this bike course. The rest is mostly flat or downhill to the park entrance before doing it all over again.
Course Summary
I heard this was hilly, but holy crap it was brutal. Granted I was doing a long, slow distance ride, it still kicked my ass. Last year I did Rev3 Quassy and I though that was a hilly course, but after checking my logs this course has almost 1000 more feet of climb over the same distance. It is 1000 less than the FULL Lake Placid Ironman bike course of 112 miles.
This is definitely not a course to go out like gangbusters. You could really cook your legs in a hurry and have a rough half marathon to run afterwards. The only solace is that the run does not appear to be quite as hilly. I ran part of the course for a brick run and it wasn't too bad, but it was on dirt road and trails. I think this would be a good race to ride a road bike instead of a tri bike. There is a ton of shifting to do! Unfortunately, my old Cannondale road bike is NOT race ready. Oh well it is my B training race, so it will be a test of my fitness.