I immediately got online and started searching for endurance-related races after receiving word that I would be attending the Microsoft Build Developers Conference in San Francisco. Low and behold, the San Francisco Rock 'n' Roll Half Marathon was running the Sunday immediately following the conference on April 6th. The best part was, it was running back-and-forth over the Golden Gate Bridge. How could I pass that up? I would need to do a two-hour run anyway that day, so might as well.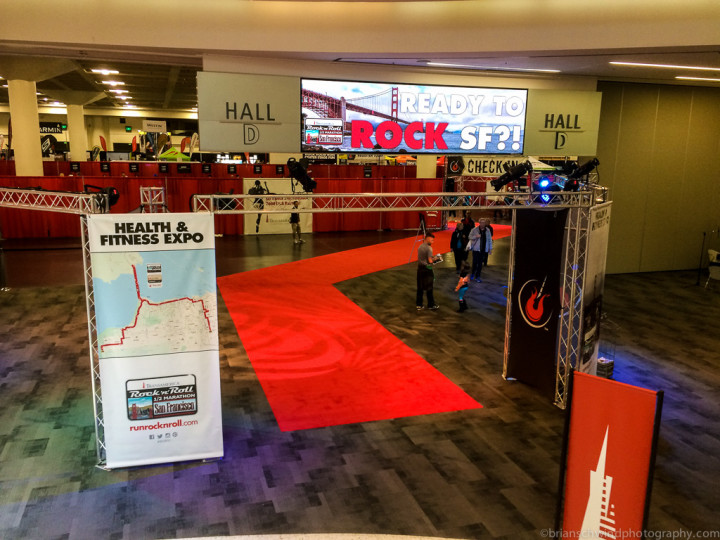 Everything continued to fall into place with this too. The packet-pickup and expo was in one of the Moscone Center buildings, which was where the Microsoft conference was. The race ended in the Civic Center Square, which was only a couple blocks from my hotel. The race also provided bus transport from the Civic Center Square. Logistically perfect!
Packet Pickup and Race Expo
We headed over to the Moscone Center on Saturday morning after fueling up with some breakfast at Dottie's True Blue Cafe. Dottie's is reknown for their breakfasts and TripAdvisor had warned of long lines to get in. We got there early enough and we were seated right away. Getting to Dottie's is a bit of a treat too. It is right in middle of one of the scarier sections of the city. If you go there, beware of having to walk amongst some of the street folk making random outbursts as you sneak by. The food was pretty good, but I didn't see what all the fuss was about. That is until we left. They had some amazing looking baked goods in the case when we left. Guess I didn't order correctly.
After breakfast we headed over to the Moscone Center to for Packet Pickup and the Race Expo. The packet pickup was a bit over-organized. They almost had too many volunteers because it was highly over-specialized. Each item of swag was handed to you by a different volunteer instead of prefilling the swag bags. Then they force you through the race store to try to persuade a purchase out of you.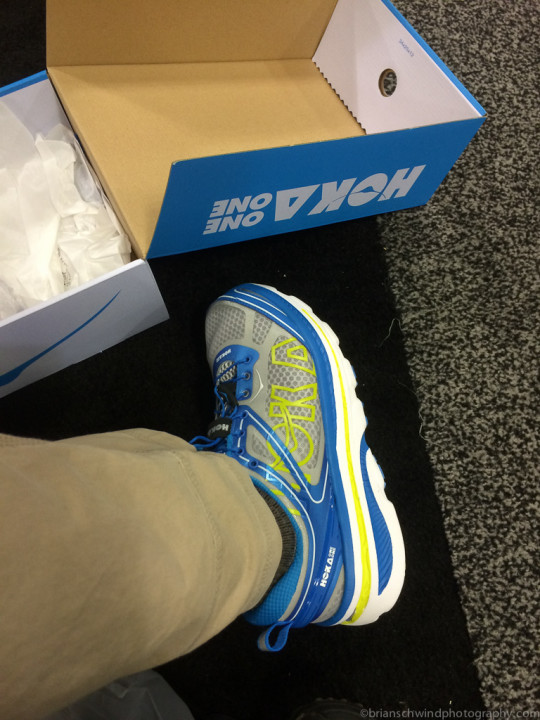 The race expo was actually pretty good and a decent size. It was much larger than most of the Ironman triathlon event expos I have been to. We spent a bit of time there too listening to some sales pitches and even trying on some Hoka's. I am still not up to buying a pair of these things yet, but there freakish looks are starting to grow one me. My wife is actually entertaining the idea of buying a pair since she thinks it may help her knee pain.
We walked through the Yerba Buena Gardens after the expo which is right in front of the Moscone Center. It is a pretty little oasis amongst the concrete jungle of the city. There are also a couple restaurants and shops that surround it too. It was getting to be around lunchtime now so we headed back to the hotel to get ready for our road ride to Sausalito and Tiburon, which you can read more about in my previous post.
Pano view of San Francisco from Yerba Bueno Gardens. Yerba Buena Gardens, St. Patricks Church & San Francisco
Race Morning
I woke up around 4:45am on race morning and immediately fueled up with a Vega Performance Protein Bar, an Amrita Bar and some Starbucks Via coffee. I had prepared and laid out all of my clothing and race bid the night before so getting ready was pretty easy. Running races are generally so much easier to get ready for compared to triathlons. Plus, this was a casual run for me, so not a lot of pressure here. I was tip-toing around the hotel room with my headlamp on the whole time so not to wake Denise up. She was actually sleeping quite soundly which is odd for this time of the morning. She is typically an early riser. Around 5:15am I headed down the elevator and out the main lobby towards the Civic Center Square, which was where the race transport was, to get to the starting line. The Civic Center is located right in the heart of the shadiest part of San Fran, so I was a bit anxious about getting there by myself. I was hoping I could join up with some other people that were going to the race as well. To my misfortune there was no one leaving the hotel at the same time. As I started into the thick of the scary sections I started jogging a bit. I needed to warm up and this would get me quickly past most of the folks lying about in the streets. I eventually located a couple a few blocks ahead of me, so I sped up a bit to try and tag along with them. I passed one homeless fellow sitting on a hydrant or something that looked at my as I scurried by and said "good luck!" I laughed and said "thanks man!" as it took me by surprise. There was also one street corner that had a bunch of homeless folks congregating on it and they were all yelling at one another. I found this a good opportunity to cross the street here. I soon caught up with the couple, but by then we had reached Market St. which is well lit and was pretty full of runners heading to the square. Whew…Safety at last! The lines were pretty long at the Civic Center, but they were rolling and loading the yellow & black school buses through pretty quickly. Before long I was on a bus headed to the start line. The ride was around 25 minutes or so and I had a seat all to myself to spread out. When I finally reached the starting line area which was situated along Ocean Beach on the west side of San Fran, I was in a B-line for the port-a-loo. There were a ton of them, but they all had huge lines. I walked down to the farthest one thinking the lines would be less, but no such luck. I settled into a line and waited. It seemed like forever. There was a couple girls behind me who did not shut up the whole time. It surely made my patience wane even more. I was a bit more disturbed when they continued to talk through the National Anthem. The race was a wave start, so each finish time-based corral would start every couple minutes. I didn't realize this at the time, so I really wasn't that concerned about starting with the race clock. I had my Garmin so that is all I really cared about. And…I had to pee really bad. I eventually got a port-a-john and let the floodgates release. I quickly dropped off my post-race gear bag off and headed to the start line for the 2:00 hour finish corral. I still had plenty of time will my wave went off.
The Race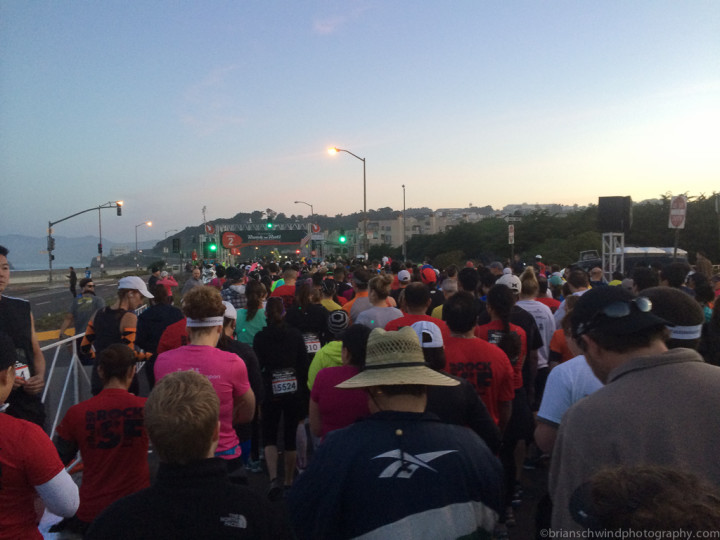 And we were off. We headed down Great Highway and quickly made a right turn up Balboa St., were we encountered our fist hill of the day. It wasn't terribly steep, but just kept going up and up. The first mile was pretty slow since I was dodging people as we ambered up the hilly course. I am also not one to start out too fast. I need to ease into my pace and sometimes it takes me a half hour to settle into a groove. Guess that is why I like the longer distances.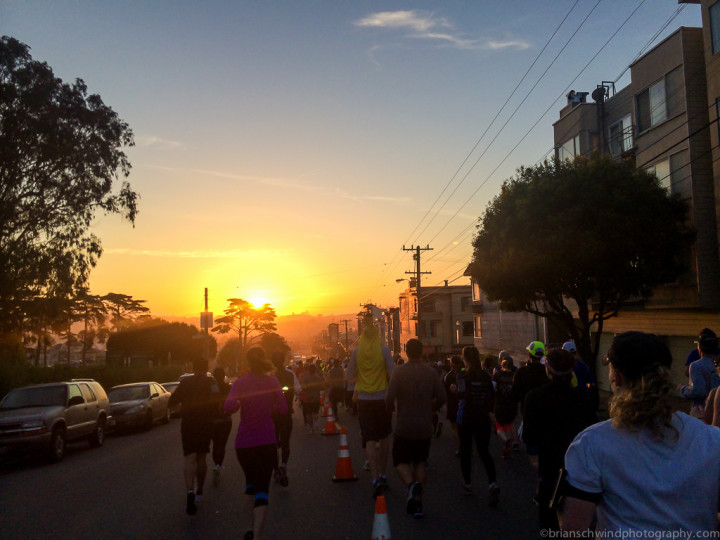 My times gradually increased as the crowd sorted itself out and I got into my groove. The exception to that was on Lincoln Blvd, right before the Golden Gate Bridge, which was a pretty healthy climb. This and the fact that there was a lot of picture taking going on with its unique view of the GG Bridge. This helped sort out the crowd for the very narrow cattle chute that we had to endure crossing the Golden Gate Bridge. There was a bunch of jugglers and guys riding huge unicycles too which helped distract you from the pain.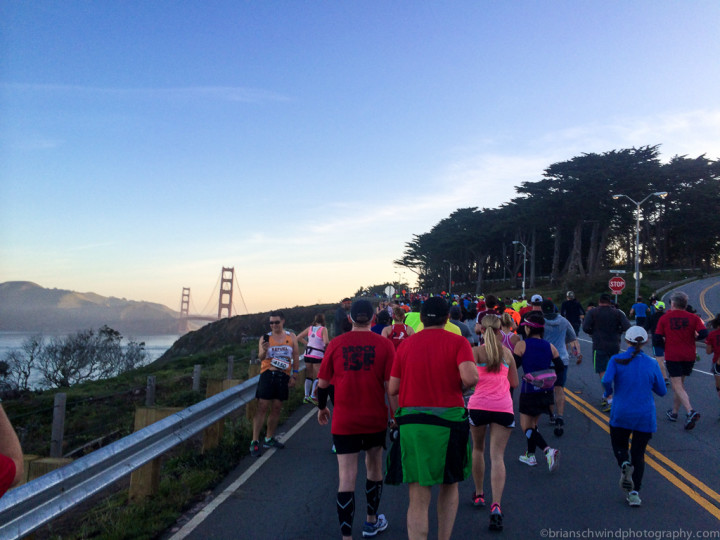 Each direction had one full lane of the bridge. As we made the first cross towards Sausalito, many were drifting over into the opposite lane since the fast runners had not made it there yet. I stayed mostly on the left side up against the yellow rope that separated us from the bridge traffic. Both directions on the bridge were tight and it was difficult to find any open running room. There was a girl running in some rainbow-colored hairy boots that I found myself following for a while. It was pretty cool running across the bridge though and I took the opportunity to snap a few pics along the way.
Once across the bridge, the crowd thinned out quite a bit with the wider road heading down into Crissy Field. We were now at least half way through the race and we finally encountered a band playing. I almost forgot that this was a ROCK 'N' ROLL event! The band was playing so quietly though that you may have missed them if you didn't see them. We did encounter a few more bands after this which got subsequently louder after this.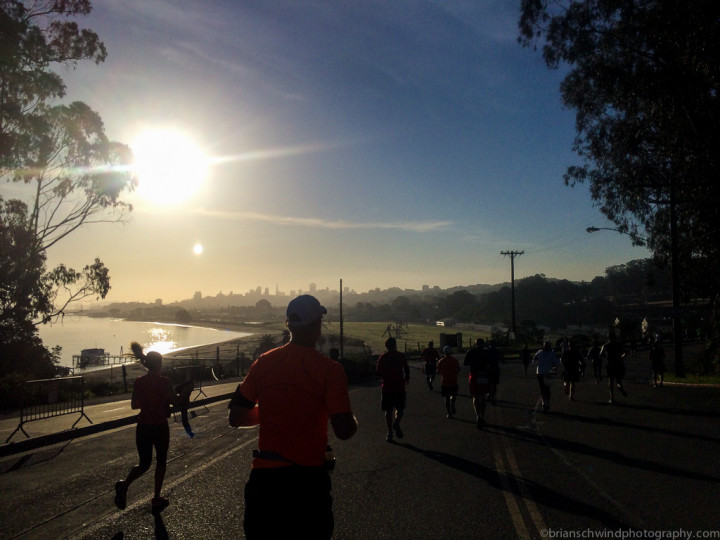 We then headed through the city again on our way back to Civic Center Square finish. With the city came more hills again…ugh! On one of these hill I started getting so nauseated that I thought I was going to puke. I managed to keep it in though and it eventually went away. I also started getting down into the 7-8min/mi pace as the raced thinned a bit and we hit some flatter sections. I started to pick it up a bit too since I felt good and I thought I would try to negative split the race.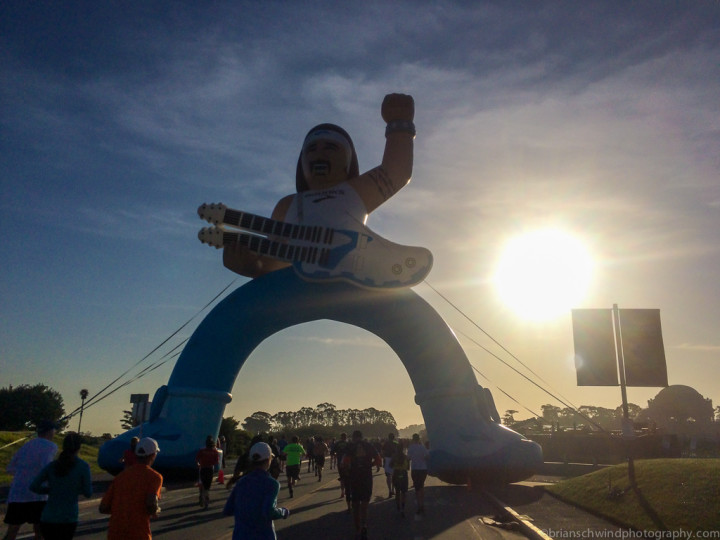 As we were heading down Polk St., towards the last mile or two, they diverted us straight where others had been making a left towards Larkin St. This was kind of cool because it felt like we were in the front pack of the race for a little while. Eventually we were sent left to Larkin and joined in with the rest of the bunch. The last mile was a downhill cruise to the finish where I was running in the low 7's. My wife took a picture of me and it looks like I was severely putting the brakes on.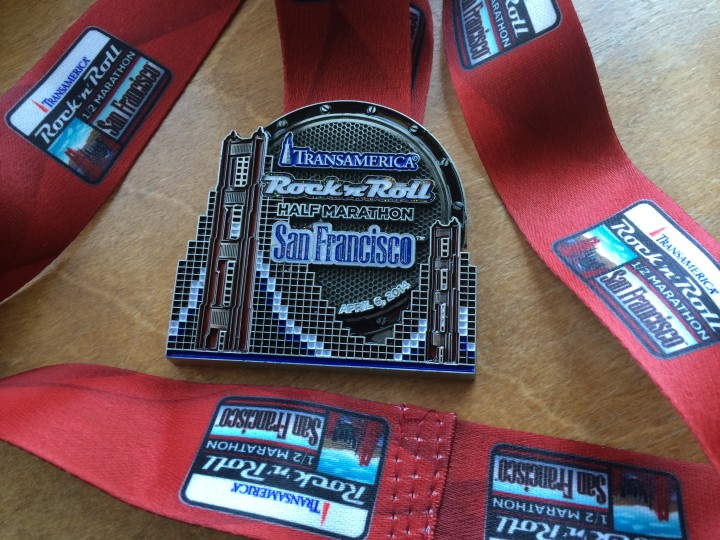 I crossed the line in 1:55:11 which isn't too bad considering I wasn't really going for time. It was more of tourist sightseeing tour. I grabbed my finisher medal, a couple of waters and searched around for some decent food. I managed to find some banana's and pisctachio's among all the other post-race crap they call food. Some of the worst was the Cheez-Its and of course the worst of all…Chocolate Milk!!! Yuk!! The worst thing was people were grabbing it like it was going out of style. It kills me how they can push this crap off as some kind of health food. Why don't they just hand out some Mountain Dew while they are at it!
Post Race
I claimed my gear bag and we headed back to the hotel to pack and check out. The race was really fun with great views and a challenging one with the hills. I would recommend it as one to check out, but not if you are going for a PR. The lack of music along the course was a bit of a let down for a Rock 'n' Roll branded event. The local St. Lukes Half Marathon in Allentown is Far better with regards to course music. This race made me appreciate how good a race that is. I believe there was a concert and free beer after the race, but we weren't going to be sticking around to find out. We were on route to Yosemite this afternoon. Thanks for reading!