The last time I had rode the MS City-to-Shore 150 ride was before back in the early 2000's with my wife. It was a perfect 1st day down to the shore, but the ride back on Sunday was brutal. Torrential rain, 25MPH headwinds, and cold temperatures made for a miserable day. We have not been back since. This year a bunch of people from work had decided to form a group and do it, so I thought it would be a nice way to round out the season. I hate raising money, but $300 seemed to be a reasonable amount so I signed up.
I was a little worried I wouldn't have enough fitness carried over from Timberman 70.3 to do 180 miles in 2 days. Denise and I would be returning from a week in Italy the weekend before and I wasn't going to be doing much training over there. But, it was just a charity race so I wasn't too concerned.
I reserved a room at the Fairfield Inn not too far from the PATCO Train Station start line in Cherry Hill, NJ so I wouldn't have to get up so early on day 1. I was supposed to meet the others from our work group at a nearby school parking lot the morning of the first day. Unfortunately, we ran into the masses of cyclists starting out on the ride and could not get to the school. I ended up pulling my bike off the roof in the street and heading out from there.
It was well past the time we were supposed to meet at the school, so I decided to head to the starting line and maybe catch up with them there. What a mistake! Riding against the flow was crazy. I got close to start, but decided to turn around and start riding. By now the main crowd was gone and it was only a few scattered riders left. Once I got into my pace I eventually caught up with the main flow of riders but I never caught up or saw anyone in our group. At one point the century riders make a right and do an extra 25 mile loop which brings you back to where you left off and then you continue on. I was pushing pretty hard and even skipped some rest stops to try and catch up with two other guys from work, Chuck and Keith. They our the faster ones in the work group and who I sometimes ride with after work. I never did see them though.
Later on in the ride I caught up to one of my coworkers, Dianna and her husband. I asked if she had seen Chuck or Keith and she said they were behind me. Huh??! So apparently in my mad rush to catch them, I ended up passing them. Ugh! So at that point I said the heck with it and just pushed on. Might as well get a good workout in now.
I started cranking it and was passing people in droves. I would catch on to a pace group and then end up passing them. The one group I did that there were a couple guys in Merck jerseys. One guy came with me as I passed the group and we started talking a little while later. I had my work bike jersey on and he asked if I lived near there, which I replied yes. He said that he lived right around the corner and I asked if he knew this guy Steve who I was friends with on Strava, but never met in person. He was like "Brian?" It was him! No flippin' way! How crazy that I run into him among 4000+ cyclists stretched out from Cherry Hill to Ocean City, NJ? So we ended up talking the remaining 20-25 miles to the finish and our pace declined a bit from there.
I left Steve at the finish and grabbed something to eat before meeting up with Denise who had driven down to Ocean City. We made our way to nights' accommodations at Luray Manor a few blocks from the finish area. It wasn't the fanciest place, but it was cheap and only a couple blocks away. They also have a nice big porch to hang out on.  I showered up, had a couple beers and then we headed to the boardwalk. I snagged a slice of pizza at some shop, and then we found Shrivers Gelateria. Oh it was really good. Best we have had here since Italy.
After some people watching on the boardwalk we hung out on the porch for a bit and then headed over to 701 Mosaic for dinner. It is a tiny place, but the food is really good. Denise had found the place on the web and had made a reservation beforehand.  Definitely worth a stop. We had a nice walk on the boardwalk after dinner and then headed back to Shrivers for some more gelato! Got to fuel up for another 80 miles tomorrow.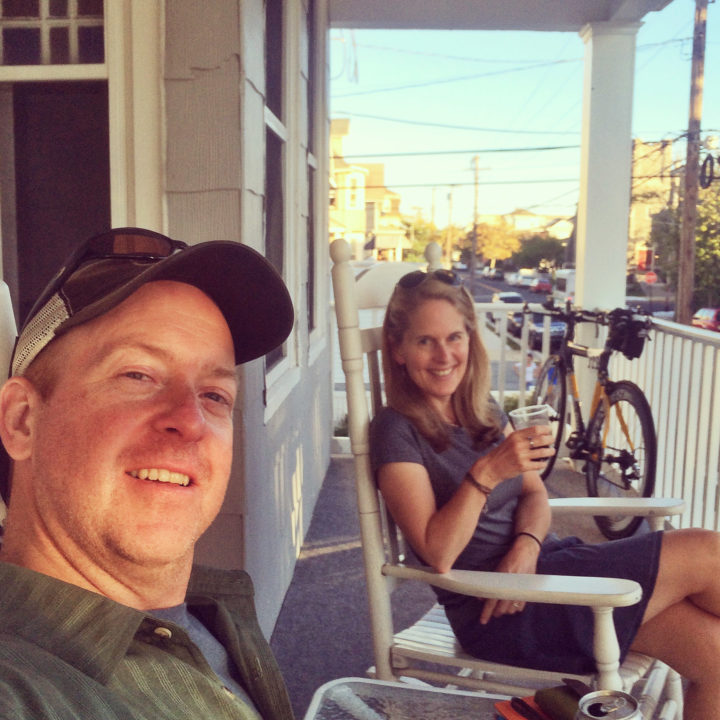 I finally caught up with the work gang at the MS Ride breakfast the next morning. We all headed out together, but eventually split up as our different paces spread us out. They were going a bit slower than my normal pace, so I just kind of rode aside them to slow me down and give me a little more headwind. They eventually caught on and said why don't I just lead, so I did. I was trying to maintain a pace everyone could handle, but some folks kept getting dropped. We waited for them at eat rest stop, but would drop them again. After a while they just go, so we did. It ended being Keith, Chuck, Bill and I. Bill eventually dropped off too, so it was just the three of us.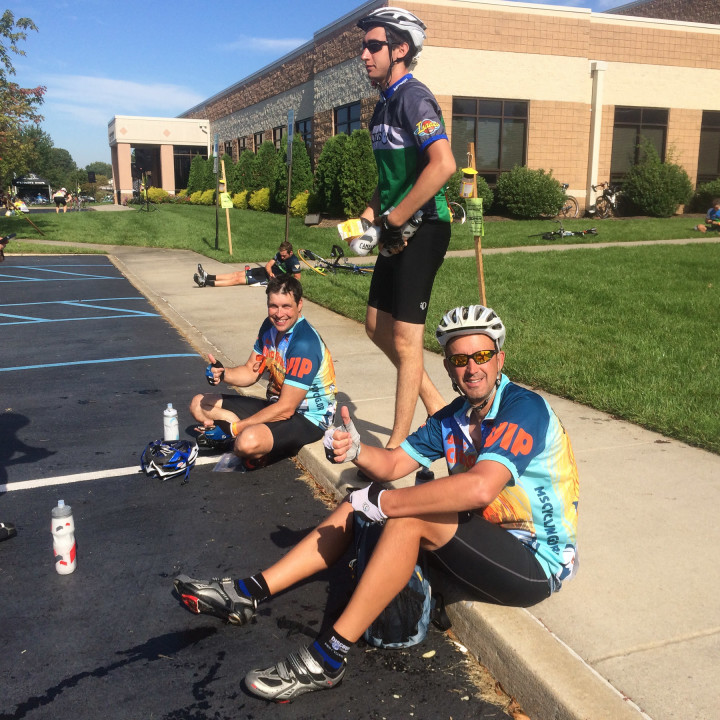 Chuck would start yelling at me everytime I would approach 22mph. Sometimes it was on a downhill and I would say I am coasting. It was pretty funny.  Chuck and Keith are pretty entertaining because they just banter back-and-forth all the time. They kept me entertained the whole way. After the last rest stop, we had just gotten up to cruising speed when out of nowhere came this crazy squirrel running from the left side of the road and directly at me. I just barely caught a glimpse of him out of my left eye before he latched on to my left foot. I was at about a 85 rpm cadence with a crazy squirrel on dug in to my foot. I was afraid he was going to bite me or even crawl up my leg. I quickly unclipped my foot from the pedal and with everything I had just flung the animal off my foot like I was slingin' mud. The squirrel went splat on the road and ran around in a daze from what I could see. I am still going about 15 mph at this point. I heard Keith say "don't fling him at me!" Everyone was swerving to avoid it. I don't know what happened to that thing but we were laughing our asses off the whole  way back. I wish they had a GoPro for that.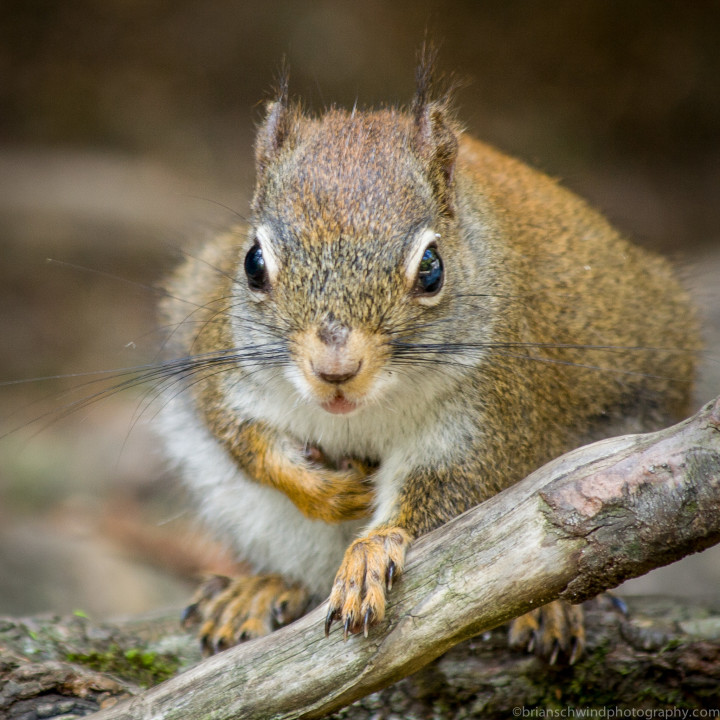 I drug Chuck and Keith all 80 miles at around 18mph average speed to the finish line. It had got a little hot towards the end and I was started to feel the 180 miles on me. They let me cruise through finish line first. I felt pretty good considering I hadn't trained for the thing. I was amazed how my fitness had held up for that.
Keith and Chuck got me this shirt for pulling them the whole way. Pretty funny!