Now with the NJ Devilman race behind me it is time to focus on the final 8 week build for Ironman Coeur d'Alene. Unfortunately, the affects of the Devilman Half Lite continued to linger well into the week.

I was very exhausted on Monday and decided it would be best to take a rest day. On Tuesday, I did my normal endurance/form swim, but did a zone 2 bike ride that evening instead of my usual run. My legs were still really sore and they were not ready for a run just yet. My Heart Rate Variability was stilling showing signs of stress until about Thursday when it rebounded and shot back up int the 80's again.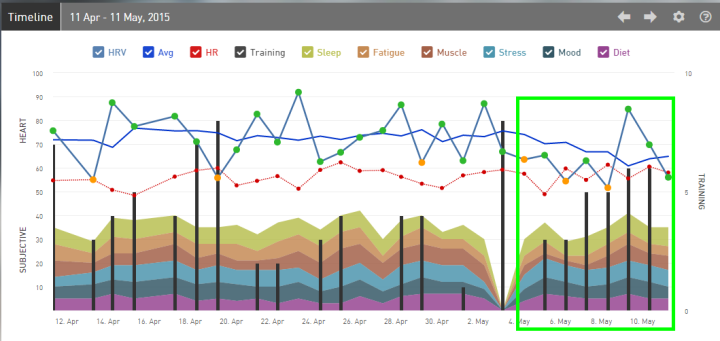 As you can see in the HRV timeline above, there was a bit of a death spiral for the next 5 days after the race. Saturday then rebounded quite a bit and then some long LSD workouts pulled things back down again. I had hoped that taking the entire day off on Monday would help to expedite my recovery, but things continued to decline after that.
The iThlete Training Guide below reinforces this as well. A majority of my morning readings are showing up on the left side of the graph indicating a lot of low recovery days. Granted that this week also a build week so overreaching a bit was part of the plan, but I still have another two weeks of build to go. Given this I am starting to consider adjusting my plan to only do two weeks of build and then follow with an easy week before I head to Lake Placid for a training camp. I want to be fresh for the camp since it is a big block training on its own. This is the kind of thing where HRV helps you manage your training as you go. You can follow a schedule but if your body is not responding to it you need to adjust. Using HRV and the tools that iThlete provides allows you to do that.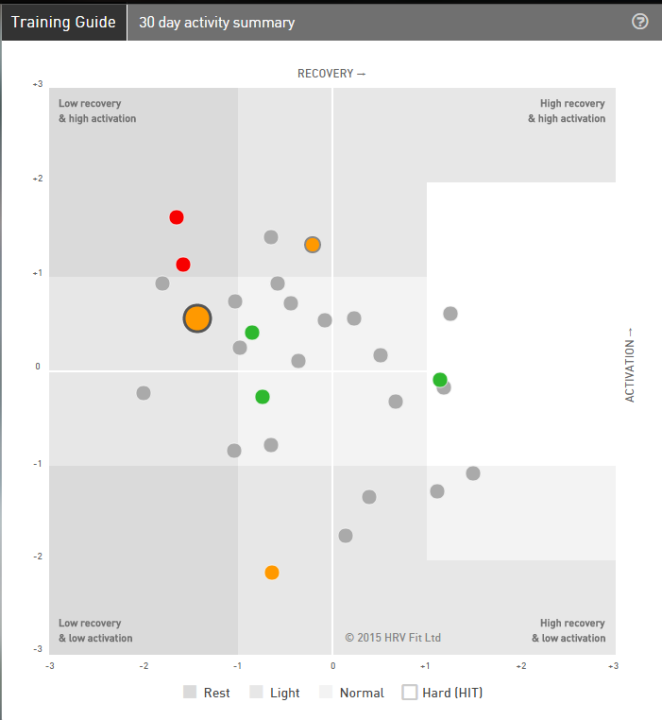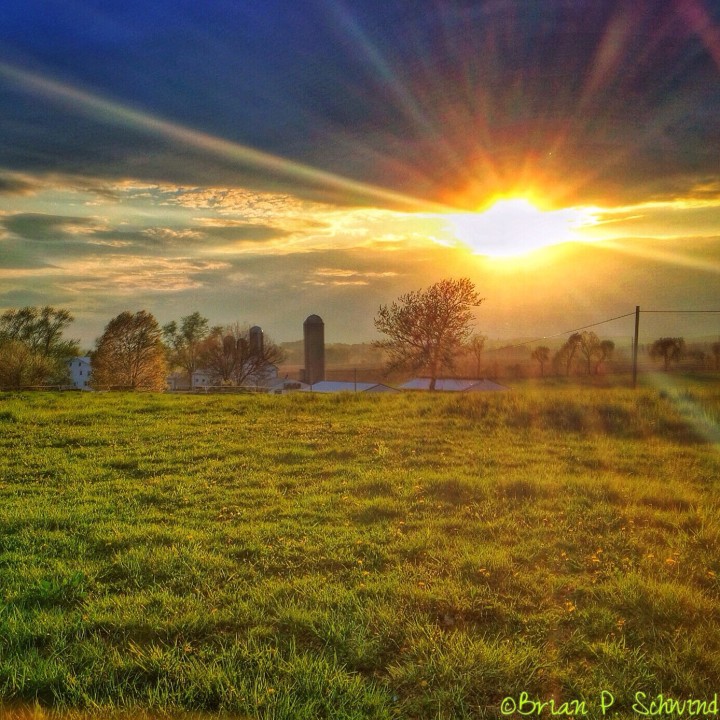 On Friday I headed over to Dutch Springs for a hour  open water swim. It was a good swim but definitely not without some drama. You can check out the full scoop here…
Fabulous Four's
On Saturday I decided to ride the Quad County Metric route which is a well-marked ride that runs by my home. Turned out that this years actual ride was this same day, so I ended up riding along with everyone doing the ride. I hooked into the ride just up the road which is on one of the tougher hill climbs on the ride. As I came upon the hill there were riders all over the hill zig-zagging up the road. Since I was pretty fresh I zipped up the road and passed most of the people. It is kind of mean since they probably have about 25 miles into their legs at this point.
It was a rather moist day. While it was not really raining, there was this mist in the air all day and I just felt "moist" all day long. After losing my iPhone to moisture the day before, I was not about to bring out my new phone for pictures today. It did dry up a little bit and I was able to capture one image.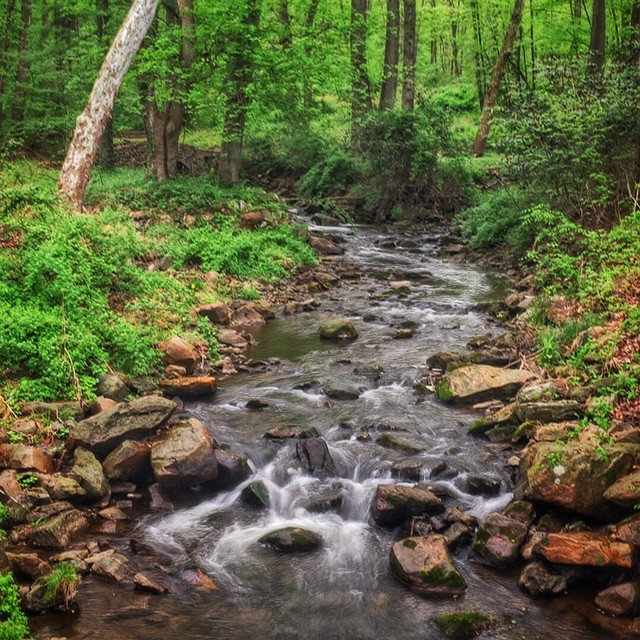 I felt kind of bad riding with people doing the ride, but I was not utilizing their rest stops and I did veer off of the course for a bit. It was a pretty challengin ride though. it had about 4500 feet of climbing in around 56 miles. I tacked on some extra mileage so that I got about 72 miles in 4:40. I tacked on another 30 minute brick run right after too. All-in-all there were 4 category 4 climbs. Play that number!
Dirty D&L Run
On Sunday I headed up to the D&L rail trail for my long run. The plan was a 3 hour run which should end up being about 18-20 miles. It was a unseasonably warm day for sure. The D&L trail is nice for long runs due to its length, but it can leave you high-and-dry since you have to carry all your hydration and nutrition. I like to park midway at the Cove Road Trailhead so I can do a 4 mile out-and-back to the south and then re-tool and do a 5 mile out-and-back to the north.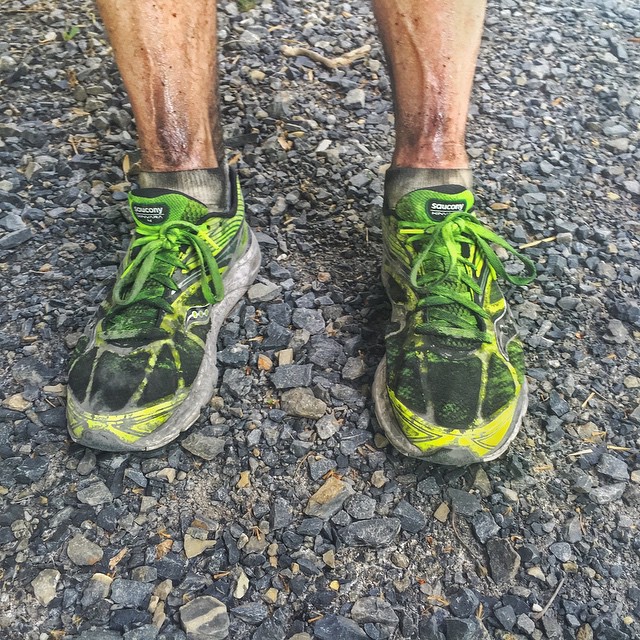 I took a two bottle Fuelbelt, but I ran a little dry on the second half of the run. Somewhere around mile 12 things started to fall apart. I don't know if it was the heat or the pretty hilly bike ride the day before, or both but the wheels fell off. I ended up doing a walk/run the last 4 miles of the workout. It was a bit of a confidence buster.

I managed to get back to the car and everything was ok. Given how spent I was, I decided Monday would be a rest day. Next week is another build week, so I needed some recovery to get the most out of the next week. We are coming down to the wire here and I don't want to sabaotage all the hard work I have put in this season.