If you read my previous post on our trip report to Pittsburgh, you know that my wife talked me into running this race with her so that she could coerce me to go to Pittsburgh for a long weekend. You also know that my wife could not run the race due to knee issues, so this left me flying solo. I was originally just running it as a training race and would stay with her, but now I figured I might try to PR it. The elevation map for the race looked fairly flat except for miles 11-12.5 and then a downhill finish. So that was now my plan. I had done an easy, recovery week of training the week prior so it was shaping up to be a perfect .

I woke up around 4:45am after a pretty good night sleep at the Hampton Inn. I had an Amrita bar and a Vega Performance bar to kick the metabolic engine off along with a cup of Starbucks Via coffee. I was quickly dressed, since I had laid out everything the night before. I brought along a old pair of track pants to keep warm and then ditch before the race. It was supposed to be fairly cool this morning, around 40-50 degree ( F), and there was a slight chance of rain.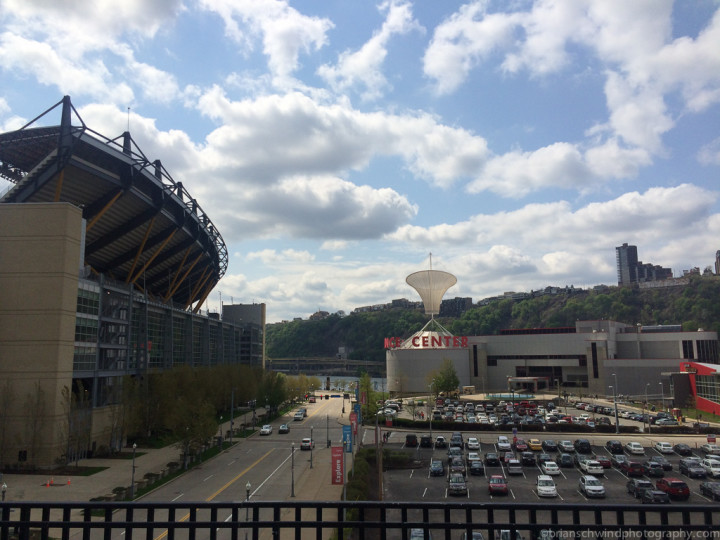 We hopped in the CR-V and headed down I-279 to the parking lot by Heinz Field. On Saturday, the parking attendant said she was not going to be there until 5:30am, so we could park for free if we beat her. Fat chance! There was another attendant there before and we waited in the short line to pay our $5 to get in. A T-line rail train had come and left while we parked, so we would have to wait for the next. We got up the platform, which was pretty empty and waited. More and more runners accumulated while we waited and eventually the train came and quickly shuttled us downtown.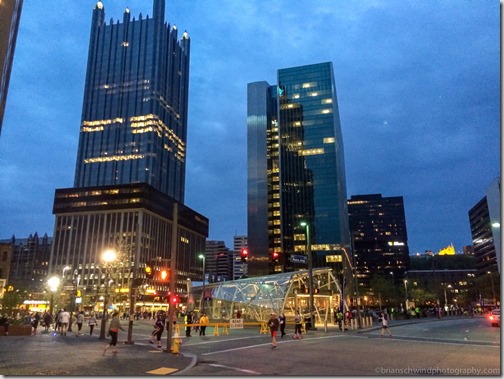 It was pretty busy with runners downtown when we came up from the rail line. I spotted a bank toilets and made a B-line for them. There were NO LINES!! I haven't seen that at a race in a long time. We then sauntered down the street to the cross street where "B" start corral was located. They had all the side streets blocked off with chain-link fencing one block on each side from the starting line street. We hung out there for a bit until it got closer to start time. A few rain drops fell as we waited but nothing major. It was a really cloudy morning.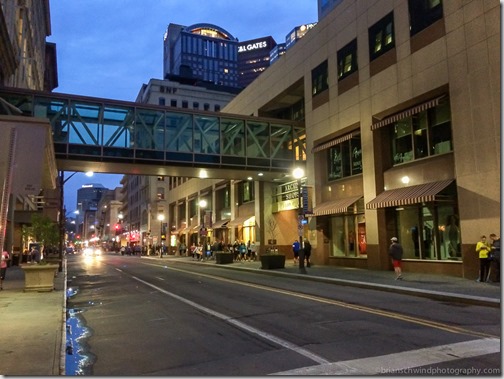 I said goodbye to my wife and made my way through the security checkpoint. There were more toilets in the high security area between the gate and the start line. I didn't have to go real bad at that point and kept going past. I also didn't want to wait in the line. It wasn't huge, but I was impatient. I made my way up the starting corrals to the 8min/mile pace area, which was not very full at this point. The full and the half marathon all started together by pace too. As I waited my bladder began to indicate I should have taken one more leak before. Oh well too late now.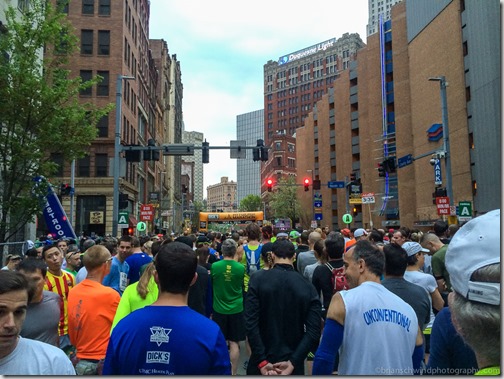 We were off. It had started to rain a bit harder at this point. The first couple miles up Liberty St. were very flat and I got up to a good cruising speed. I was averaging a sub-8, which is what I needed to do to PR. The need to pee became more and more urgent and I found it hard to concentrate on anything else. I kept checking out the toilets along the course but they were all full. Around mile 3 I finally found an open one. Ahhh!! Well, that was the longest pee I ever took I think. It seemed to not want to end. I was looking at my watch as the seconds were ticking away. Ugh…now I got a deficit to make up.
I sprung from out of the Port-O-John like I was rocket. My average pace on my Garmin was now saying 14:00 min/mi average for this 3rd mile. No problem I can make this up now. I still ended up averaging an 9:00/mi pace for the 3rd mile so it didn't hurt me too much. We made a right turn over the first of many bridges. This was the first real incline of the day, but I was still hanging on to a solid 8:00/mi pace.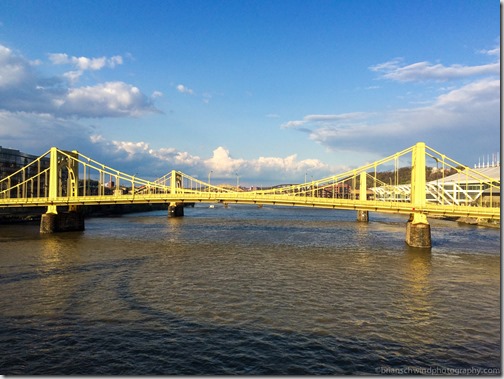 All hell broke loose around mile 6. I started getting a really sharp cramp under my rib cage on the right side. I don't typically get side-stitches, but now I am pretty sure that is what it was. It started to hurt bad enough that I needed to walk a bit. I realized that it was most-likely from not breathing properly, which is usually what causes. I began doing some deep breathing exercises and it eventually worked itself out. I felt my PR slipping away with every slow step. Mile 6 & 7 were averaging just a hair under 9:00/mi. Wah…wah…wah!
I decided that my PR was gone now and I decided to just enjoy the race and take in the views as we crossed more yellow bridges. There was a large group of kids singing that "Happy" song at the bottom of the hill on Alexander St. on the South side which gave a little spring in my step again. Then I saw Denise standing on a barricade down towards the Duquesne Incline which also helped me pick things up again. It was a pretty nice long, flat stretch along the South Side before turning left over the Birmingham Bridge. There were a ton of spectators out all along the South Side cheering away. It looked like a really cool neighborhood too with lots of shops, bars and restaurants. It started to hurt a bit as we crossed the bridge. The bridge itself was pretty steep and then it was a slog up Forbes Ave and then Boulevard of the Allies.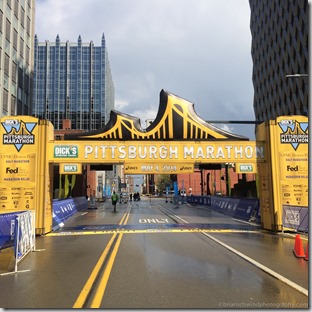 Around mile 12.5 it started downhill all the way to the finish. There were lots of spectators cheering everyone into the finish line which was nice. I crossed the line in 1:51:19(official results), which is about 5 mins off my PR. It was a nice race regardless and I was happy to have spent a nice weekend in Pittsburgh.