Race Name: Independence Triathlon – Piranha Sports
Race Distance: Sprint – 1/4 mile swim, 10 mile bike, 2 mile run
Race Location & Country: Lake Nockamixon State Park, Quakertown, PA
Date: June 3rd, 2012
Race Category: Male 40-44
Why did I do this race? I had a free race credit with Piranha Sports due to the closing of the bike course(freshly oil * chipped road) at the Patriot Triathlon(Bath, PA) the year before. This was close to home and was the only race I could fit in my schedule.
The Swim
One lap lake swim. Clockwise rectangle. This was one of my fastest swims ever with a 6:23 for 0.25 mile(01:27/100yd pace). I was going hypoxic towards the end. It was wetsuit legal. I would suppose it would be at this time of year unless it was unseasonably warm.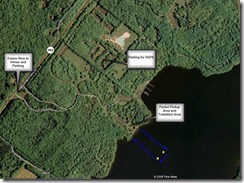 The Bike
1 quick loop. Follows same road as Steelman course but a bit shorter. This was over before I knew it. Bike exit was a decent little incline and I got my shoes stuck under pedal and one popped off. Lost some critical time dealing with that. Ended up with a 18.8MPH avg, which should have been more in the 20's.
The Run
A 2 mile blast! Follows the same path that Steelman uses, but again much shorter. ~7:00min/mi pace for me is pretty good.
Transition
Pretty roomy. They stagger the people on each side pretty well so there was plenty of room.
Race Organization
Very good. My only gripes were that there was no vegetarian or vegan food options at all and the line for bodymarking and into transition were too long. They only had one person bodymarking and another checking everyone into transition. Could have used a couple more people to expedite things. Food options at the end were just meat hoagies and chips. Room for improvement there.
Top Tips
Go hard and fast. This race is so short you cannot afford to "leave anything on the table."
If you are a decent swimmer, get to front and just outside. It is so fast you don't want to get trapped behind anyone.
Make sure bike is in a easy gear to get out of transition.
Either rubberband the bike shoes or wear them.
Start comfortably easy for first .25-.5 mile to get legs moving, then let it rip. It is only 2 miles!
How did you do?
I was pretty happy with my effort(54:38-46/299). I missed 3rd in my age group by 1, so that was a little disappointing for a few minutes. My only screw up was the bike exit when my bike shoe popped out of the cleat. Lost a minute there. Would have pushed a little harder on the bike too.
Verdict
Fast, fun race. Well organized too. I would do it again if I was free that day. I would highly recommend it to anyone who is thinking about doing their first triathlon. It is so short that most people with some decent fitness could do this.