The day finally came and we were off to Newark Airport to begin our trip to Tuscany, Italy. We had a late flight so we made a stop at Pru Thai in Clinton, NJ for dinner on our way. Pru Thai is our favorite Thai restaurant and it was a good way to avoid the rush hour traffic too. We dropped our car off at the ABC Airport Parking and were quickly whisked away to Terminal B at Newark Airport. As we rolled up to the terminal it was starting to sink in that we were finally on our way. Or so we thought.
The SAS ticket counter was rather vacant of travelers, but there were several ticketing agents standing there. Hmmm…that's strange? The ticket agent swiped our passports and said "do you know your flight was cancelled?" WHAT??!!! Suddenly I felt like I was in a dream and this was not really happening.
There was a lot of back and forth and the eventually all of the agents had come over and were huddling around trying to figure out alternatives for us. There wasn't any, other than to fly out the next day. One option was to fly a little earlier on Friday morning with another airline that had a connection that was less than an hour. It would get us there 8 hours earlier, but we would risk missing the connection and possibly our luggage. The other, safe option was to leave at 6:55pm EST Friday via SAS with 2 stops and get to Bologna at 5pm on Saturday.
We chose the safer option and they put us up for the night in a hotel in Newark. Yippee!! The girls at the ticket counter were really nice and they told us we could use the airline lounge the next day since the one girl would be working the counter.We headed down to the welcome center at the airport to line up a hotel and shuttle pickup. Our voucher was for the Wyndham Garden hotel, but when I called the number the Hilton Garden answered. They said they would take our voucher and we needed to head to the P4 parking area to meet the shuttle.
We made our way via the AirTran to the P4 Parking area to shuttle pickup. We waited while shuttle after shuttle came and went. None of which said Hilton Garden. There was Hilton, Hilton Newark but no Hilton Garden. There was even a Wyndham Garden! WTH? I asked the driver if that was the same as the Hilton Garden but he said no. Well we waited over an hour and saw the same shuttles come and go. We took the next Wyndham Garden.
We got a room at the Wyndham Garden, no problem, with vouchers for dinner and breakfast. I have no idea to this day where the "Hilton Garden" is or if it even exists. After checking in, I snagged some to-go Corona's and water at the hotel snack bar and settled in for the night. I started cancelling and sending emails to change our reservations before falling asleep.
We headed down for our free breakfast after a pretty decent nights sleep. We hung out in our room most of the morning until our late checkout at 1PM. I finalized changing our museum arrangements, rental car and cancelling our first nights room. We packed up our stuff had our free lunch at the hotel before heading back to the airport.
When we checked in at the SAS ticket counter and there was some more confusion with the ticket agents again. Now what?? The guy kept asking us what flight we were on and kept reminding him that they were supposed to be all confirmed for the day. He started going down the line asking the other agents something. Eventually he reached the last lady who seemed to know what she was doing. We walked down to her and got the scoop. She said there was two options. We could wait until 11:30pm and do a similar flight as what we were supposed to do yesterday with only one stop in Copenhagen. Or we could just do the two-stop flight that we were planning on doing which left at 6:55pm, but stopped in Oslo and Copenhagen. Either way we still got to Bologna at 5PM. We decided on the two stop flight just so we could get the hell out of the US. We made our way through TSA and headed to the gate.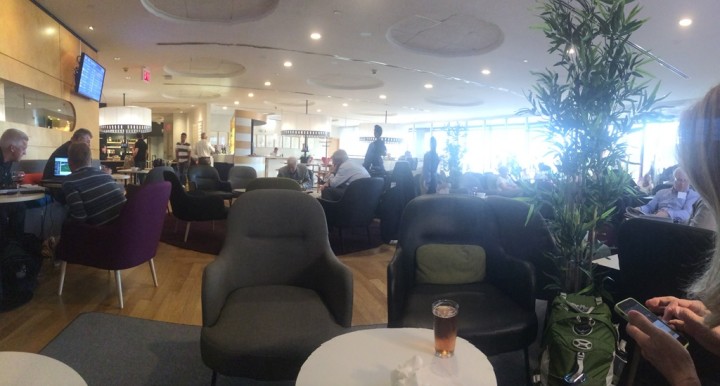 I spotted the SAS Lounge and we looked through the doors and spotted the girl from the ticket counter the night before. She recognized us right away and we chatted a bit with her. She let us in to the lounge for free which was cool. It was free food and drink, comfy chairs and free WIFI. We enjoyed some nice snacks, wine and beer. They even had an open bar that you could make your own mixed drinks. It was pretty nice!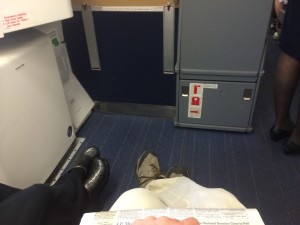 Before we knew it, it was time to head to the gate. We boarded the plane and settled into our seats. Our seats were at the exit door and bulkhead so we had a ton of leg room to stretch out a bit. SAS has gotten pretty stingy with their food & beverage service these days. They now charge for beer and wine on international flights which they did not the last time we flew with them. Oh well their flight was $400 cheaper(per ticket) than any other airline for the flight.
We taxied down the runway and we were finally off to our Tuscan vacation!