Last season was a banner race year for me. Heading into Ironman Boulder I wasn't sure if this would be a continuing trend or become more of a "hangover" season. Training for this race started early in December 2016, but after a nasty bout of bronchitis in February I lost a few good weeks that set me back. Despite the loss, I was feeling pretty good heading into my taper for Ironman Boulder.
I decided to fly out to Colorado about a week prior to the race to acclimatize to the altitude. I spent about 4 days up near Breckenridge, CO and another 3 days just outside of Rocky Mountain National Park in Grand Lake. This gave me a full week at around 8500 to 10,000 feet elevation, which is a few thousand feet above the elevation of Boulder, which is around 5300. I usually don't have too much issue with elevation, so I figured this could even make things go a little better than normal.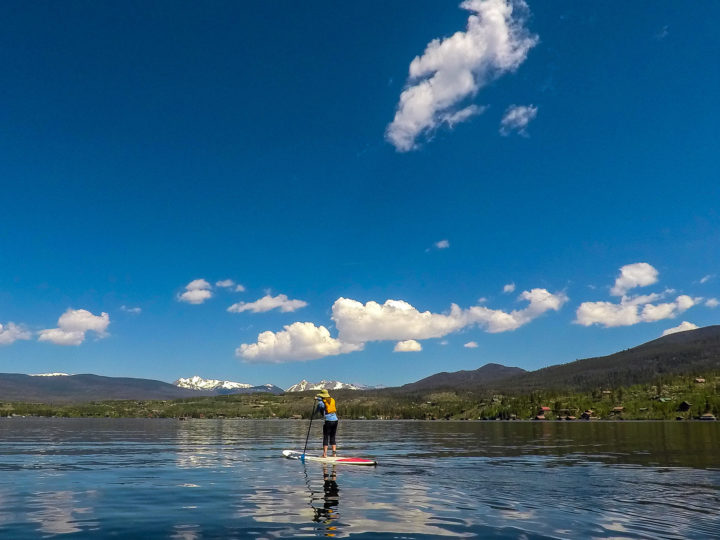 We got down to Boulder on Friday before the race and headed right to registration. Registration and the expo was all centered at Boulder High School, which is also where T2 was. Parking in Boulder was a bit messy. There isn't much parking on the side streets near the high school, but if you head a few blocks over near Pearl Street there are some parking garages. I love how they make you walk so much at these Ironman events. Like 140.6 isn't enough?! Downtown Boulder, or rather Pearl Street, is loaded with places to eat and shop. It is great for your support crew to spend time while you are taking care of business.
I shipped my bike via TriBike Transport again. I am still loving this service. I just wish that my local bike shop would become a pickup/drop off point so I didn't have to drive down to Philly twice to drop off and get my bike. Still It is better than shipping it myself or trying to fly with it. I also shipped a bag of gear which slimmed down my checked bag a bit. I was able to pack some tools, bike bag, spare tires and tubes, etc. I picked that up at the expo on Friday, but left my bike for Saturday when I have to come back for run gear bag drop and then take the bike up to Boulder Reservoir.
Ironman Boulder swim takes place in the Boulder Reservoir which is a few miles Northeast of downtown. The reservoir has been both wetsuit and non-wetsuit legal for races in the past, but those were all in August. This season they moved the full Ironman to June and the 70.3 is now in August. Chances are that it would most likely be wetsuit legal for the full in June unless they had an abnormally hot May-June. I think this year it was around 73 F degrees.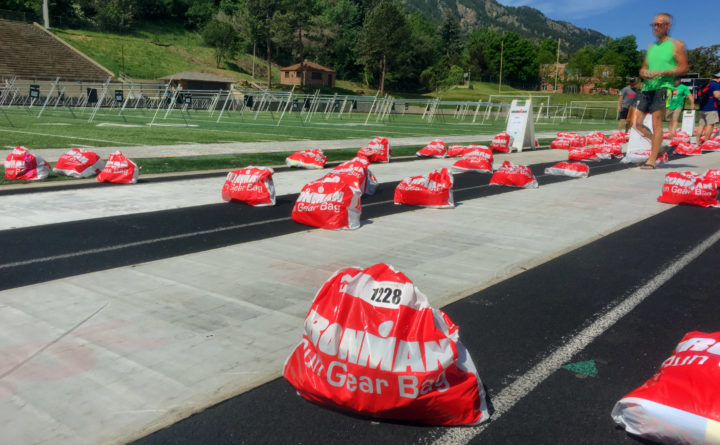 On Saturday morning I dropped off my run bags at the high school and picked up my bike at TriBike Transport in the event expo area. I took it out for a ride along the Boulder Creek Trail which is where the run course would be. I was pretty stoked that there were no big hills on the course. The course was also well shaded and the creek provided some additional cooling as well.  The only downside was that I would be running 26.2 miles on concrete. Not sure what that would do.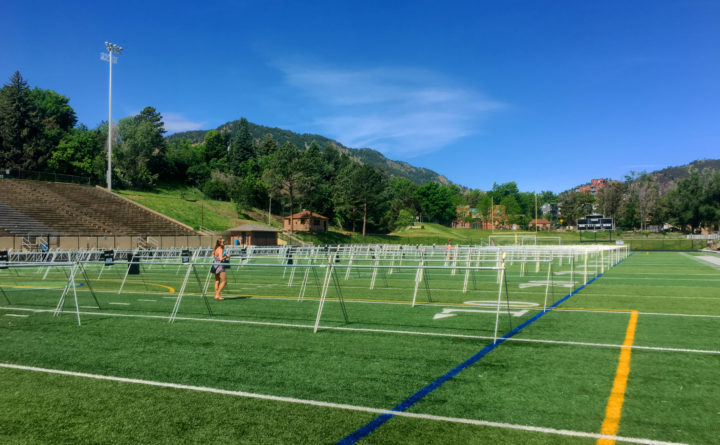 We then headed up to Boulder Reservoir to drop off my bike and my bike gear bag. Again, Ironman doesn't think 140.6 is enough so it was a long walk to the transition area to drop off my bike and bag. It was really hot Saturday, reaching upwards of 92 F degrees. Fortunately, it was supposed to be a bit cooler on race day.
There was apparently some practice swims at the reservoir earlier in the week and also one on Saturday too. Which I found out later. Ironman did a pretty crappy job communicating this since I only heard about it afterward. I would have really liked to get an open water swim in since I hadn't done any this season yet,
Instead of cooking my traditional pre-race Sweet Potato Chick Pea Curry dish, I opted for a Massaman Curry(not very spicy) at Basaba Thai Restaurant in Louisville. It was pretty good and seemed to sit well with me. Later I put together my usual race nutrition of Skratch Labs Hydration, Hammer Perpetuem, Amrita Bars, and a couple Honey Stinger Waffles with Peanut Butter.
On Race morning I downed a quick smoothie and some coffee and we headed to the high school from Louisville around 4:30AM. We ended up parking in one of the Boulder Parking garages(free on Sundays) and hoofing it over to the high school. The Special Needs bag drop was, as usual, a additional hike past the high school and back again to get on one of the shuttle buses to go to the reservoir. The shuttles where pretty quick and free flowing. This was the only way to and from the swim start and back again. My wife had to pack accordingly since she would be there for the swim and most of the bike leg. The bike leg comes through the reservoir for each loop of the 3 loop course.
When we got to the reservoir, we stepped off the bus to an amazing sunrise over the water. It was pretty spectacular. Then it was off to get body-marked, drop off water bottles on my bike and then head to the swim start. I said my goodbyes to the wife and seeded myself at the back of the 1:00-1:15 swim group. Denise then came down along the fencing right next to me for a bit until the race staff chased everyone away. Not sure why though.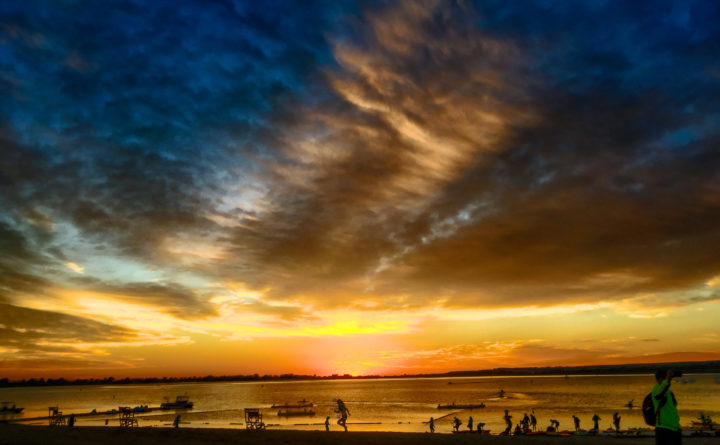 SWIM
The Course
The IM Boulder swim course is a one-lap, modified triangle that is swum in a counter-clockwise direction. The entry point and the exit point are about 100 yards from each other. The best thing about this course is that you never have the sun in your face the whole time. The water should usually be a wetsuit swim with the race being in early June, but with the amount of climate change these days, that is not a given.
The start is a rolling start where you seed yourself based on expected finish time. They have a very narrow entry gate that only allows one person through at a time, so every is well spread out. It is kind of nice.
My Take…
The canon blasted and the Pros were off at around 6:10 am. A second blast went off at 6:15 AM  for the Pro women. Then at 6:20 AM, the age groupers started heading into the water.
It took me several hundred meters to get in the groove of swimming since this was the first time in a wetsuit and in open water this year. Eventually, I settled into my normal stroke. Sighting was going pretty well, but the buoys never go by quick enough. The good thing was the altitude did not seem to affect me too much from what I could tell. Others I had spoken with who had done this race from lower elevations said that the swim would be the toughest part in regards to the altitude. I think my acclimatization plan had worked well for me.
I checked my watch a couple times during the swim and saw that I was pretty much on par with my typical Ironman swim pace. The last half mile or so seemed to get a little wavy. Although the waves were coming from the side and back of me, they still were throwing me off a bit. I don't know what was causing them. The Wind or a safety boat…no idea? Before I knew I was touching the bottom and up and out of the water.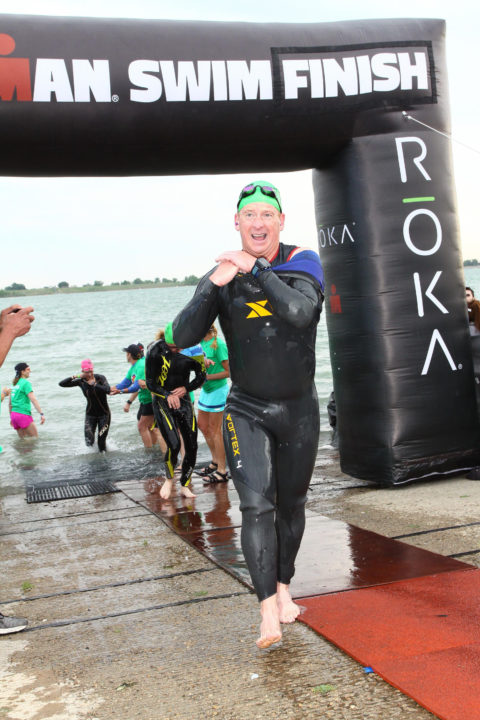 A volunteer had stuck his phone in my face as I came out of the water and I was wondering what the hell we was doing. I ran up the boat launch and almost ran right through the wetsuit strippers. They actually stopped me and I said "Oh yeah I guess I need to ditch the wetsuit?"
T1
The first transition is pretty short from swim exit to when you get your bike. The point from getting your bike off the rack to the mount area is a different story. It is probably longer than the swim exit to the bike rack and it is also uphill. Seems especially long since you have your bike shoes on too.
I ran through the lines of bike bags and grabbed my bag from the volunteer. A quick change into my bike gear and I was off. Denise was standing right at the gate before going into the bike pickup area. I ran over to give her a smooch and was off. Once I got the bike it was a nice longer uphill trip, in bike shoes, to the mount area. Finally off on the bike.
BIKE
The Course…
On paper, the course is listed as having 4,436 ft elevation gain. For comparison, Lake Placid is listed as 6898 feet and Mont-Tremblant is 1800 meter or around 5906 feet. Both are well over 1000 feet elevation gain more than Boulder. Also, my Garmin 520 showed an elevation gain of 4944 feet and when corrected on Strava showed 4797 feet.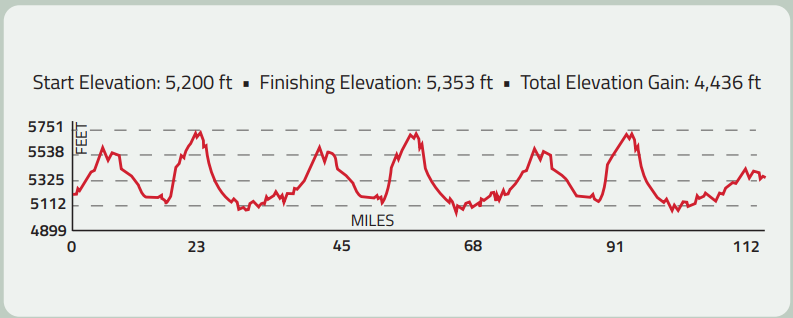 The course starts at the Boulder Reservoir drive above the bike rack area. It consists of 3 roughly 35-mile loops of the following:
Head South out the Boulder Reservoir gates and make a quick left turn and are immediately met with a short, but steep little hill. A nice welcome for your swim legs to bike legs for the start of the first loop. You then make a right turn onto Jay Road and eventually another right on Route 36. This is a gradual uphill for the next 7 miles until you reach the right onto Neva Road. You definitely want to keep things in check on this section.
From the exit onto Neva Road, left on 63rd Street until you reach the left on Nelson Road is about 7-8 miles of mostly downhill to flat. This section is where you can regain some speed lost from the previous section, so hammer it here.
Next, you will make a left onto Nelson Road and life will suck for the next 5 miles until you reach the St. Vrain Road exit. Especially, when you hit this section for the 3rd time. It is about 500-600 feet of elevation gain each time.
The sections on Route 36 are open to two lanes of traffic. So you basically have the shoulder which seems rather narrow and close to traffic. I also had to go around some cars when exiting the ramps off to Neva and St. Vrain, which was a bit too close for comfort.
The next 10 miles back to the Boulder Reservoir is mostly downhill or flat. Again, here is another place you want to hammer and make up for whatever you lost on Nelson Road.
As you enter the Boulder Reservoir you start to feel a sense of relief knowing you finished another loop, but that is quickly eradicated when you hit the little energy stealing incline reservoir drive. Eventually, you pass the band and fans with some downhill and re-energize a bit. Then, oh no another loop. Ugh.
After three of the above loops, you make a quick left and right instead of the right onto Jay Road again. Then you make a right onto the narrow Boulder Creek recreation trail for a mile and a half which is net uphill. Next, you make a left onto 26th Street and head South. The next 3 miles is a rather technical labyrinth of turns making your way back to the Boulder High School culminating in a total of 113.5 miles of fun. Not just 112, so you get your money's worth here!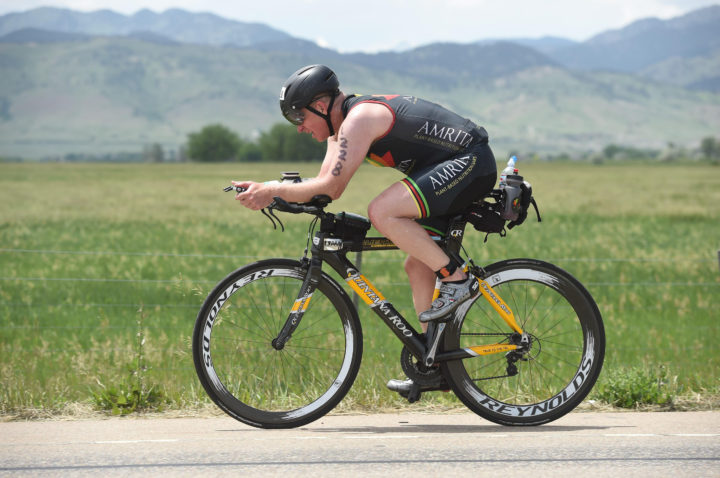 My Take…
I headed out the gate of the Boulder Reservoir, made a left and immediately hit with a steep little incline. Nice start! What a way to wake your legs up from the hour plus swim where they were just along for the ride. As I showed above,  the Ironman Boulder looked pretty tame compared to Lake Placid, Coeur d'Alene, and Mont-Tremblant. It was listed at over 1000′ less elevation gain than the others. The first uphill section on Jay Road and then left on 36  seemed like there was a pretty good headwind to add a little more resistance.
The first uphill section started on Jay Road, and then turned right on Route 36 until it exited onto Neva Road. It was not terribly steep, but just a constant uphill and false flat in some sections. It also seemed like there was a pretty good headwind to add a little more resistance.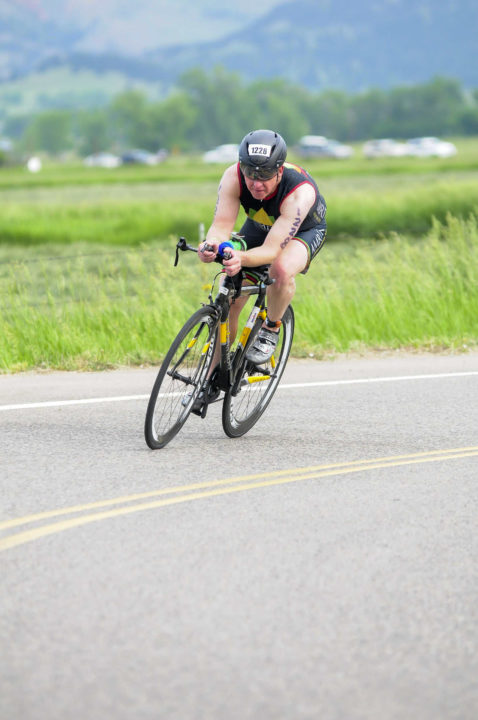 The left onto Neva Road until you hit Nelson was a blast. I was hitting high-20's and 30's here pretty easily. Weee!!! I was definitely reclaiming some speed in this section that was lost on the previous. I remember seeing my average speed go from 17's up to 18.5 or more.
Next up was Nelson Road. Ugh. Again, this didn't seem too bad on paper, but this one really sucked the life out of my legs. Especially after the 3rd time! Nelson also leads to a right turn on Rt. 36, which has a short uphill.
The weather was pretty nice early on. A lot of cloud cover and a cool wind that seemed to always be hitting me head on. As the bike progressed the clouds burned off and the sun started to blast. I think the heat and the Nelson grind took its toll on my legs. I was feeling it towards the end.
My back was extremely stiff the entire bike. It was causing me to have to have to stretch everytime I hit a downhill. I had never had this stiffness before on any of my long training rides. I didn't understand it. The only thing I can come up with is that I had not done any open water swims in my wetsuit at all this season and perhaps that had caused it.
Our friend Pat, who we were staying with while we were out there, rode her bike out on the course to cheer me on at different points. I wasn't expecting to see anyone I knew and it surely was nice to see her out there. I went through 2.5 bottles of scratch in two loops and another two on the second loop. I also took on a couple bottles of water from the aid stations too. I had around 3-4 Amrita bars, a Honey Stinger Waffles Peanut Butter sandwich, and a bottle of Hammer Perpetuem. I don't think I ever finished the perpetuem though. As the temperature rose, I had less and less of an appetite. This probably didn't help things.
My Stages power meter actually worked this race since it was dry and it didn't rain. I was able to watch my power numbers the whole bike ride. I was shooting to stay around or under 0.68 Intensity Factor, which would put me under 300 TSS for the whole ride. I was on track  and actually dropped off a bit on the 3rd loop. That 3rd loop sucked. Not sure if it was the mental aspect of 3 loops, my screaming back or that the heat kicked up, but I kind of tanked on the last loop. And to top it off, I got stung by a bee that flew down my jersey on the 3rd loop.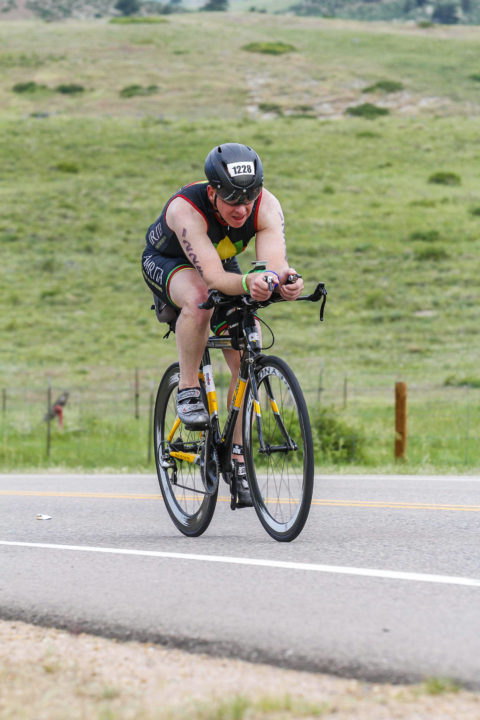 If you couldn't tell, I didn't really like this course. The course being open to traffic was too close for comfort!  There were a couple times where I was stuck behind or had to navigate around vehicles. One time I was actually stuck behind a box truck and was basically drafting it since I could not get around it. Since the course is 3 loops, you have access to your special needs bag 3 times. I guess you can only access it once and then you are done though.
It was such a relief to finally finish the 3rd loop and make the left onto Jay Road instead of a right. The section back to the high school kind of sucked. Riding on the recreation path feels rather odd after being on the road. For some reason it made me not want to go fast. Then it was a series of streets and turns making your way back to the high school which seemed to go on too long. I saw 112 miles come and go and thought "are we there yet?" What the hell?
T2
I finally saw the high school and hit the dismount area. My wife and our friend Pat were standing there. I told them that that was harder than I thought it would be. My wife told me later that I didn't look good there. Not sure if that was my bee sting or just that I was pretty exhausted.
The distance from the dismount to the high school track seemed really long. Again running in bike shoes on concrete. My feet were also partially numb which actually hurt when I stepped. I dished off my bike to a volunteer as I entered the stadium and then grabbed my run gear bag which was in rows in the track lanes. I stopped a took my bike shoes off since my feet killing me now. Much better.
I entered the tent and took a little longer to get changed into my run gear. It was kind of hot now and I was not sure what lay ahead for me in the run. I finally headed out the change tent, stopped to get re-lubed with sunscreen again and headed out onto the run.
RUN
The Course…
The Ironman Boulder run course takes place entirely on the Boulder Creek Trail recreation path. The good thing about this is that it has a lot of shade and some coolness coming from the creek running right next to it. It also doesn't have any major hills on it either.
The surface is concrete, which can be rather unforgiving. The course was also open to non-competitors, which could be pretty annoying if you are trying to get a PR. I am not sure if they were supposed to be on there, but no one was telling them to get off.
The course has two out-and-backs, or three, depending on how you look at it. They call it the "Flux Capacitor!" From the start at the high school football field to the first out-and-back is about three miles of slight downhill.  Then, you have the first out-and-back which is about 3 miles total. It is a slight uphill, but very gradual.
The next out-and-back immediately follows. This one is about 4 miles total and no major hills here either. There is a little less shade on this stretch too. Then you head straight back to the start and then past for what I would call the third out-and-back. From the point that you turnaround on the second out-and-back to the turnaround on the third out-and-back is about five miles of gradual uphill the whole way.
And repeat.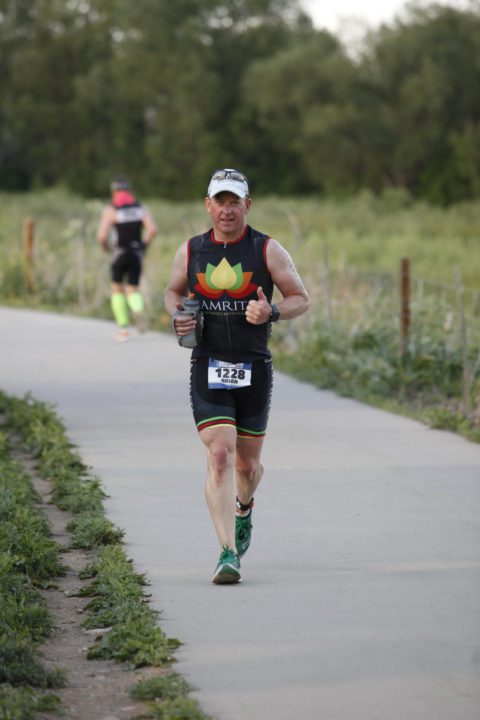 My Take…
I started out on the run and saw Denise and Pat standing there as I hopped on the path. My back seemed to be fine on the run and at first thought I might have some running legs. That didn't last very long though before things started to cramp up. I took my handheld water bottle and filled it with ice and water at every aid station. The legs were obviously not working and I began a walk-run rather quickly.
Immediately, the negative thoughts started to flow. Another DNF? I battled with my head for a while and finally overcame it. I knew I could walk the whole thing, but then I thought about my wife having to stand around waiting for me all day. The first 13 miles was a battle of pushing myself to run, which didn't last very long. I was so dejected. There were a lot of other people walking too, which made me feel a little better. But that's not me.
I always feel so unworthy or almost patronized when people cheer for you and you are walking. It is so humiliating. I started playing games of trying to get ahead of some other people. Mostly we were just hopscotching each other all day. Another thing that took my mind off the pain.
Another thing that took my mind off the pain was that the run course was open to non-competitors. There were people whizzing through the athletes on cruiser bikes. Whole families pushing baby carriages.  There was barely enough room for two-way runner traffic, let alone regular people lollygagging. I literally had to stop, during a one of those short bouts of actually running, to get around a family walking down the path. If I was actually having a good race and running I would have been pissed. But I wasn't.
Eventually, I made it back to the start and saw Denise standing there. She had a slight look of panic on her face, wondering what was going on with me. I broke down a little bit thinking I wasn't going to finish. Once she realized I was basically fine and could at least walk, she quickly said well at least you can walk and finish. I think that put me at ease cause I was more worried about her having to wait around that long. My whole attitude changed at that point. I told her go get some dinner and I would see her in a few hours.
The second loop was more of the same although this time I had a more positive outlook. Yeah no PR this year, but I was going to finish. There was a lot of people partying and having a good time along the trail, so I just took it in and enjoyed the experience. Maybe that sweet smell in the Colorado air had something to do with my change in attitude too, who knows. LOL!
Something went awry with the GPS on my Garmin(920xt) watch at about the 6 mile point that caused it to add a few miles. This really screwed me up cause I always thought I was farther than I was. I was making sure that each mile stayed under 15min/mi, so I would run as much as I could to keep it under that. I actually started to pick it up a bit and was fearing that Denise would miss my finish.
Finally, I passed the finish line for my last out-and-back section. It was just starting to get dark and they were putting the utility lights on. Fortunately, I still have not had to wear a glowstick to this day. The closer I got to the finish, the more I was running. I could feel it now. I ran the last mile straight through to the finish.Where did that come from? Mike Reilly finally got the full phrase out "Brian Schwind from Alburtis, PA…You are an Ironman!" Funny how he got it right on my worst finish to-date…LOL!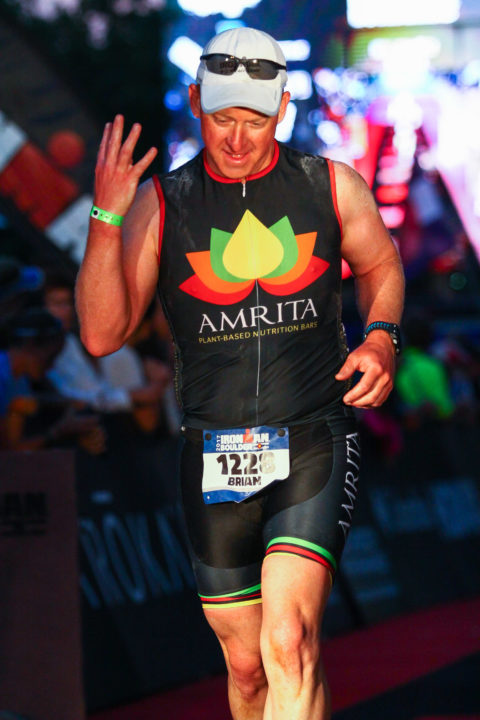 I slapped the hands of some random people as I came down the finish chute and shot up 4 fingers as I crossed the line, so someday I can remember my fourth Ironman finish. Not pretty, but got it done!
Overal Time: 14:08:33
The Finish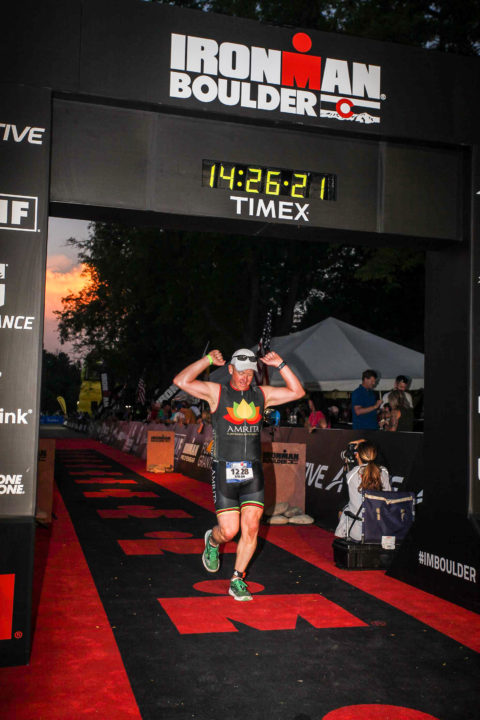 The finish line was pretty unimpressive after Mont-Tremblant. What no massage? No Poutine? One thing that was nice was that they didn't fence off the athlete food eating area, so you could sit with your family or wife to eat. The bad thing was there was no where to sit down and eat either. We had to sit on the grass, which is pretty difficult to get to and up from when you just went 140.6 miles. They also had Domino's pizza which is so lame. What about giving a local pizza shop some business instead of some corporate slop pizza?
I waddled over to the football field to get my bike and gear bags, then dropped my bike off at TriBike Transport. I love TriBike Transport! We walked down the street to a local pizza shop and bought a couple slices to take home. The walk to the parking garage seemed like forever. I threw my stuff in the 4Runner and headed back to Louisville. Another Ironman down.
After Thoughts…
I am still mulling over what went wrong with this race. The only thing I can come up with is the heat got to me. Yeah it wasn't 107 like Coeur d'Alene was, but I also really hadn't trained much in temps over 80 degrees. In some of my recent training runs after the race where it has been in the high 80-90's I was really feeling it. My pace was slow and my heart rather was high. The heat also makes you not want to eat much and that is never good.
Although I was not short of breath from the altitude at all, I wonder if it still has some other effects on your physiology that are not as physically apparent. The dryness at altitude can also play a factor too.
Regardless, I don't seem to do well at early season races, races on the Western half of the US, and races in warmer temps. This was all of the above. Given that, I will take a finish even if it is 14 hours. It was also NOT my A race for the year. Ironman 70.3 Lake Placid in nice cool September is my A race and the last one for the season. I also still have Rev3 Pocono Half as well. Still a lot to look forward too. Thanks for reading!