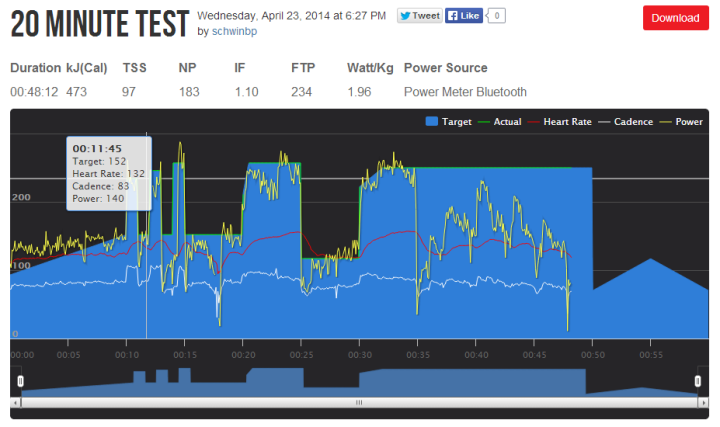 20 Minute Test – TrainerRoad.com
For some strange reason I got the bright idea to attempt doing an FTP test on Trainer Road last night. It was my second ride of this week, which is also the 2nd build week in my training cycle. Ya know when your body really starts feeling some fatigue from the previous weekend? Not only that, my first ride of the week was a pretty much a 40k time trial(below) so an easier ride this day would been a smarter option.
When I first started warming up, I felt a little stiff but didn't think much about it since it was a warm-up. During the 3 1 min high cadence spin-ups I could still feel the stiffness in my quads and I was struggling to maintain the goal watts. Then the 5 min "clearing effort" pretty much destroyed any psychological help I may have had to help get me a little further in the actual 20 minute test period.
I managed to hold on for about 5 minutes and after that I realized there was no way in hell I could maintain this for another 15 minutes. An easy spin then ensued. Another day maybe.