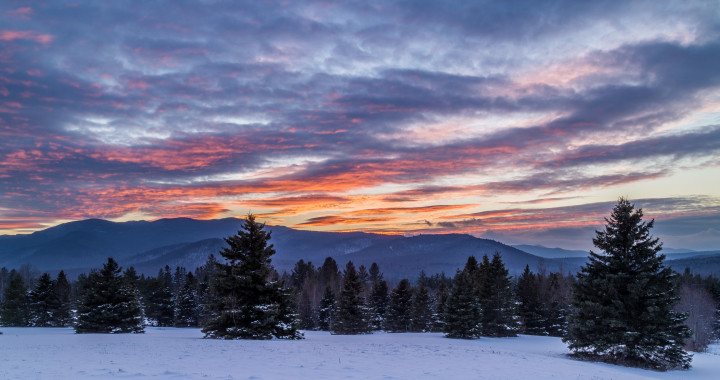 I mixed things up a bit for week #4 by heading up to Lake Placid for a bit cross-training in the snow. I try to get up there for a week in the Winter every year for some skate-skiing at Mt. Van Hoevenburg. We have a week planned in Sedona, Arizona next month so it wasn't looking good for skate-skiing this year. We decided that we needed our Lake Placid Winter fix, so we arranged a long weekend up there which was perfect.
I tried to get in as much biking and swimming in the early part of the week as I could. Thursday ended up being a rest/travel day. I got a small case of swimmers' ear too, so it worked out that I would not be swimming for a few days.  The rest day would also help since skate-skiing can be pretty exhausting .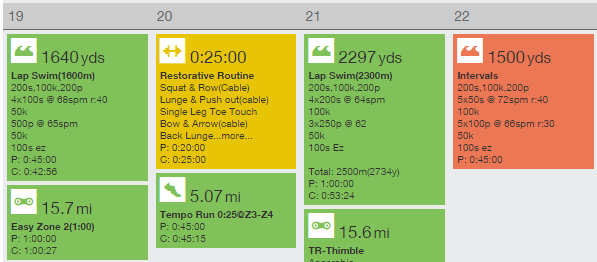 We made up to Lake Placid in time to have dinner at the ADK Cafe in Keene, NY which is one of our favorites. On Friday, I was able to get our ski's waxed in the morning so we were able to get in a good hour and a half in the afternoon. Conditions were great at Van Hoevenburg too. There was a really solid base and everything was open too. Temperatures were perfect as well running in the high 20's to low 30's on Saturday. On Saturday, we did our town shopping spree and lunch and then headed to ski later. Denise ended up pulling her back out though while putting her boot on. 🙁 She was in some severe pain too. I had to run her home, but then was able to go back again and get a good hour in anyway.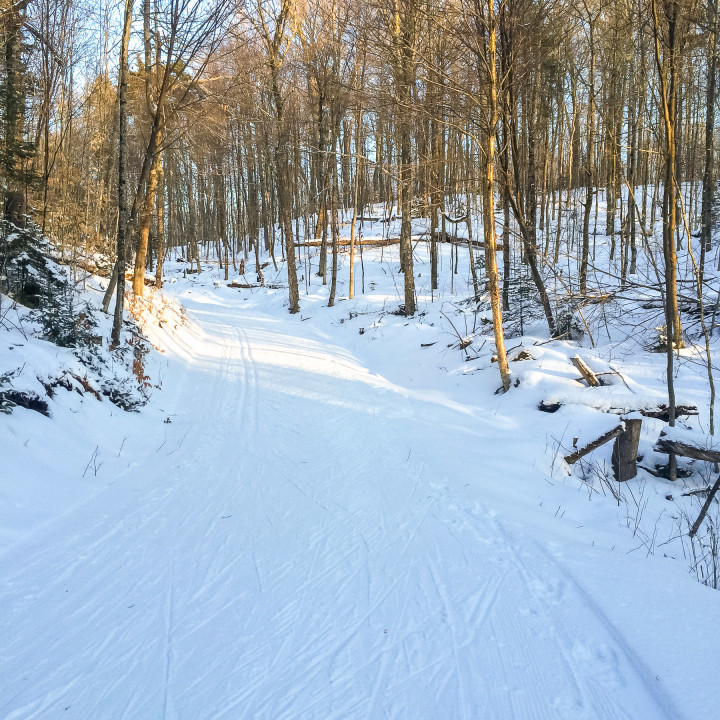 On Friday night we had a nice dinner at Milano North in town and Saturday Cafe Rustica. Both of them are two of our favorites. The ladies at Cafe Rustica were also very accomodating of Denise's back issues. I was a little disappointed to find out that my all time favorite, The Cowboy had closed up. Also Pan Dolce seems to be closed as well.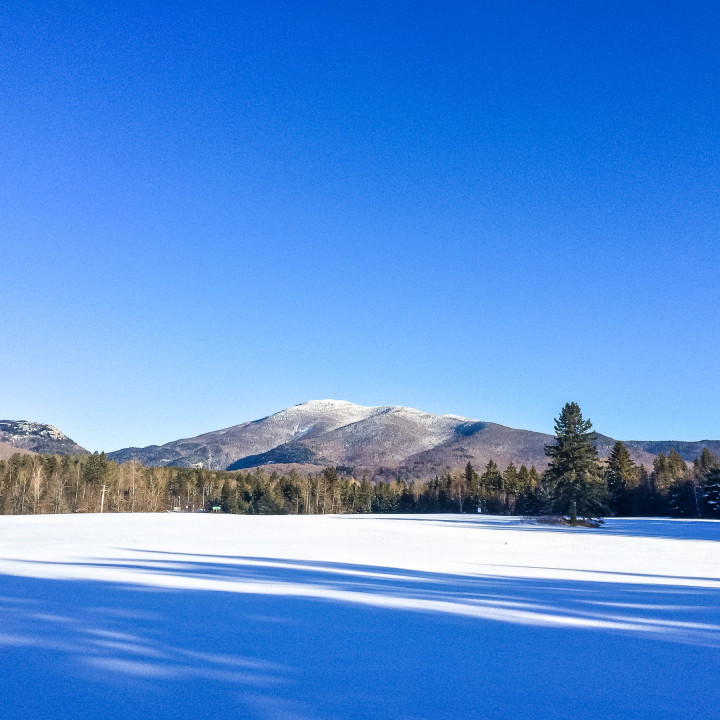 Sunday was a different story though. We got about an inch or two of new snow and it got cold! Like 7 degrees in the mid afternoon. Brrr! This also changed the snow conditions too and the purple wax that I had on my skiis was no longer gliding like it was the past two days. Now I was getting a major workout whether I like it or not. To add to this I also headed out on one of the harder trails, Porter Mountain Loop. I was sucking some major wind on this one. It was brutal, but I got in another 1:30 of skiing. So all-in-all it was some workouts on the ski trails. It is nice to break up the running, biking and swimming during the Winter.
Sunday night we had a real nice dinner at the Interlaken Inn Pub with the couple we stay with in Lake Placid. Food was amazing, but we had to rush through it since we were going to the Banff Mountain Film Festival immediately afterwards. There were some really good films this year and it is always a packed house in Lake Placid. I threw together this playlist of some of the ones they showed there…
One thing to note this week was my Heart Rate Variability(HRV). I hadn't had any alcohol since New Years and over the weekend I had a few glasses of wine on two of the four nights in Lake Placid. It is pretty interesting how my HRV dropped severly on both mornings after that. They were also not consecutive days, so my HRV went up on the night between and down again the following. My training was about the same on all the days too, so I don't think that had anything to do with it. I slept good all the nights as well.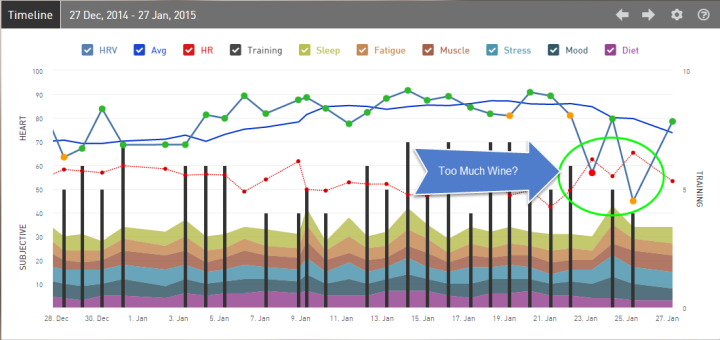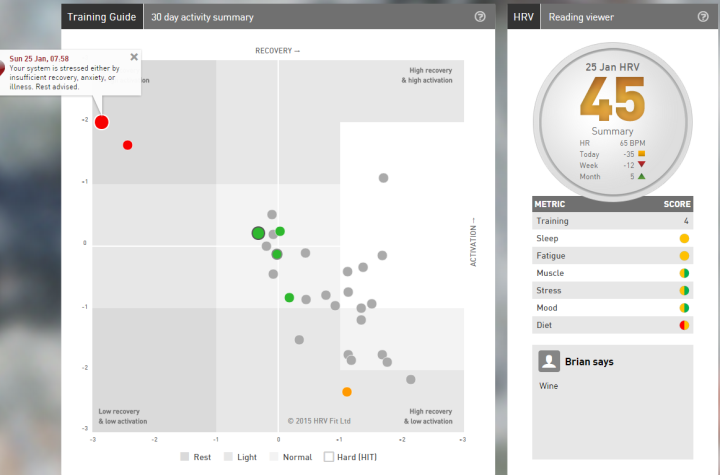 We headed home early on Monday due to the impending winter storm, Juno which was headed our way. It turned out to be a non-event, so all that rushing home was for nothing. Oh well. It was a great weekend in the Adirondacks and it was nice to change things up a bit too. Well next week it is back to some usual training again.
Thanks for reading!