I got up around 7-7:30am on Saturday morning as the sun beamed in the open shades of room #329 of the Comfort Suites. My wife had been stirring for awhile by that time and I eventually acknowledged it. We had a quick breakfast in the room while checking emails, updating our social media and researching the days events. We settled on heading to New Haven(CT) to check out the Yale University campus and having some lunch at a vegan place, called Claire's Corner Copia, which was right off the campus. After that we would head back to Quassy for the "mandatory" pre-race athlete meeting and to drop off my bike in transition. Finally, dinner at a place called Red Lentil in Watertown, which was north of Quassy. How far north we would eventually find out.
We drove down to New Haven and got a parking spot right near Claire's and across from the Upper Green park by Yale. I plopped my $2 in the meter for 2 hours and then we stopped into Claire's first just to check it out. Wow…Huge menu! And all vegan too. Not necessarily all healthy vegan, but I had a lot of options. They had build your own smoothies, and I was in need of one, so I had a banana, blueberry, kale, coconut milk and hemp protein smoothie which was right on the money. Now I am ready for some campus touring! We will be back Claire.
We headed across the street to Yale and began touring the campus. Beautiful campus! My wife is really into old, ivy-league campus' and every time we we go near one she wants to check it out. One thing I noticed that although the buildings looked old in style many had been built fairly recently(1990-2000's). Apparently they just made them look old. There were several building though that were very old. There were a lot of older alumni walking around the campus too, which I figured out from the nametags they wore. We passed a couple buildings that had different year reunions posted on them. Of particular note was the 50, 55, and  60th year reunions. I wonder how many people see their 60th year college reunions?
We came upon the Yale bookstore(run by Barnes & Noble??) and a small shopping district. We checked out the 2 outdoor stores, but everything was list price so we didn't buy anything. We then headed back to Claire's for lunch after a little more walking around the campus. I had a Corner Copia Grande burrito which was huge. It even had some fake cheese on it which tasted pretty good. It was loaded with beans, rice and veggies and was quite the belly filler. I looked at the time after downing my burrito and remembered that the parking meter had expired 5 minutes ago. We then quickly cleared our table and b-lined for the car. Phew! Not ticket. The meter-dude had been around when we parked so I was afraid he would be hawking the cars. Maybe he was having lunch too?
Next we headed down towards the ocean front to see if there was anything cool down there. We were a bit disappointed since there was nothing great except for a line-up of lunch trucks. Then we ended up taking a long way back to the hotel since there was some tie-ups on the highway we came in on. By the time we got back to the hotel it was time for me to load up the bike and get over to the pre-race meeting at 3PM. My wife was hoping for a nap, so I felt kind of bad when I said we have to go. I offered to just go myself but we thought we would be having dinner over that way and she didn't want to be driving back and forth.
When I got to the race expo area, they were still having the pro Q&A session and the pre-race meeting hadn't even started yet. I listened to the pros for a few minutes until eventually they got down and the meeting started. I don't know why they call the meeting mandatory, since they don't enforce it all. WTH? I did get some good information out it though so it was worthwhile. Next, got my bike setup in the assigned spot in transition. I got a nice spot 3 rows in from the swim in/run exit, which made it easy to find. Only bad thing was a long run in my bike shoes to the bike in/exit which was on the opposite end of transition. Wasn't a big deal though.
I decided I wanted to drive a bit of the bike course since the director kept saying how hard it was. I wanted to see for myself. I talked my wife into going since I would drive. I only did half of the course and now I had a good idea of how hilly it would be. It was VERY hilly! During the drive my wife came to the realization that the Red Lentil restaurant was actually in Watertown, Mass! Two hours away!!

We ended up finding the It's Only Natural Restaurant in Middletown, CT which was back on the other side of the hotel. So much for saving trips! Also my wife typed in the address of the place in the iOS Maps app and it took us to some vacant strip mall in the middle of nowhere.  Ugh! By this time we were starving. We then searched on the restaurant itself and it showed it only 10 minutes away. We eventually found it and had a great dinner. Everything was vegan here too, so the world was my oyster. I had an Arugula salad for appetizer and a coconut curry dish for dinner. Really yummy.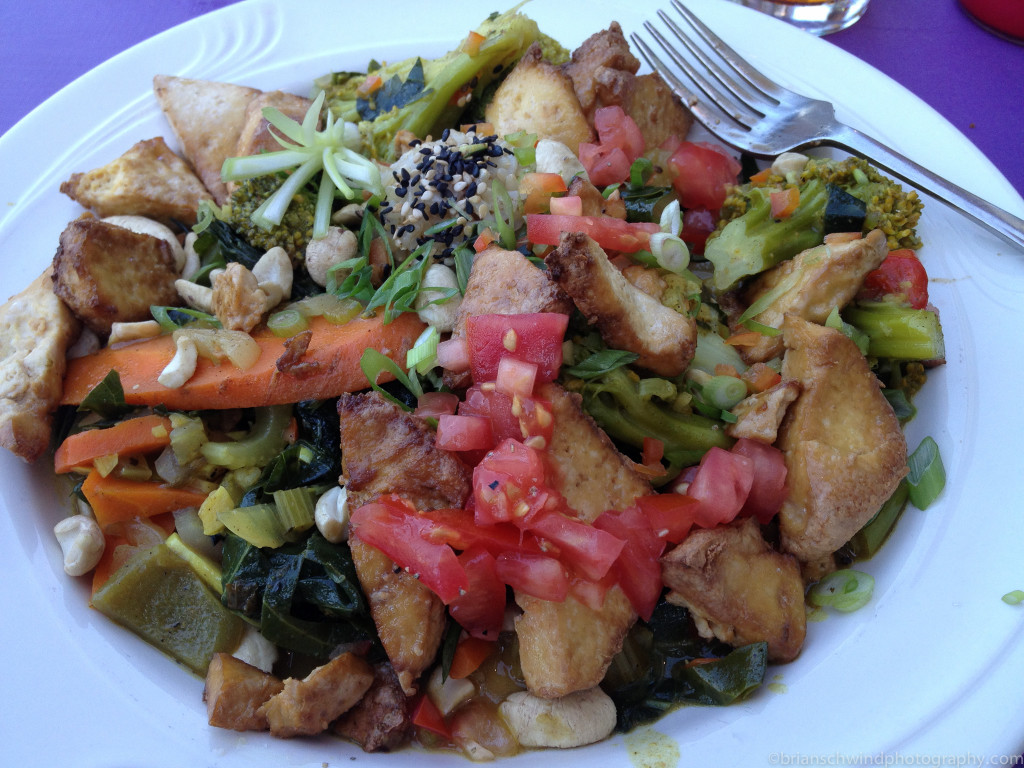 We headed back to the hotel after dinner and settled in for the evening. I got all my gear in order and prepped my nutrition stuff for the race: Skratch Labs hydration mix, Chunks of Energy Cha Cha Chia Chunks and a little bit of Hammer Perpetuem.  I then showered up, shaved and put my race number tattoos on. Pretty cool idea and you don't have to deal with getting body marked in the morning. The only thing is they are really sticky and I ended up sticking to the sheets while sleeping.
I was really hoping I could get a good nights sleep that night. I had a horrible one the night before the NJ Devilman and did not want to go through that again. There was some obnoxious parents in the hotel who were letting their child run up and down the hall for what seemed like forever. If it didn't stop soon I was going to go out and raise some hell. It stopped eventually and I did end up falling into a good deep sleep, dreaming of crossing finish lines in record times. Gonna be a tough one tomorrow!