I had never run a 10k in my entire life until this year when I ran the Celtic Classic 10k in Bethlehem, PA this September. Since it was my first 10k it was obviously a PR, but I also came in 3rd place in my age group. I had then run another one in October as part of the Runner's World Hat Trick, but didn't PR since I had run a PR 5k immediately before that. My wife really wanted to run in an event on a birthdays(we are a day apart) but she did not have time to prepare for a half-marathon. So instead she found the Cooper-Norcross Run the Bridge 10k in Camden which seemed like a good alternative. Unfortunately, she ended up aggravating a metatarsal injury a couple weeks before and decided not to run at all. Now, I would be running by myself again and so I might as well try to better my 10k again.
I really didn't have too much confidence I would do so. I had not run very much in the two weeks after the Runner's World Hat Trick so I wasn't sure how my fitness would hold up. I also knew that running bridges can be pretty tough from my experience at Ironman 70.3 Miami. They are like a big hill with no protection from any winds that may be blowing. The event started at the NJ side toll booth and went across to the PA side, turned around and came back and then through streets of downtown Camden, NJ(Yikes!!).
We decided to make a weekend out of it and stay overnight in Penn's Landing. We got a room at the Holiday Inn Express Penn's Landing right near Dave & Buster's. It was a nice hotel, except that we were not able to check in until later that night after dinner. We ended up having to change in our car in the parking lot before walking to dinner. They also charged us $25 to park at the hotel, which is a ripoff too.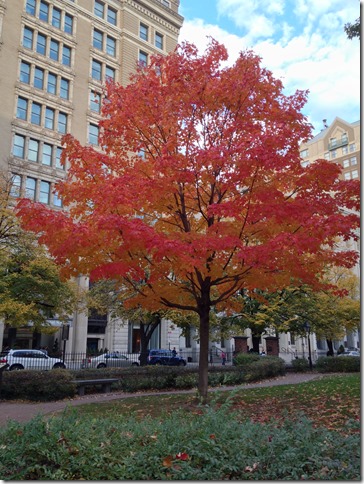 We walked to dinner at Talula's Garden right next to Independence Hall. It was a really good farm-to-table restaurant, but they only had one vegetarian option on the menu which I thought was a bit sparse for this type of place. Regardless, it was very good. I had a pumpkin entrée and root vegetables with a Fegley's Imperial Pumpkin ale. Definitely worth a stop if you are in town. Make reservations ahead of time though since they fill up fast.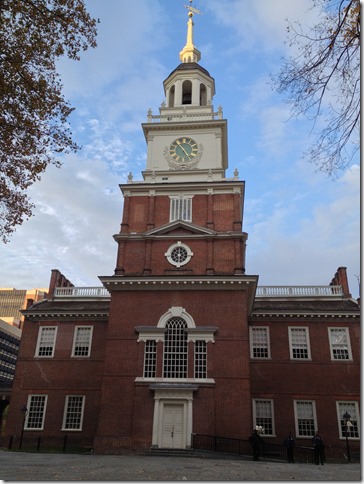 When we got back to the hotel and finally got a room, we then had to deal with the most obnoxious neighbors in the room next to us. It sounded like a bunch of really drunk guys and they must have been practicing for a WWF match since they kept banging into the walls and yelling at the top of their lungs. I could not believe how anyone could have regard at all for others in a hotel. Fortunately they were not there too long and must have headed back out again since it had gotten quiet again.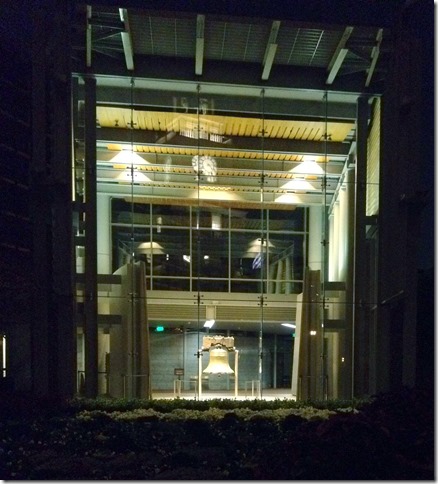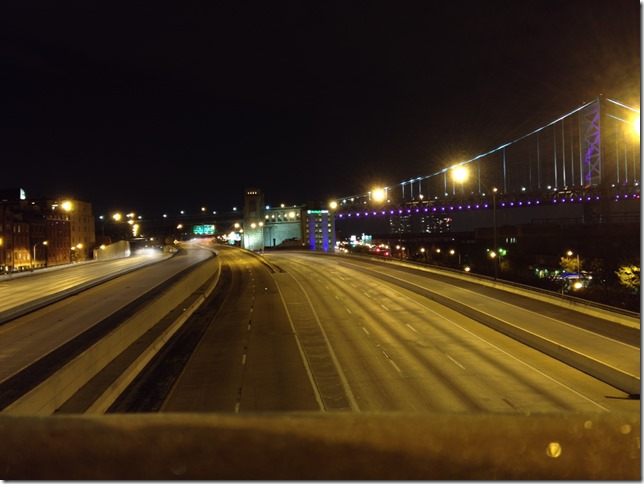 Just I had started drifting into some heavy REM sleep, I was woken up around 2:15am by our obnoxious neighbors walking down Columbus Blvd 4 floors below. It wasn't too long before they were then heard banging on peoples doors as they made their way down the hall from the elevator. The steel cage match began again in the room and they were yelling at one of their compadres to "GET UP!!" who had most-likely passed out from their night of partying. Thankfully, before too long I heard a loud pounding knock on their down followed by a deep voice stating that he was "SECURITY!" Thank YOU!!! The noise immediately dropped a few decibels and then I heard some mumbling conversation and the door closing. The noise picked up a little bit and then slowly faded into silence again.

I had drifted back to sleep and didn't wake again until my alarm went off at 5:30am. Not a bad night sleep considering. I slammed down a banana and few bars for breakfast before heading down to the lobby. Our car was parked in and I had to warn the car park attendant we needed to leave. He joked with me asking if I could possibly wait until later in the day to leave. When he saw my eyeballs bulging out of my sockets, he started laughing and said he was just kidding. Wise-guy!! We then grabbed some coffee and a few things at the hotel breakfast which was just opening up.
We then made our way over the bridge and into Camden. The main street down to the waterfront and Campbell's field was a bumper-to-bumper slow go. There were about 4500 people participating in this event, so I think it is probably one of the largest 10k's in the country. We eventually got a nice parking spot right across from the baseball park. The registration, packet pickup and finish line were all based in the Campbell's baseball park and it was a long line to get into since they were checking everyone for security. It was a little breezy and chilly this morning, but really perfect running temperature. We picked up our race packet & t-shirts and headed back to the car. Denise was going to do the walk which basically just went back and forth over the bridge. We hung out in the car until the 8:30am start. I did some laps around the parking lot just to warm up a bit.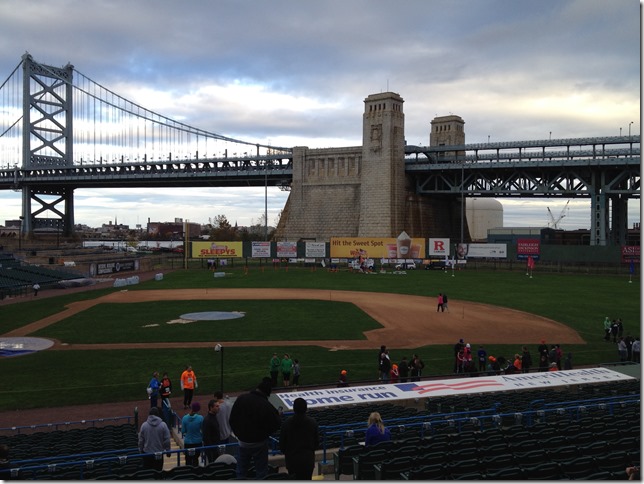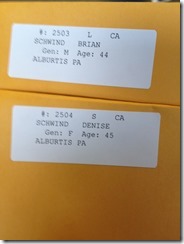 The race started at the bridge toll booths which were almost a mile away from the baseball park. We made the long slog with the rest of the herd of participants down Pearl St. which paralleled the bridge on the south side. We reached the start of the bridge and parted ways. I got into the 8 min/mi pace area which I thought was safe. It was a bit warmer being in the herd of people since it blocked the wind a bit and provided some body heat. Before long the horn blew and we were off.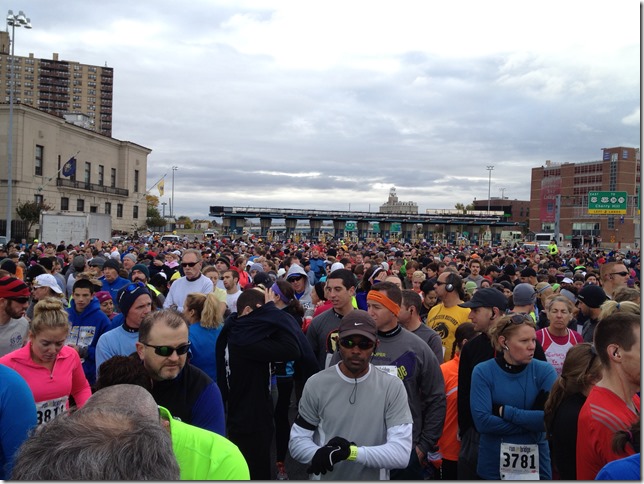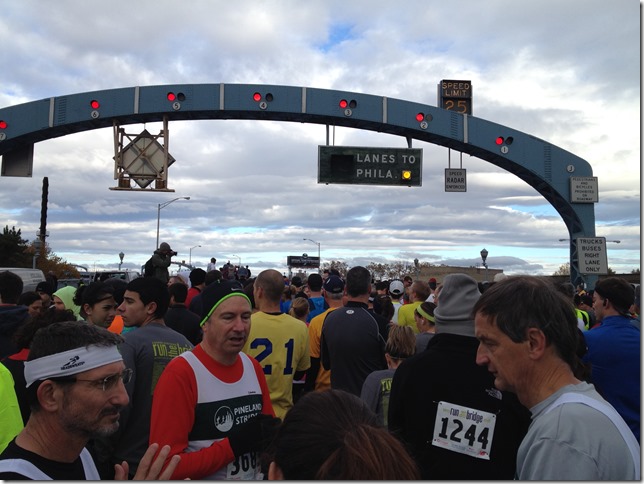 On the climb up to the crest I was feeling really good despite the incline and it got even better on the decline. Making the turn on the PA side and heading back started to get a little tougher. I was only running an 8:11 pace for the first mile(about 2/3rds of span of the bridge) which would explain why it felt easy. I am sure that some of that was also dealing with navigating people too. I passed the leaders, going the other way, as I was almost to the PA side which surprised me a bit. I eventually hit the crest of the bridge and was relieved that it should be mostly downhill or flat from here. Time to turn it up a notch. I should be running mid 7:00's from here on out.
I passed Denise, who was coming up the other side, as I was heading down to Camden. She shot the picture above as I passed. The hat came off as I got off the bridge and was starting to really heat up. I played around with stuffing it in my shorts, but it kept falling out so I just stuck it in my little pocket where I normally put my keys.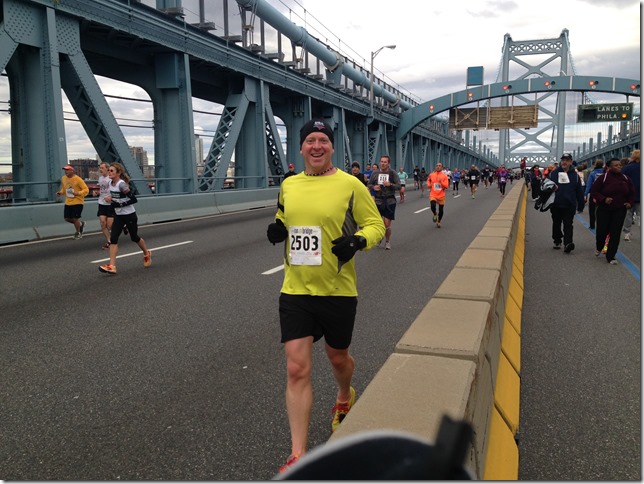 The course was pretty flat as it made its way through the streets of downtown Camden. It didn't really seem that bad there, but that could be cause it was 9am in the morning too. We did hit a little incline as we ran through Wiggins' Waterfront Park along the Camden waterfront , which I wasn't expecting. It seemed much bigger than it probably was. The worst part of the race was when we were heading down Delaware Ave and Campbell's field was firmly in view. I started thinking just hold it flat straight down this street and then we had to make a hard right up Market St. taking us farther out of the way. It played with my head a bit, but it was only around the block so before I knew it we were back on Delaware Ave again. Then down into the back of the baseball park to the finish line. I tried to scan the people lining the finishing chute looking for Denise, but I never saw her. Apparently, she was still walking. I had my phone strapped to my arm, so I texted her to let her know I finished.
I crossed the line as the clock had read 27:58. I was pretty confident I was going to PR this one most of the way since I was holding pretty steady 7:30 pace. My previous PR was a 7:54 so that was fairly easy to figure out. I also knew that it had taken my at least 10 secs or more to reach the start line, so I was definitely under the clock time. I got my finisher medal and a couple bottles of water as I waited for Denise to show up. She eventually turned up and we headed up the stands into the concourse of the park. They had tables with food, but it was a lot of processed junk, so I just grabbed a couple bananas and a bagel that I never actually ate. I guess it should not be surprising that the food was processed junk since it was probably donated by Campbell's Soup Corporation.
All-in-all it was a pretty fun birthday weekend. It was a shame that Denise could not run the event too, but she made a smart decision since she really wants to run the Pittsburgh Half Marathon next May. I was pretty happy to have PR-ed my 10k for the second time this season and on the day before my 45th birthday too. Hopefully I can keep getting better with age!!
I think that will conclude my running events for this year. I am planning on taking totally off from running now for at least a couple weeks and let the legs recover a bit. I am going to start getting back in the pool regularly and on the bike trainer too. I also have a spare bathroom that needs completion before another triathlon season starts up again. Thanks for reading!