Redemption on the Pocono Curse
In 2010, I set out to complete my first half-Ironman distance triathlon at Ironman 70.3 Pocono Mountains. The day was pretty much a disaster from start-to-finish. Hurricane Emily had come through the day before and ruined any chances of a swim since the Delaware River was extremely high. The triathlon became a duathlon with a rolling start on the bike. The roads around Delaware Water Gap State Park very wet and slippery. I made it exactly halfway through the bike course when my left-crank arm on my, less than a year old, Quintana Roo Caliente tri bike fell totally off. DNF!
I walked my bike through the streets of East Stroudsburg to the care after getting dropped off from the long ride in the SAG van. I recalled the times I spent in this town before being kicked out of East Stroudsburg University about 20 years before. I also remembered my parents telling me about how I was kicked out of the East Stroudsburg movie theater at a very young age for making animal noises during the showing of a movie we attended. I have not had very good luck in this town and I had since referred to it as my "Pocono Curse."
I signed up for the Rev3 Pocono race earlier in the year because I thought it would be a good training race for my A race the following month in Lake Placid. I had done a Rev3 race up in Quassy, Connecticut a few years ago and they do a very good job. While it was only my C race for the year, I wanted to have a chance to seek revenge on this curse with the hope of putting an end to it. And so I did.
Coming off of less than spectacular performance at Ironman Boulder 2 months prior, I had nowhere to go but up. I also had built a pretty solid foundation of fitness and for the 2 months before I could focus on building speed for the shorter distance race. The race organizers also had a practice ride of the bike course a month before, so I was able to get up and preview the course beforehand. I was glad I did. It was a really nice course and also challenging as well. I also got a lap of the run course in too, which I knew would be very challenging to do 4 times.
Pre-Race
I was very fortunate to that one of my friends and former manager from work owned a vacation home only short walk from the transition area at Split Rock Resort and Lake Harmony and invited me to stay with them for the race. This made the logistics for the race so easy. Their house was actually on the 4-lap run course too, so my wife could just hang out there all day and watch me run by.
We arrived at Split Rock on Saturday afternoon. I headed over to the lodge for the packet pickup but realized it was at the Expo Center instead. There was absolutely no signage anywhere indicating where this was it just said the name in the athlete guide. There was no map or anything tell you where it was and we walked around for a while trying to find it. Finally we located it in a large field near the waterslide area which was where the finish line would be.
The rest of the afternoon went more smoothly. I got my bike prepped and dropped it off in the transition area in the side parking lot at Split Rock lodge. I then headed over to the mandatory athlete meeting to get the particulars. There was a few course changes noted, so I was glad I went. They also said the water temperature was 77.9 F which was right at the 78F wetsuit cutoff. They said it would drop due to the forecasted overnight rain though and they were pretty sure it would be a wetsuit swim.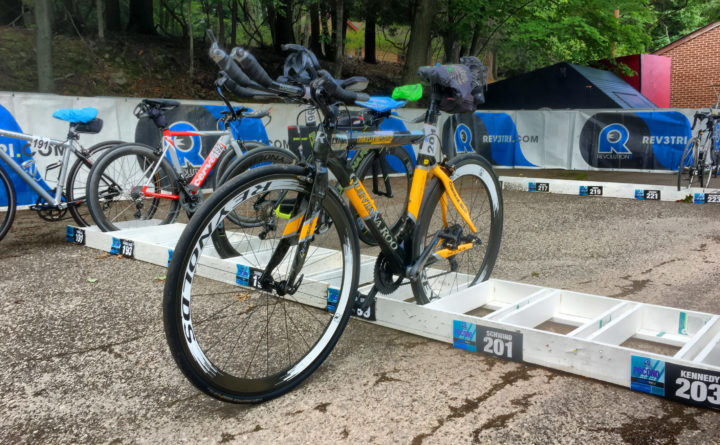 I then relaxed a bit on the beach and took it easy for the rest of the evening. I had my standard Sweet Potato Chickpea Curry over rice for dinner and then just sat out on my friend's deck until around 9pm. I prepped all my race nutrition and gear and crashed for the evening.
I was up at 5pm to slug down my pre-made breakfast smoothie and some coffee. Got my stuff together and took a nice short walk down to transition. I set everything up and got my wetsuit on ready to take on the day. It was a nice morning with no wind and the sun just coming up before the swim start at 7am. The Olympic distance athletes were supposed to start at 6:30am but they didn't go until close to 7am. We started rolling into the water, in sets of two's,  a little after 7am.
The Swim
The half swim course consisted of a square that almost covered the entire lake. The Olympic course turned through the middle of the half course. We swan in a counter-clockwise direction keeping the buoys on our left side. The sun came up on the opposite side of the lake but didn't really pose too much issue in sighting. It was just to our left swimming out towards it. I did get it in the eyes while breathing to the right after the second turn.
The swim started with every pairing up in two and rolling through a gate to walk to the end of a dock. They let two people off every two seconds. We had to sit on the end of the dock and roll forward into the water. It was VERY silty on the bottom and was very cloudy for the first 20 yards or so.
I settled into a pretty steady stroke rather quickly. We were all spread out quite well and I had a ton of open water to just swim. It was pretty nice. I didn't have to navigate around people and sighting was pretty easy. I was able to really focus on a good stroke and catch which I think was key to getting a good result here.
I started to run into some traffic after the first turn, but nothing compared to some races. I moved to inside the buoys which was pretty clear. The only bad thing about this is you have to swing back into the main flow to make the turns. Fortunately, this wasn't too bad. I did have a little sun blinding when taking breaths on my right side after the first turn. I made sure I looked further up and back and that took care of that.
The swim went really fast. I guess that is expected after the last race 2.4 miles. The friends we were staying with said they were going to be having Mamosa's on the dock for the swim so I was trying swing closer to shore after the final turn to the exit. I couldn't see anyone on the docks and the swim exit dock was approaching quickly. I had to swim back out to make the final right turn bouy before swimming to the dock. I reached the two ladders to exit onto the dock and hoisted myself out of the water.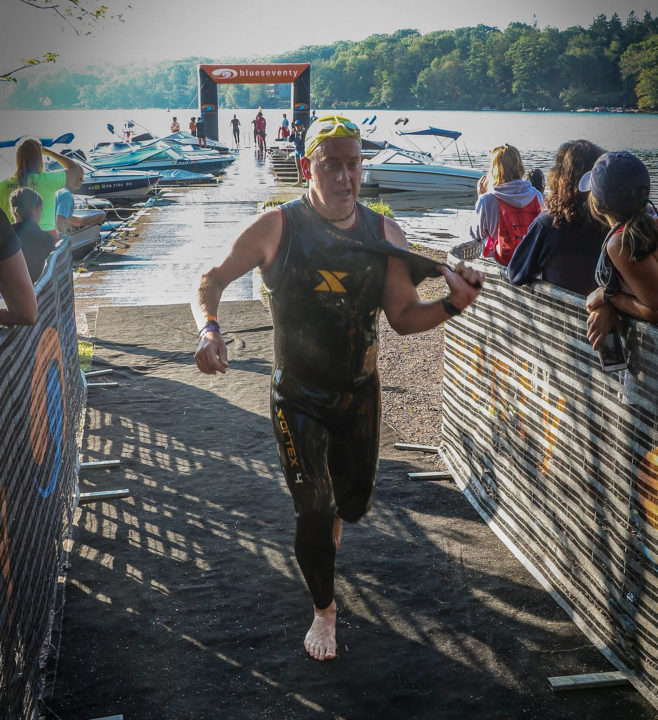 I looked down at my watch and it was showing 32 minutes and change…WHAT??! That is SUPER FAST swim time for me! I usually expect to swim 1.2 miles in 36-37 minutes. This was like 4-5 minutes faster. Holy crap! I hit the lap button before it could go 33 minutes. I started pulling down my wetsuit while trying to survey the crowd for my wife. Nothing. Hmmm… I made the left turn down the road and then heard my wife yell my name from behind. I ran back and gave her a smooch and then headed on my way to the bike. Apparently she was talking and almost missed me. I guess that can happen when you smoke the swim.
Swim: 00:32:51.523
T1
The first transition was pretty smooth. I ditched the wetsuit and stumbled around trying to put my socks on. There was a pile of dirt and stones near my transition area that I kept stepping in with my wet feet. I forgot a towel, so my socks were going to have a nice coating of stones in them. That may be a problem later.
The transiton areas are rally nice for Rev3. They have a nice slot to hold your rear tire and stand up your bike. There is a rectangular area next to it to put your gear bag and then layout your shoes and things just outside of it. There was also one No show next to me so that gave some ample room too.
I stashed my Quarq GPS monitor in my back jersey pocket. It was a bit larger than I expected and the pockets on my jersey were a bit strained having to hold it. I was a bit worried it would fly out when I went over a bump or something. They had belts for them, but I opted out. Wished I would have gotten one now.
I made my way to the bike out, taking about 3 minutes total in T1. Not too bad considering I had to run back to see my wife.
T1: 03:02
Bike
The bike course starts right out of transition with a short, but steep little climb. You had better have your bike in an easy gear in transition or you could be dropping a chain right off the bat. You then head out Lake Harmony Road, which has a few little. freshly paved, rollers until you make a left on Route 903. From there it is riding the fairly flat section on the shoulder while cars are whizzing by you on the left. Yes, not a closed course at all. Next, you make a right onto route 115 which is a gradual incline until just before making a left onto Long Pond Road.
You then make a right into the Pocono Raceway after a short way up Long Pond Rd. You then ride in a "Polish" lap direction before dropping down on the apron of the track and riding the twists and turns of the inner road course. You then head back onto the main track, in the typical direction, through Turn 2 and then out onto Long Pond again.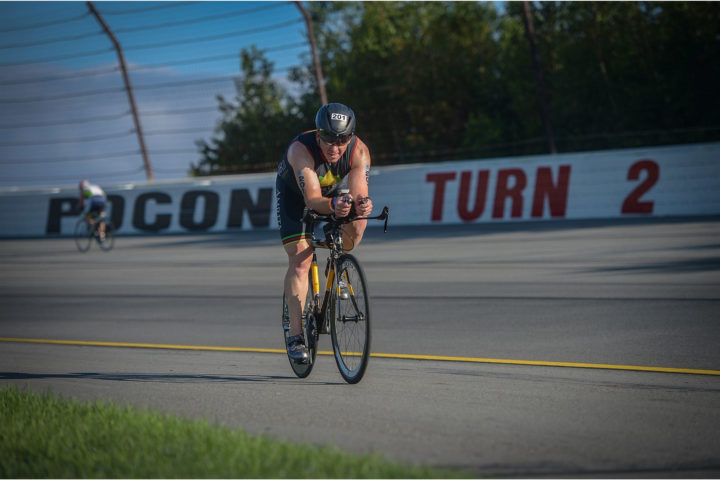 Next, is a couple out-and-back sections before heading back on 115 and 903 passing the entrance to Lake Harmony. This is the 25 miles that make up the Olympic course. It is mostly flat and fast. I  think most decent cyclists will complete this in the 20 mph range.
The final 31 miles is comprised of a large loop through Hickory Run State park, through White Haven, over the Francis E. Walter Dam and back to Lake Harmony. Heading into Hickory Run contains a few climbs. The climb from mile 29.5 to 31.5 is pretty decent but not super steep. The rollers beforehand are quickly forgotten after you hit the 3-mile downhill section in Hickory Run. I hit speeds of around 45 mph during this section.
Now that your muscles have all stiffened up during the fast downhill, you will pass the park office and hit a short but steep uphill section to wake them up again. The remaining 20 miles are mostly all uphill, although pretty gradual. The section on White Haven Rd. actually feels pretty flat and you can generate some good speed here. Get in a nice spinning gear and haul.
The Francis Walter Dam is quite a view. There is a small climb before it and then a doozy of one after. The section after that is fairly flat and protected by trees, so you can cruise through here as well.  Eventually, you will make a left onto Route 940 which kind of sucks. It is old chip-seal and has a decent amount of traffic. I just felt like I lost some ground here. Once you turn right onto Moseywood Drive you can get some speed going again. I thought this was the end but they threw in a little extra divergent section that was not in the original route. And it sucked too. We came up the back of Forest Drive which was really steep. I was not expecting this and it really hurt the legs. Be ready.
My Race…
The bike went pretty well for me. I had ridden the course a month prior, so I knew what to expect. Well, except for that last little surprise climb on Forest Drive. I ended up averaging about a mile-per-hour faster(~18.7mph) than I had during the recon ride. I finished the 57+ mile bike course in 3:01. Not too bad for a 3500'+ elevation gain.
I never needed to take anything from the aid stations. I had 2 bottles of Skratch Labs, a bottle of water, a couple Honey Stinger waffles and an Amrita bar. I feel this was pretty adequate fueling for me with no stomach issues and ready for a good run.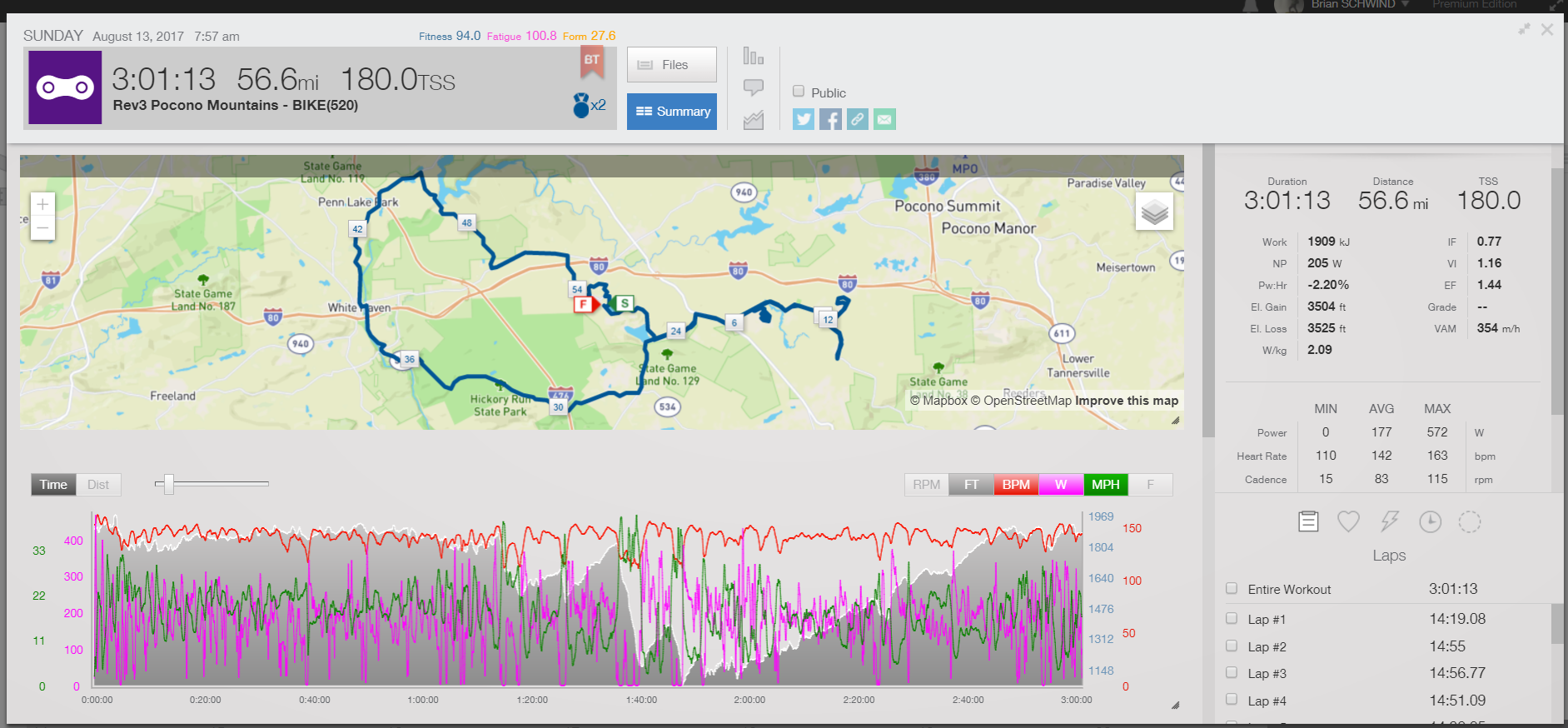 I maintained an Intensity Factor(IF) of 0.77 giving me a TSS of 180. I probably could have dropped back to a 0.75 and maybe gained a little more time on the run. A TSS of 150-160 would probably be more optimal.
Bike: 03:01:43.010 (57.1 miles @18.85 mph)
T2
The 2nd transition went pretty quickly. Ditched the bike and stick on the run shoes. Out we go in 1:32 …
T2: 01:32
Run
The Course
The run course consists of 4 – 5k loops for the half distance. Each loop is like a dumbell. Two loops connected by one straightaway. It is a tough end to a pretty tough bike, so you surely need to save some energy for this. You will only do two loops for the Olympic and 4 times for the half.
Exiting out of transition, you immediately start steeply uphill on Crest Drive. Then heading down and then two left turns onto Forest Drive which leads back up the steep uphill again. Next is the only real flat stretch of the whole course on Birchwood Drive, followed by a downhill stretch of Wolf Hollow and Corson Road. You then make a sharp right onto a short out-and-back section that was added in to add some distance. Once back onto Wolf Hollow you then take a left turn onto another even shorter out-and-back section which is comprised of packed shale. The next section is an even longer uphill grind before winding back to Birchwood via Moseywood Drive.
The course is either going up-and-down or out-and-and back, with the exception of Birchwood stretch.  You can never seem to get any consistent flow that gathers momentum. You are constantly digging for more. Strava shows a corrected elevation gain of 894 feet and Training Peaks is showing 728 feet. EIther way, it is a lot for 13 miles. For comparison, Ironman Boulder was around 650 over 26 miles.
My Race
My feet were pretty numb starting out on the run, but that is typical. The initial climb up Crest Drive hit me like a ton of bricks. Fortunately, my wife Denise and our friends Ted and Emi, who we were staying with were waiting for me on the climb and taking pictures, so I had no choice but to suck it up and grind through the hill. Right after, I dropped two gels out of my Amrita race jersey which I had to go back and pick up since I know would need them later. Some time lost there.
I also had rented Quarq race Qollector unit which I kept in my back jersey pocket. The unit was a bit bigger and heavier than I had expected. I was constantly keeping a check on it to make sure it didn't flop out. It was about the size of a pack of cigarettes and about twice as heavy. Maybe more like having a iPhone in your pocket. I think if I ever get a waterproof iPhone that would be just as good. From a spectator perspective, everyone that was monitoring my race said that it did a really good job of plotting my race.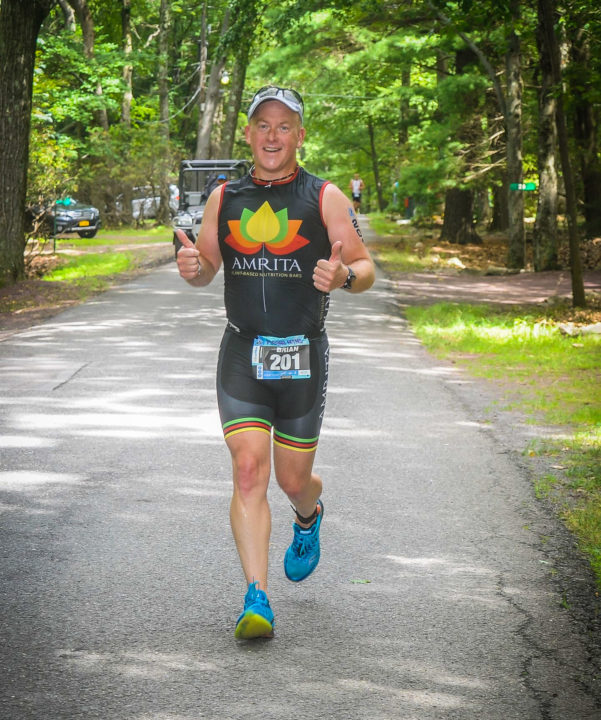 I thought that the 4-loop course would really get to me mentally, but I actually really liked it. One thing that may have helped is that our friends' house was right on the run course on Forest Drive, so they all hung out in the driveway to cheer me on. Seeing them 4 times was surely motivation to push me through this tough course.
The race support was also amazing. The run aid station on Forest Road consisted of a bunch of young girls from a nearby camp. They were cheering their hearts out non-stop. My wife told them that I was coming by and they were even giving personal cheering. Pretty hard not have a good race when you get this on the run course…
I also met up with another racer, Kellie, late in the bike who ended up staying with the whole run. We kept passing each other and pushing each other on the hills. Kellie would walk the hills and I would try to run them, but she would then pass me later on the flatter stretches. I soon realized she was saving some energy by walking the hills that allowed her to run faster on the flatter stretches. I tried doing this a little bit on the last loop, but it was a little late at that point.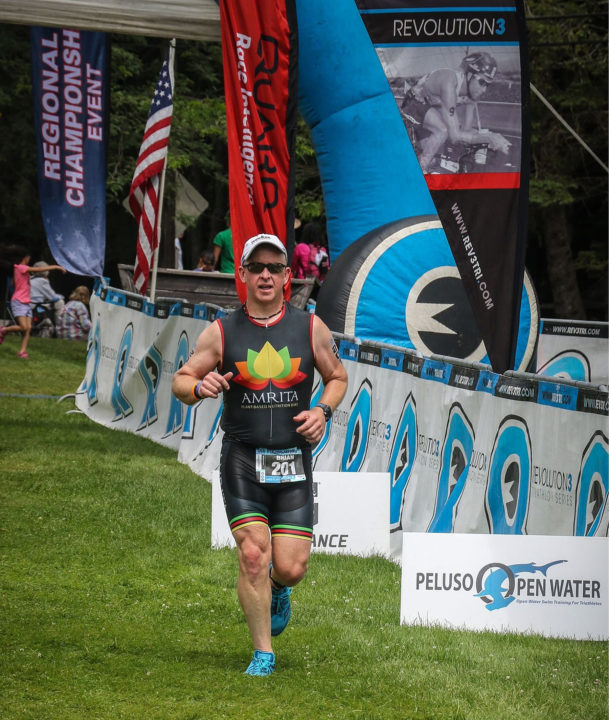 Summary
Overall, I thought this was a solid race for me. My swim was probably one of my best swims ever, despite being a little short. The bike leg was also right on target for power numbers and time. The run was tough, but I kept pushing through the hills and ran them all except for the last one. Had a few hiccups on the run but didn't let them get to me. I would do this again in a heartbeat.
Finish Time: 05:38:47.033