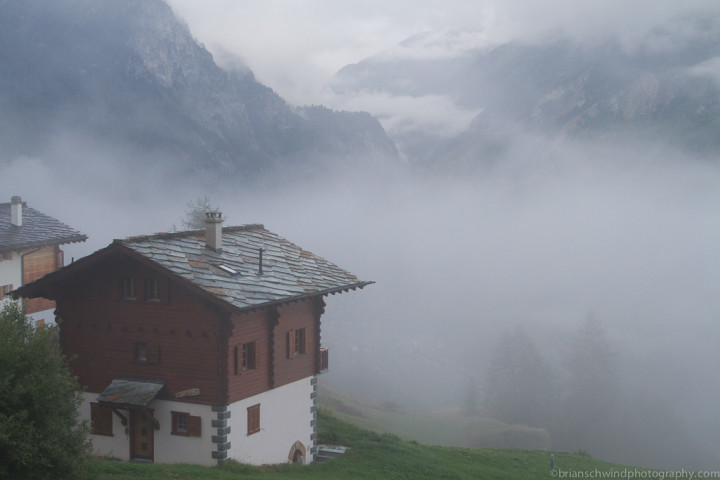 Haute Route Hiking Stats-Day 8
La Sage to Cabane du Moiry
Day

Hiking Time:
5:48
Hiking Distance(mi):)
9.68
Elevation Gain(ft):
5,538

Cumulative Totals

Days Hiking:
8
HR Hiking Time:
44:45
HR Distance Hiked(mi):
76.4
Elevation Gained(ft):
26,053
Leaving the Hotel de La Sage was tough. We had a fabulous room and fabulous dinner & breakfast. I will dream of those warm, freshly made croissants for years to come. We made our way up the steep road to the little store to stock up with some rations for the day. Our Alpine Exploratory route card instructions had indicated the store as a waypoint, so we thought it put us in the right direction. We met up with Bob and Matthew from Ohio and their directions seemed to jive with ours. One sign that things were not right, was that the large British group passed us going down the opposite way on the street. We found the signpost where we thought we should turn, but it never really mentioned any of the next waypoints that we needed. We were looking for Tsate,  which was our next destination, but the sign didn't say anything close to that. Regardless the path seemed to follow with our instructions for the most part.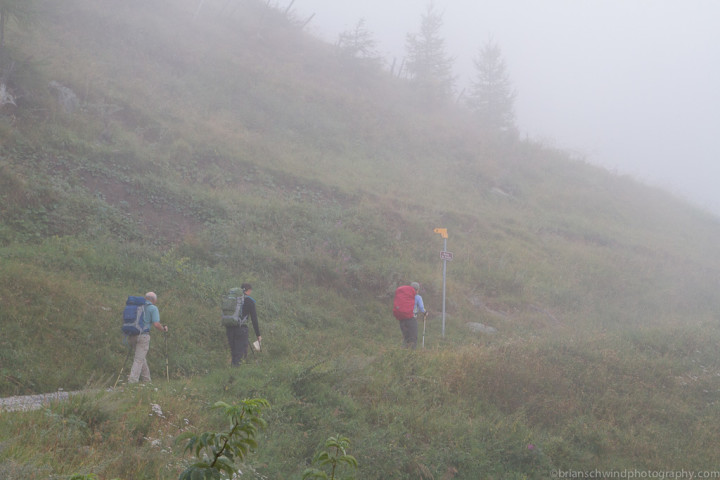 We met up with a dirt road and were zigzagging our way up the hill. We came upon a hiker sign which seemed to point back down the hill. Denise had already blew past this marker not even slowing her pace to make sure that going up the road was correct. I waited up for Bob and Matthew and the three of us started to question whether we were going the right way now. I decided to continue up the road and try to catch up with Denise and I told Bob I would yell if I ever saw any more yellow markers. I never did. I caught up with Denise after about 2-3 more zigzags up the road and asked her if she knew where she was going. A look of panic came over her face. We decided to continue up the road, hoping it would intersect the correct trail and/or wind up in Tsate eventually. All along we never saw Bob or Matthew below us on the road. Our instructions mentioned that we should come up on a mound with a cross on it. I spotted three of crosses across the hillside! And a small group of barns, which I saw two. We could see a yellow hiker signpost near the one to the right, so we headed over that way.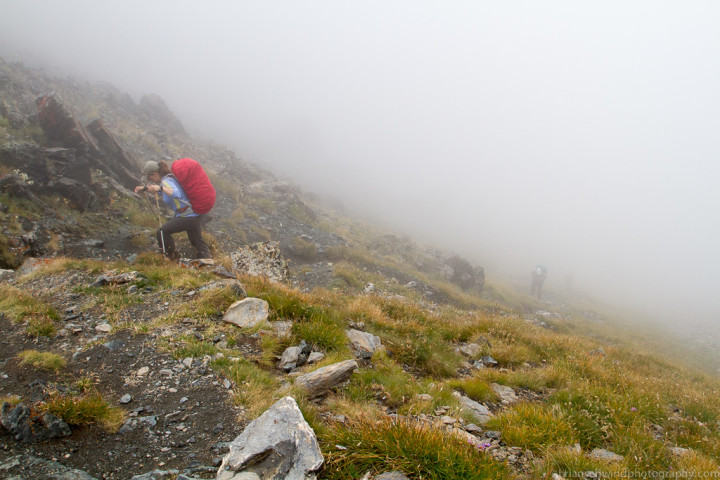 By the time we reached barns we had logged about 5 miles already and we should only be doing 7 for the entire day. The sign indicated that this was in fact Tsate, so we were finally back on course. We never saw Bob and Matt which had me a little concerned. We could see a pretty large expanse of the treeless mountainside and didn't see anyone else hiking. As we wound around the hillside and up, we could just barely see some silhouettes of hikers up the hillside in the fog. It was a very foggy morning as well, so it was much more difficult to identify cols and trails up high. We eventually made it up to a lake where we could now see pretty much everyone who had left after us that morning. So much for starting early!
We passed by most of the others while taking a break at a nice little alpine lake and continued up the col. Our directions indicated that we should be able to see our destination, Cabane du Moiry, after cresting the col. Today was so foggy we saw nothing except for the lake and a large parking lot below. Cabane du Moiry is situated high on a far hillside left of the Moiry Glacier. They say it is quite a view when not socked in with fog.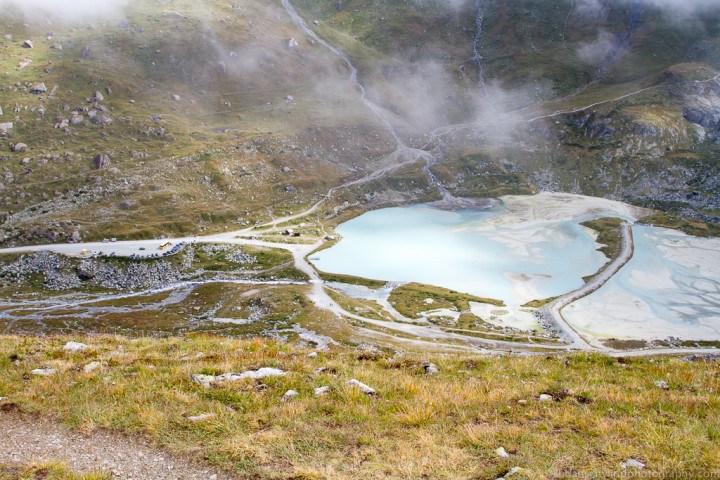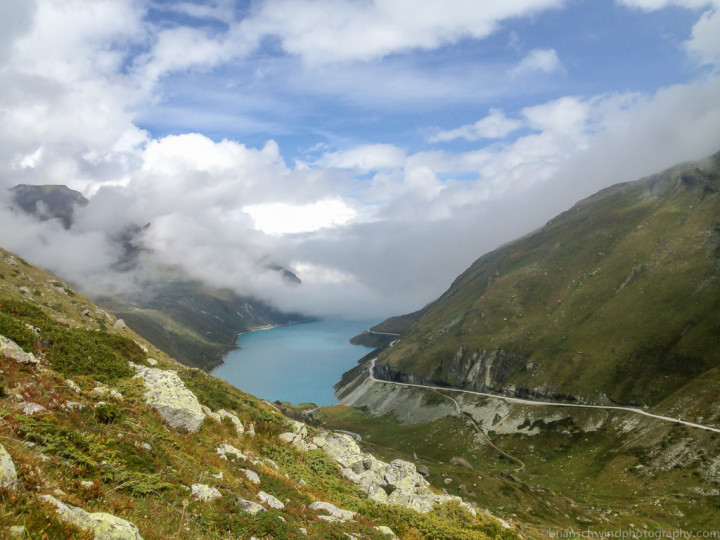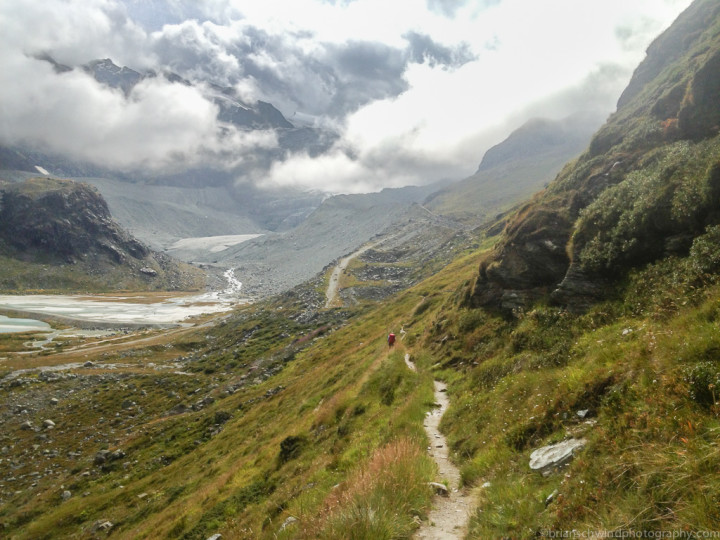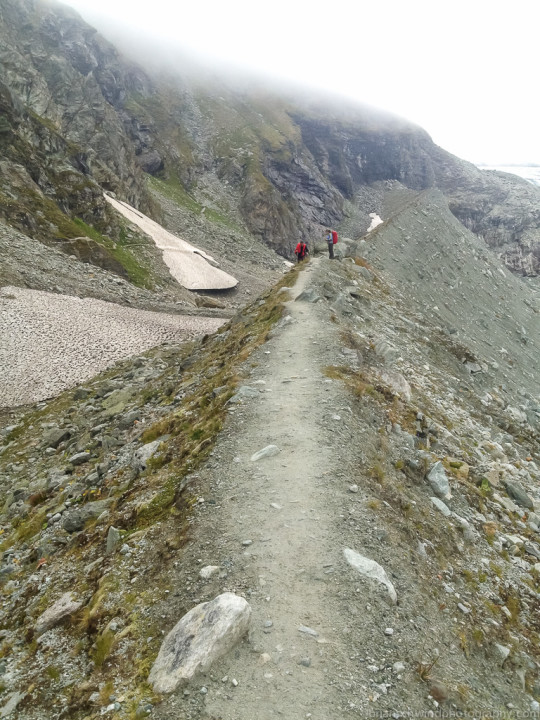 Even though you can usually see the Cabane, it is still very far away. We then continued descending down the hillside to the car park area right near the turquoise blue water of the stream coming from the glacier. Our route card said there can be a snack cabin below, but it was closed today. We bottomed out at the car park and started our long grunt up the morraine on the other side of the glacier towards our Cabane. The ridge became narrower and narrower as we went almost filing in as a knife edge before we descended down and back up the trail on the actual mountainside. We had to cross some leftover snow that was almost pink in color from aging. Half way through it was a hole which we had to cross. It was a little unnerving since it felt like it could fall through. We continued up to a very steep and difficult section that was almost like scaling a cliff. Then it was steep switchbacks all the way to the top. Still no Cabane to see and I just put my head down and grunted my way up. Eventually I could just barely see the roof of the cabane popping above the rocks when we were only about 150 yards away. Finally!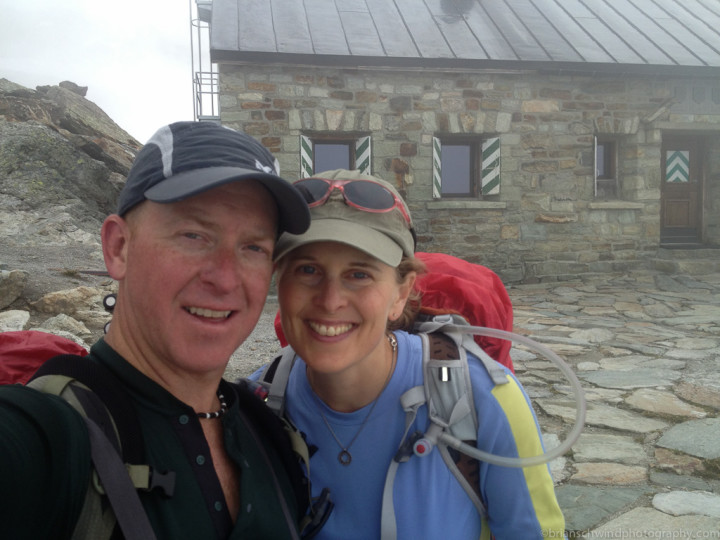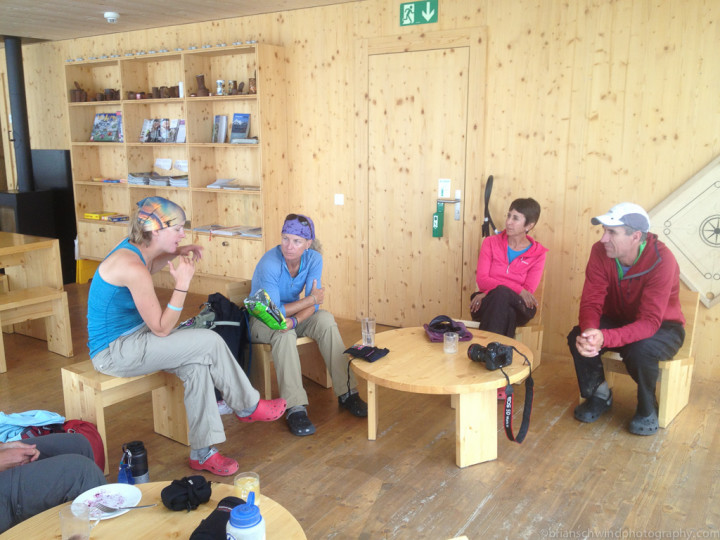 The Cabane du Moiry has recently added a new "wing" that is quite large. The downstairs is all big pine tables and large windows that look down on the glacier that runs right below it. At the end of the room is a small sitting area with some Ikea-like chairs, but much less comfortable, sitting around a small table with a large glass window and the end. Today there was no glacier to be seen.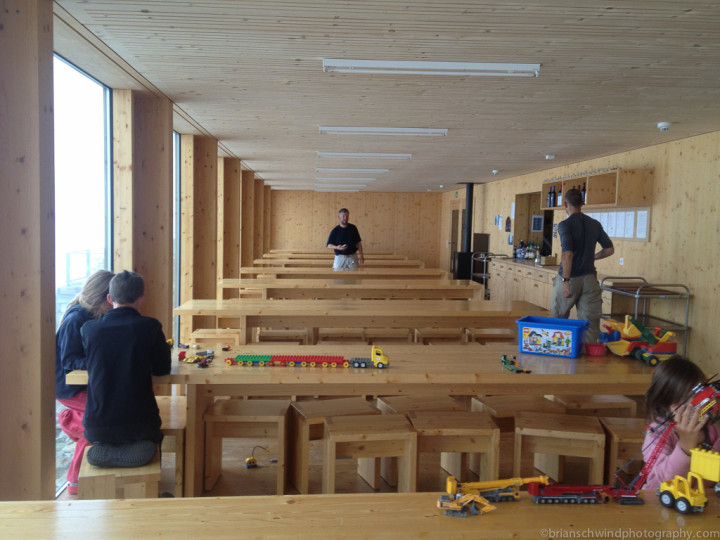 We got our room, which was situated above the large dining hall. It had 2 sets of bunks and a large storage area and bench that ran the length of the room. It also had a tall narrow window that looked down on what would be the glacier as well. We unpacked, got some showers(5CHF for 5 minutes), and headed down to the sitting area by the large window where most of the early arrivers where sitting and chatting. We had a few beers and chatted about the day. Eventually the fog relaxed a bit and we could see the glacier just below. Very cool. I ran out to get some pictures but it fogged up again before I could get anything decent. It had started raining pretty hard out and getting very cold. I was glad that it had held off until we had gotten to the cabane. It was supposed to by 100% chance today, but we lucked out during the hike.
Someone had mentioned that there was a cable car(gondola) down from the next days col at Sorebois and the cabance gave out free vouchers. We definitely considered this since it would give our aching knees a much needed break from the over 5500 feet of descent we had to make into Zinal tomorrow. We later found out that the gondola did not run on Mondays, so that was out. There was a bus that ran from the end of the valley to Zinal later in the morning. This did not sound quite as appealing to me. Denise was pretty sure she was going to take it. I would decide the next day after seeing how my knees faired on the downhill from the Cabane.
Bob and Matthew eventually showed up around 5pm, which was a relief. We were starting to get a bit concerned about them. They had actually returned back to La Sage after we questioned our route and restarted again on the correct trail which was down the street instead of up. They seemed a little frantic when they arrived, but were relieved to have finally made it. They also had issues at the cabane who said they didn't have their reservation. Fortunately a credit card statement proved their purchase. We were also sharing the room with them.
Dinner was carrot, coconut, ginger soup, pork curry with couscous and chickpeas and yogurt with apple for desert. Really good meal and I was totally stuffed by the end. We sat with Herman from Holland during dinner and enjoyed some good conversation with him. He was traveling alone while trying to use up some vacation time from work. We had just caught up with him today as he was taking a couple extra days in Arolla.
As the rain got heavier out, the fog lifted so I decided to make another attempt at some pictures. I got a few a few but the best was a distant mountain to the north that had just got dusted with some fresh snow. I headed back in and rejoined the conversation with Denise and Herman. We eventually headed up to bed around 9pm or so. We did some reading and then fell off to sleep.