Ironman Lake Placid was my "A" races of the 2018 season. It was the perfect climax to my 5th IM finish as I turn 50 at the end of this year. It was also the 20th anniversary for IMLP and 40 years for Ironman as well. There was a lot of significant things that were all coming together. It would also be my last Iron-distance race . Maybe? Never say never. At least for the next year. 🙂
Unfortunately, a number of things happened this year that left a few gaps in my training. Earlier in the year my Mom had gotten very sick and sadly passed away in early March. It was a rough few months. My mom was a fighter and she fought until the end. Even though I lost a couple months of training, I was able to get back on track after her passing. The training actually helped me to deal with her loss and the grieving process.
Then a month before IMLP I had a pretty bad bike crash, which caused me to miss my two longest training rides and an entire week of the two heaviest planned training weeks. This caused me to take a different outlook on my expectations for this race. For the first time I had no goal time in mind. My plan was to start out easy and try to pace myself into decent run at the end. A IMLP PR was pretty much out of my mind now. Fortunately I had healed pretty quickly and was able to get a little more training in before my taper, which I shortened to two weeks instead of three.
One of the positive outcomes of my crash was that my wife finally gave me the ok to get a new tri bike. I have been eyeing a new Quintana Roo for the last year and I finally pulled the trigger on a new one. My old Quintana Roo was able to be fixed after the crash, but it was a 12 year old bike and I just felt like it was time to upgrade. QR had really good prices for what you get compared to some of the other brands(Felt, Cervelo and BMC) I looked at. The other brands were much more expensive and the components were lower end. The QR Race package comes with race wheels and full Ultegra group. They also gave me 10% discount for being a USAT member. I had the new bike in two weeks, got it fitted and race ready for IMLP. The only problem was i had only ridden it a few times before the race. Never use anything in a race that you haven't used in training right? NOT!
We were staying at the same place we did for Ironman 70.3 Lake Placid back in September 2017 which was an ideal location situated on the bike and run course on Sentinel Road right near town. We also brought along our new dog, Bentley, for his first trip to the Adirondacks. In the days leading up to the race we were able to get out for some hikes and paddleboarding. My wife was amazed at how calm I was and said it actually felt like a vacation instead of a race-cation. The latter of which has a lot more stress involved. After doing 6 of these, I really don't have the same fears as I did before. I know what to expect now…A very long training day filled with a lot of pain management at the end.
Race morning went fairly smooth except that they moved the bike special needs bag drop-off from near the swim start to above the speed skating oval. This caused me to have to run back in a panic through the masses of people to drop that off. A little bit of stress but I had plenty of time. I even got in a warm-up pee…I mean swim. 🙂
I said goodbye to the wife and the pup after the cannon went off for the Women Pro swim start. The corale to get into the swim start seeding was so narrow and extremely full. It took forever to move a few a feet. Some people were pushing to get through and other people were like "we are all trying to get there!" Get where I thought? How do I know you are going to the same corale as me? I stood in the 1:50-2:00 section and resided to the fact that I was just going to go off with the slower folks and have do some passing. Fortunately at the last minute a lane opened up and I was able to get up farther. Not sure where exactly, but atleast I wasn't at the back. Time to get the party started!
---
SWIM
I finally entered the water at around 6:54 AM. I started out on the far left outside lane and settled into a nice easy stroke. The plan was that I would gradually veer right and get closer to the buoys inside by the time I hit the first turn. Well, that didn't really ever happen. As I headed to the inside I just kept running into people and I really didn't feel like dealing with it. So, I just stayed on the outside lane the whole time.
I knew it was going to hurt me time-wise, but I didn't really care. I just love swimming without disruption and I wanted to enjoy the swim. Occasionally a meandering swimmer would come out of nowhere and right across my path, but for the most part it was pretty smooth. It was totally overcast, so no sun in the eyes to deal with either. I did manage to take a mouthful of water, twice, and have to contain my coughing until my throat cleared. Both times I just misjudged my breath while spotting and a small little wave hit my face at that time. I usually can just cough it out while still swimming.
Ironman s
[/caption]Ironman swims are usually pretty mellow now with the rolling start. I managed to get through the entire swim without getting punched or kicked until about 200 yards to go. One feckless meanderer came from out-of-the-blue on my right, kicking like I have never seen anyone kick in a wetsuit swim before. Before I knew it one of those kicking feet slammed me square in the eye socket and knocked my goggle lense off. I quickly fixed it though and continued on to the swim exit shortly after.
As you can see from my Garmin track, I ended up swimming 4,493 yards(2.55 miles) which is about 269 more than I needed to (4224 yds = 2.4 miles).  Womp…womp. My pace for that 4493 yds was a 1:44/100yds which is decent for me. But, if I would have swam that more inside and straight I could have finished in 1:13-1:14. So the price of that luxorious, undisturbed swim was about 3-4 minutes. 🙁



Swim Time: 01:17:44.0
---
T1
Relieved to be out of the water, I headed right to the wetsuit stripping area. The wetsuit strippers were situated on the sandy part of the beach. They had blue astro-turf down, but it was still covered in sand. I reluctantly laid down on my back so the strippers could take off my wetsuit. I could feel the sand sticking all over me. It was then all over my hands as I pushed to get up again. All I could hope is that they had a shower or hose to run through to get it off before I had to get my bike stuff on. No such luck! Ugh!
I grabbed my bike bag off the rack and headed to the VERY FULL changing tent. There were guys changing in the entrance way into the tent. I was diligent though and found a seat towards the back. I very calmly pulled my stuff out and changed into my bike shoes. Fortunately I packed a towel so I was able to towel off the sand from my hands and feet before I put my socks and shoes on. My back was still covered though.
I put a couple Honey Stinger waffles in my back pockets and headed out for my bike. No volunteers had gotten my bike out so I had to head down the lane for it. As I headed out, I ran into my race buddy, Irina, from Canada. I had bumped into her the day before during the bike drop-off too. She was trying to get in some nutrition while I was asking her how her swim was and she was struggling to respond. LOL! Off to the bike!
T1 Time:  0:09:25
---
Bike
The bike was an interesting one. Just coming off a recent bike crash and riding a new bike that I only rode a few times so far made things challenging. Leave it to the Adirondacks to take that challenge to a new level! Add in some fairly decent rain and some major wind gusts that come from every direction possible at no predictable time.  Needless to say, I was pretty white-knuckled and on the brakes a lot on the first loop. I knew I was going to lose some time here but I hoped I could make some of that up on the second loop as I got more comfortable and the rain was predicted to subside by then.
Last Fall I had done the Ironman 70.3 Lake Placid and had reached up to about 50 MPH max speed descending from Cascade Lakes into Keene. For the first loop of this race, my top speed was only around 33MPH. I was on the brakes almost the entire time. I still had the crash on my mind and the wet and windy conditions were keeping me on edge too. I was actually starting to get a little chilly towards the end which is unusual for me. I know I was going to lose a bunch of time here, but I now had a little more fear than I did before. I was happy to roll into Keene Valley safely and without any more road rash!
Ironman changed the course again thi
[/caption]Ironman changed the course again this year. The boondoggle Bobsled Drive out-and-back section was to remain from last year, but this year they replaced the Ausable Forks out-and-back with a out-and-back section on Haselton Road right before Wilmington. While that didn't quite provide the same distance they still needed a mile or two to get the full 112 miles. Well, low and behold the newest boondoggle section…The Whiteface appendage. Just when I thought the Bobsled Drive was possibly the WORST addition to the race course, Ironman has outdone themselves again with this awful little momentum suck through Whiteface Ski Area driveway and parking lot! The downhill into the ski area is filled with cracks in the road that is parallel to your tires and would easily suck them up. Fortunately, they outlined them all in orange which is basically the entire length of the bridge. Then after navigating that mess you now head sharply uphill onto a very bumpy utility road for a short bit and then make a U-turn at the crest and heading right through the drop-off area of the ski lodge. Then you head back up the steep entrance way then turning right back onto the main road onto one of the steepest sections of Route 86 at Wilmington Notch. Did I mention that the Whiteface section sucked? Oh, I did…good!
I had done a Best Bike Split forecast analysis of the new IMLP course prior to doing the race. I used a course that I plotted on RideWithGPS based on what they posted on the website. It showed a little short, but close enough. It had predicted me to finish the bike just over 6 hours which I thought was pretty accurate since I had just finished IM 70.3 Lake Placid bike in just under 3 hours this past September. BBS is usually pretty spot for me and my previous IMLP bike legs were 6:24 and 6:15. I also did an updated forecast with the updated course,  weather forecast and new bike aero analyzer numbers right prior to the race. This predicted an even faster time than the previous even though it was a longer, more true distance.
Well, the actual outcome was pretty far off from what Best Bike Split had predicted. WTH??!! Even stranger is that my Intensity Factory(IF) and Normalized Average Power were actually higher than what BBS predicted. Hmmm?? The one thing that was far off was my straight average power was much lower. Why? If you look at the Variability Index it shows a much higher number which would indicate a very eradic range of power.  Still, it is pretty crazy how off this was.
I was still pretty puzzled at how I could lose 45 minutes to an hour over my previous bike splits here. So I had to dig into the numbers a bit. Taking my 3-hour bike split from IM 70.3 Lake Placid last Fall as a benchmark for comparison that would lead to the BBS outcome, I broke down the different segments of the course to see where I lost all that time.
For most of the sections, it was pretty apples-to-apples. I used Training Peaks to highlight each section. The tricky part was matching up the old Jay-Ausable Forks out-and-back to the new additions of Haselton Road and Whiteface. Fortunately, the Haselton Road and Whiteface sections matched up to the exact same distance, so I paired them together to compare with Ausable Forks.
Analyzing What Went Wrong…
Below you can see each section and the comparison of stats for each run of those sections. You can scroll to the right a bit to see the time lost for each section of this latest race compared to the 70.3 equivalent.  The start to Cascade Lakes was a fairly big loss of time. Some of that I will attribute to trying to start out easier and pace myself, but much of it was due to the headwind gusts in this section. I was also pretty tentative on the downhills here too. The wind had picked up on the second loop as well.
Before I looked at these numbers I just figured that most of the time I lost was on the decent into Keene. Now looking at these numbers I can see that really was not the case. I did lose 5 minutes on the first loop, which isn't as bad as I thought. You can also see that I was a couple minutes faster on the second loop when it was a little drier.
The biggest time suck was the new Haselton Road and the Whiteface sections. Compared to the old Ausable Forks I lost a total of over 22 minutes here. Ausable Forks also shows a slightly higher elevation gain, but I think that was more spread out and didn't seem quite as abrupt as the new sections. Thing is I actually really like the Haselton Road section. It is very scenic and it is totally closed to traffic. It just isn't real fast is all.
As for the remaining sections from Wilmington back to Lake Placid, they were pretty on par. I did get a little slower on that final loop from Whiteface back but that is just due to already putting in 6 hours in the saddle. I never even did a training ride over 5 hours this season!
One additional note is that I had to stop to pee near Jay on the 2nd loop, which accounts for the additional few minutes lost compared to the first loop. I have been using Infinit Nutrition which is really great, but I have to pee more than I did before. I guess that is good in that I am well hydrated. I also took advantage of this time to apply a little Chamois Butter which made a world of difference on the last part of the bike. I had put a trial size of this in my special needs bag and put that in my jersey pocket when I picked it up.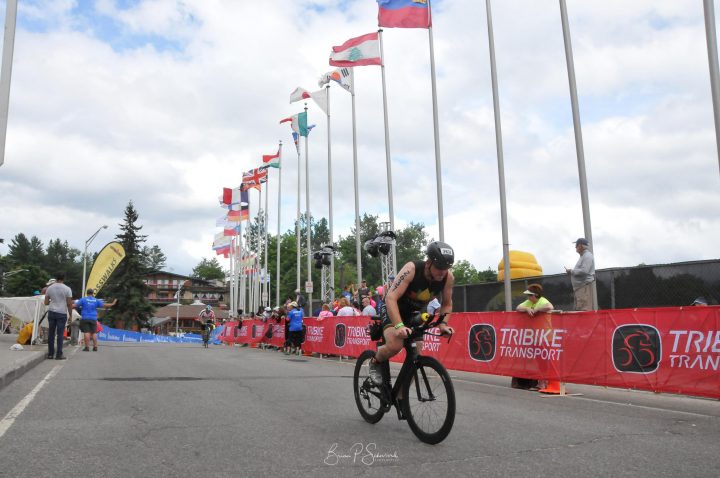 One of the changes with my new bike is that it came with shorter, 165mm crank arms. My old bike had 172.5mm. I was going to swap them out, but a lot of the research leans toward them being better for triathletes and especially ones with shorter legs…like me. My bike fitter also mentioned that they seem to really look better for me fit wise too. They are definitely different! I did feel like it was much easier to spin up the inclines with them and it didn't seem as hard. Although my times are not reflecting they are helping me. Jury is still out on them, but I am going to try to stick with them before making any changes.



Bike Time: 7:00:18.0
---
T2
I hobbled into transition in my bike shoes and numb feet and grabbed my run bag. This time there were plenty of seating options in the changing tent. I took some extra time and put on a fresh new pair of socks. Ahhhh! That felt so good to get out of those wet socks and into a nice dry pair. It's the small things!
I also took a minute to apply some Ruby's Lube in those "hard-to-reach" places that needed a little TLC. I was doing everything in my control to make sure that post-race shower was not a painful experience.  I also took a couple salt tabs and re-applied some sunscreen to my face and road rash areas. I figured the sunscreen appliers would not hit these areas. I let them take care of the back and shoulders. Now off to the run. It is always a mystery as to what the legs are gonna do.
T2 Time: 0:07:38
---
Run
Started out with an easy trot until my legs got the "biking" out of them. They felt pretty good which I was psyched about. I walked the aid stations as usual to get the hydration and nutrition down. Did some gel every 3rd aid station. Added a coke in between. I was pretty happy to realize that my legs were feeling half decent. They definitely felt better than they did at Eagleman a month ago.
I averaged around a 9:30/mi pace for the first quarter of the run. The real test would then come in the next 6.5 miles with 2 uphills and the mental test of having to run past the finish twice for the out-and-back section around Mirror Lake. My pace degraded to about 10:30/mi average for the next 7 miles. I fast-walked the uphill from River Road and the uphill coming back into town. I heard someone screaming "Brian" as I was fast-walking up the hill back into town. At first I just figured it was another Brian, but then I decided turn around and look. Glad I did because it Ginny Cataldi(@ginnylovestri) cheering her head off! She is so awesome! She always seems to pop up out of nowhere when I really need a little push! I think her boyfriend was doing the race for the first time.
Another girl was "running" aside me up the hill and she commented how my walk was as fast as her run. Just not worth wasting that extra energy to look like I am running when I can do the same speed walking.  I also saw a couple of my race-friends Irina(again) and Sean. Irina hadn't been able to train as much as she would have liked to and was nervous about how she would get through. I was psyched to see her heading out on the run and looking in good spirits too. Sean was doing his first full Ironman and was cramping up a bit. We tried to run together a bit, but he was really struggling. I gave him a few words of encouragement and pressed on. Sean would push through it and ended up finish 1st in his age group. Nice!
After the demoralizing run past the finish line and hearing Mike Reilly calling people Ironman, I headed out on my 2nd lap. Fortunately the next 6 miles were mostly downhill or flat.  My pace still slowed to an 11:00/mi average despite the downhills. I was still mostly running but just really slow. I was starting to lean back into a heel strike too. My lower abs were getting a bit sore and fatigued. Definitely a sign that I hadn't done enough strength work this season.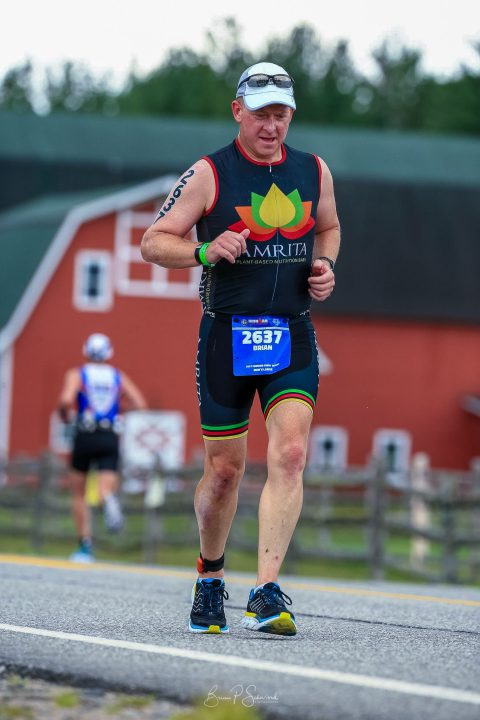 We had stayed at the same apartment on Sentinel Road that we had stayed at for the 70.3 event last Fall. My wife loves this location because she can relax back at the house and just walk out to the end of the driveway everytime I come by on the bike and the run. The Ironman Tracker iOS app has improved so much in accuracy that she can time it down to minutes before I come by. There are also some tri-friends from home that have a condo just down the street and they were all sitting out on the course all day too. So, I had this little section of people to say Hi to which kind of helps get you out of your head a bit. I usually try to liven things up a bit when I see them cause I am sure sitting out there all day can get kind of boring after a while.
I had to run past the Big Slide Brew Pub 4 times on the run. People were all sitting out in ADK chairs enjoying a craft brews while watching us all torture ourselves. I kept thinking how good that big hoppy IPA was gonna tast later on! Mmmmm!
I started thinking about the fact that this could very well be my last full Ironman. Perhaps even my last event in Lake Placid (unless they end up changing the date for Ironman 70.3 Lake Placid ). It was perfect racing weather. Overcast and not too hot. It even sprinkled some rain here and there. The cloudy skies really made the surrounding mountains green color pop. There were some low hanging clouds that provided a veil around a couple of them. Whiteface really stood out with its dark gray peak standing out from the others. The ski jumps marked the turn down River Road as we flanked the Ausable River which was a flowing much lower than usual. I took it all in. I was so grateful for being able to participate in this event in such an amazing event. I wasn't going fast but I was happier than shit to be out here!
The last quarter of the run really started to hurt a bit. My legs were screaming the whole way. I started to just focus on about a 10 yard spot on the road ahead of me that I had to keep running to. It is amazing how that works. I would pick out farther milestones too that I would tell myself I could walk a bit when I reached and then I would keep running anyway when I reached them. It is funny the mind games we play on ourselves during these events.
I hit the short little dowhill right before Lisa G's and the long climb back into town. The giant speakers in front of Lisa G's were pounding out music so loud my ears were ringing. People were dancin' and carrying like crazy there. It is like the athletes become the spectators when going through this section. I kept on running as I started up the big hill. I figured what the heck do I need to hold back for now I only got a few more miles to go. Then my wife Denise was there walking up the sidewalk. She was like, "why are you running not one other person is running up this hill!" LOL! I ran a little more and then walked with her and chatted to the traffic light at the top. I said "see you at the finish line!" and continued back to a slow trot up the rest of the hill. People were cheering and calling my name the whole way(my name is on the bib). I actually caught some people off-guard as they tried to cross the road and I started to pick up the pace right before.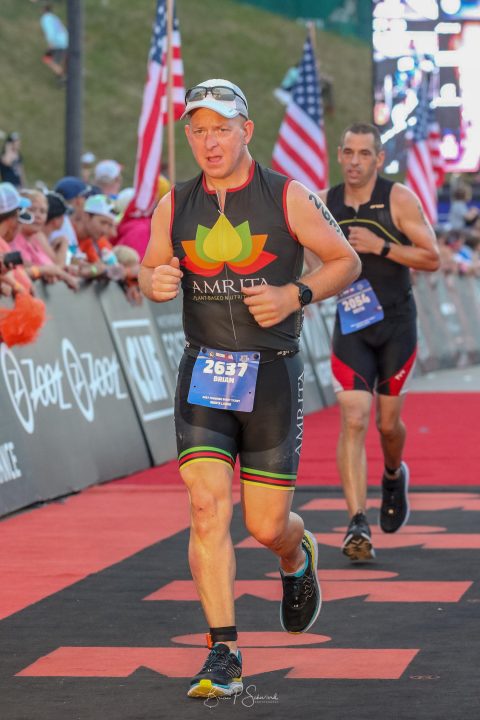 I made the final turn on Mirror Lake Drive and headed the last mile to the finish chute. I took in all the crowds and the speed-skating oval as I made my way around it. I looked out past it all to the surrounding ADKs mountains in the background. I thought "Wow, what a spectacular place!" I took a look back at the jumbotron behind me and say my image trotting down the red and black M-dot carpet, It might be my last time but I have that image forever. Then I heard Mike Reilly mangle and mispronounce my name for the 5th time, gave a thumbs up to the cameras and crossed the line for number 5!



Run Time: 4:49:29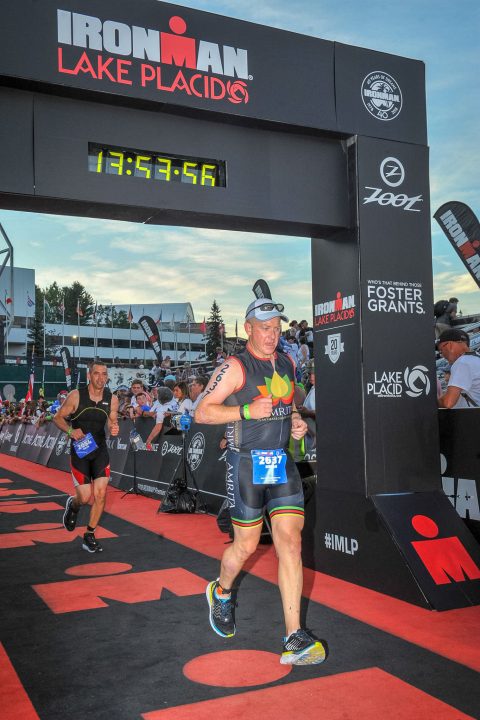 Finish Time: 13:24:34
Looking at the stat's for the race on Coach Cox's site, it appears times overall were a bit higher than in previous years. He say's that there was no change to the bike course, but that is obviously wrong. Bike times for the Men's 50-54 age group are on average about 6:41, but for this years race were 20 minutes slower averaging 7:01. Looking at the times overall I still came in under the averages for my age group. Still not my best results.
---
I was quickly whisked through the mob of volunteers. A finishers' medal was put over my head and a mylar blanket wrapped around me, and shirt and hat in my hands. The nice volunteer lady walked me over to a chair in the food area. She fetched me a water, coke and a couple slices of pizza. I was pretty smoked and right now I could not imagine how I was going to get up out of this chair. I panned around and saw my wife sitting on the bank behind the food tent waiting for me. A couple other finishers were sitting around me and we were all chatting about the race. I finally got a sense that the bike leg was particularly difficult this year based on what the other guys were saying. I usually want to go out for pizza and beer after an Ironman, but this year I was thinking a shower and bed sounded even better.
I finally got up and figured out the exit plan with Denise. I stopped in the massage tent for a quick flush massage. It probably would have felt better if they would have wiped the sand off my legs before they did it. Ugh! It felt like they were massaging me with sandpaper. I hobbled around and collected my bike and bags and we walked back Sentinel Road one more time to the apartment. Ahh…shower and a pillow. Goodnight!