For the past 10 years I had purposefully stayed away from racing Eagleman 70.3. It is a fairly local race, but the typical heat and salt-water swim kept me away. Recently several people had recommended it to me and said how great the area was, so I decided to give it a try this year as my early season tune-up and "C" race.
I arrived in Cambridge, MD on Friday and checked out the town and venue. I have to say I was not overly impressed with the town. I thought it seemed kind of depressed. The one main street in town had a few decent restaurants but they all seemed to be owned by the same owner. There were also a lot of closed shops on the street too. Every block you moved away from the water seemed to become a bit more rundown.
I stayed a few minutes East of the main part of town down on Route 50 at the Comfort Suites. The hotel was pretty nice and clean, but the surrounding area was nothing to write home about. There was a Walmart and bunch of little strip mall places and that was about it. The Hyatt was also nearby which looked very nice from the outside, but at over $400/night I wasn't about to find out. The Comfort Suites was no bargain either at around $250/night. Definitely gouged for a race weekend, cause I checked the prices after and they were ~$100/night. One nice thing about the hotel location was Bucktown Road across the highway which provided a great road for doing some pre-race biking. It is very scenic as it goes past an airport and farmland.
Most of the restaurants in the area are fast-food chain restaurants except for the ones on the main street in town. There were no real good, farm-to-table or vegetarian restaurants to dine at from what I could find. If you head over towards Annapolis you will find some better options. The town of Easton, MD seems to have a lot more choices and also accommodations. If I were to go back here I would probably stay in this town instead.
Pre-Race
On Friday afternoon I headed over to registration and packet pickup were in Great Marsh Park, which is the were the race transition is. Apparently, it used to be somewhere else and there must have gotten some feedback on that and moved it here. It was a nice walk getting there and things went very smoothly. Great Marsh Park is situated right along the Choptank River. They also have a pre-race swim area marked off on the opposite side of the park from where the actual race swim is.
After registration, I headed over to the main street and had some dinner at The High Spot Gastropub. It was a nice place and the food was very good. They also had some local craft beer on tap, so I had to sample that too. The hostess mentioned a couple of their "sister" restaurants which basically comprised the only other places to eat in town.
On Saturday I headed back over to Great Marsh Park to drop off my bike and then go for a little practice swim. It was pretty hot on Saturday and I was glad to hear they were calling for slightly cooler temps on Sunday. I found some nice shade in the grass to put on my wetsuit. I ended up tearing the seam on the one leg of my wetsuit trying to get my foot through. Ugh! It wasn't too bad but I found the flapping to be very annoying while I was swimming. I would definitely be cutting this off. I was a bit afraid it would get worse. I had brought my full sleeve but it was a bit too warm to wear that one.
In the afternoon I drove over to Annapolis to check that out a bit. I hit up the very large Whole Foods there and stocked up on some last minute groceries. I walked up and down the main street checking out the shops until a short, but really heavy downpour came through. I ducked into a Starbucks while I waited that out.
None of the restaurants downtown particularly thrilled me. I found a nice Italian place, called Carpaccio Tuscan Kitchen,  just West (on West Road actually) of the main part of town. The food and the service were really good. I would definitely recommend this place. There was also an Irish Pub next door too. I headed back to Cambridge after dinner and settled in for the evening.
I arrived at the race start around 5:30AM on Sunday morning. I managed to get a parking spot on one of the nearby neighborhood streets only a couple blocks away. They had shuttle buses running from a nearby school, but I didn't feel like dealing with that after the race. I had purchased the Tri-Tats race number tattoos prior to the race, so I didn't have to deal with getting body-marked beforehand. Definitely worth it and it looks pretty professional too.
I walked over to my transition spot and was very happy to see that the TWO spots to my left were vacant. SWEET!! Lots of room to lay out my stuff. I told the guy to my right that he can spread out a bit more since I could move over a bit. I set up all my stuff pretty quickly. I guess I am getting good at this now. The guy next to me was doing his first half-iron distance race so I chatted him up for a bit. I tried to limit my unsolicited advice but slipped a little bit in there.
I made my way over to the race start area. The Porta-John lines were pretty short so I hit them up one more time to fully empty myself out. It seemed like forever waiting for the race to start. I settled into the herd for the 35-37min corral and waited.
The Swim
The herd finally started moving and before I knew it I was heading through the single-file gate into the water. The start of the swim is below waist deep(shallow) for at least to the first buoy. If you can dolphin dive this is a good place for it. I think it may be shallow the whole first length actually, but I didn't test it for sure. I just took my time wading in and heading to the right outside. The swim is a counter-clockwise rectangle that runs along the shore for the first length, then turns out to the left and eventually back again. I slowly settled into a nice easy pace.
The second outer length was a little more choppy but the herd was also thinned out a bit. I felt like was passing a lot of other swimmers and was hitting all the buoys. I was cruising at a nice steady pace. The final turn came pretty quickly and I was heading into the protected boat ramp on the tip of Great Marsh Park. The water became EXTREMELY SMELLY within the confines of this boat ramp. It was gross and I could not swim fast enough to get out of there. I finally felt my finger touch down on the matting that they had submerged on the bottom of the ramp. That was nasty!

I was really happy with this swim. 35 minutes is a really good time for me. I executed my plan to start out easy and work into a nice steady pace. I really felt like I was cruising on the last length in. I imagine there was some current at play here too, but I will take it.
Swim Time: 00:35:01
Transition #1
I exited the smelly boat ramp and worked on getting my wetsuit down and spotting a free wetsuit stripper. I found one lady and dropped onto my back. She ripped my wetsuit off and managed to dig a fingernail into my ankle…ouch! It felt like it drew blood, but I didn't see any when looked down. It really stung though.
I settled into a nice trot through transition and passed a few other guys doing so. I quickly spotted my bike and switched into my bike gear. I had to run my bike to the opposite corner of transition and then out the long chute to the exit. It seemed unnecessarily long, but I think they did it that way to try to even it out for everyone. I mounted up and on my way for the next 56 miles. I was fairly happy with the 3 minute transition time.
T1 Time: 00:03:58
The Bike
I am not a huge fan of flat bike courses. Some people think that they are easy, but I see it as just hammering away, non-stop, for 2.5-3 hours. No hills means no coasting or breaks. Flat courses can also be very subject to winds which can make it even worse. The Eagleman bike course is known to be windy since there is not much protection from the wind.
On this day I would say I was pretty lucky. The first half of the bike was mostly tailwind. What wind there was, was under 10MPH I believe. The course is really nice though and the roads are in very good condition. It is very easy to just crush it, but then you will surely pay for that later. I made sure I kept below my suggested power numbers from Best Bike Split(BBS).
As you can see here below, I set my race plan to an Intensity Factor(IF) of 0.70 in BBS. I really wanted to stay conservative on the bike so I could set myself up for a good run. My plan was to stay below this if at all possible.
Below is my actual metrics from TrainingPeaks/Garmin file. I pretty much hit dead on with my Normalized Power(NP) and Intensity Factor(IF). My time and avg speed were a little off on the BBS estimate though. Perhaps my "drag coefficient" (aka fat ass) was a bit off? It is pretty crazy how close you can predict these bike courses with power number.
The second half of the bike course was a mostly into a slight headwind. Not a bad one, but you could surely feel it. In the first half of the bike I had NP of 0.69 and averaged about 21.9 MPH. The second half I had a NP of 0.71 and averaged 21.0 MPH. So not a huge difference but a difference nonetheless. It surely wasn't the 16 feet of elevation gain on the second half.
The temperature went up a few degrees(78F -> 83F) during the bike, but it was mostly overcast until the very end. It was probably the best conditions you could have for this race. I also stuck to my nutrition plan during the bike. I have started using Infinit :GoFar this year and supplement that with Honey Stinger Waffles and/or Amrita Bars. I drank two bottles Infinit which amounts to about 600 calories and includes electrolytes too. I had one bottle of straight water and washed down a Honey Stinger Waffle with that. So about 900 calories in 2.5 hours. This should have given me what I need to execute a good run.
Bike split was 2:36 which is probably my fast half iron bike split ever. My legs felt pretty good coming off the bike so I was feeling confident about having a good run at this point.
Bike Time:  02:36:51
Transition 2
T2 seemed like it was event in itself. In order level out the distance for everyone they made you run your bike all the way around the transition area and come through the opposite side almost where we came in from the swim. It seemed like a long way to run with a bike in cleats. Despite the length, everything went as smoothly as it could. Out on the run in 3 and a half minutes. Kind of long for a T2, but it was mostly from the distance.
T2 Time: 00:04:29
The Run
I started off on the run feeling pretty good.  We wound through some of the neighborhood streets and eventually connected back to the bike course. I looked down at my watch and noticed that I was running under an 8:00/mi pace. That was way too fast for me to be running this early in the race and I forced myself to back off a bit. The first two miles were going pretty well.
On the 3rd mile was when things started to go bad. I hit the West Side Bypass road, which is very wide and open. It was very hot too and it was started getting to me here. My legs started to get really heavy and crampy. I made the right onto Hudson Rd(343), which is newly paved, and really started to struggle. I finally had to take a walk break. Ugh. My head was starting to hang low and then I heard someone yell my name and bring me back into some positivity. It was the always cheerful Ginny Cataldi! I really needed her energy cause I was starting a downward spiral into negativity at this point.
There was an aid station right as we veered right onto Horns Point Road. I really had to take a leak for the past couple miles and the previous port-O-johns were occupado. Finally, there was one open here and I stopped to unload. While this put me back a minute or two, it was such a relief. There was a few pounds off!
This walk-run continued until I hit mile 7 at the left turn onto Lover's Lane from Horn's Point Road. What changed here? Well, there was a SNOW CONE STAND and people were handing out nice cold snow cones! AHHHH! I grabbed a grape flavored one from a girl and instantly gave her one of those wristbands they give us to give to volunteers who help us out or make a difference. That snow cone she gave me surely did that!! It was like instant energy! The other part that made a difference was that Lover Lane was totally tree-covered and shady. It was such a relief and my pace instantly got faster.
The shade didn't last long enough. As soon as we made the left back on Hudson Rd into the open sun my pace started tanking again. I tried to get plenty of liquids and ice at all the aid stations. It helped for a bit but I started overheating again very soon. I managed to maintain ~9:30/mi pace when I was running, but the walking intervals dropped me back to the 10's. I was really hoping to keep my run under 2 hours, but it wasn't looking too good for that now.
I continued pushing on until the finish. I almost got hit by some douchebag driver that seemed to be inconvenienced by all the runners. I managed to finish in 2:11. While I was very disappointed with that at the time, in hindsight I really should not complain. I can't imagine what that run was like in previous years when it was really hot.
Run Time: 2:11:52
Race Summary
Finish Time:  05:32:11
Age Group Place: 33/174 (19%)
Overall Place: 438/2071 (21%)
There were a lot of positive outcomes for this race. I was extremely happy with the swim. I executed it exactly the way I wanted. Start out easy and build into a good race pace. 35 minutes is probably one of if not the best 70.3 swim times I have had. The bike is my fastest and I even managed to stay below my power targets too. Low winds and no elevation gain help that too. I also was very happy with my nutrition plan on the bike too. The fact that I had to pee really bad on the run means I was well hydrated for sure. Transitions were also pretty solid. Not major boo-boos.
The biggest positive is that a 5:32 half-ironman time is my second fastest personal best time for that distance! WTH! My personal best is 5:24 at Timberman back in 2014. Getting that close to a PR when I am turning 50 is nothing to sneeze at! I really had thoughts of beating that time here in my head, but it wasn't in the cards that day.
The only negative was the run execution. I do brick runs every week of about 3 miles after my long bike. Kind of funny that that is the same distance when I started to break down here. I need to harden up the legs a bit more for those later run miles. I also need to get adjusted to the heat too. It always affects me, but I need to work on that. Early season races are not my forte. I also need to keep in mind this was my "C" race. The reason I race it is to see what needs work and put some race miles in legs. Mission accomplished I'd say.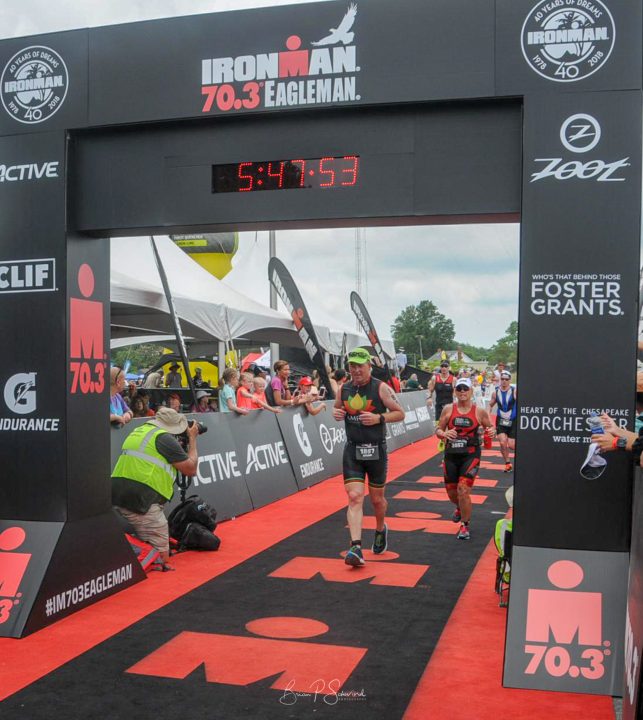 I traveled to this race by myself since my wife did not feel like managing the dog all weekend. It was also supposed to rain all weekend but it never did until my drive home. And then the heavens opened up. I had to pull over it was coming down so hard. It was a good thing because I got so tired driving I needed to take a nap too. Ironically, it did rain back home all weekend.
Next up is Ironman Lake Placid in July. This is my "A" race of the year. This will be my 3rd time racing that race and hopefully my 5th Ironman finish provided everything goes well. I am pretty psyched to head back to my favorite place in the world for this race. It is also the 20th anniversary of Ironman Lake Placid too. Hopefully, I can get some updates out before that!