The inaugural Ironman 70.3 Lake Placid race was my "A" race for 2017. I did things a little backwards this season starting with a full Ironman in Boulder back in June. Then I finished up the season with two half-iron distance races in August and September.
The Course
I am going to skip providing another evaluation of the very familiar Lake Placid course, which has been detailed by me and others to very fine detail before. The only differences here were the fact that we only did one loop of each discipline and the new out-and-back to the Bobsled run.
Bobsled Run Lane, which takes you to the base of the bobsled run, was recently paved. Finally!! I frequent this road since I typically get up to Lake Placid in the winter for skate-skiing and this pave job was long overdue. In order to christen it properly I guess they felt the need to add it to the IMLP bike course to replace the out-and-back on Haselton Road.
This change really sucked! Yeah it was nice paved road, but the 90 degree left turn into the parking lot and the little climb up to the bobsled run really took the momentum out of my ride. The other bad part was that you also lost the momentum from coming down the hill on NY73 for the hill that now followed turning out of Bobsled Run. Ugh!
Haselton Road was always a nice little 2 mile, mostly flat, out and back. It was kind of refreshing and I would take that any day over the Bobsled Run. So besides that it was pretty much business as usual for the IMLP course.
Pre-Race
The IMLP 70.3 event setup seemed pretty much the same as the Ironman event to me. I sometimes forgot I was only doing the half. Registratrion, check-in, expo all like a typical Ironman event. Perhaps it was due to it being the first 70.3 there.
This year we stayed at a new place that was on the bike and run course as well as walking distance to the start and swim. This was mainly to give my wife a break, since I know these races are getting old for her these days. If she go back to the house and do her thing while I am out exercising all day, we are all happy.
On race morning we walked out the door and up the street to transition. It was 36-38 degrees F and I could see my breath the whole way. I like cooler weather, but all I could think about was taking off the wetsuit and heading on the bike at 20 MPH in wet spandex…BRRR!!
Transition was pretty uneventful. We hung out by the swim start until it was time for me to get in the herd. We did get our picture taken by the race photographer too. I was kind of pumped up to do a really fast race here. I had just come off a decent time at a very difficult Rev3 Pocono and felt that I could really hammer this race.
Note to self: You do not need to get yourself pumped up before the swim. It only leads to increased anxiety in water which really serves no good. Save the pump for about half way through the bike.
The Swim
The swim start was a self-seeded line-up that was funneled through a single gate opening. Great for spreading everyone out.
The water was around 60 degrees F. While still much warmer than the air, it was freaking cold. I wore my neoprene swim cap which was a help, but my face and legs were cold. It was also extremely foggy due to the temp difference between the air and water. You could not even see from one buoy to the next. It was a bit eerie to say the least.
I took the plunge and headed to the far, right outside lane of the counter-clockwise rectangular course. After only about 100-200yards in I started to feel a wave of panic set in. I don't know if it was the pre-race anxiety, the cold water,  the fog or all of them combined. I felt a weird, weak feeling in my arms and the thoughts started to swirl in my head…Panic Attack!! ugh!
I used to suffer from these a number of years ago, but never in a race before. I quickly tried to spot a volunteer paddleboardier to swim to, but they were all in the inside of the course. Great! Now I had to swim across and large flow of swimmers to get to one.
I managed to get across while getting clobbered a couple times. I am sure that pissed a few people off. I finally reached a board and got a rest. Oddly it was Karen Brian from High Peaks Cyclery's wife. She chatted with me for a minute as I collected my head a bit. I quickly calmed down, said goodbye and headed back to swimming.
I finished the swim without any more issues except for beating myself up mentally for letting that happen in the first place. I guess I should have been congratulating myself for getting over it quickly and only loosing a minute or two in the swim.
Swim Time: 0:38:37
T1
I visited the wetsuit strippers and relunctantly gave up my nice warm wetsuit…BRRR! I ran down the long chute to transition trying to scan the people to find my wife the whole time. Turns out she headed home and wasn't even there.
Transition was a little longer than normal due to having to put on arm and toe warmers. They are little uncooperative when you are soaking wet. Although it was still a little quicker than having to rip apart a plastic bag and navigate a packed changing tent like you would in the full distance.
T1 Time: 0:07:07
The Bike
The bike was very cold. Especially at the start. I wore my typical Amrita kit with arm and toe warmers that I could take off if it got warm. It was a good call and I was fairly comfortable except for my toes which happens no matter what the temp is. I tend to run hot though so I think others might require more clothing than I do. I heard some other guys with more clothing saying … "Brrrrrr!"
LP to Cascade
The first section of the bike is the ride out of town to Cascade Lakes right before the big descent into Keene. This section is mostly gradual climbs with a couple quick descents sprinkled in. This 11 mile stretch gains about 850′ of elevation. I averaged a normalized power of about 198 watts here and it took me about 39 minutes(17.5 MPH Average).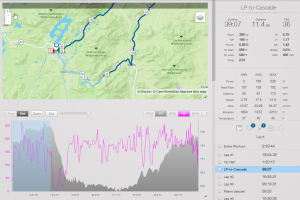 This year they added a new out-and-back section on the newly paved Bobsled Drive. I found this section very annoying and it really took the momentum out of this section. The last little stretch through the Nordic Center and Bobsled parking lot really sucked cause it is all uphill. The worst part was after making the right back onto 73 and going uphill again without the typical momentum you usually have.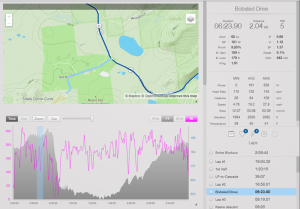 Keene Descent
The descent into Keene went without any incident. I averaged 33.5 MPH over this 5.3 mile section and a top speed of 46 MPH. I must have used the brakes a bit since I typically hit 50 MPH. I guess I am not as fearless as I used to be? The Elevation loss here is 1280′. The handlebars on my bike tend to start wobbling back-and-forth when going over 40MPH downhill. It can be pretty unnerving when it happens. The only way to stop it is by releasing the death grip on the handlebars and squeezing the crossbar between your knees as hard as you can. There is a sweeping right bend towards the lower half of this descent that this frequently happens on. I used this technique which worked pretty well to stop it.
Keene to Jay
The Keene to Jay section is one of the most beautiful sections of road for riding a bike. It is mostly flat, big shoulders and gorgeous scenery. You can easily got lost in just crushing it here. I averaged about 21.7 MPH over this stretch which took about 26 minutes to cover the 9.5 miles. I averaged about 192 watts of normalized power which is about .72 Intensity Factor.
I probably should have held back little bit here. I could have gotten away with 21 MPH here and saved some wattage for the hills to come.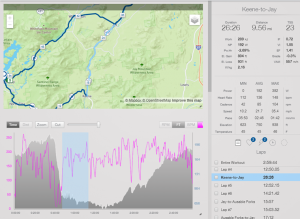 Jay to Ausable Forks and back to Jay
This 5.5 mile out-and bike section kind of annoys me. The way out isn't too bad and I averaged around 21 mph. Coming back has some gradual elevation gain(250′) and it always seems to hurt a little. Given that I still averaged about 19 MPH in this section. Perhaps it is the thought of what is to come that gets to me here.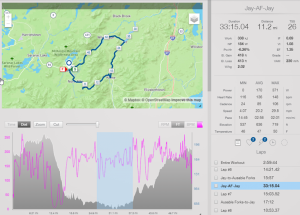 Jay to Wilmington
This 5 mile section is mostly all uphill(~550′) with a couple short and fast downhills. Enought to give your legs a little rest between the grinds. I averaged about 223 watts NP and only 15 mph avg speed. I finally started sweat here and the feeling in my toes was coming back again. Ahhh love those hills.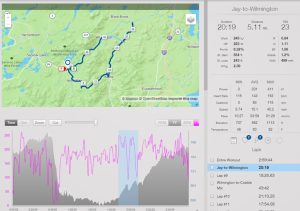 Wilmington to Lake Placid
I had drummed up this notion in my head that I was just going to crush this course since I only had to do one lap. I obviously forgot what this bike course is like. It will hurt you! If you hammer too much on the flatter sections from Keene to Jay to Ausable Forks and back to Jay, the following section from Jay back to Lake Placid will put a whoopin' on your legs. I was feeling like that is exactly what happened to me here. My legs were feeling crampy on the way back through the Wilmington "Notch" back to LP. I was starting to worry about what the run would be like.
This section can be brutal. It is pretty much constant uphill for 11 miles. There is a couple sections that give you a break, but not enough. At least this time I only have to ride one time. Whew!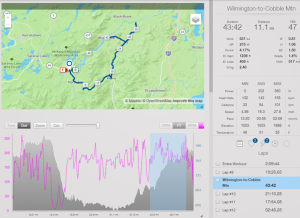 Below is the comparison between my projected bike from Best Bike Split(BBS) versus my actual Garmin result. As you can see the time was only about 2 minutes different, but the power numbers were a pretty far off. I guess the good news is I had the same speed with less watts. Perhaps my FTP was higher than when I had tested last or dropped a few pounds?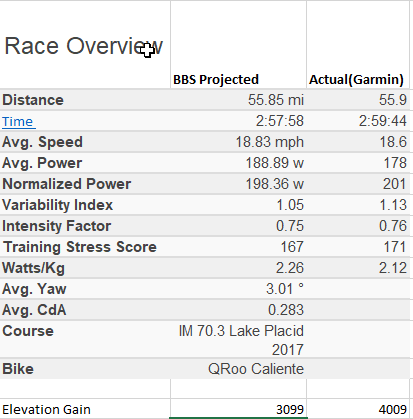 The corrected elevation in Training Peaks was almost 900 feet different than what the BBS course had. The uncorrected version from my Garmin was 3130 which lines up closer with the BBS course.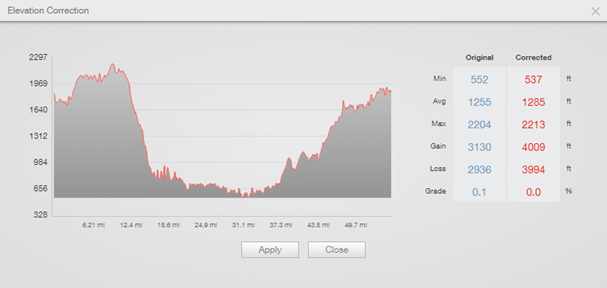 Bike Time: 03:00:24
T2
My second transition was smooth and I was quickly out onto the run in just under 3 minutes. Ba-da-bing…ba-da-boom!
T2 Time: 0:02:59
The Run
This was a good solid run. You really don't what kind of legs you have until you get down onto River Road. It takes those two miles to work the bike legs out and there are two pretty big downhill sections in this part. Fortunately, I found out quickly that I had decent running legs this day. I slowed down to walk the aid stations so I made sure I got liquid in me. It also started getting a bit warmer out too which usually slows me down a bit.
The second half of this run is no joke. Those two big downhills you had coming out are now big uphills. You gain almost 800′ of elevation over this 13.1 mile course 500′ it comes in the last 6.5 miles. Still I was able to come away with a good solid finish(for me) with 8:50/mi pace. That is probably one of my best half ironman runs.
Run Time:  1:55:45
Finish Time: 5:44:52
---
The Narrative
What did you learn?
The biggest thing I learned from this race was never to underestimate the IM Lake Placid Bike Course. I came into this race thinking I was just going to crush this with a new 70.3 PR since I had done the full here a couple times and train here often. I had thoughts that I would nail a sub-3 hour bike and Best Bike Split was confirming that as well. That didn't happen. The bike course quickly reminded me how tough it can be.
I also learned that besides not liking to race in the heat, 38 degrees (F) is not that fun either. Especially when you come out of a 60 degree lake swim and head down a 7 mile descent at almost 50 mph.
The biggest lesson I learned with this race was…DON'T GIVE UP! I could have thrown in the towel after my mental breakdown in the swim, but no I took a couple minutes to collect my head and pushed on. So glad I did because it turned into a very solid race for me.
What worked well?
Pacing – I feel like I maintained a fairly steady and sustainable pace throughout. I didn't totally crush the bike, but it allowed me to put in an decent run. No leg by itself was earth shattering but everything was fairly consistent.
My choice of clothing worked pretty well. It was pretty cold that morning and the water temp was low 60's. For the bike I just added arm warmers, full finger gloves and toe covers. I I felt pretty good for the most part, but I have a bit more natural "insulation" than most people. My toes were pretty numb most of the ride, but that isn't unusual on cooler rides.
What you are proud of?
Not giving up. I had a bit of a situation as you will read in the "What didn't go well" section below and I bounced back from that early on in the race and still finished with a respectable time.
What didn't go well?
Very early in the swim I had what I would call a panic attack. I have suffered from these in the past, but never in a open water swim or race before. This is kind ironic because an open water swim would seem to be the most likely place to have one of these. Well that finally happened.
I am not sure what caused it exactly. It could have been the extra pressure I put on myself to want to do really well in this race? It could have been the cold air and water temperatures. It could have been the very foggy conditions on the lake that morning(I could not see the next buoy). Or all of the above? Sometimes there is no rhyme or reason for these either. Thoughts just start swirling in your head and spiral out of control. I just remember my arms getting this very weird light feeling in them and I lifted my head up searching for a safety person to swim to. Unfortunately, she was on the inside of all the swimmers and I was on the outsides. I had to then swim across all the other triathletes to get there. I made it to the SUP and took a minute to collect my thoughts while chatting with the lady before heading on my way again.
I finished the rest of the swim, without any issue. WTF? I spent the rest of that swim internally yelling at myself for that happening. Once I was out of the water I pressed on and put that all behind me. I could have quit, but I recovered and pushed on.
How well did you respond to things that weren't in your control? (e.g., weather)
Besides the swim issue, I think I dealt with it pretty cold. I think I can deal with cold better than extreme heat. My toes were a bit numb on the bike but I don't think it bothered me too much. I didn't start sweating until I was climbing out of Jay to Wilmington.
The weather during the run was perfect. Not too hot and the sun was shining. Perfect really.
What are areas for growth?
Need to stay chill for the swim. Don't put so much pressure on myself during that part of the race. Start out slow and build as the day goes. Save the pressure for the run.
Easy on the bike too. Stay on the low side of those power target numbers from Best Bike Split. Those few decimals of average speed aren't really worth it.
What were your thoughts and feelings during the race? How did they influence your actions? What was or was not effective about your mental game?
As I mentioned, I dealt with some panic during the swim. Overcame that and pressed on. The rest of the day felt very positive and stayed that way.
How did your pre-race planning help or hinder you?
I know this course like the back of my hand. Given that, I feel like I took it for granted or underestimated it.
What was your fueling and hydration strategy? Did it work?
Stayed with my typical Amrita Bars and Honey Stinger Waffles for nutrition on the bike. I used Skratch Labs for hydration.
On the run, I stuck to the course-provided nutrition. I had a couple Clif Gels and hit the Coke on the last half of the run.
Post-race race beer: Paradox Brewery – Beaver Bite IPA
What were the circumstances of the day (weather, terrain, competition, etc.)?
Very cold morning around . Water temp was in the low 60's. Lake was very foggy due to the difference in air and water temperature. Fog made it hard to sight and gave a clausterphobic feel.
Later half of the morning was sunny and very nice. Winds were moderate. No complaints here.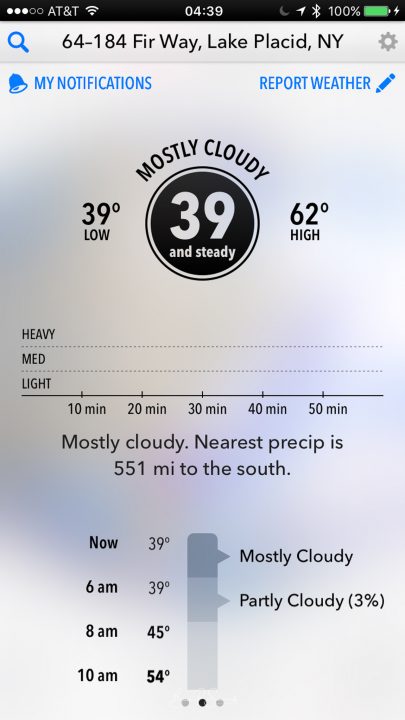 Pacing
The key data for analyzing your pacing strategy includes:
Heart rate
Power
Rate of perceived exertion (RPE)
Speed
Placement in the field
For triathlon, analyze your placement within each segment. To do this, create spreadsheets that include the 10 to 15 finishers who came before and after you (in age group, gender, and/or overall—depending on your particular competitive goals).
I sort  four tables (fastest to slowest) by:
Overall time:
Swim time
Bike time
Run time