The following post outlines our recent trip to Iceland where we toured this most beautiful country via the Ring Road. The Ring Road, or Route 1, encircles the outer perimeter of entire island. It makes for the perfect guide to view everything this country has to offer. We branched off here and there, but always returned back to the Ring Road. Our trip ended up being about 2000km(1242 miles) total .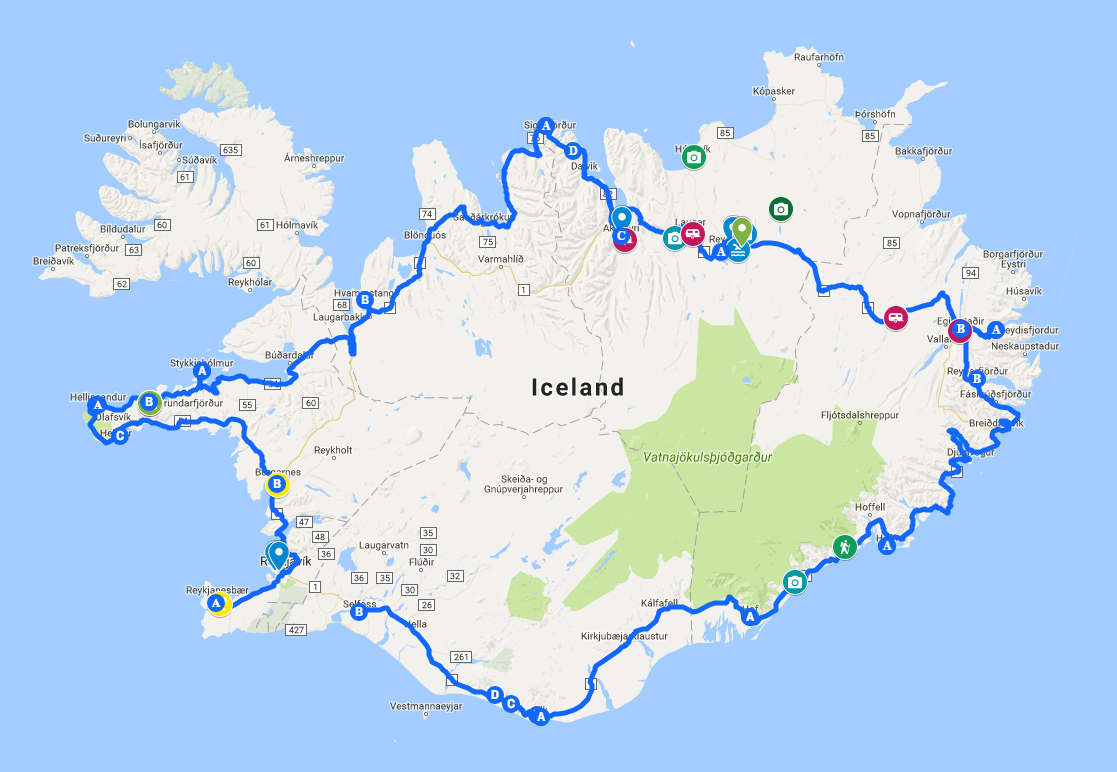 We decided to travel "the Ring" in a clockwise direction. The main reason for this was hit the Northern areas first before it got colder since it was late September. You can hit snow at this time of year in those areas and we did see fresh snow on some of the mountain tops in those areas some morning. We also wanted to save the South, which is comprised of the highlights of Iceland for the end. The other way might have been more anti-climatic.
Transportation & Lodging
We chose a small motorhome as our transportation and lodging the trip. Ours was a 3-person which ended up being perfect for us. They do have 2-person ones but they were sold out when we booked our trip. The motorhome is nice because you have a nice bed, bathroom, refrigerator, and cooking. There is also a nice size table and you can relax in there when the weather is bad. There is also ample storage to put stuff so it is pretty easy to unpack your bags a bit.
We used Motorhome Iceland to rent from which was really just Geysir Rental Car. They were ok, but we had to take the rental car bus from the airport to the Geysir Rental car place and then another guy came in a van and took us to their main office to get the motorhome. Also, the guys that transported us to and from the rental car office, were less than friendly. Especially the guy that took us back there. He just sat in the van and let us take our bags out ourselves.
Our pickup was supposed to be 8 AM, but after all the transporting and going over the vehicle, we didn't get out of there until at least 10 AM. They also ended up overcharging me $1000 for some reason, but they quickly resolved that once I notified them about.  There are other places to rent, so you may want to check out reviews on some others like McRent and Camper Iceland for example.
You can also rent a "campervan", which is basically a small utility-type mini-van with some bedding and cooking appliances in them. They are a bit more rustic than the motorhome and from what I saw can get a bit cramped. We saw several people ripping everything out trying to find stuff. Also, they have to cook outside, so when the weather gets really crappy, and it will, they just look miserable. If you are on a budget though they will do the trick.
The motorhome got around 22-23 Miles/Gal when said and done. We drove a total of 2207km, which cost us about $384 USD in fuel. The motorhome runs on diesel to which is a little cheaper in Iceland than regular fuel.
Cellphone/Data/Navigation
Before I left for Iceland I had my iPhone unlocked by AT&T so that I was able to put a local SIM card in when I got to Iceland. I purchased a Vodaphone Starter Kit at the register of the Duty-Free store in the Arrivals Hall baggage claim area. They are about $15 for unlimited calling/texting and about 300mb of data, although mine said it was a special deal with 1GB of data. You can top off your card along the way too, which I did. I think I paid about $20 for another 5GB of so I would not have to worry about it. I left cellular data on the whole time, tethering to my laptop and my wife's phone, uploading pictures and still only used ~4GB.
Coverage was mostly 3G/4G, but there were only two times that I got no service and it wasn't for very long. It isn't super-fast LTE, but it was more than adequate for using Google Maps and uploading a few pics here-and-there.
I used Google Maps on my phone the whole time for navigating. It worked perfectly. I had taken a bunch of paper maps, but only used them for planning where I was going the next day or so. I also had cached the entire maps of Iceland on my phone before I went, so if I lost cell coverage I could still use Google Maps. I don't think I had to fall back to that very much.
Dining & Food
Dining out in Iceland is super-expensive. This is where the motorhome/campervan pays for itself. Bonus grocery stores are quite prevalent throughout the country and food is much more reasonable in the grocery stores.
Day 1 – Keflavik/Reykjavik to Bogarnes
We arrived into Keflavik airport pretty much on time. We were a little groggy though due to sitting in an exit row without the ability to recline the seat. We grabbed some breakfast in the airport before heading down to pick up bags. The conveyor belt had stopped and our bags were the last ones just sitting on there.
We headed out to the pick-up area for the yellow rental car shuttle bus. It was pouring rain out and really windy. The bus came pretty quick and shuttled us over to the rental car area. We got off the bus too soon because the Geysir office was around the block, so we had to walk through some parking lots to get there. Next, we had to wait for about a half hour until some guy came with a van to take us to the place to pick up the motorhome.
After filling out paperwork and going over the vehicle, we were finally on our way. The road from the airport area to Reykjavik was very exposed and the wind was whipping against the side of the motorhome. I decided to pull off the road and park in a small picnic area just off the highway and we took a nap. About a 3 hour one!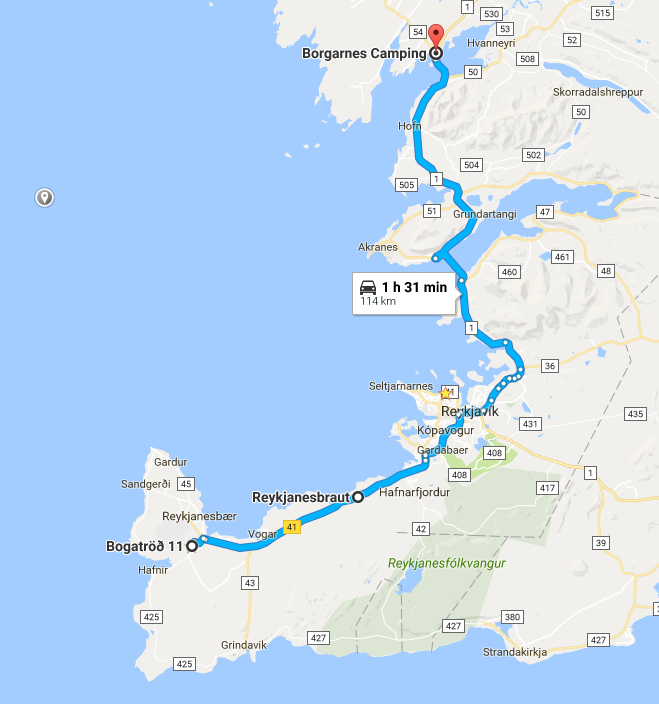 Finally, the wind calmed down and we headed on our way again. Now, we were hungry though and we could not read any signs. In our search for a restaurant we found a Bonus supermarket, so we stopped there to stock up with some food. It was a bit challenging trying to shop when you cannot read the labels. I tried used my Google translate app in offline mode, but that didn't work. I had even downloaded the entire Icelandic library. We searched near the Bonus for somewhere to eat, but nothing looked that great.
Alas, a Thai restaurant was found! We had a really good meal at Krua Thai just off the highway. After filling up our bellu, we were on our way to Bogarnes.
We parked down by the Settlement Center and then walked around the town a bit. It was a quaint little town. During our walk around town, we stopped at a cool little café in Bogarnes called Kaffi Kyrrð. Worth a stop.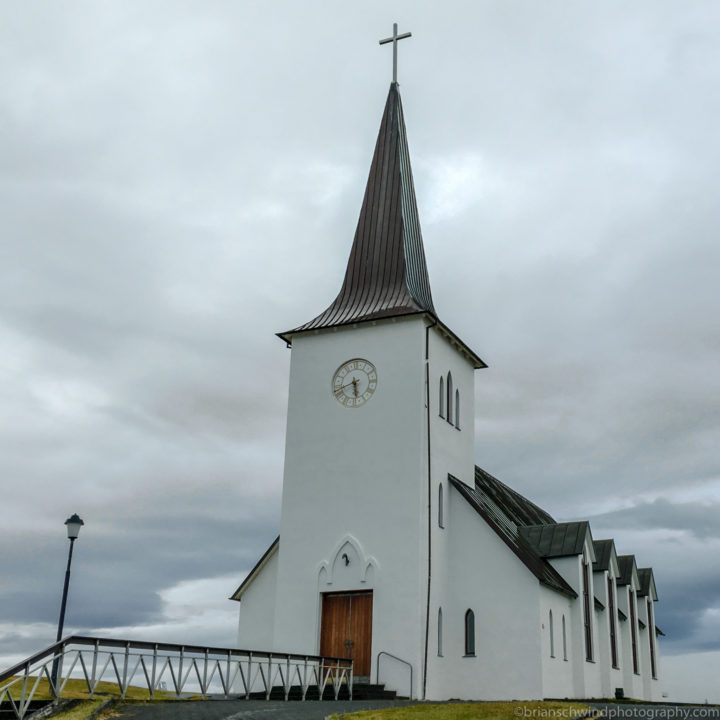 We had dinner at the Settlement Center and it was really good. Their bread is amazing! They also had a veggie burger too which I was pretty stoked about. It is expensive, but all meals are in Iceland. This one was worth it.
We ended up camping at the campground in Bogarnes. There was no attendant or caretaker, just an honor box. It has electric, toilets and  a nice view of the bay.
Day 2 – Bogarnes to Grundarfjörður(Kirkjufellsfoss)

After a good nights sleep and breakfast in the camper, we headed in a Northwesterly direction towards the Snæfellsnes Peninsula. Our first stop was a little brown church that sits among fields of jagged lava rock near the sea called Búðakirkja.
We then headed over to Arnastapi where we cooked up some lunch in the parking lot waiting for a passing rain shower to pass. We then sauntered along the coastline hiking trail to the neighboring town of Hellnar. The rocky, basalt lined coast was quite breathtaking. There were a fair amount of people on the trail, but it was worth the hike.
There is a small cafe at the end of the trail in Hellnar that has really good food. My wife loved the veggie quiche. We took a more direct trail back after we filled our bellies with some snack in Hellnar.
We then headed around the Snæfellsnes Peninsula, through Hellisandur and eventually getting to the place I had been eagerly awaiting…Kirkjufellfoss. Unfortunately, it poured all afternoon and the tide came in and flooded the easy path up to the waterfall. I tried taking an alternate route through some farmers fields up the road but each time I got drenched when the rain kicked up again. I got in a few shots, but was mostly spending all my time wiping my lens off.
We started off camping in a little pull off just down the road outside the nearby town of Grundarfjordur. The wind and rain pounded the camper making it almost impossible to sleep. The wind was hitting the camper sideways and rocking it back-and-forth. I was just waiting for it to flip over. I finally got up and drove into town trying to find a more protected spot.
I ended up parking in the parking lot next to the liquor store and N1 in town with the nose of the camper pointing into the wind. It helped but the wind never ceased until early the next morning.
Day 3 – Grundarfjörður to Siglufjörður
We were awakened quite early the next morning when 2 SUVs packed with Asian tourists pulled in next to us in the parking lot. I didn't realize it but we were in a car washing area of the N1 gas station parking lot. The one SUV pulled directly behind us within a few inches of our camper. They were all our running around and yelling like it was a fire drill or something.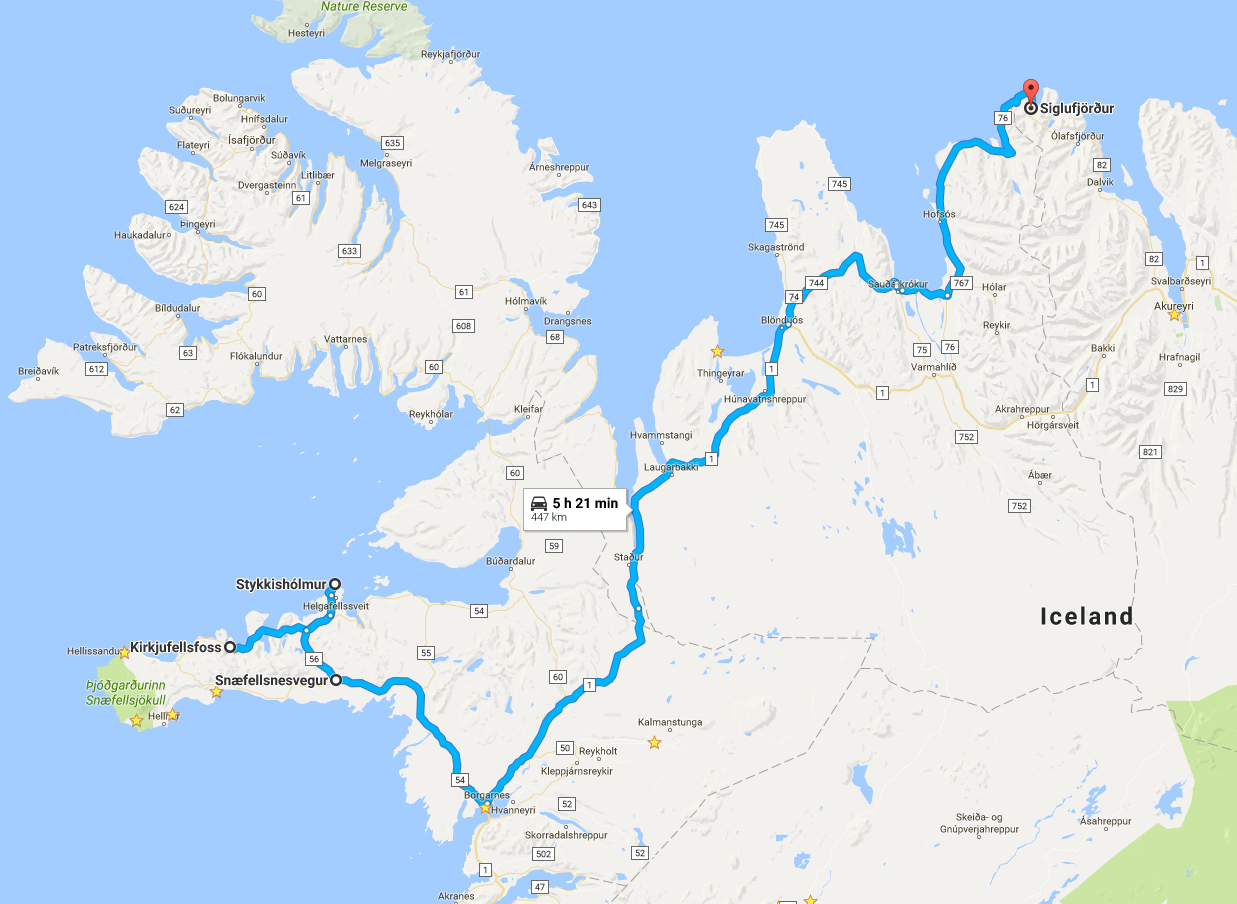 We hit up the market in the N1 for some more grocery items and fresh coffee before heading back on the road towards the seaside town of Stykkishlomur.
We parked down by the Ferry to Flatey and hiked up onto the hilltop overlook of the ocean.
We then stopped at Narfeyrarstofa for a really good lunch. Again expensive, but pretty typical for Iceland dining. Must have been a popular place since it was packed by the time we left and I heard waitress say they were booked for dinner that night.
After a delicious lunch, we started out on the long drive up to the Trollaskagi Peninsula towards Siglufjörður, or Siglo for short. The drive and scenery were really gorgeous, but there wasn't a whole lot worth stopping for. We did end up stopping at the northern most tip of the peninsula to catch the sunset while having some dinner.
We then headed into Siglo and setup camp at the campground which is on a patch of grass right in the middle of town. We found a spot to park and setup camp or the camper rather. They had a nice shower in the campground and it felt really good to clean up a bit. It was a Saturday night, so I was in the mood to go out on the town a bit.
The most popular and colorful restaurant in town, Hannes Boy, was a stone's throw away from our campsite. I could see it was filled with people enjoying their fare on Saturday night. We walked over there and were quickly turned away by the waitress because they were closed for a private birthday party. Really…Closed on a Saturday night??
Next door to Hannes Boy is the equally colorful Kaffi Raudka. This place has the shortest hours I have seen. Daily from 12pm to 5PM. So naturally they were closed.
We walked around town a bit and never really found anything worthwhile. We spotted the very new looking Siglo Hotel across the docks and headed over there. This place was very nice and open to the public. You could tell this had some American influence to it. I enjoyed a couple Icelandic IPA's in a nice little lounge area that looked out on the water. Turns out the own had lived in the States for some time and came back to open this hotel. It was a very nice place.
We were abruptly woken by a group of young drunken revelers yelling at the top of their lungs walking down the sidewalk directly behind our camper. One of the disadvantages of camping in the middle of a town. There is another campground just up the hill outside of town too, which was totally empty when we were there. Not as convenient and no bathroom and showers, but probably a little less noisy too.
Day 4 – Siglufjörður to Ólafsfjörður
We managed to get back to sleep and woke at fairly decent hour. We walked through town and found our way to the Aðalbakarí Bakery, which was surprisingly open. I enjoyed some good coffee and some really good fresh baked pastries with some locals and a few other tourists too. Note: public places do not open very early in Iceland. Even places that claim to serve breakfast. It is a bit annoying at first, but if you plan accordingly you get used to it. It is helpful to have a camper with cooking utilities.
We putzed around the camper and caught up on some social media stuff in the later morning. We drove around a bit and found a small ski area up the mountain on the southern part of the town. It was a cool vantage point to see the whole area. The other campground was not too far away and we parked there while we hiked up the mountain side towards the avalanche fencing  on the top of the mountain which is named Hafnarhyrna. It was quite a breathtaking view of the whole fjord.
We originally planned to stay in Siglo for 2 nights, but at the last minute we decided to head over to the next town of Ólafsfjörður instead. The Siglo campground has good facilities for dumping gray and toilet water as well as filling up with water, so we emptied out the camper before we headed down the road to Ólafsfjörður
The route to Ólafsfjörður is through a long single lane tunnel through the mountain. It was pretty crazy and when cars came through the other way they would sit in little pull-offs that they had every situated through the tunnel Ólafsfjörður felt practically deserted. The campground was totally empty except for us. We walked around the town a bit which seemed almost deserted. It was a Sunday night though, but nothing was open so we just ate in the camper. Another younger couple pulled in the campground and pitched their tent not too far away. It was getting pretty cold that night and I felt kind of bad for them out there while we were nice and toasty in the camper.
The campground attendant stopped by to collect the tariff for the night. He was really friendly guy and we shot the breeze for awhile asking him about life in Iceland.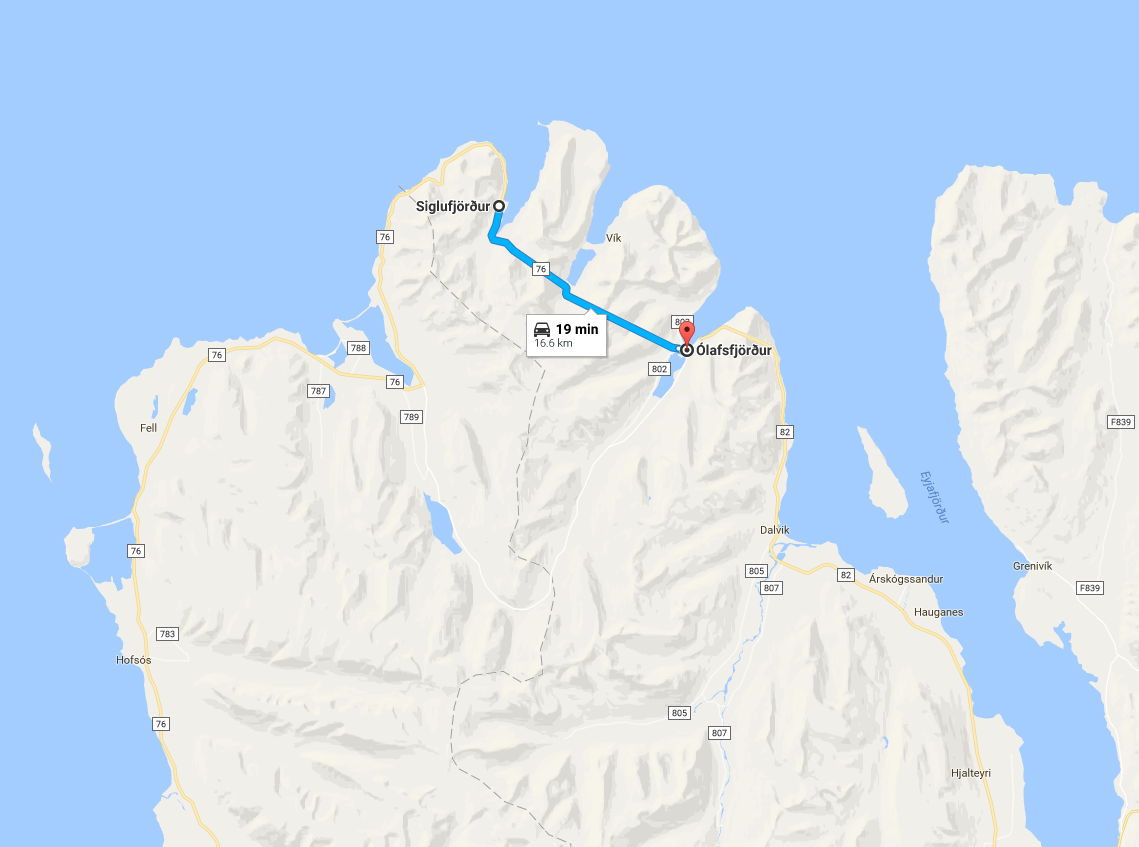 Day 5 – Ólafsfjörður to Reykjahlíð(Lake Mývatn)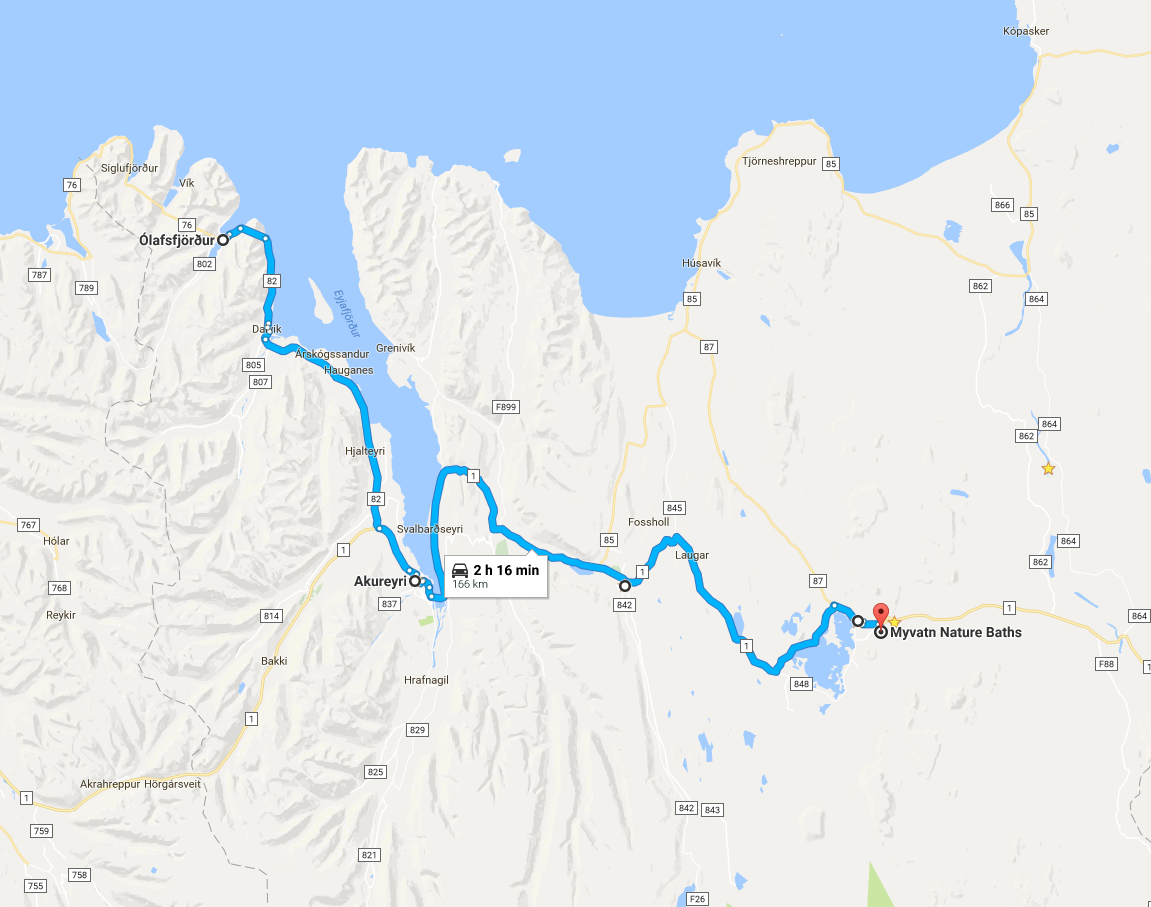 We headed out of Ólafsfjörður pretty early making our way down to Akureyri, the largest city in the north of Iceland. It was rainy pretty hard that morning and the drive was pretty dismal.
We parked in the public parking area in downtown Akureyri. It is sectioned off my the amount of time you are parking there. There was no indication of how you were supposed to designate you paid or not so I was a little nervous when we headed to the little downtown street. I stopped in a tourist information center and asked and the girl said just leave a note on your dash telling what time you parked. Pretty loosey-goosey here. And why don't they tell you that somewhere when you park? I headed back to the camper and put the note on the dash.
We did a little window shopping in town and stopped in a cafe for a cup of coffee while we waited for the rain to clear a bit. Before we knew it it was time for some lunch.
We made several back-and-forth trips on Hafnarstræti Street between Kaffi Ilmur and Símstöðin Restaurant trying to decide where to eat. We eventually settled on Kaffi Ilmur which was a little more homey. They had a fish buffet(~$20) upstairs, which Denise took advantage of, and I settled on the Falafel Fritters with gluten-free bread(2480 ISK, which is about $22). Everything was very good but typical expensive Icelandic prices.
We got back on the road after lunch making our way North, then West to Goðafoss (waterfall  of the gods). This was the first big Icelandic waterfall we had seen so far and it was pretty impressive. I was now in Photographer mode.
It was a little tough shooting this falls since it was the middle of the day and the sun was immediately behind it. Not the optimal time to shoot a waterfall. It also had a lot of spray and the wind was blowing it right at us. There was also a bunch of people there too which makes things challenging too. I didn't come away with any real barn-burner pics from this one.
We headed towards Lake Mývatn next. This was the less expensive, northern cousin to the Blue Lagoon in Reykjavik. I was looking forward to a good soak at their nature baths there. It was really cold and windy when we got there, so Denise was a bit apprehensive at the thought of going swimming. When I told that it was ~$35(USD) each to go she was even less motivated. I eventually convinced her to go though.
It was well worth it! While it was freezing cold going from the showers to the nature bath, once you got in it was awesome. The pools were set on the top of a rise and had a horizon pool-style edge. The sunset was beautiful and everyone was taking pictures. I on the other hand, forgot to bring my GoPro and took none. What was I thinking?
We headed back to the Bjarg Campground perched on the east shore of Lake Myvatn in the town of Reykjahlíð. This was there last night open before closing for the season, so we unknowingly timed that perfect. Unfortunately, we had to walk to the bathroom and showers at the main building since the one close to our campsite was closed up. The bathrooms were also co-ed which was a bit odd. I wonder how people from North Carolina would deal with that? LOL!
I had been monitoring the Aurora Borealis(Northern Lights) activity since we had gotten to Iceland using a couple iOS apps on my phone. There had been some sightings of it before we had gotten over there, which was a bit odd for mid-September. This night was showing some good probability for seeing them and the sky was the clearest it had been thus far. I set my alarm for 1:30AM so I could take a look outside.
My watched buzzed at 1:30AM and I took a look out the back window of the camper. I saw looked to be clouds and they appeared to be moving a little more than typical clouds. I kept staring at them, wondering if I was just still in my sleep-fog or if they were really moving. Finally one triggered me to get out of bed and get dressed.
I walked outside and stared at the sky. I was now pretty sure this was the Aurora. I reached in the camper and grabbed my tripod with camera attached. I set the ISO to around 4000, opened up my aperture as far as I could, and set my shutter speed to about 8 secs. I aimed the camera at the sky and hit the cable release. As the image displayed on the back LCD I saw the bright green of the aurora displayed in all its glory. BINGO!!
My photographic adrenaline exploded. I was now wide awake! I ran back to the camper to wake Denise up.
The one thing I had forgotten to do was set the focus on my camera, so the first shot was quite blurry. It is pretty hard to get focus on a camera when it is dark out. I found a nearby light that I was able to key on and get some focus set. I then proceeded running around the campground shooting images of the sky like a kid having a shopping spree in a candy store.
It was really cool that when we saw these lights that we were in a lakeside campground with tents pitched all over the place. Made for some cool foreground elements. I also got a shot of Denise staring at the sky while they lights bounced across the sky.
The moon was pretty bright out this particular night so it kind of diminished the actual color of the Northern Lights when looking at it with the naked eye. Denise was a little disappointed by this. A friend from work who had been there previously had told me this, so I had a little bit different expectations.
The lights danced until about 2:30-3AM before they fizzled out.  I headed back to the camper to go back to sleep thinking about all the aurora pics I get to process the next morning. Really cool.
Day 6 – Reykjahlíð to Egilsstaðir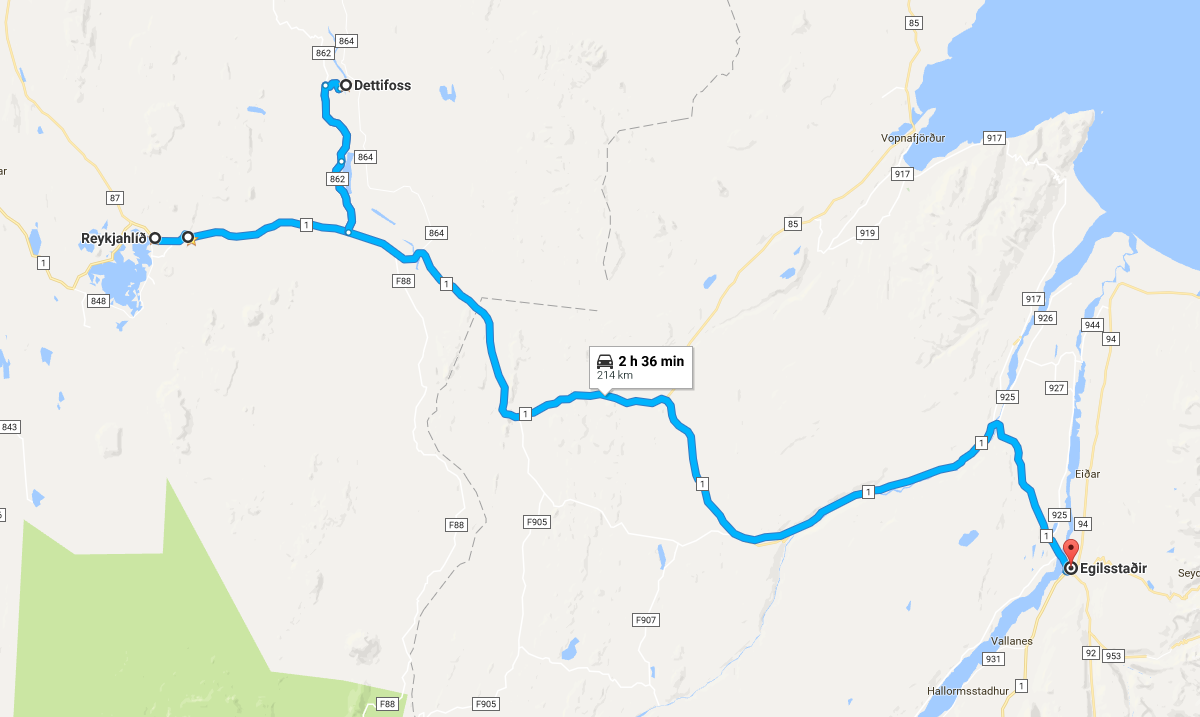 We headed just up the road to Mt. Namafjall/Hverarönd geothermal area after breakfast. It was kind of touristy place with a large parking lot and lots of cars and buses. Right next to the parking lot was a bunch of hot pots of bubbling grey goo and steam vents shooting geothermal mist into the air. The good thing was the people didn't venture too far from the parking lot, so we took a little hike up the barren side of Mt. Namafjall and were quickly away from them. The view up top was pretty amazing. You could see the whole Lake Myvatn area on one side and then the barren geothermal plains on the other. it was a nice little hike, but it did get a bit steep as you approached the summit.
The only thing bad about this area was that it stinks like rotten eggs! I cannot stand eggs or the smell of them and it was a bit unnerving. Denise loved it. You do get used to it though.
Next stop was Dettifoss waterfall. This was located on an out-and-back Route 862 off the main Ring Road. It seemed to take longer to get there than I anticipated. We had some lunch in the parking lot before taking the hike down to the falls. It is a big powerful falls and quite impressive. I again hit this falls in the middle of day. but atleast the sun was behind me this time. I was able to get some good shots with rainbows across the falls which was pretty cool. Selfoss falls is also a short walk up river from Dettifoss, but I didn't find that one all too photogenic. This was definitely a worthwhile stop.
Next, we headed to the town of Egilsstaðir for our final stop of the day. Egilsstaðir is a larger town and bit more commercial. There is a decent campground there on a side street in town and plenty grocery stores and places to eat.  There is also a bar right at the campground, but I didn't check it out so not sure how it is. We ate at Salt Cafe & Bistro, which was quite good. There pizza and desserts are excellent!
Day 7 -Egilsstaðir to Seydisfjordur to Egilsstaðir

We made our way over the pass to the fjord town of Seydisfjordur after eating some breakfast. It was a pretty cool drive making our way up and over the fairly steep mountain. It was a very rainy day, so visibility was not so great.
I stopped along the way down into Seydisfjordur to take some pictures. It was quite scenic and there were some nice waterfalls along the way. Of course, when isn't there waterfalls in Iceland?
We cruised around the small town that flanks the banks of the fjord in a U-shape. There was a very large ferry ship docked in the apex of the fjord, but didn't seem to be much action there. They say that the town can get VERY busy when the ferry arrives or departs from/for the continent. I believe this is usually on Wednesdays but you should probably research that.
There are a lot of hikes in this area and we settled on one with an obvious trailhead marker and parking lot off the road on the sourthern side of the fjord. It was right across the street from the Brimberg Fish Factory. The followed a dirt road before eventually heading off onto a much smaller rocky trail. The rain picked up the farther and higher went.
We eventually came upon these five interconnected domes called the Tvisongur Sound Structure. Each dome has a different tone in it and we took turns testing that out. It was also a welcome refuge from the rain. We headed farther up the mountain on the trail and hit some steeper rocky sections. While normally I wouldn't think twice about these, the downpouring rain made them a little tricky. We walked on some more which basically was a bit flatter pastures.
We decided to call it and turn around. The visibility was not great and the rain just kept pounding. So we headed back to the camper. We stopped at the Skaftfell Bistro but it didn't open until 3pm. The guy inside said Hotel Aldan had a nice lunch buffet.
We drove back to the infamous "Blue Church" and parked the camper taking the rainbow colored road through the quaint little town. Not much was open, but the Hotel Aldan and the Kaffi Lara/El Grillo Brewpub. We checked them both out and settled on the buffet at Hotel Aldan. It was a wise choice. We had to share a table with two guys but not a big deal. Buffet was great and there was a ton of vegetarian options for me too. Iceland is far more veg-friendly than I thought it would be! We also saw the guy from Skaftfell Bistro come and start working here. I guess thats why he doesn't open until 3PM! Life in a small town.
We headed over to Kaffi Lara so I could sample a couple of their craft brews after lunch. They were ok, but I ended up have one of my favorite IPA's Úlfur Nr.3 Borg Brugghús . The rain continued on harder and harder. Seemed like a good day for drinking beer! Others had the same idea because the place filled up pretty quickly.
We then drove back over to Skaftfell Bistro and parked in their parking lot until they opened at 3 PM. Denise took a good nap and I headed into the bistro. I was the first person in there and found a nice booth by the window with a power cord. I set up my laptop and got to work downloading and editing all the pictures I took so far. It was a much-needed break.
The bistro was playing some music that I had never hear before but was really diggin'. Not sure if it was just the music itself or the fact that the bistro kept playing the album over-and-over again, but it seemed very familiar. I Shazaam'd it and it was a guy named Rodriguez, Sixto Rodriguez actually. His music seemed kind of 70's -ish and rightly so it was. Kinda reminded me of Bob Dylan but much better. Turns out it is a pretty interesting story there.
The Bistro was also filling up and Denise awoke from her nap to join me. Several people ordered pizzas and they looked really good. I decided to indulge in one myself. I had had a couple beers too so I needed to soak those up a bit too.
We later decided to head back over the pass and stay in Egilsstaðir campground for another night. There wasn't much going on in Seydisfjordur, so no sense in making the next day's drive longer.
Day 8 – Egilsstaðir to Höfn
The next morning we ate, showered and headed to the N1 station to refuel. I also had to get a new tank of propane since ours was getting close to empty. I wasn't sure if there would be any places to get more on the way to our next destination, Höfn. It was also about halfway so I figured that it was a good point to exchange it.
The drive got a bit windy early on and I had to make a couple stops since the camper was feeling like it was going to be blown over. Eventually, the road turned to stone as we headed up and over a pass. As we crested the pass we were presented with the most spectacular view. It felt like we were driving down into a crater. The waterfalls coming over the edges were actually blowing back up from the wind whipping up the valley. The land below was a patchwork of greens, yellows, and orange colors. It was simply breathtaking.
As we lowered down into the valley we were flanked by pastures of beautiful Iceland Horses and the farms they belong to. The high mountain walls behind them made for a spectacular backdrop.
Eventually, we reached the coast again and encountered some different, but still beautiful, seaside views. We reached the town of Höfn as it was just turning dusk. There was a field full of Icelandic horses on the road into town and we had to stop off and take some shots of them. They had a bit of a moat around the fence line of the field, so you couldn't get too close to them.
We drove around the town and checked things out. It had a small part with restaurants and supermarket, but most of the town was warehouses and industry buildings. We stopped at the Nettó supermarket and stocked up on some groceries. I got another bag of those little cinnamon rolls too…Yum! The beer store in the market was already closed up, they have VERY limited hours everywhere, so I had to settle for a couple 2%-ers in the market.
Next, we traveled down the block to Kaffi Hornið for dinner. There wasn't a whole lot of options and this place looked decent. There also wasn't much in the way of vegetarian either except one main dish that was way too expensive. This place is ALL about the Langoustine…aka Lobster. I ended up settling on the Langoustine Pizza which would fill me up without too much damage to the budget. They also had a good craft beer selection too. This place was crazy expensive even for Iceland. I think they knew you didn't have too many other options so they nail you good. We also ran into the couple we met back in Egilsstaðir here and caught up with them a bit.
We decided to do the camp at the Campground in Höfn for the night. We had to pay, but it is so much easier than trying to find somewhere to pull off for the night. Plus, we get a shower and regular bathroom.
Day 9 – Höfn to Jökulsárlón Iceberg Lagoon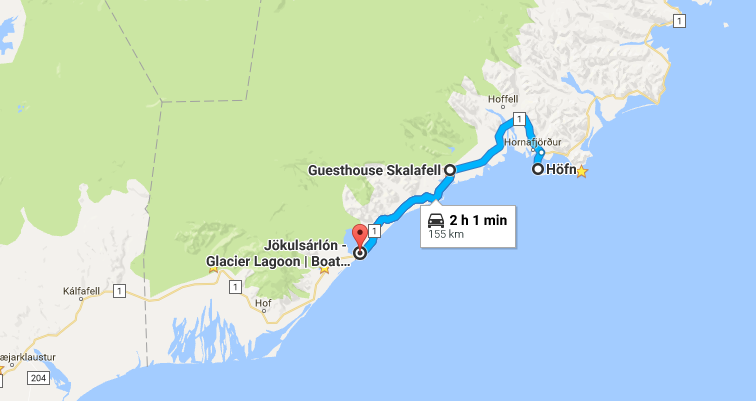 Next, we headed to Jökulsárlón Iceberg Lagoon. On our way, we saw the large glacier spilling down into the flats. You could see along the road how the glacier once met the ocean, but now it had retreated pretty far back to the mountains above. Sad.
We got to the lagoon pretty early, before the masses came. It was a photographers paradise. We walked around a bit but then headed West a bit to escape the crowds. We took a decent walk that flanked the West shore of the lagoon heading north towards the glacier. There were only a few other people here since most of the typical tourists don't leave the visitor center parking lot.
We were able to get some really good views of the icebergs, glacier and even a sea lion hanging out on a floating chunk of ice.
We had reservations in the afternoon to do a Glacier Kayak Adventure with Arctic Adventures, so we headed over to their meeting place at Skalafell Guest House after having some lunch. Once there they suited us up in dry suits and headed over the terrain in a tundra buggy. We stopped at a parking area overlooking the Heinabergslón glacier lagoon. Below was a fleet of kayaks waiting for us.
The trip was pretty cool. We paddled all around this massive chunks of ice that calved off the Vatnajökull glacier. We docked the boats a large chunk about the size of a football field that had a massive ice cave going through it. Our guide handed out MicroSpikes for us and we all went and explored the cave. We paddled around for another hour and a half and then headed back. My toes were pretty numb at this point so I was ready. It was kind of an expensive excursion but I think it was well worth it.
After the kayaking, we headed back to Jökulsárlón again. This time we went across the street to the Black Sand Beach where the Icebergs empty out into the sea and then get discarded on the beach. It is really cool since the ice becomes almost crystal clear and the contrast with the black sand makes for some amazing pictures. I could have spent a week here. I was on the beach until the last shred of light before heading back to the motorhome and having some dinner.
The rain and wind picked up while we were eating dinner, so we headed back across the street and set up camp in a lower parking lot of the visitor center. There was another large camper there and we were a little more protected from the wind. Another rainy, windy night!
Day 10 – Jökulsárlón Iceberg Lagoon to Skógafoss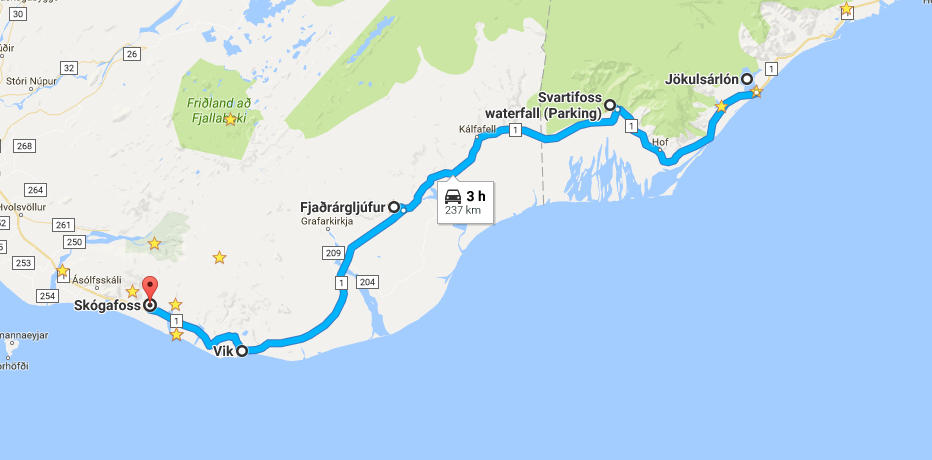 The next morning I was up early to get some pictures of the glaciers in the lagoon before we headed on. It was a very dreamy like morning and made for some really cool shots. The light was so surreal. Such a cool place!
Next stop was the Skaftafell Visitor Center at Vatnajökulsþjóðgarður National Park. The main feature here was the Svartifoss Waterfall. It was a nice little hike up to the falls and there were several other falls along the way. The Autumn colors were really brilliant too and made for some stunning views.
There is also a nice campground here too which was fairly empty. We did take advantage of it to empty out all our tanks and fill up with some fresh water.
Next, we stopped at Fjaðrárgljúfur canyon. The canyon is a short drive off the Ring Road, but the road is a bit rough. Especially for a motorhome. The canyon is really cool and we could have spent a bit more time exploring it than we did. I think at this point we were getting a little tired and kind of kept this short. I think the quantity of other tourists in this region, compared to the North and East, was a bit overwhelming for us.
We got to Vik as was getting dark and found the Halldorskaffi restaurant for some dinner. They had some good pizza and beer selection.
The wind and rain had picked up a bit while we were eating dinner. We stopped at an N1 and retooled a bit with some snacks, before heading Westward to camp for the night. We stopped at a small pull-off which was right next to the road and started to setup for the night. The truck traffic was a bit loud and there was not much cover from the wind here, so we decided to push on to Skógafoss falls. This would be a good move.
Skógafoss had a campground right next to the falls, so it would be perfect for getting some early morning shots. The wind and rain had also ceased and the Northern Light decided to light up the skies for a second time now.
I was out by the stream taking pictures and a girl from another camper came over and said "Do you think we have any chance of seeing the Northern Lights?" I said "Yes…there are right there." and proceeded to show her the back LCD of my camera. She ran away yelling to her friends.
Day 11 – Skógafoss to Reykjavik
The next morning I was looking forward to some early morning shots of the Skogafoss waterfall. Denise was not in the camper when I woke up, so I figured she was in the bathroom. I took some shots of the falls from behind the motorhome. So glad I did this because pretty soon after the falls became loaded with tourists. I went back to the motorhome and Denise was still not back yet. I waited and waited, still nothing. Now the throng of cars were pulling in and filling up the previously empty camping lot. A large van full of Japanese models and photographers pulled up right next to our van and were making all kinds of commotion. I was starting to lose my cool now.
Denise eventually texted me and here she had hiked up the waterfall and back to the falls laying behind it. I waited for her to come back and then I left and did the same thing. Skogafoss is cool, but the falls behind it were amazing. I could have spent the entire day there. Unfortunately, it started pouring rain but I did get a few good shots.
Next stop was at the Seljavallalaug pool. It was a dirt road back into a little village nestled between some mountains. The road got a little rough before hitting the parking lot. Then a short little hike up to the pool. The pool was not super hot, but it was relaxing nonetheless. It got a bit crowded after I got in.
After my refreshing dip in Seljavallalaug, our net stop was the Seljalandsfoss waterfall. The parking lot was packed with tourists. At this point, I was having my fill of tourist crowds. We had some lunch in the motorhome first and then headed up to the waterfall. It was a procession of tourists up, around and under the falls. Between the people and the heavy mist from the falls, I had a hard time getting some decent pictures here. It just didn't have the same mystique that all those images I had seen of before had. We didn't hang around here too long.
We continued on our way back to Reykjavik. I had planned to stop at Selfoss falls, but could not find it. I had kind of had enough at this point and was looking forward to getting to Reykjavik now. I didn't really expend too much energy trying to find Selfoss either. I never thought I would ever get tired of photographing waterfalls, but I think I was pretty close at this point.
We finished up our Ring Road tour and set up our last camp at the Reykjavik Campsite which is right in the city. The campsite is really nice for being right in the middle of the city. Very spacious and nice facilities too. We took a nice walk into the downtown area for some dinner.
We made our way up and down Laugavegur Street and finally settled on a place called Harry's. While it may sound pretty generic, it was a really nice place. I had a really good Vegetable Curry. They also had pretty assorted menu that would cover all tastes.
We did some more walking around town after dinner and made a stop in the Irish Pub for one last Iceland Pale Ale before we left. They even had my favorite, Úlfur Nr.3, on tap. While walking around we noticed something strange above us in the sky. Looking up we were presented again with another showing of the Northern Lights. Third time! Unfortunately, I only had my iPhone and no tripod to brace it. It was the perfect end to an amazing trip!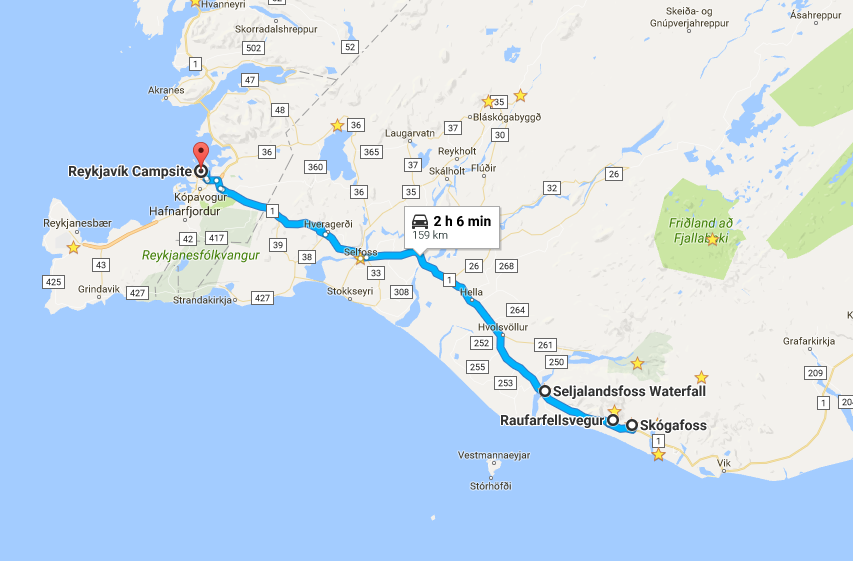 We returned our motorhome early the next morning. The guy from Geysir that met us there and took us to the airport was less than friendly. He literally dumped us of at the Geysir Car Rental Office. We rented a car for the day and drove around the city for the day. We had originally planned to go to the Blue Lagoon for the day, but realized that you needed to make a reservation beforehand.
This trip was one of my favorites. Despite not being quite as active as some of our past trips, the scenery and photography surely made up for it. Having the motorhome made it easy to be close to the good spots and get there before the masses of tourists invaded them. Typically, when we are on trekking trips you are kind of slave to a schedule so you don't always get to the great photographic spots at the right times. The motorhome also made the high expense of eating out in Iceland a non-issue. My wife was on a specific diet, so she was able to stay on it since she could make her own meals. I will definitely consider doing the motorhome trip again.