Ironman 70.3 Syracuse was my "B" race for the year. This season has started off quite well for me so far, and I was looking forward to keeping that momentum going with a good performance here. I knew the course would be challenging, but I was hoping to get something around 5:30-6 hours.
Heading into the weekend the weather was looking pretty good. Sunny, mid-80's and minimal winds. Mid-80's is a little high for me but hopefully, I would be finishing by the time it got that high. My plan was to have a good swim, take it easy on the bike(~0.75-0.78 intensity factor), and then finish with a solid run in the 1:50-2 hour range.
Travel & Lodging
We headed up on Friday and spent the day in Skaneatles, NY. We were hoping to get out on the lake for some SUP time, but the wind was a little too brisk. I didn't want to be out there paddling my ass off two days before my race. So we walked around town and did some window-shopping instead.
We stayed at the Holiday Inn Express in Dewitt for the weekend. It was fairly nice hotel. It had been there for some time but was clean and well kept. The location was good for the race and was also easy drive to locations downtown
for dinner. It also close to the Erie Canalway path which is great for a short bike ride or run.
The Hotel also had a pretty good looking breakfast, but we opted for something a little better at the Rise n' Shine Diner  in North Syracuse.  Really good breakfast! For a healthy lunch I would also recommend the Core Life Eatery in North Syracuse too. We have one of these opening near us and I am so stoked. I will be hitting that on a regular basis for lunch!
For a really good dinner, head downtown to the Armory Square area to the Aster Pantry & Parlor.  Really good food, amazing service and cool atmosphere. So good we ate dinner here twice.
On Saturday, we headed over to the race venue to check-in and drop off my bike in transition. Temps were already heading past the forecasted temps I had seen earlier in the week, so I was already starting to suspect this was not going to be an easy race.
Water temps were in the low 70's according to the guy doing the Athlete Briefing meeting, which I overheard as I checked in. Pretty sure it would a wetsuit swim, but I was going to switch to my "john" wetsuit instead of full-sleeve. With the heat I generate, staying cool is priority one for me.
Pre-Race
I suspected a long line of traffic getting into the parking field at Jamesville Beach on race morning since it is only one road that all funnels into one entrance to a big field. We left the hotel at 5am for the 15-20 minute drive to the race, and it turned out to be not that bad. We only got backed up about 1/10th of a mile out from the entrance. The worst part was the traffic directors randomly decided to send us to the farthest point away from the race venue after parking everyone in front of us to the closest point.
I made my way over to transition to set up my small plot of real estate. I bumped into Megan, who had also did Ironman Coeur d'Alene last year and we both share the same coach. I was situated pretty close to the bike out, so it was pretty easy location to spot. Just to be sure, I hung my lucky Notre Dame golf towel next to my bike on the rack.
I then decided to walk all the way back to the car and drop my transition bag off at the car. I don't know why I did this. It is a pretty long walk and I probably would have been better off just relaxing.
My wife and I made our way to the swim start and I got into the water to do a little swim warm-up. Little is not an understatement here. They had the swim warm-up contained within the tiny, roped-off beach section of water. It was packed with a bunch of wetsuit-clad triathletes trying to swim circles in this ridiculously small area. It was almost comical.
My wave was one of the last waves to start, so I had plenty of time to stand around waiting. Eventually, the yellow caps started congregating and I moved into the mix as they slowly made their way to the swim start arch.
Swim
I positioned on the far outter right-side of the group to give myself some clear water to swim. Or so I thought. I immediately became draped in seaweed. I felt like the creature from the black lagoon! I started trying to make my way back into the pack to my right, but the seaweed continued. Eventually, it did get better and the pack started to space out a bit. I kept sighting the pylons but they seemed like they were moving away from me.
I settled into a nice stroke rhythm and before i knew I was making the first right turn. As I made my way back I was right on the inside track going right next to the pylons. I felt like I was cruising now and even passing a bunch of people. Some from my wave and some from earlier waves too. I had a feeling it was going to be a decent swim, but I didn't dare take the few extra seconds to look at my watch.
Eventually, I was nearing the shoreline as started to see the sand on the bottom. I swam past a few guys who stood up early. I always make sure I don't stand up until my hand touches bottom. And then touchdown! I got up pulled my goggles onto my forehead and looked at my watch…34:5?? something….Sweet! By the time I hit the timing mat and pushed my lap button it was around 36 minutes and some change. Pretty happy about that.
T1
The race had wetsuit strippers and I was debating whether to use them or not. I decided at the last minute to use them which, unbeknownst to me, threw off my wife from videotaping me. She was apparently standing near the first couple strippers, and I hit the last ones due to my indecisiveness. They struggled a bit getting my wetsuit over my feet, so I had to pull my legs towards me to help them.
I then made a steady jog through the long aisle to my bike, spotting my old lucky Notre Dame(Go Irish!) towel. Shoes, socks, helmet, sunglasses and unrack bike. I was off…
Bike
The bike exit was all grass for about 10-20 yards and what seemed like a long little uphill jog until you reach the pavement where the mounting area was. I mounted my bike and headed out onto the road. I quickly came up to my on the side of the road wife taking pictures with her iPhone and gave her a wave as I cruised past.
The first 12 miles of the course is, well, uphill. There is short steep downhill at around 4.25 miles, which is followed by a sharp 90-degree right turn and then right back to climbing again. My plan was to put it in an easy gear and spin easy for the first 12 miles. I felt I did that pretty well too. There were guys flying past me, out of the saddle, and I just laughed to myself how that was going to hurt later. I checked my Garmin after the hills subsided a bit and I was at around 0.82-0.85 Intensity Factor(IF). My goal for the bike was to be in the 0.75-0.79 range, but the hill climbing would surely skew that higher.
The course then turned to long sweeping downhills and flatter sections. I switched into a bigger gear and settled into a nice cruising cadence. Speeds then ranged from 18-22+ MPH for the next 30 miles. There was an occasional hill here and there, but nothing like in the first 12 miles. There was one steep downhill where I reach over 48 MPH which was scary fast. The excitement was quickly squelched when the uphill that followed was just as steep.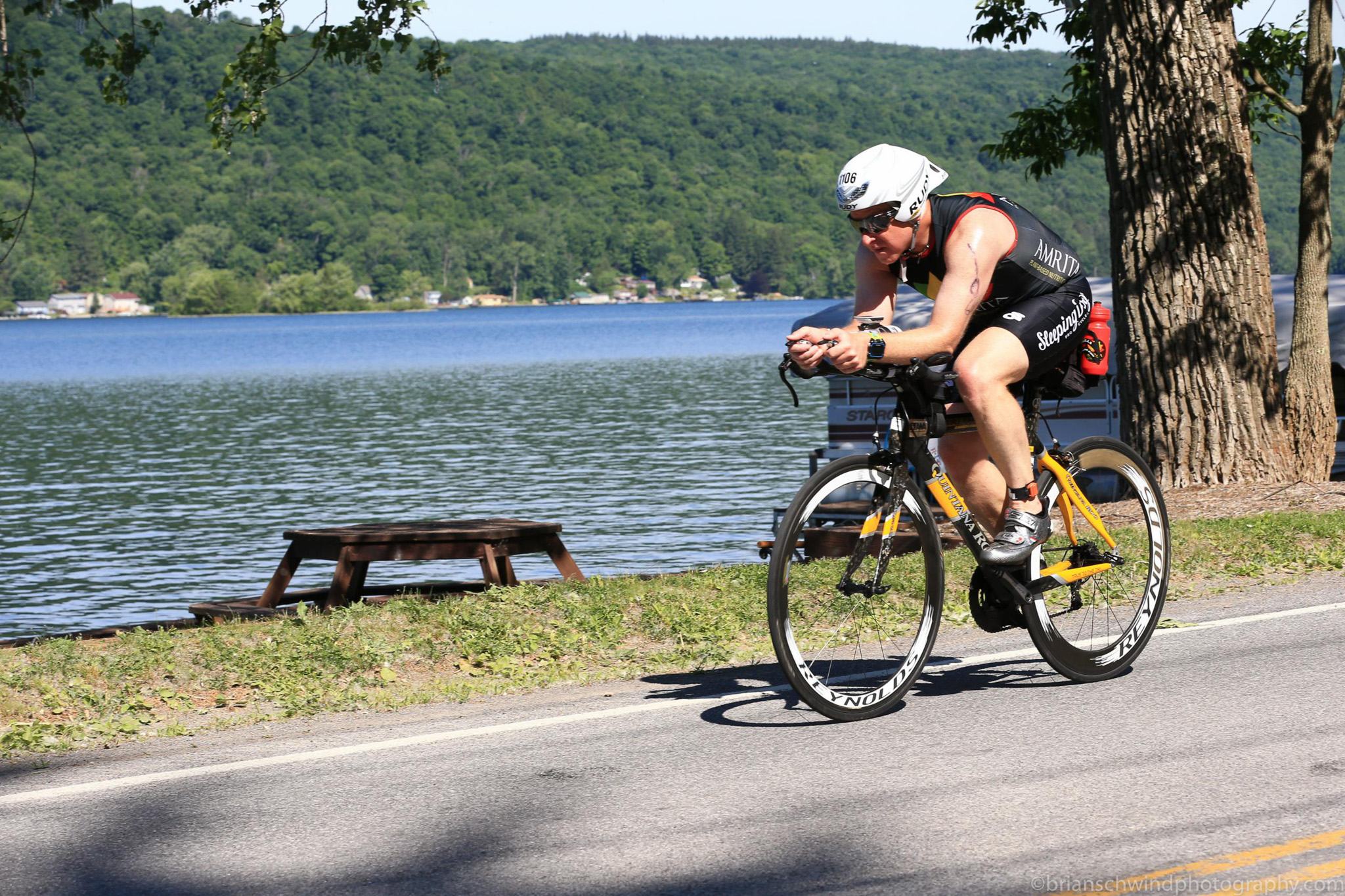 Around mile 45 we hit some more longer, less steep climbs before the final steep descent into the transition. I really felt good heading into T2 and I felt like I succeeded in my plan to take it easier than usual on the bike. Looking at my IF on my Garmin showed around 0.75, which is right at the lower end of my plan.
The one factor I did not take into consideration at the end of the bike was that the temperature was starting to hit the high-80's. It is not always very obvious when you have a 20 MPH wind in your face.
T2
I cruised into T2, dismounted and headed to my transition spot. I was feeling really good and remember thinking to myself how I thought I was ready for a good run. I put my running shoes, hat, sunglasses and bib on. Sprayed my shoulders with some sunscreen and headed out on the run.
Run
The first quarter mile or so was paved, a little uphill and headed past the finish line area. We then passed through a treeline  and out into the large field were the car park area was. We ran around the perimeter downhill and then it made two rights up a rather steep hill until we got to the road. This is where things started to take a turn for the worst for me. The heat eliminating from this field felt like it stole my oxygen or maybe just my "mojo."(Not too groovy, Baby!)
The uphill part of the field, right before you got on the road, really sucked too. My legs started to feel like they were going to cramp which sent a wave of panic through my head. I decided to walk up the hill.
I eventually reached the road which was fairly downhill for a stretch. There was no shade though and the heat was baking the asphalt. I told myself to just keep a steady pace until my legs came around. I settled back into an 8:30-9:00min/mi pace. Not really were I wanted to be for a half-ironman, but looking at it retrospect I would have done well if I could have maintained that.
I hit the second aid station and loaded up with some water and ice. Things were starting to feel a little better now. Until…
Mile 2.5…My run took a turn for the worst. It was almost a mile of steep uphill. Not fun. Lots of walking. Just the view of this steep hill that doesn't seem to end really played with my head.
Part way up the hill I heard a female voice from behind me say "I love Amrita Bars!" It kind of startled me at first and took me off-guard. She then said that she had 3 of them on the bike too. I was in such a world of hurt at this point I could barely get the words "Cool!" out of my mouth.
Once I reached the turnaround at the top of the hill I got back into a jog again downhill. I then decided to walk the aid stations in order to get liquids in. I also started drinking Coke. I usually save this for the end, so this was not good. But it did help.
My mind was dreading the thought of having to do this all over again. The temperature was getting hotter too. Probably reaching around 90 by now.
I came back into the turnaround, which the make you run right past the finish line. Thanks Mr. Race Director! I came upon my wife standing in one of the few shady spots near the finish line. I had my head down and told her I was not doing good. I was also about 20 minutes past the time I told her I would be back. She told me to "breathe" as I headed past her on my way for another 6 and whatever miles.
I continued to walk the hills and aid stations. It was mostly damage control at this point. I remember somewhere feeling a bit dizzy from the heat. I was on my threshold of heat tolerance, but managed to push through it. I was dumping ice everywhere in my race kit and hat. Chugging coke along the way. I could not get enough liquids.
I started to get into a slow but steady shuffle for the last couple miles. I think the magnetic force of the finish line was pulling me to it.
I finally reached the finish line, relieved, and gave a half-assed arm wave as I made my way through the archway. A bit disappointed, but happy to be done.
I found my wife and met her at the fence while I collected myself a bit.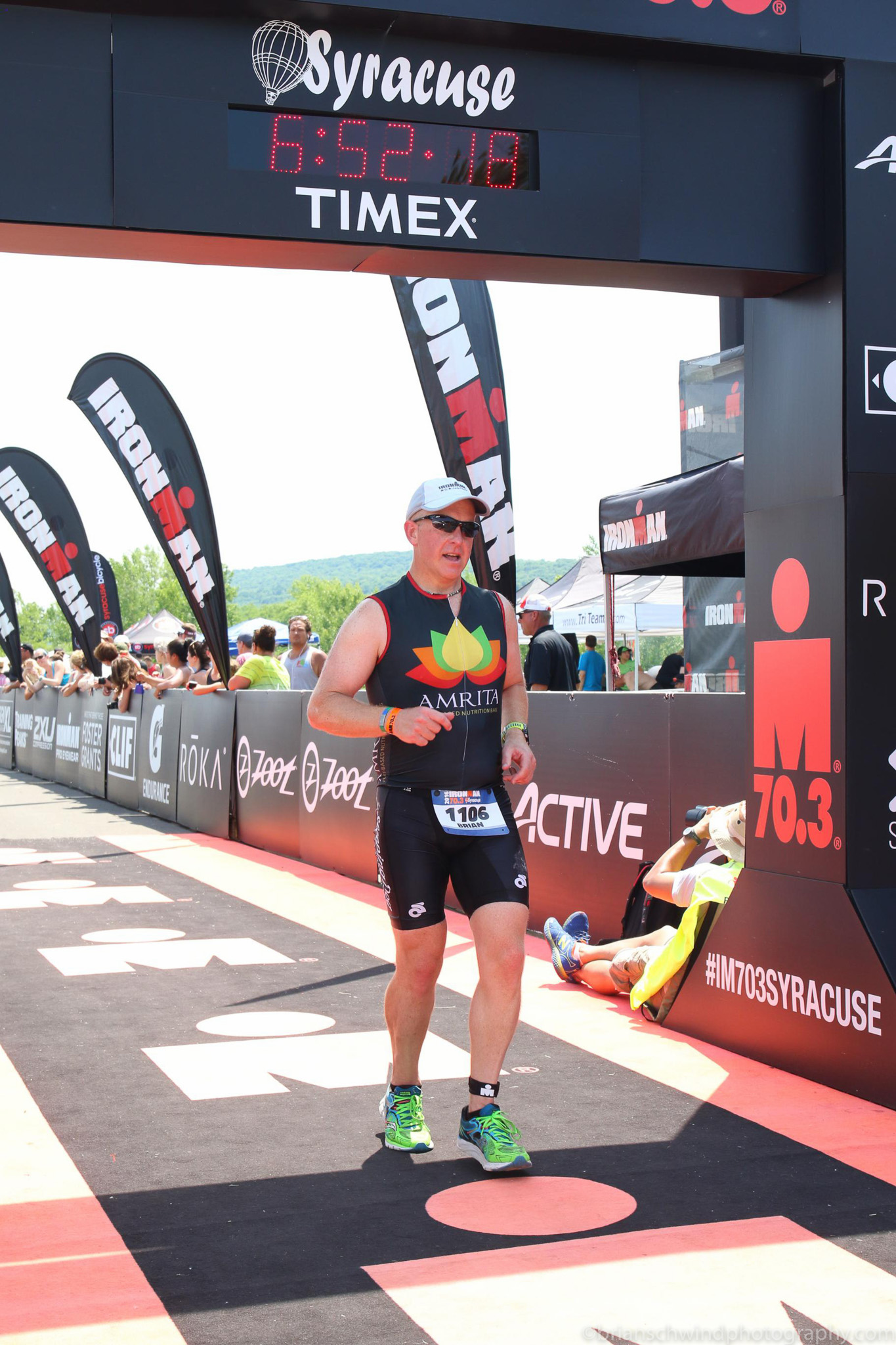 Summary
This race felt like a smaller version of last years' Ironman Coeur d'Alene, except I actually finished this one. I executed my swim and bike exactly according to plan. Unfortunately, the heat had gotten the best of me again on the run. I just don't do well in the heat, no two ways about it. I also wasn't really acclimatized to it yet since this was an early race.
One other thing I realized after was that I don't feed well on the run. I always bring my beloved Amrita Bars, but I just have no desire to eat them or anything solid for that matter while I run. This happened during my half-marathon earlier this year too. I have always been anti-gel, but I think I may need to consider this for the run. I need something that is a quick shot of energy that will go down easier. Especially when it is hot.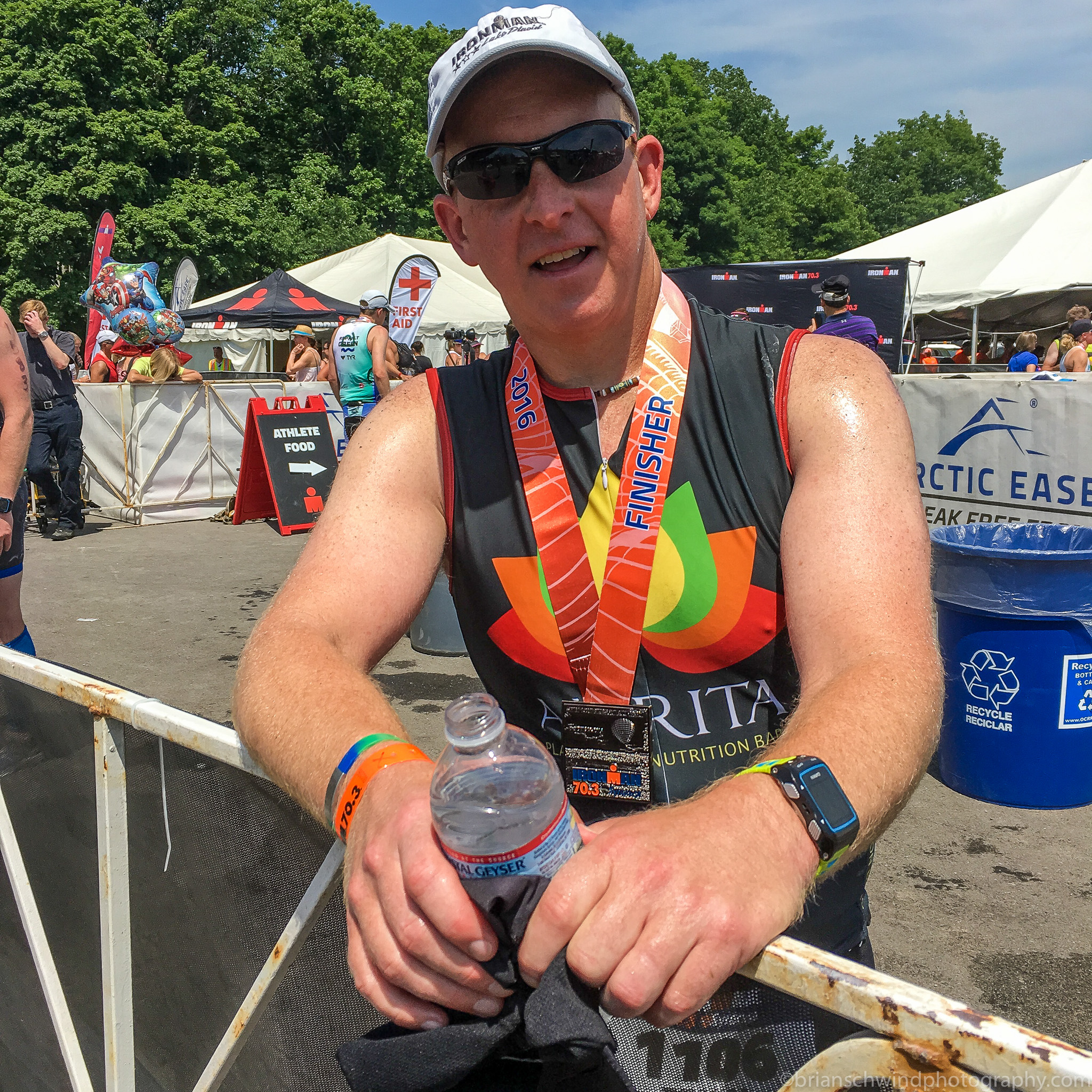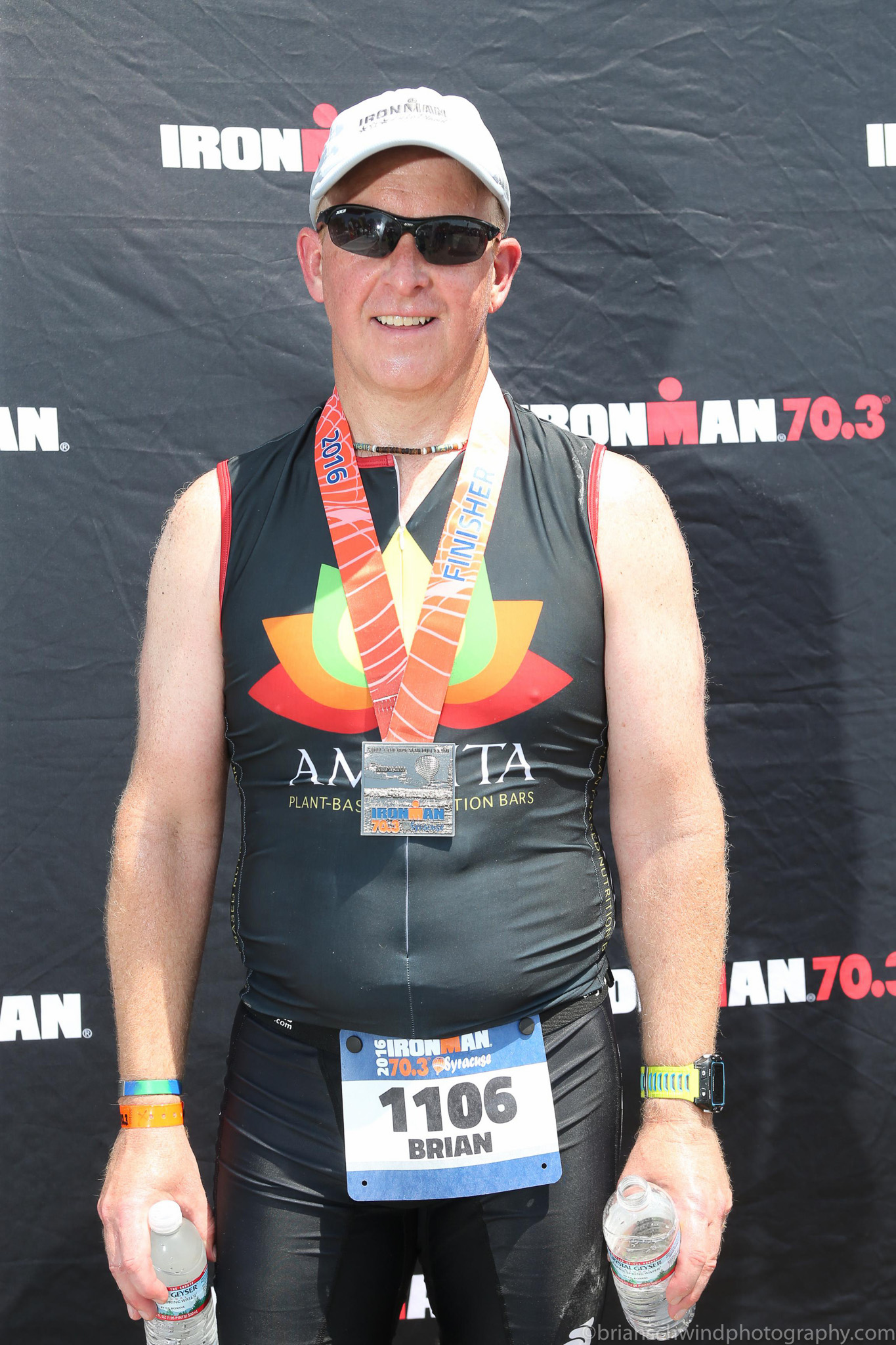 I am going to revisit this aspect of my run nutrition for the next couple months before Ironman Mont-Tremblant. I need to get more energy during the run and this is critical when I have to do a full marathon. Stay tuned on that.
This race has was a bit of a blow to my confidence. But, I need to leverage this setback to help push me harder for my A race. I have to acclimate better to the heat and improve my nutrition on the run. I think the swim and bike improvements are also a good step in the right direction.
Thanks for reading!