It is hard to believe we actually had two vacations in two consecutive months, but here we are heading off to Sedona, Arizona for a week at the end of January. This trip was actually supposed to happen last February, but we found out our dog Yuki had lymphoma two days before we were supposed to leave so we ended up having to cancel at the last minute. Fortunately, our AirBnB host EllenE, was gracious enough allow us to reschedule our accommodation for this year despite our last minute change. Every host we have met on AirBnB so far has been so great and Ellen exceeded that with her hospitality.
Get Me Outta Here
As we came down to departure date on Friday, January 22nd, a big "Noreaster" snowstorm, named Jonas, was bearing down on the East Coast. It wasn't predicted to hit until early Saturday after we left, so we figured we were in the clear. We left home around Noon on Friday and stopped in Easton for some lunch before going to the airport. As we were being seated my phone beeped and I recieved notification that our flight was CANCELLED???!! What??!! It was another 12 hours before any snow was supposed to fall and the paranoid United Airlines were already cancelling flights? We sat through lunch speechless and in shock. Something or someone does not want us to go to Sedona.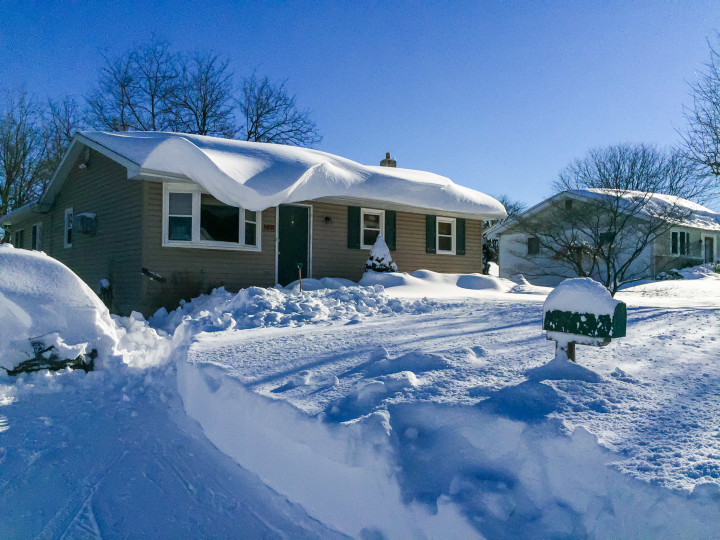 We got home and started cancelling rooms, airport parking and rental cars, then trying to reschedule flights for after the storm on Sunday. The storm came and unleashed 3 feet of snow on the area. We ended up being glad that we were home and could shovel out of it. It would suck to come home and not be able to get in the driveway. Our roof was loaded up so I had clear some of that off as well.
The airlines would continue to cancel our flights 3 more times until I finally realized it was more of a Newark Airport issue than an airlines issue. I ended up getting flights in and out of Philly leaving on Tuesday afternoon and returning on Sunday. Our 7 day trip was now only 4 days. The weekend was a roller coaster of anticipation as we kept rescheduling and they kept cancelling. I was starting to wonder if this trip was going to happen at all.
Finally, we got to a very mysteriously empty Philadelphia Airport and our flight went off without a hitch. Actually, all our flights from there on out were effortless. We have been pretty lucky with our air travel over the years, so we were due for a bit discourse. If it had to happen this was probably a good one for it to happen. We also ended up pairing our down our baggage to all carry-on suitcase and a backpack so we didn't have to deal with any checked luggage. This definitely made things easier, but I had to ditch some of my biking gear(bike shoes, pedals, etc) in the  process.
We arrived in Phoenix around 10:30-11PM, picked up our Prius rental car and made our roughly two-hour drive to the Village of Oak Creek(VOC) in Sedona by 1AM on Wednesday. We found our cozy little apartment, unloaded our unchecked  It is always interesting arriving somewhere new at night, cause it is like big surprise the next morning when you can actually see things.
Day 1-Sedona…Finally!
Despite our late arrival, we were up before Sunrise on Wednesday. Well, my wife was and then she woke me up by pulling the shutters totally open on the window on my side of the bed. I was immediately presented with the "Magnificent Red Rock Views" that the condo is named for on AirBnB. This got me quickly out of Bed.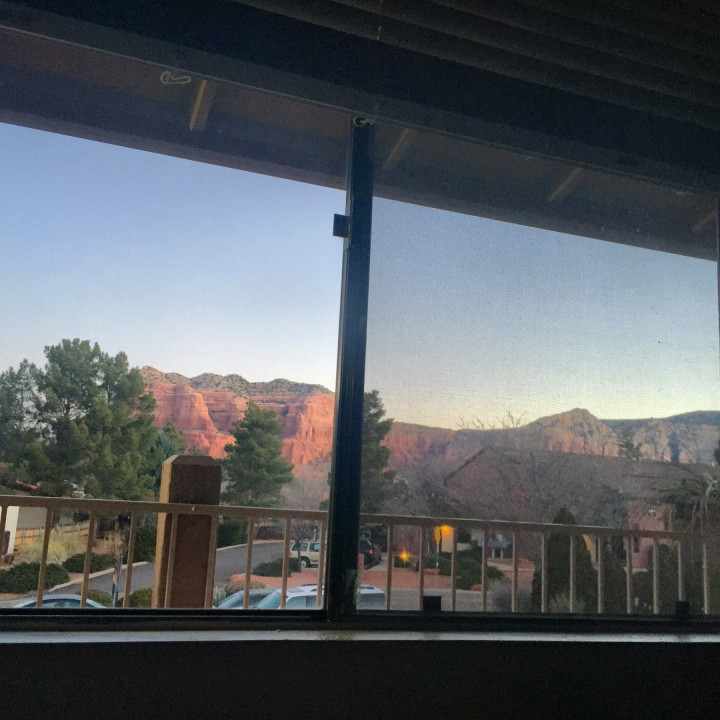 We walked a couple blocks away to the Red Rock Cafe for breakfast. Breakfast was really good and they were very accommodating. Denise likes to have veggies with eggs in the morning and most places back home look at her cross-eyed when she asks for that. I had French Toast which was very good too. Another older couple near us ordered the Cinnamon Roll which is a claim-to-fame dish there. We found out why when it came. It was the size of a cake! It smelled really good.
We decided to take a walk/hike up to Bell Rock/Cathedral Rock which was only a mile or so away. We walked from our place which added a couple extra miles. Denise was looking forward to feeling the "vortex" energy there but she wasn't sure if she felt it or not. What I did feel was the warm sun on me which felt pretty good after shoveling snow the past few days. It was a beautiful warm,  blue-sky day. Not the greatest for photography, but I didn't really care.
We stopped at little place called "Taste of Marrakech" on the walk back to the condo. They had some really good hummus and other Middle-Eastern type dishes. I had a Falafel Gyro which was quite tasty and not dried out like some falafel tends to be. It can be like eating sawdust.
For dinner, we went to the famous Elote Cafe. Usually people line up there at 5-5:30PM to eat since it is a first-come, first serve place. We ended up getting there a little later and were able to walk right in and be served. Dinner was very unique and had a lot of corn-related, Mexican-style dishes. I also tried a special House Margherita which was very different from the typical drink and made with their own house-made Tequila. Our waiter was also quite an interesting character as well.
Day 2-Sunrise and Smoothies
So I have been on this habit of waking up earlier in the morning. Well, I kept this going during our vacation which I thought would benefit my photography. My wife is always saying "you can never be a professional photographer since you can't get up early." So I decided to prove her wrong. Never tell me I can't do something. Anyway, I was up early to try to catch a sunrise photo shoot over near Red Rock State Park which is supposed to have good views of Cathedral Rock. Well, it does but unfortunately, a clear sky doesn't really provide a great photo in the early morning. Shut out!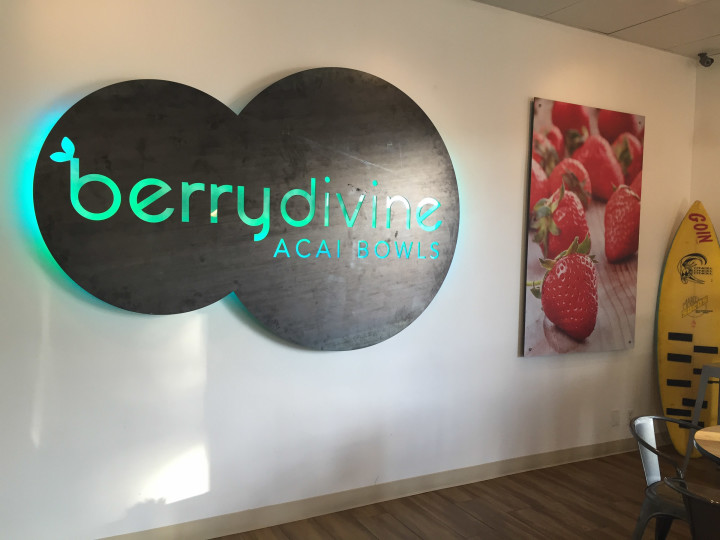 After my disappointing early photo shoot, we stopped at Berry Devine for a smoothie breakfast. We got some great smoothies and some entertainment to boot. The fellow working there, Dave, was quite an interesting guy and he kept us entertained for our breakfast. They even had an "Iron Man" smoothie which was my favorite. Coffee there was less than exciting, so we stopped at the Java Love Cafe after for some locally roasted beans. Dave also gave us some tips on some local hikes that would get us away from the tourist crowd.
We headed up to Chimney Rock after breakfast and hiked around it and then on to Andante Trail. It was definitely sparse with hikers. The hike Chimney rock was half decent, but the Andante part was less than exciting. It would have probably been better for mountain biking.
For lunch, we stopped at the Mariposa Grill which is perched on a ledge along the highway with amazing views of the surrounding mountains. The place is amazing too. They have a large deck to take in the view which no one was sitting at. We asked to sit outside and they thought we were a little crazy. It was in the mid-60's and I thought it was quite comfortable. They even turned on the overhead heaters for us. It ended being really nice private dining. The place is fairly upscale so we resorted to just lunches there which were the price of our typical dinner. Food was amazing and the Yuca Fries were out of the World!
Next, we headed into town for some window shopping. One of the annoying things in Sedona is all the outdoor adventure places are fronts for selling timeshares. So when walking by stores you get the line "are you staying in town for the night?" I quickly learned to say no and move on. We then headed up to Fay Canyon for a late afternoon hike. It is a quick hike but we ended up getting up into the canyon when it was dark and we had to partially bushwhack our way off of a ledge. I had my headlamp, but the batteries died quickly. Fortunately, I remembered that I had my trusty iPhone and used the flashlight to light up the trail. It worked great too.
We stopped at the Choclatree Organic Eatery in town for a vegan dinner. It was really good food and their deserts are quite amazing. My only wish was that the portions were a little bigger. If you are looking for some healthy, it is a worth a stop.
Day 3 – Chuckwagon
We were up bright-and-early again and headed to the Airport Mesa Vortex to catch a few sunrise photos. We made a quick stop at Oak Creek Roasters coffee shop to get a little caffeine coursing there my veins.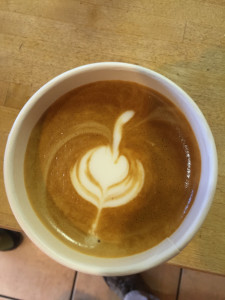 We arrived at the Airport Mesa parking lot while it was still dark out. There were only a couple cars in the small parking lot, so there was no problem finding a spot. While I got my photography gear together, Denise checked out the information sign. I saw there was another girl with asking her a lot of questions. We then high-tailed it up the steep and rocky path to the top of the vortex. The girl and her boyfriend/husband were struggling to stay with us and I could hear them sucking air as I flying up the path. Apparently they are not planning on doing any Ironmans this year. 🙂
We got up to the top of the rock and Immediately claimed a nice little platform and setup my tripod. There were a bunch of younger Asian kids up there in shorts and lighter clothing. It was pretty cool up there and the wind picked up as the morning continued making it even worse.
I ended up kicking over my entire coffee on the ground, which did not make me very happy. The sun eventually worked its way up, but there were no good cloud formations to really  gather the color and provide some drama. Regardless I did get a couple ok shots of the valley and rock formations across it. Looking behind us after the sun came up were a couple hot air balloons that I thought might make some good images, but they were a bit too far away.
After the morning photo shoot, we headed back to Berry Devine again for another round of breakfast smoothies. Our buddy Dave was kind of busy this time and didn't have much time to chat and entertain us. We also headed back to the Java Love Cafe for our morning coffee and latte. Funny how it was the same bunch of people that were in there the previous day too. Definitely a hit with the locals.
Today we had planned to do some mountain biking. My friend Greg had ridden the Chuckwagon trail there in the past and recommended it, so we thought we would give it a whirl. We headed over to Over-The-Edge Bike(OTE) off of Route 89a to pickup some rentals. We had rented bikes from these guys in Fruita, CO a bunch of years ago, so we figured they would be good. And they were. We got a couple nice Trek full-suspension bikes and a rack for the car and we were off to the Chuckwagon trail.
The Chuckwagon trail was pretty awesome. It was fast-and-fun singletrack with some nice views. It was challenging enough, but not too crazy so that Denise was able to enjoy it as well. She wasn't in super great shape and hasn't mountain biked in quite some time. It ended up being about 10 miles in one loop. This got us back to the parking lot just in time for some lunch.
We headed to Picazzos for some lunch. Picazzos is a healthier, gluten-free pizza shop and it was fairly busy for a weekday lunch. Denise was excited to be able to have pizza since it was gluten-free. I was psyched because they had Beyond Meat Chicken as a topping option, so I was able to have the Thai Chicken pizza and not have to strip off the animal flesh. Beyond Chicken has a very close texture to real chicken meat, has a better nutritional profile, and is made using pea protein. A great option for those bridging the gap to a plant-based diet. I use it at sometimes when meat is kind of a key element of a dish. Lunch was freaking awesome and we gobbled down pretty much everything. All the calories we burned on the trail were instantly replenished. Better get back out there again.
I had left the mountain bikes on the car rack while we ate lunch, so I was relieved to get done eating. I kept running out to check on the bikes. We then drove back towards Oak Creek for the afternoon and rode up the connector trail around Bell Rock and then eventually to the Llama Trail. The connector trail was a tad bit technical and it was also uphill. There was a lot of on-and-off the bike and Denise was started to get a bit tired…and grumpy. We eventually hit the Llama Trail and that was also a bit challenging. I saw Denise was walking the bike a lot and she was not a happy camper. We eventually hit a shortcut route out and headed back. We took the easy paths and it was mostly downhill to the parking lot after Bell Rock.
We were pretty tired after about 16 miles of mountain biking. We dropped off the bikes and headed back to Picazzos for some dinner. Another good feed fest! After dinner we stopped at the Oak Creek Brewpub and I sampled a couple of their Pales Ales. Denise was having trouble keeping her eyes open so we then headed back to the condo for some sleep.
Day 4 – Road Trip to Jerome
We were up again at 5am on Saturday and made a b-line for Red Rock State Park to hopefully get some good sunrise pictures of Cathedral Rock. Denise dropped me off at the park gate entrance which was closed and it didn't open until around 9AM. I blindly made way through the park following the river. I searched for a good spot to shoot some pictures of Cathedral Rock with the river in the foreground. It was a bit difficult since I could barely see. I walked and walked some more until finally I found this huge opening where the river which would have been perfect. Apparently it was a bit too perfect. There was another photographer standing right in the middle of the area with one of those old, large format cameras with the black sheet that goes over your head.
I quietly made my way around her so not to startle her. Not sure if she ever heard me since her head was under the sheet. I tried to find a spot up river a bit, but it ended up being too close. I started making my way back again and was kind of throwing in the towel at this point. The lady photographer waved as I passed by her.
I was almost back to the front gate, where Denise dropped me off, when I found the killer spot. Argh!! Despite that the sky was pretty uninteresting anyway. Oh well, maybe next time?
After another breakfast at Berry Devine and some coffee at Java Love Cafe, we took a ride up to the town of Jerome. Jerome was an old Copper mining town that is situated high up on a ridge which overlooks the Verde Valley below. Kind of cool little town with some shops, bars, and restaurants. We cruised through but were really into stopping, so we headed back to Sedona.
We decided to do a short hike to see Snoopy Rock. The trail was called Marg's Draw and it was pretty close to town. It was actually a pretty nice, easy hike. Perfect end for our trip.
We headed back to Phoenix after our hike and had a nice dinner at True Food Kitchen. We then checked into the Hilton Garden Inn for the night and then back to Philly the next morning.
Despite the rough start, it was a really great trip to Sedona. Our shortened length forced us to make the most of our time. We had some amazing food and adventures. The only thing we didn't get much of was relaxation, but we really aren't into that anyway.
Thanks for reading!  Until our next adventure!