I am now already a month into my official training for this seasons' "A" race, Ironman Mont-Tremblant. My quest for a sub-12 hour Ironman last year at Coeur d'Alene left me a little high-and-dry, or more like HOT-and-dry, with DNF due to the 107(F) degree temps on race day. I am hoping Mother Nature will be a little more cooperative this year in Canada. I will also be hitting Ironman 70.3 Syracuse in June and probably a couple local tune-up races before that.
This season I decided to go back to hiring a coach. After self-coaching the last two seasons, I felt I needed a bit of a change and a different perspective on what I have been doing. I have hired Todd Wiley, from Bucks County, PA. Todd has extensive coaching experience and was also a professional triathlete. I had met Todd last year through a strength training workshop he put on with my current strength coach, Fernando Paredes, at Fusion Fitness & Performance and also at a training camp he put on at the Olympic Training Center in Lake Placid last year.  I have met a number of other very successful triathletes who have been trained by Todd and having nothing but great things say about him. Several of these folks have even qualified for Kona under his guidance. Besides his experience,  Todd is a super nice guy and very easy to work with, which is so important in a coach-athlete relationship. And after working with Todd for the last 4 weeks I can definitely confirm that that is all true. I am definitely looking forward to some great outcomes in my events and also gaining some new coaching knowledge from him too.
Race weight? Not! So after having two vacations in two months(December & January), which I hope to post about soon, I started out my training season a bit on the heavy side. I didn't hit the 2-bill club, but at the max was about 2 lbs shy of it at 198lbs. This is far-and-above my optimal 170-175 race weight for the season.  I definitely have my work cut out for me. So far I am already down about 10lbs after only 4 solid weeks of training. Progress in the right direction. Keeping tabs on my caloric intake, elimination of microbrew consumption and an increase in training load should bring everything under control well before my B race at Syracuse.
One thing I really like about Coach Todd is that he stresses the importance of strength training integrating it into my weekly training plan. I used to add it to my plan, but would frequently blow it off. Lately though, I have been realizing the importance of it and being accountable to someone else helps to make sure it gets done. I have a good feeling that it will make a huge difference in my results this season. I have been really consistent with it over the last six months and have developed a good foundation to start the season.
Swimming is starting to come around finally after taking 3 months off from the pool. I kind of felt taking that much time off was a mistake since it took me a month or so to get back to where I was prior. Now I finally starting to feel stronger again in the pool. Todd has been integrating some drill work too which has helped bring back some form to my technique.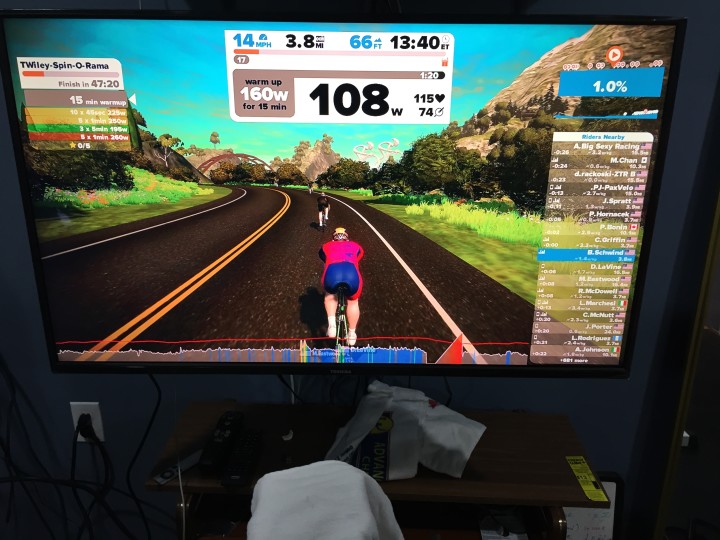 I have been spending a good amount of time on the bike trainer this season due to the weather. I did get out for a road ride a couple weeks ago and felt pretty strong out there. I think a lot of the pre-season work I did using TrainerRoad has laid a good foundation on the bike. My initial FTP test earlier this season was pretty low(~220's), but my last one was up to 237. I am just starting to feel like I am outgrowing my power zones so I think the next test should put me back into the 250's again.
I have also seen some recent progress in my running. Todd has kept most of my runs so far in the Zone 2 HR range and I am noticing my pace is increasing at the same heart rate. I also think that losing 10 lbs is a big help with that too. I usually do most of my mid-week work on my treadmill due to the lack of daylight and then get outside for my longer runs on Sunday. I definitely looking forward to the time change coming up so I can start breathing in some fresh again.
That's about all for now. I have been slacking a bit on my blogging but definitely want to get back into the swing of things again. I have a couple posts waiting in the wings on our recent trips to Banff, Canada and Sedona, AZ during the off-season.
Happy Training!