This year hasn't really been one of my favorites. It started off finding out that our dog Yuki had Lymphoma two days before we were supposed to leave for Sedona, AZ. We then had to cancel our trip only to find out that his cancer had spread throughout his spleen and liver. Fortunately, we were able to have 5 months of quality time with him while we battled his disease. During that time, he had returned to the vigor he had as a puppy while we fed him with the best home-cooked meals we could make. This extra stress on top of my heavy training load was surely not optimal.
In June, we traveled to Coeur d'Alene, Idaho so I could compete in my "A" race of the year, Ironman Coeur d'Alene. I had spent the past 8 months busting my ass to prepare for what I had hoped would be my best Ironman performance yet. Then, a freakish heat wave moved into the Pacific-Northwest just in time to peak out at 107 degrees exactly on race day. The result was a DNF.
After returning back home, we saw a very quick decline in the health of Yuki. On August 3rd we then had to say our last goodbye to my little pal after almost 13 years. Six days later I had my last race of the year, Steelman Olympic Triathlon. I was determined to put forth my best effort in honor of my little buddy and finish off the season with a decent result.
The last time I competed in the Steelman Olympic was back in 2012 where finished in around 2:43 and 23rd in my age group. I was eager to see how much I had improved since then and my hope was to finish in the top 10 of my age group. After IMCdA I figure I had plenty of endurance built up, so I focused on speed and instensity in the 4 weeks prior to the event.
Pre-Race
One thing I hate about Steelman is that you have to be there so early and then you are stuck there until at least 10:30am or whenever the last cyclist finishes. So, I was up at around 3:30am and we had left for the 45 minute drive to Lake Nockamixon by 4:15 so we could get there by 5:00am. Well, that was until I realized I had left my water bottles with Skratch Labs in the frig when we were about 5 minutes away from home. Ugh! Nonetheless we still made it to the marina by 5:10a thanks to my wifes' lead-foot. We were early enough to still get a spot in the main marina parking lot and avoided the long trek from one of the overflow lots.
I quickly setup my transition area and there was some good real estate on the rack too. I was only about 4 bikes in from the main aisle too. Usually Steelman transition is crazy since there are no assigned spots on the racks.
I ran over to the single port-O-John line and waited my turn. For some reason people form only one line for about 20 port-O-johns at this race. Every other race has several smaller lines spread across the toilets. So annoying!
The morning went pretty quickly and before I knew it we were all gathering at the swim start for the national anthem and the start of the waves. I somehow ran into my wife amongst the masses of athletes too. I also ran into a guy I met at Todd Wiley's LP camp this past Spring and chatted with him for a bit. Before I knew it they were calling my wave. Swim time!
The Swim
I was one of the first few guys to get in the water for my wave. I quickly moved up to the front and outside of the lane which was on the right side for the counter-clockwise odd rectangularish swim. There were tons of guys streaming in behind me and I think they were still coming in when Dale the RD blew the start. And we were off.
I started off a little faster than I nornmally do, with thoughts of getting out ahead. I quickly realized that I am still a slow swimmer as I never really made any progress doing this only managed to hold my own. I settled into a pace which was a bit faster than my IM pace but still fairly comfortable.
The only issue I had was in between the first and second left turn when I swallowed some water while spotting the turn buoy and had a bit of an choking episode. I think I have had one in every race this year! I eventually calmed down enough so I could breathe again and returned back to my pace. I felt as though I was have a really good swim and was thinking of possibly being around 25 minutes. I didn't look at my watch at all during the swim as this would lose a few seconds and could play with my head a bit.
The last couple turns into the marina area were a bit hard to navigate since I was having trouble seeing the buoys. I think they were smaller ones too. Eventually, I reached the slippery boat dock platform and exited the water with the help of a throng of volunteers. I glanced at my watch while crossing the timing mat…27:53. Eh!
At first I was a little disappointed with that time. But after comparing it to my 2012 time of 32:05 I realize that this was a 4 minute improvement on a 0.9 mile course. Not too bad! 🙂
T1
The 1st transition went pretty smoothly. I did struggle a bit with my wetsuit, but nothing major. I chose to just put my bike shoes on in T1 and skip the attempt at a fly mount with shoes pre-mounted and rubberbanded. I hadn't practiced doing that in a long while, so no reason to try it here. Onto the bike in 1:53…
The Bike
The start of the Steelman bike is always a little tricky. While it starts out pretty flat, it quickly shoots up to a dandy little climb after the left turn out of the marina parking lot. It is usually quite the jolt to the legs after you have been swimming for 25-30 minutes and all blood is still working its way out of your upper-body. My advice is shift to our one of your easiest gears as you make the left turn and spin your way up the hill. You can easily burn some matches on this hill very early.
The park has decided to add these really obnoxious yellow plastic speed bumps to the road in and out of the park. They are not rounded and more like a triangle coming to a point. I have never tried to ride over one and can't imagine that being a real pleasurable experience. They also stretch across most of the road only leaving us about 10 inches skirt around them. If there is oncoming traffic that only leaves you one option. So, unless you have supreme bike handling skills you have no choice but brake to get around them. If there are other riders near you you will have to go through single file.
Eventually I survived the obstacle course of exiting the park and made my way onto Route 563 where the majority of the bike course is. The first section is mostly downhill and pretty fast to the first turnaround near the Haycock boat access. Unfortunately the condition of Route 563 has really deteriorated in the last couple years. They also patched and oil & chipped a bunch of potholes which are right in what was previously the best line. Now the best line for riding is basically the shoulder of the road now. The main part of the road is really bad and the surface in general is much rougher than the shoulder surface.
Riding on the shoulder was not an issue on the first lap of the course since it was mostly just the Olympic distance athletes. The second loop is a different story. Now you have all the sprint athletes to contend with and the slower riders blocking the left side of the shoulder. Not fun.
The longer stretch from turnaround to turnaround seems to be a mix of ups and downs. There is one tricky stretch right past the main marina entrance that forces you into a little passage on the right of the whiteline because of the hideous condition of the road covering the entire lane. I didn't get past a slower rider quick enough on my second loop here and was forced into a very bumby ride.
I had gotten behind another guy in my age group and we played hopscotch a bit for most of the bike. I also got stuck behind another younger rider who would speed up everytime I would try to pass him. He would give this quick turn of his head when I was coming up past him and then he would then take his cadence from 110rpm to 130rpm. It was so annoying. I then finally passed him after the 2nd turnaround and then I didn't see him again.
The stretch from the 2nd turnaround back to the marina entrance starts out with fairly decent climb. I usually go right down to my small chainring here and get into nice easy spin. Once you crest the hill it is pretty flat most of the way and then you hit a pretty fast downhill which seems fairly long. You quickly ascend again and then there is a section of patched road that covers the entire right side of the road but a small little opening on the side. You really have to make sure you are single file here or it could be a bumpy one. It will definitely cause you to lose momentum doing up the incline.
I felt really good the entire bike and I think I picked up a little speed on my second loop. I had two bottles of Skratch Labs hydration and one Amrita bar for nutrition. How easy is that?!
After a little over an hour, I was headed back in to the marina entrance towards T2. There was another yellow plastic speed bumb ahead which I had planned to go around on the inside of the lane again. When I approached it there was a pylon on the inside and I had another rider to my left taking the other side. I had no choice but to brake and go behind him. I then had to speed up a bit to get back to speed since there was a little incline ahead. It totally threw off my momentum. I grumbled about the pylon to the other guy as I sped by.
I cruised in to the dismount area, calmly dismounted and crossed the timing mat in 1:10:20, about a 20.6 mph pace. In 2012, the same course took me 1:17:27 at 19.2mph. So we gained another 7 minutes over my previous PR. So, now we are up 11 minutes total. Looks look it is going pretty good so far!
Looking at my Training Peaks actual bike stats, I managed a Normalized Power output of 224 watts with an Intensity Factor of 0.89 over the 24.6 miles(not sure why TP only has 24.1). Comparing that to my Bike Plan on Best Bike Splits(below), you can see I was just a little under what that predicted for watts and intensity, but time-wise was pretty much dead on there. I found BBS's to be a little high on my IM Coeur d'ALene project too, but at least it is consistent.
T2
T2 went pretty well. I put socks on for the run, which cost me a few minutes but still better than dealing with blisters later. Despite that I was still 15 secs faster than T2 in 2012. I also had to take my bike shoes off and in 2012 I slipped out on the bike and dismounted in barefeet. I thought about doing this this year, but said the heck with it. WIth my luck this year, I will probably stub my toe or something. Better safe than sorry. Gotta run!
TheRun
The first quarter mile was a little rough as I worked the bike out them. I finally settled into a about a 7:45 pace which would be great for me. My PR pace for a lone 10k is only a 7:42, so trying to hold this for a olympic triathlon 10k would amaze me. I heard someone yell my name as I popped out of the trees along the first part of the path. I looked back and it was Todd Wiley from the Lake Placid Camp I went to this year. Always nice to have some unexpected fan support out of the course! Thanks Todd!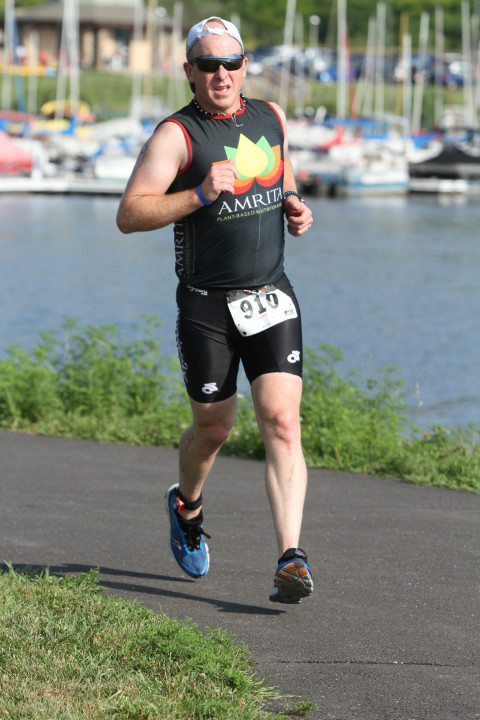 As I meandered through the winding and more uphill sections I settled back into a more of a 8-8:10 pace. The run course is pretty narrow. It gets very congested when you have a few hundred people trying to run both ways on the same 6 foot wide path. Passing people forces you into more of karaoke or grapevine motion instead of a run. You defintely lose time as you get later into the run.
After the first turnaround I heard one of the volunteers at the aid station yell "hey bri-tri!" as I ran by. I was past them when I realized what he said but gave a "hey!"  and a wave while turning around. I wasn't really sure who said it either, but was anxious to see who it was on my 2nd lap. Anyway, it was kind of cool to know I had some supporters out there that I wasn't expecting.
Things were really starting to hurt by the end of the 1st lap. My legs were screaming and it seemed to be more uphill. I saw Denise standing along the side right before the turnaround for the 2nd lap. I was struggling to put a smile on my face as I was really hurting now. I think I managed to squeeze one out but it wasn't easy.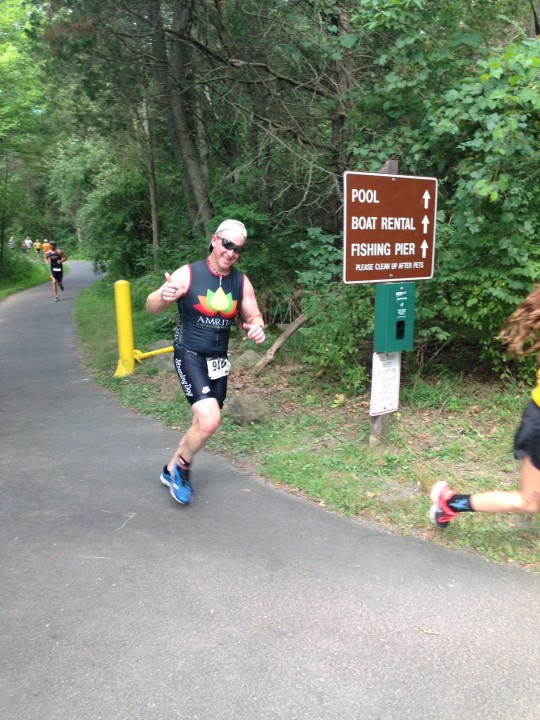 I made the turn and headed back onto the second lap. I really don't remember too much from that second lap other than it really hurt and I had this inner dialogue going on where I was just fighting with my mind to keep pushing as hard as I could. I was trying to think of things to really push me harder. I was thinking about Ironman Coeur d'Alene, my dog Yuki and that this was my last race of the year. Leave nothing on the table today! I really think I gave it all I had.
Noone, at the aide station where someone yelled to me, ever said anything when I went by again. I don't know if they left after that or were maybe embarrased to admit they knew this guy struggling to run an 8:00 min/mi or what. I did end up finding out later in the week that it was one of my Strava buddies, which was cool. I have the greatest ways of meeting them!
I ended up running the last mile with a young girl in front of me. She couldn't have been more than like 11 or 12, but she was running a solid 8:00 pace. I passed her once and then she came by me again, so I decided I was going to let her escort me to the finish. She ended up making the turn around for the second loop and I kept on going. I finally made the left to the gravely road to the finish. My legs were smoked and I was slowing down before I reached the finish. I crossed the line in 49:31 which was about a 7:58/mi pace. It was a little over a minute faster than my last Steelman 10k, but an improvement nonetheless!
Race Finish: 2:30:47
Previous PR: 2:43:40
Overall Race Summary
 I would have to say it was a pretty successful race for me. I succeeded in getting in the top 10 of my age group with 8th place and I PR'd the race by about 13 minutes over my 2012 result. I improved in each discipline, except for T1 was 3 secs slower. So I may be getting older, but I am still getting faster, which makes me happy. I can safely say that I ended the season on a high note, but there is always a lot of things to work on going into next year.
I don't really have anything planned for the rest of this season, but I may pick up a running race before the year ends. We have some vacation plans too, so I want to enjoy that a bit. Thanks for reading along this season and I hope that if you are reading this you got some enjoyment and maybe a few tips out of this. I would love to hear from you if you are reading and am open for suggestions. I hope to do a few reviews on gear and the books I have read throughout the year.
Enjoy your off-season!!