Ahhh the old love-hate relationship with tapering continues. While greatly anticipated, this break in training and the general feeling of malaise that comes along with it I did not. I guess you can't have everything.
The Ironman Lawn…
I was finally able to get my lawn looking somewhat manicured with some extra time on my hands now. I had been cutting the front mostly so that it at least looked well kept from the street. The back was another story. I had cut a few sections so the dog could go do his thing, but most of it had grown so high it was going to seed. When my dog ventured into that territory I would see him occasionally jump high into the air as of the long strands brush up against his belly. Kind of entertaining.
Training-wise things were actually going pretty well. The somewhat shortened workouts had high intensity and I felt good while I was doing them. I had one of my best tempo run workouts of the season on Wednesday with a solid 7:50 pace in Zone 3.
FTP Test Gone Bad…
I had a 3 hour bike planned for Saturday, but I decided to break it up into a 1 hour FTP test on the trainer followed by a two hour easy ride on the road.  I wanted to get an accurate assessment of FTP before my race. I felt it was also a good time between resting a bit and race to do it. I was hoping for a little improvement over last year(253 watts), but what I got at the end was nothing like I could have expected.
Obviously a bug in the TrainerRoad iPad app. Despite this issue I was able to calculate my FTP to be around 248 watts based on this test. A little depressing that I lost 5 watts, but really 5 watts isn't that big a deal really. Perhaps it will help me to chill a bit on the bike. The main reason I wanted to do the FTP test was so I could plug in accurate number on Best Bike Split and get an idea of my race plan for the bike leg. It looks like it will be just a smidge slower than my bike leg last year at Lake Placid. You can check it out here if you are interested…
Bon Voyagey Bike…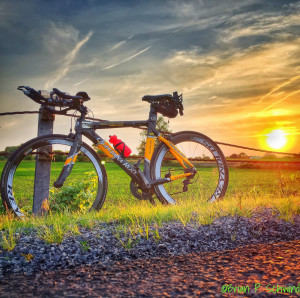 On Sunday I had to take my bike down to Keswick Cycle in Glenside to drop it off for the TriBike Transport pickup on Tuesday. I finished up some last minute maintenance, did a final cleaning and removed the pedals. I also ordered the additional gear bag option too, so I loaded a duffle bag with my wetsuit, aero helmet, spare tubs and some tools. The TBT website said only pack aero helmet if in a hard case, so I put it in a cardboard box with some extra packaging materials too. Hopefull that should be ok. I filled out a couple forms at the shop and handed my bike over to the guy at the shop. Bon Voyagey! See you in Coeur d'Alene!
I stopped at a nearby Chipotle for lunch before heading to Whole Foods in Plymouth Meeting for our monthly stock-up on organic, frozen fruit. WF was rather crowded, so I was happy to get out of there.
I still needed to do a 1-2 hour run when I got home. It was brutally hot & humid and I was really not into it, so I decided to just run on the treadmill. I tried to load up this FitTrip app on my iPad which shows point-of-view(POV) trail running videos coordinated to your heart rate. Well it didn't work so well. Downloading the videos took forever and then when they finished it would pop up a message saying it failed! WTF! I eventually got one to download successfully and then it would not connect to my HRM using the ANT+ dongle. Ugh!
I finally gave up and just watched some similar videos on YouTube which worked fine. I had unfortunately wasted a bunch of time trying to get that working. I ended with only about a 7 mile easy run, but I figured that was good enough.
Geekin' Out on Training
Training volume this week was basically chopped in half. Still managed to miss one of my 3 strength training workouts though. No sense is cramming now right?!
A few red marks on the old HRV training guide this week. Body is recovering a bit so this is expected. Hopefully next week things will pick up a bit.
The PMC chart shows the plan for the taper. The pink line dropping is the fatigue withering away with the form(yellow) increasing. Fitness(CTL in blue) declines a little bit, but it will be worth it.
The HRV timeline took a bit of a nose dive during this first week of taper. It make sense since I felt a little crappy. Things ended on a high note on Monday AM so it looks like recovery/taper is working. Hope that continues until race day.
That's all for this week. Next week things should get easier and hopefull start feeling great again.