Another 16+ hour build week concludes. Only 5 more weeks until Ironman Coeur d'Alene!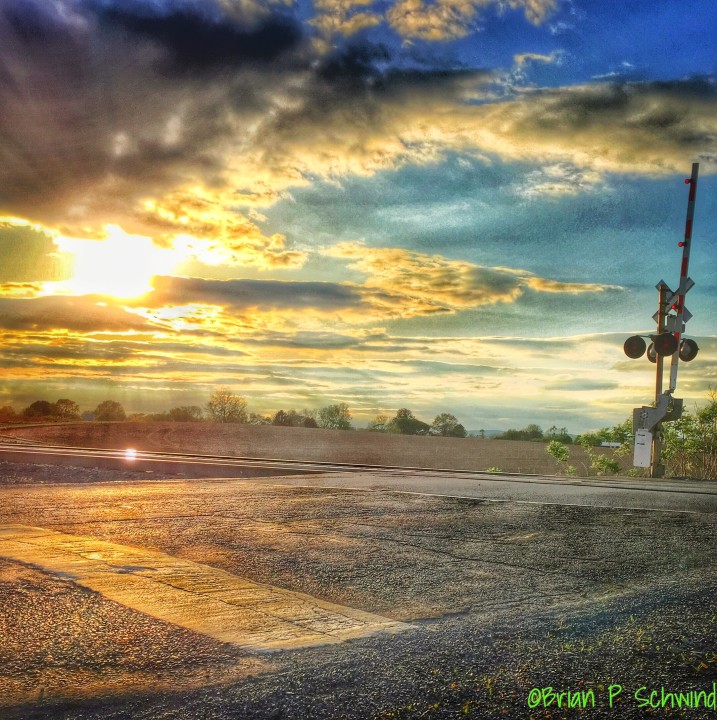 How am I feeling? A bit fatigued actually . Not terrible but I can feel the stress of heavy load. The weather has also been unseasonably warm for Spring which is kind of taking its toll on me. I do not do well in warmer temperatures. Usually I am even worse in the beginning until I acclimatize a bit.
Despite feeling a bit fatigued, I am still having some good workouts. I even skipped a few workouts last week and still ended up with more volume than I had planned. On Monday, I took the day off of training and just mowed my lawn instead. I wore my HR monitor and Garmin so I counted it as a workout. We'll just call that active recovery. 🙂 I needed that day after not having a long run the Sunday before.

There was a couple cooler days during the week that I ended up going longer just because it felt good. I am trying to listen to my body and go with the flow a bit. My HRV continued to decline a bit earlier in the week, but gradually improved as the weekend approached. I then saw a slight drop again after my long run on Saturday, but held steady after a long bike on Sunday.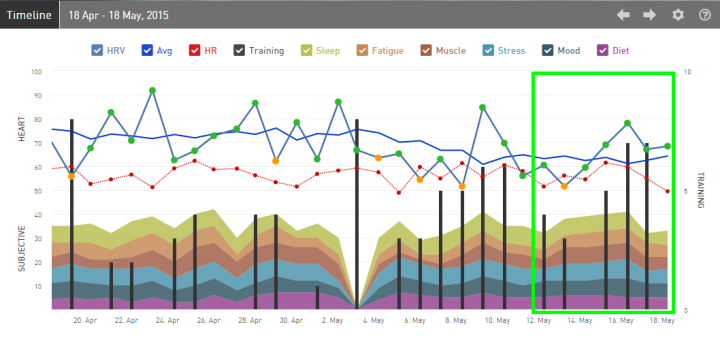 There is still a bunch of data points lying on the left of the iThlete Training Guide below. Big indicator of lower energy levels.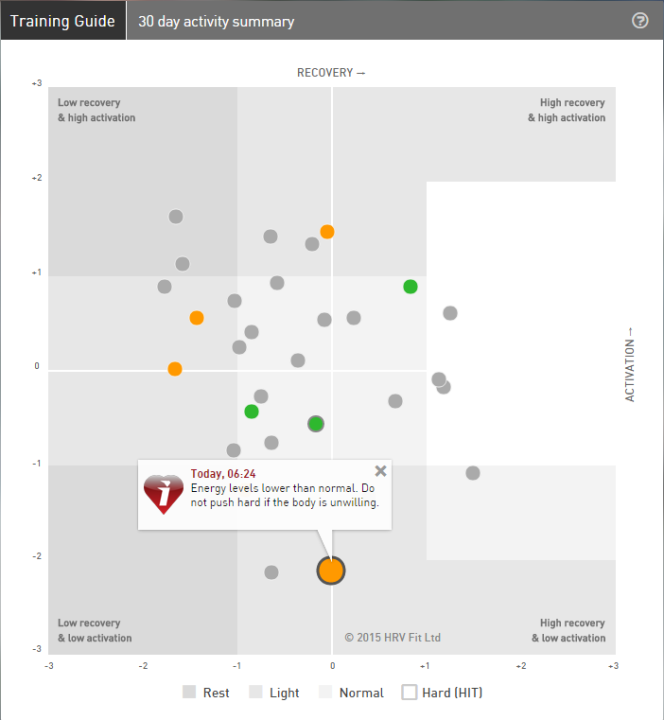 I had planned on riding a local 64 mile charity ride, called the Dream Come True(DCT) ride on Sunday so I moved my long run to Saturday this week. I was a bit nervous about my run on Saturday since I self-destructed on the run the week before. During the week I ordered a new Camelbak Octane LR Hydration Pack to help alleviate running out of water on my long runs again. My FuelBelt was not cutting it. I was glad I did, because it was really hot again and I drank every bit of it. I actually emptied the bladder as I was on my cooldown walking up my street.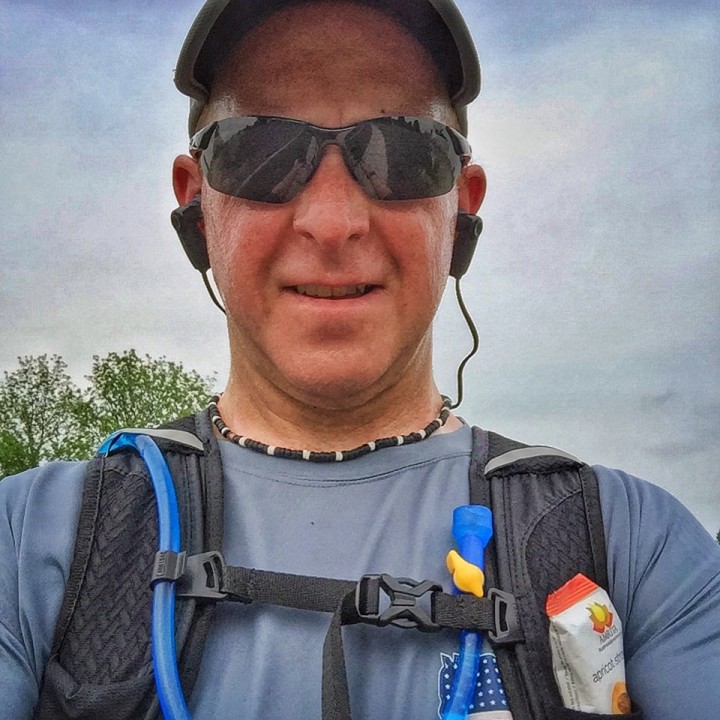 I also played it a bit conservatively too and kept my pace around 10:00/mi just to make sure i got the volume in that I wanted. I also had several extra pounds of water strapped to my back which must have slowed me down a bit. I was happy to have a good long and successful run and I was able to put the previous week behind me.
On Sunday I woke up early, for me on weekend anyway, to do the DCT ride. The ride was only 64 miles and I wanted to get about 5 hours in. Usually 5 hours for an LSD ride would be about 80 miles for me, so I tacked on a few extra miles getting to and from the ride start at the Trexlertown Velodrome.
The ride was pretty flat for the first half and was along many of the roads I typically ride. I rode along with a girl from work and a couple of her friends for the first half. I eventually latched on to a couple guys with orange helmets around the Kempton area that were going my typical pace. A few other guys joined them and a pace line was formed. I stayed behind them about 10m or so and avoided most of their draft. I don't want to get used to that. Also the stretch of road from Kempton to Werley's Corners is awesome for getting down into the aerobars and just cruising.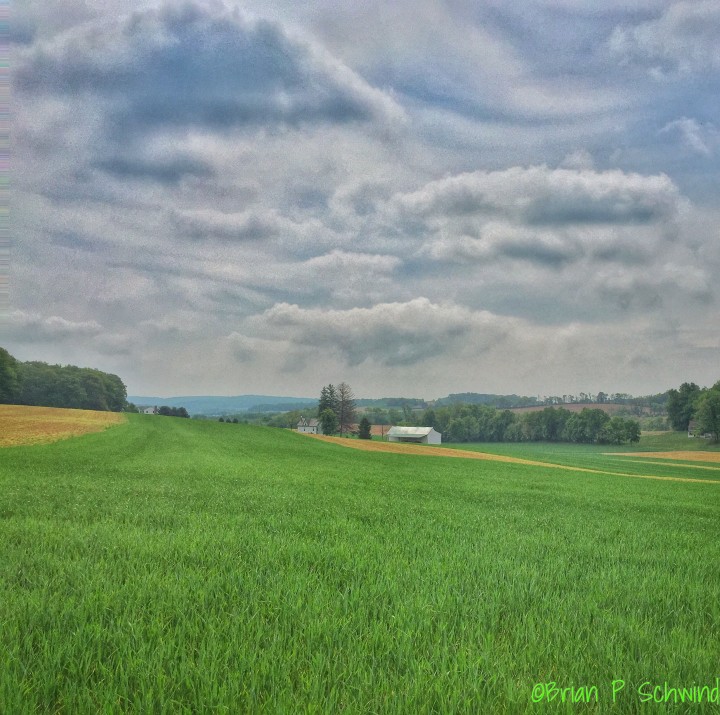 I ended up bagging the final rest stop and just heading for the finish. It was getting kind of hot and humid out too, so I was eager get home. My legs were a bit stiff early in the day too since I had run long the day before. I don't typically do that, so it was a bit different riding on tired legs. I did seem to get a second wind though on the last half of the DCT ride which worked out well since that half had all the climbs in it.
I ended up with around 80 miles in just under 5 hours. Not a too bad for a pretty mellow ride. It was a good end to another build week.
My fatigue level(pink) in the Training Peaks PMC chart below is peaking out a bit at the end of the week. My plan is to do a few easier days early in the week before I head up to Lake Placid for a training camp over the holiday weekend. I want to go into that fresh in order to take advantage a that big training block.