Well, I am back. This off-season has been pretty uneventful ever since I completed Timberman 70.3 back in August. We did take a trip to Italy back in September which I just finished posting yesterday. I have continued to train and I did complete the 180 mile City-to-Shore ride, but I have had more achievments on Untappd than on Strava this fall. With those acheivments comes a snug waistline and around 15 lbs extra weight above my racing weight I need to shed. The lowest point was the week of Thanksgiving where I literally did absolutely no training that week. Unheard of! Apparently I needed this little break and I am trying to listen to my body a bit. Keeping up that motivation for Ironman training after 3 years is not always an easy task.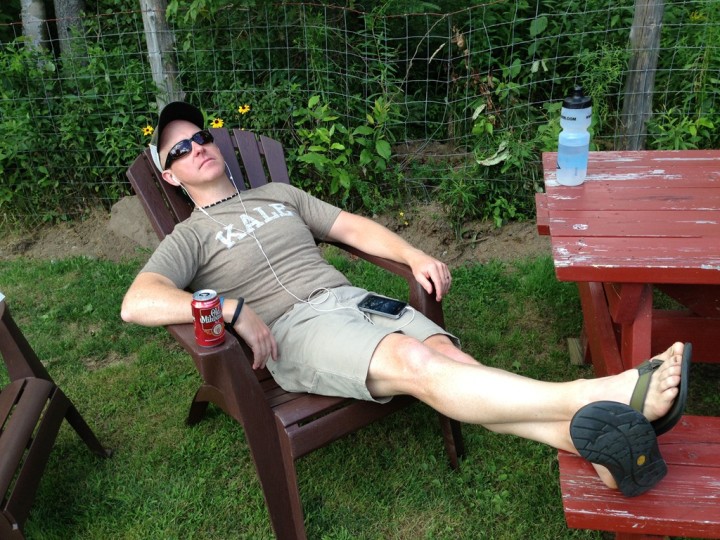 But, I am back in the swing again and I am getting geared up for Ironman Coeur d'Alene in June and the St. Luke's Half Marathon in May. Other than that I have nothing else planned but hoping to do so late season local races. I was tossing around Ironman Maryland as well as Steelman. Still thinking that over.
The last couple weeks I have been back at it pretty steady and I am feeling pretty well. I seem to have carried over my endurance because I am go out run a half-marathon, swim an easy 3000 meters, or ride my bike for 3 hours  without issue. Given that I trying to focus more on developing some speed and power for this season. I still have a goal completing an Ironman in under 12 hours which I carried over from last season.
In the pool, I have started using a Finis Tempo Trainer.  I have a very low stroke rate and am pretty much a glider. With that my lack of ability to do flip turns my typical stroke rate shows up at around 56-58 spm(both arms) on my Garmin 910xt. That translates to around 2:00/100m which is not great. I typically swim around 1:46-7/100y in open water which basically washes out the need to turn. So my plan is to try to gradually increase my turnover rate in the pool to increase my pace. I know that when I get my strokes/min into the high 60's or low 70's I can get down to about 1:50/100m which equates to about a 1:40/100y. If I can work on maintaing that pace for IM swim it would be cut down to about 1:11 or so. Actually I would be happy to get to a 1:15, which is 2 min improvement over the last 2 years.
On the bike, I am back using TrainerRoad again through the Winter months. This software helped me make huge gains in the bike last year. I went from a 223 FTP to a 253 which is 13% increase. It really showed on the bike too, I cut about 15 minutes off my Lake Placid bike leg and I had a great ride at Timberman finishing well under 3 hours. I am doing the same training plan I used last off-season and am looking for 10% gain edging to maybe 275-280 FTP.
I need to generate some more speed on the run for sure, especially after a long bike. My goal would be to finish the IM Marathon portion in around 4:10, which equates to a 9:30/mi pace. So, this is my floor pace for all my longer(LSD) runs this season. Other than warm-ups, I am going to make this the slowest I can go or I will have to cut distance in order to maintain it. I know I can run the distances at 10+ pace, so now it is time to step back and take it up a notch. I also want to incorporate some longer brick runs off the bike. I seemed to suffer more after the first 6 miles during IM and I need to work that out. During the week I will continue the tempo and interval runs as I did before.
Getting back to racing weight will also be critical for all this to happen. I feel I have my race nutrition plan pretty solidified, which is anchored by my good old Amrita Bars, but my off-season nutrition needs some work. A few too many pizzas and IPA's this year, so I will be cutting that all out come January 1st.
Here are a couple good articles that I recently read on off or base season training that provide a little different twist on the traditional approaches…
Reverse Periodisation by Coach Brett Sutton
How to Maximize Your Winter Base Training | TrainingPeaks.
20 Winter Triathlon Do's and Don'ts by Endurance Nation
If any of you are on the Zwift beta program and you are looking to ride with someone let me know too.
So I hope to get some more posts going here very soon. I have a couple training excursions and some product comparisons and reviews coming up too which should be interesting. So if you have stuck around, I hope you will continue to read on. Thanks for reading.