I have been slacking on blogging lately and this post is long overdue. If you read my previous post about the start of our Tuscan holiday you know it did not get off to a good start. While it was not one of my favorite trips, looking at the pictures now I can hardly complain. It just wasn't quite the active trip that I enjoy.
We eventually made our way to Bologna, Italy after a couple short layovers in Oslo and Copenhagen, although it was a day later than planned. We were originally supposed to stay in Bologna the first night, so it wasn't a huge loss skipping that one evening. Instead we just headed to the place we would have stayed the second night in Florence. It turned out that one day in Florence was enough anyway.
Florence
While planning this trip we had read horror stories about how crazy the drivers were on the highway was from Bologna to Florence. They apparently have never driven with my wife. Denise drove to Florence from the airport and she fit right in there. Actually, it was fine and we had no problems until we got to Florence that evening. Florence is pretty confusing to drive in with the crazy streets, circles and traffic. Fortunately Google Maps app on my iPhone was AWESOME! I don't know what we would have done without it.
We arrived at the Il Palagetto Guest House a bit late the first evening, but they waited up for us and were very accommodating. They even made us reservations at one of their favorite restaurants, Trattoria da Sergio, while we unpacked. We then walked a few blocks through the large gates of the old city of Florence and enjoyed a fabulous dinner. Now we were feeling like we were on vacation!
After a good nights sleep and some breakfast, we headed into Florence for the day. As we got into the main part of the city it became very crowded! Loads of tour groups with their little flags and earbuds filled the streets. I was not diggin' it. The area around the Ponte Vecchio and the Duomo were the worst. We had hoped to go in the Duomo, but the line was around the block. Instead we opted for our first(of many!) gelatto tasting. Yum!
We had 2pm reservations for the Accademia to see Michelangelo's David statue, which everyone says you have to see. We headed over that way to find where it was and to pick up our tickets. People were lined up the street to get in there. Seemed kind of strange when all they had to to was purchase tickets on the other side of the street or online beforehand. Then they can walk right in the door at their reserved time. I don't know why people would not do that? Whatever. We walked down the street and found Ristorante Accademia. We enjoyed a nice lunch while we waited for our entry time.  The food was delicious, our waiter was really nice and spoke good English too.
We headed back to the Accadmia with full bellies and entered pretty quickly. We started looking at some of the works around the entrance and then quickly skipped right to the main hall where the David statue was. We are not really "art" people so this was a stretch for us. I was not blown away by the David statue at first as some had said it would do. Perhaps the masses of tourists distracted me. It wasn't until I got up close that I was really amazed. The size and articulate detail of this statue was amazing. Carving veins and bodily details out of solid marble like that just blew me away. Definitely worth seeing. We spent a bit of time looking at David and then sauntered through the other statues, but the other stuff was snoozeville compared to David.
The rest of the afternoon was spent "lolligagging" around the city. My wife enjoys this, but it just bores me to death. It is like mall-shopping for me. We got a good lay of the city and ended up at Piazzale Michelangelo where there was a gelatto-fest going on. The view of the city from there was amazing too. We decided after this we had enough and made our way back to the Il Palagetto House and started on our way down to Lucca. We would be staying at Il Gallo Guest House just outside of Lucca for the remainder of our trip.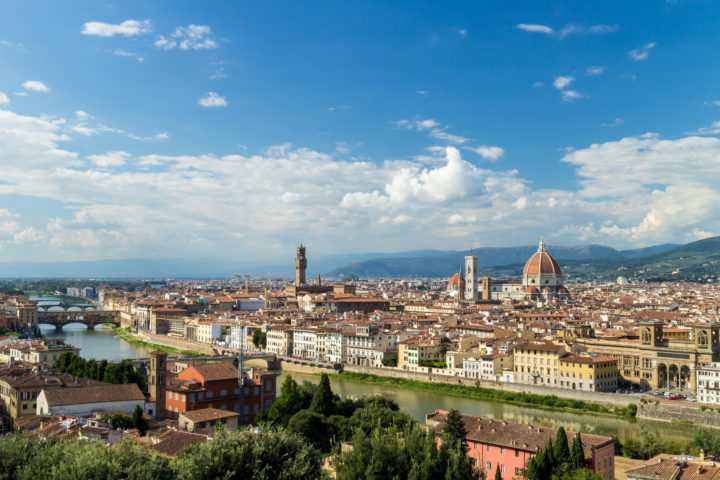 Il Gallo Bed & Breakfast
The drive to Il Gallo went suprisingly fast. Google Maps directed us precisely up the winding little road up the mountain and into the driveway. We were immediately greeted by our friendly hosts, Robert & Katinka. They showed us lovely accomodations and invited us down for some local wine and snacks after we unpacked and settled in. We immediately felt at home with Robert & Katinka. It felt more like we were getting together with friends we had not seen for a while than hosts we had never met before. They are actually Dutch, but have lived in Italy for quite some years and new the lay of the land. We had told them of our dietary preferences, me being plant-based and Denise more a hybrid paleo, and they were very accommadating with our breakfasts. They even adjusted the breakfasts throughout the week based on what we did and didn't eat. The first night Robert drove up the road with us to the little village above. He took us into the local restaurant and translated the menu and ordered for us in Italian before driving back home. The little restaurant in the town of Bozzano was pretty much only locals and was only open a few nights a week, but the food was amazing and so inexpensive. It is one of those places you just don't find on your own.
Every morning, weather permitting, we make a short walk up into Roberts' olive grove to our private terrace for breakfast. Robert had already delivered our wonderful breakfast which would be wating for us there. It was just an amazing scene looking out over the mountains that surrounded us. I didn't want breakfast to end. On days when it was cooler or raining we would eat down by the main house which was very nice too and still provided the spectacular views. My only complaint about the week was that we didn't spend more time there hanging out a bit, but we had all these cities to visit.
Isola Santa, Barga & Lucca
On our first day we drove north towards Castelnuovo di Garfagnana then west to a little ghost village in the Alpuane Alps called Isola Santa. Isola Santa is tiny town nestled into valley surrounding a beautiful spring lake. The town is so small and hidden we almost past by it. The parking area is basically just a turnout on the road. We walked through the little town and explored some of the hiking trails around the lake. By the time we got back to the tiny village, it was almost lunch time. There was one place with some outdoor tables that looked like they would serve food. No one else was eating yet, but we sat down at a table and a girl came out with silverware and things. Immediately after that several groups of people came in and sat down too. It now looked like this would take much longer to eat than we planned since they were not heavily staffed. We decided to leave and get something at one of the towns down along the Garfagnano valley.
We ended up stopping in the city of Barga for lunch. Barga has a very large Scottish population, which is highlighted by there Sagra di Pesce e Patate(Fish & Chips) festival every year. So we figured it would be easier to order and eat there since they most-likely spoke more English. We ended up eating at L'Osteria located in a small courtyard in town. It was quite good and the waitresses spoke decent English with a slight Scottish accent. We followed up our late lunch with a little gelato at the shop around the corner too.
We walked around Barga a little more after luch and then made our way down to check out Lucca. I think Lucca is one of my favorite towns in Italy. It has all the characteristics of an old medieval city but a little smaller and less touristy than some of the others. It is surrounded on all sides by a wall which you can run and bike around. I did neither of those, but we did walk a little bit around it 🙁 . To get into the city you must go through very narrow tunnels through the wall entrance which has cars on the outside and people on the inside. This leads to a bit of confusion when you get to the inside and everyone collides in the street.
The labrynth of streets in the city are lined with many shops. There is a central piazza called, Piazza Anfiteatro, which has many shops and restaurants. Our host Katinka works in one of the shops so we decided to stop in and say Hi. While there she gave us some things to see in the city such as the Guigli Tower and also an opera that was going on that night. The tower was pretty cool. It had trees growing on the top and provided a magnificent 360-degree view of the city. The opera, well, was not really our bag. I tried to keep an open mind but neither of us was into it and we left at intermission. 50 Euros down the tube.
We then went in search of somewhere to eat dinner. We ended up walking back-and-forth across town because Denise could not make up her mind where she wanted to eat. We ended up eating at Gigi Trattoria, which Katinka and Robert had recommended. It was a good meal, but we were a bit grumpy for the undecisive walking about we had done. We naturally followed up dinner with some more gelato sampling in town.
One stop was at a place on the main piazza which was ok. The better one was a place on the street outside of the main city, named Fuori dal Centro, which was right where we had parked. Denise had spotted some locals in there, so we figured it must be good. And it was!
Monte Forato Hike
We enjoyed anothe great breakfast before heading north again to the town of Fornovolasco to do the Monte Forato Hike. The Fiat 500 was getting bit low on fuel so we needed to stop and refuel. There is a gas station down the bottom of the hill from Il Gallo, but Denise said she had seen numerous other stations along the road we had taken the day before. As we drove on we didn't see any and we were quickly approaching our turn to head up into the Alps. I finally spotted one on the other side of the road and made a turn in. I filled up the tank with around 50 Euros of petrol and then gave the attendant my Mastercard. Rejected!! I then gave him my Debit card VISA…Rejected! WTF!! I asked him to try my credit card again…still nothing. I didn't know how much cash I had and started digging into my pockets. I managed to piece together the 50 Euros using every little piece of coinage in my pocket. Whew! Apparently gas stations in Italy use some special card for their gas purchases that is different from a regular credit card. I would highly suggest looking into this beforehand or just carry cash.
We eventually drove through the small town of Gallicano which had a ATM and a grocery store. We were also out of water, so we needed to stock up. I ended up purchasing a 6-pack of large bottles, but I unfortunately didn't notice the word "sparkling" on the side. We noticed this later after we getting ready to start our hike in Fornovolasco. Not a good start to the day.
We headed across the little bridge and up through the town. I somehow lost track of Denise while I was taking pictures, but eventually found her down at the lower end of the street. She was all mad about it, which I didn't get since I thought I had seen her go up the way I had gone. I like to take my time hiking and take pictures and she is all focused on hiking, so she just takes off without me. We followed the stream uphill and eventually got off onto some trail going past some small gardens. There were some nice waterfalls along the way, but heaven forbid I stop and take pictures, so I just kept hiking. We eventually straightened things out at the next trail junction.
The trail is mostly uphill for the first half before topping out on some rocky peaks. There are some great views of the valley and the coast on the opposite side. The trail had also gotten a little tricky to follow at the top as well. We ran into another couple on the climb up, who we chatted with a bit on the top. They John & Sarah from Massachusetts. We told them we were from Allentown, PA and John said he had done a Tough Mudder at Bear Creek Ski Area which is just up the road from us. They were a really nice couple and we had much in common with them. We hiked together for a little bit and then went our separate ways but kep running into each other again. We ended up hanging out with them at the bar back at the trailhead afterwards. We never got their contact information though, which I have regret.
The climax of the hike is the rock archway with a view of the valley in the middle. It was really clouded in when we first got there, but eventuallly cleared up to give us a view. We also got a nice little rainbow on the other side too. The hike down was not as much fun. It has briefly rained and made for an extremely slippery descent. Denise and I both fell several times. One of my falls was pretty intense too and my wrists were hurting. It was a pretty nice hike and we could have lengthened it a bit more if we had more time.
On our way up to Fornovolasco, we noticed a small church nestled in the cliff side of the windy road up the mountain. We decided to take a ride up the small driveway to check it out. The Santuario Mariano Eremo di Calomini was lit up really cool as it turned dark out. Unfortunately, they had it gated off so you could not get up close to it. We also noticed a very narrow driveway that skirted the cliffside and a sign indicating a agriturismo and restaurant. We decided to check it out. Threre was a sheer dropoff on the right side of narrow driveway. We eventually came upon the Agriturismo Antica Trattoria dell'Eremita. It appeared to be open so we went in and had some dinner. It was pretty basic, but good. The best part was that they had some local spelt beer which I had yet to try. Definitely a good add for my Untappd profile.
Montepulciano & Siena
Wednesday morning we got up a little earlier, had breakfast and were on the Autostrada heading to Montepulciano. Montepulciano is one of our favorite types of wines, so we were looking forward that. It was about a 3 hour drive down there via east to Florence and then due south. The scenery was nice, for being on a highway, but the landscape was a bit browner than I would have expected. Perhaps it was that time of year. We got into Montepulciano around lunch time, found a parking spot in one of the parking garages on the Southeast side of town and headed into the city center to get some lunch. Denise had picked out La Pentolaccia as a good place to eat in the Rick Steves Italy book and it ended up being right in front of us when we walked into town. Perfect!
La Pentolaccia translates to "The Stinkpot" in English, but there was nothing stinky about it. We grabbed the last table outside which we shared with anothe couple from Arizona. They were really nice and we ended up chatting away with them. The lone waittress there was really sweet, but she was so busy you could tell she was really struggling to keep her composure. The food took a little long, but it was so worth it. I had some bean soup and gnocchi for my main course. We also had a small bottle of wine to wash it down with. Rick Steves did not steer us wrong there.
We spent the rest of the afternoon wandering around the town, which my wife likes to do. I tend to get a bit antsy when there is no particular destination in mind. We stopped at the de Ricci wine cellar which was really cool I got some pretty cool long exposure shots in there. The best part was at the end when you pass through the sliding glass doors into the tasting room. People in front of us were paying for wine tastings which were served at the counter. When we flashed our Rick Steves book at the wine stewards, we were immediately whisked over to a nice table and chairs complete with snacks and a full flight of tastings. Wow…Thanks Rick!
We then wandered around some more and then to the main Piazza Grande, which is the main square in town. I ventured into the Duomo and took some photos in there. It was fairly dark, so I had to do some longer exposures on the tripod. Next, was a short walk down the street to the left to Cantine Contucci to see the ever popular Adamo (Pallecchi) and taste some of the legendary Vin Noble. Adamo is known to be a bit of a character and he surely did not let us down. When Denise asked him if she could get her picture taken with him, he immediately starting fondling her and went in for the kiss. On the lips no less. Everyone was cracking up, including Denise and I. I didn't manage to get the kiss shot because I was laughing so hard. It was so funny. Oh yeah the wine was pretty good too!
We left Montepulciano in the late afternoon and decided to drive the more "scenic route" back to Lucca. We wanted to see more of the countryside and also avoid rush hour traffic on the autostrada. The countryside was beautiful, but much more brown and dry than you typically see. Most of the fields were plowed and the soil has very ash gray color to it. Nonetheless, it was still beautiful country. We decided to stop in Siena for dinner and check out the town.
Siena was really cool. Very old and has many tiers to the streets. The most impressive part was walking out into the Piazza del Campo, which is a large, amphitheater-like courtyard which is surrounded by the large Tower of Mangia on the lower end and numerous restaurants on the upper side. We headed past the Tower to dine outdoors at Antica Trattoria Papei, another Rick Steves recommendation.  Rick did not let us down this time either. The food was really amazing and they allow you to order a bottle of wine and only charge you for the amount you drink which I had never seen before.
As if Piazza del Campo was not amazing before, it was even better after dark. The tower was all light up and there were tons of people just hanging out in the piazza. We got some gelato's and sat down for a while and took in the view. There was something really cool about that place, but I just could not put my finger on it. We then made our way back to Lucca and Il Gallo. But the excitement didn't quite end there. I noticed that the gas gauge was going down pretty quickly on the way home. It was around midnight at this point and there were no open gas stations. I was sweating it out towards the end. The warning light came on and we still had a 12 miles or so to go. As I was winding up the steep and narrow road to our place, the warning light began flashing and some italian words came up on the dash. I pulled into the driveway on fumes around 1am! Whew..made it!!
The Cinque Terre
The next morning I literally coasted down the little road to the gas station at the bottom of the hill to fill up. Now that we had relieved ourselves of that stress, we jumped back on the autostrada and headed west to the city of La Spezia. La Spezia is the main trainstation for getting up to the towns that comprise the Cinque Terre along the coast. You can drive up there but it is not recommended since there is not many places to park in the tiny cliffside coast towns. We parked in a underground parking garage below the train station. The was a big sign on the door saying to take your parking ticket with you, which I would not normally do. But I suppose there was a reason for this. After taking some time to figure out where to get our train tickets we eventually got on the train and headed up to the town of Monterrosa, which is the most northern of the popular towns. It is also the most touristy and less quaint, but we were just there to get some lunch and then hike the trail down the coast to Vernazza.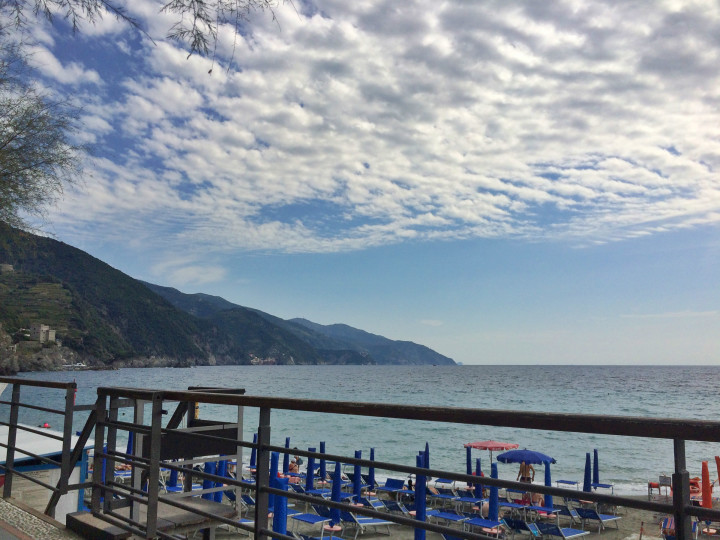 We had lunch at Cantina di Miky, which was right on the beach. To my surprise they had a full menu of Italian microbrewed beers! My Untappd profile got a few nice additions of some international brews and badges. They food was also good. Denise had some anchovies that were nothing like the ones we typically see in the States. These actually looked like fish and they didn't even taste fishy. There was a group of four next to us who just arrived from St. Louis who gave them a try too. After several IPA's, one a double, I was ready for some hiking! But, we couldn't do that until we had some gelato first.
We made our down the crowded promenade towards the end of the beach to pickup the trailhead. Throngs of tour groups crowded our the walkway making it difficult to move at times. We eventually reached the narrow trail and began our making our way up. Two German women in full packs and hiking gear played hopscotch with us until reached the ticket booth of the trail to pay our trail fee. The trail was pretty narrow and with amount of people on it it made it very annoying. You would get behind people in high heels or flip flops who should have stayed on the promenade and then you would need to wait for a time when someone was not coming the other way to pass them. I was getting irritated with it quickly. This is not my idea of hiking.
Despite the traffic, the views along the coast were beautiful. This made all the more difficult since it was really hard to take it in. The highlight was when we rounded the final bend to get our first views of the town of Vernazza. It is so picturesque with the brightly colored buildings which bend out on a penisula into to the sea. The beauty becomes afterthought though when you enter the town into the masses of people bustling about. We wandered around the town a bit and stopped into the closes gelateria to refuel a bit. I don't think we missed having a gelato in any town in Italy yet.
We decided to skip the hiking since it was not what we were hoping for there. So next we headed up to the train station after checking out the town a bit more. They never checked our train tickets on the ride in, so we decided to try and ride for free this time. We skipped the next town of Corniglia and headed to Manarola.  It was a pretty quick ride, but it seemed longer since I was stressing about not buying a ticket. I don't think it was worth the stress to save a couple dollars. Karma will come to play later in the day for doing this.
We spent some time walking around Manarola looking for prospective restaurants for dinner. We walked out the walkway to the North where the classic picture of the town is taken. It was early yet, so we walked to the little outdoor restaurant just above it to have a cocktail and take in the beauty of the town. By the time we were done, crowds of people had accumulated on the walkway to get their evening photos. Most were just smartphone or handheld shooters, but there was one or two other guys with tripods to get a real shot. The lighting was not spectactular, but it was still beautiful regardless. I took a bunch of shots including one of Denise and I in front of the town. Then we were off to find some dinner. We settled on Trattoria la Scogliera at the lower end of town. It was busy, but they had room for us. Food was very good too.
After dinner we hopped on the train again, this time with tickets, and headed to the next town of Riomaggiore. After a long walk through a tunnel, we popped out right in the middle of town. Riomaggiore is a very narrow town that is nestled between the mountain that surround it. It is very difficult to get a good shot of the town without going out on a very craggy seawall. The waves were pretty large crashing into it so I decided against that. We walked up the street into the town and found what else but a gelateria. Why not have a gelato! After finishing up our gelatos we made our way back down towards the train station. It was around 9:30pm now and the last train was at 10 or so. As we walked I started digging around my pockets for our parking garage ticket. Hmmm…nothing? We stopped and I went through everything to no avail. Ugh…Karma had struck. To make matters worse, the train we were waiting for was delayed so we stood there just anticipated the adventure that awaited us. Would we be stuck in the garage all night? Could we even get in to our car? I could see Denise was stressing much more than I was. With the train being even later was making our exit of the parking garage even less likely.
The train eventually came about an hour later and we were on our way back to La Spezia. We departed the train and made our way down the steps into the parking garage. We walked over to the ticket machine and tried to figure out what to do. There was nothing on the machine to indicate some option for help. Meanwhile, Denise ran up to the upper level and was trying to talk to a taxi driver who didn't speak English. He didn't know what to do. I had pressed a button which had an icon that resembled an RSS feed icon on it and a voice spoke in Italian on the speaker. I said "I lost my biglietto!" which is ticket in Italian. He said something I didn't understand and then "drive to the gate". There is a metal curtain gate at the exit to the garage. Right after he said that, I saw "€25.00" pop up on the little screen. I slid in my credit card and out popped a ticket! My stomach immediately eased. I ran up the steps to the upper deck and Denise was actually walking past the top of the steps. I said "Come on, I got it!". We fired up the Fiat and headed out the gate.
So, we would have had to pay €17.00 to park had we not lost our ticket. So it cost us €7 more because I lost the ticket. That is about the same amount it would have cost us for the train ticket from Vernazza to Manarola. Karma?
We made the hour or so drive back to Lucca without too much issue. It was so nice to crawl into that bed though, since I had started wonder if we were ever going to that night. Friday was going to be a chill day at Il Gallo since it was supposed to rain and we had no real plans. I was looking forward to it.
 Chill Day in Lucca
I slept in a bit on Friday morning. There was a light rain which made it easy to roll over for some more z's. Not that I have a problem with that. We had breakfast down on the veranda at Katinka and Robert's home which offered just as nice a view as our terrace, but shielded us from the rain. It eventually started thunder & lightning and Katinka invited us in her home to hang out for the morning reading or catching up downloading photos. I was able to help them with some computer problems as well, which was cool. We invited them out for lunch and they took us to one of their favorite places in Lucca, Locanda Buatino. It was a really good meal and very inexpensive. Katinka had an appointment in town that afternoon, so we said we could walk around town some more and then take her back home.
We made a B-line for our favorite gelateria in Tuscany, Fuori dal Centro. It worked out great and we stopped at the grocery store and picked up some snacks too.
We lounged around during the afternoon and then had our last nights dinner at the little local restaurant up at the top of the hill. It was another fabulous meal and a great way to finish off the trip. We enjoyed a couple bottles of the local wine and some good dessert and cappucino before sauntered down the hill back to the house.
The next morning we packed up and said our goodbyes to Robert and Katinka. It was a wonderful place to stay and they are magnificent hosts. I would HIGHLY recommend staying here if in the area. We loaded up the Fiat and drove back to Bologna.
The flights home went pretty smooth. We had a long layover in Stockholm, which we had picked because we love staying at the Radisson Blue by the airport. The rooms are awesome and the breakfast buffet is one of the best I have ever seen.
While this was a very nice trip, it probably wouldn't be one of my favorites. The main reason for that is that it was it was just too short. I felt like we were just rushing all over the place to see everything. I like to just settle in to an area and really focus on that and do more hiking. I also am not into aimlessly walking around cities, but my wife is so she really like that part. I get kind of bored with it and I don't like dealing with crowds of people. I also wished I could have had more time to do some cycling. The area we stayed is a mecca for road cycling and their were cyclists everywhere as drove to the next city. But the place we stayed was excellent and the area is beautiful. I would go back in a heartbeat, but I would just do some things differently next time.  Thanks for reading!