purple patch (plural purple patches)

A period of excellent performance, where nearly everything seems to go right, work properly, and contrasting with a more general lower level of performance.
An ornate or elaborate section of a written work, a patch of purple prose

– Source: Wiktionary
I was not sure how I would feel come race day at Timberman 70.3, having just completed Ironman Lake Placid only 3 weeks prior. I hadn't trained much in between, but the little I had done I felt really good. Would it last? I had no pressure to perform well given my recent events, so I could just relax and enjoy the day. If I felt good, great, otherwise just enjoy the day and scenery.
I had a great nights sleep. I didn't have any of the pre-race nerves that I typically do. My sleep schedule was on track since we had to get up early the day before to volunteer for the sprint race. I had a couple bowls of chia cereal with hemp milk to start the metabolic process along with a couple cups of coffee too. I had all my gear ready to go the night before so it was pretty easy morning. Just dress, eat and go.
Denise dropped my off at the entrance to Ellacoya State Park and then drove back to the hotel. I made my way to transition, getting body-marked along the way. Everything flowed pretty well. My transition spot, #701, was the 2nd row in from the Bike Out arch, not counting the pro racks. I quickly set everything up and just hung out watching everyone else while sucking on my Skratch Labs bottle and chomping on a Amrita Bar. Even got to watch Andy Potts get ready too.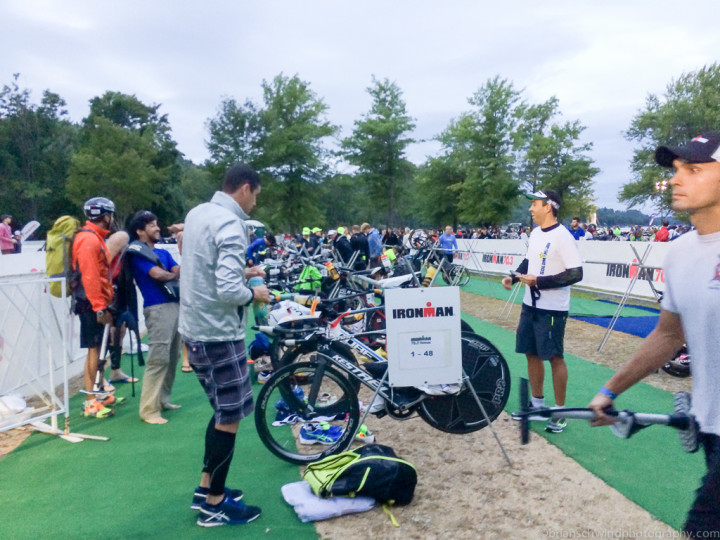 I decided to head over to the porta-potty line. More for something to do than to really go the bathroom. The line was really long, but I had over an hour to kill so what the heck. It actually moved pretty fast, but when I got there I realized I didn't have to go anyway. The worst thing was the guy before me WREAKED!! I was literally dry-heaving in there and had to pinch my nose to get control again. Nasty!
I saw my wife Denise walking across from the volunteer tent as I left the shithouse area. She had rode her bike back to the event so that we could easily get out of there later. We did not want to get our car stuck there or have to take the shuttle bus. This would prove to be a wise move. We chatted for a bit before Denise headed over to the beach to get in her kayak for the swim start. Our post-race plan was to make the short walk over to the Ellacoya Barn & Grille after the race for some lunch while the biking part finished. Denise instructed me that I could not dilly-dally after the race and that we had to get to lunch as soon as possible. It could be crowded and that we might throw off our appetite for dinner. Food is a priority in our house! So maybe I did have a little pressure?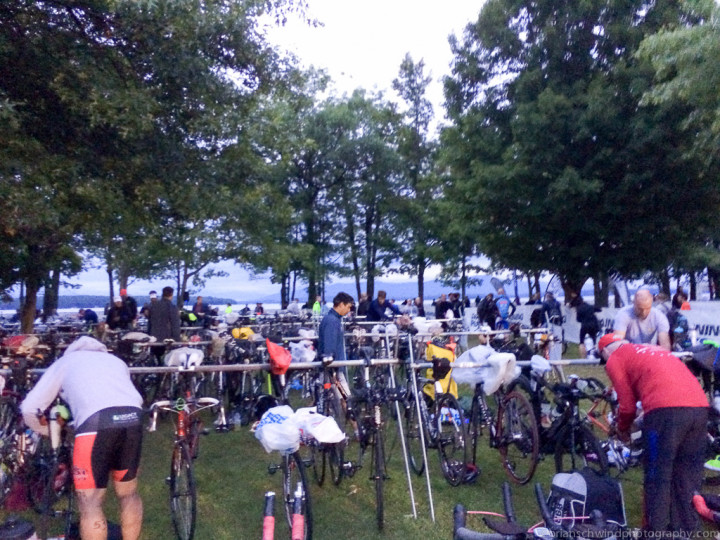 I headed back to transition and put my wetsuit on. It was just starting to rain a bit, so I covered up my bike and run shoes with a plastic bag. The ran started coming down pretty heavy so I stood under a nearby tree that overhung into the transition area. Not sure why I needed to stay dry since I was in my wetsuit ready for the swim at this point? The announcer guy directed us all down the beach to the race start as transition was closing. The rain subsided.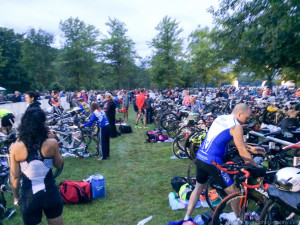 I made my way over to the start line along with the mass exodus of others. I headed into the swim warm-up area and swam out a bit, treaded water for a little while and then headed back to shore. I didn't want to get out the water since it felt a bit warmer than the air temperature. Eventually I headed into my wave as it neared start time.
I had told Denise to stay on the outside of the swim lane since I typically swim wide instead of getting beat up on the inside line. I had my Tyr USA-colored goggles on so I figured there would not be too many of those so she could identify me. As I stood in line I noticed a guy with the same goggles and same "john" style Xterra wetsuit! I told him the deal and we started talking a bit. Turns out he actually knew a guy that I played hockey with who he used to work with. Small world. He was doing his first 70.3 so he was a bit nervous about it.
The Swim
We were only the 3rd or 4th wave to start, so we were lining up waist high in the water pretty quickly. I was in the 2nd row on the outside which is probably a little eager for me. I stayed there anyway. We were given the start signal and off we went. I did a get a little beat up in the beginning, but eventually settled in to a rhythm in some more open water. I tried to speed up my pace a bit to try to get ahead of some slower swimmers. I was swimming in the middle of the lane most of the way out to the first turn.
I rounded the first turn buoy without much issue. Usually turns get a little crazy with everyone trying to cut the corner, but this wasn't too bad. I was trying to check out all the kayakers as I breathed bilaterally the whole way. I saw one female kayaker that I thought was my wife and did a double breath, but it wasn't her. I somehow drifted to the inner part of the swim lane and eventually got inside the buoys. I corrected myself and finally got on track again just inside buoy #2. Just as I did I noticed Denise on the outside of the lane far away from me. She was also pointed back towards the first turn but I tried to give a wave to her as I took my recovery stroke. She didn't see me though. Bummer.
I made my way to turn 2 and then headed towards the shore. The water started getting very waving here and it felt like I was in the ocean. I started kicking a bit more here to get some blood in my legs and pickup the pace a bit. I hadn't looked at my Garmin the whole time so I really had no idea how I was doing. It did vibrate a couple times but I wasn't sure if that was for a certain time or distance. I always change those settings in the pool, so I never know when it going off.
I started to see the lake bottom come into focus in the very clear water of Lake Winnipesaukee now. I saw a few guys standing up already, but I swam right past them as I kept going until my hand touched the bottom. I exited the water, smiled for the camera guy sitting there and headed to transition. He apparently missed the smile shot.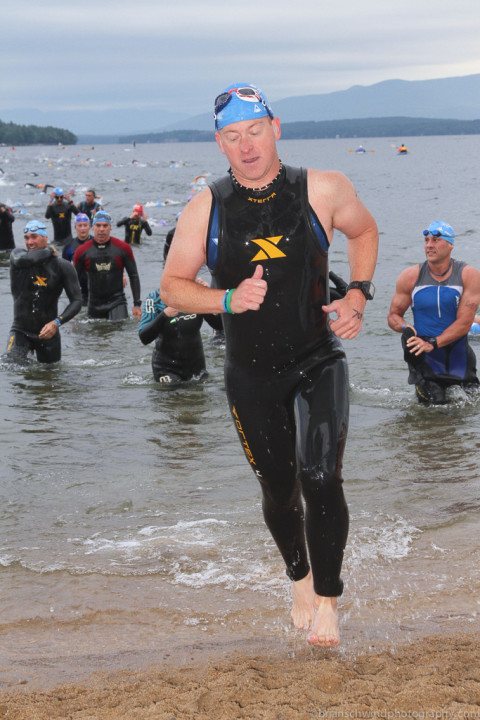 This was definitely one of my better swims. it was smooth and steady the whole way. I didn't have too many other swimmers cutting in front of me, but when they did I adjusted and didn't freak out about it. I felt my stroke cadence was good. I averaged 33 strokes/min which is a stroke higher than averaged at Lake Placid and Black Bear this year. Swim cadence is something I really want to increase next season to improve a swim time a bit.
I included the Garmin Connect version of swim so you can see my actual course deviations. Strava seems to straighten things out.
Swim Time: 00:36:25 (1:43/100yds)
T1
I made the long jog circumnavigating the outer chute to the transition area entrance. I was surprised to see wetsuit strippers lined up as I approached. I spotted a younger kid that was available and pointed to him that I was coming and to get ready. With my wetsuit peeled down to my waist, I walked right up to him and fell backwards on the ground and he quickly pulled the rest off using the slack top. I was off to my bike.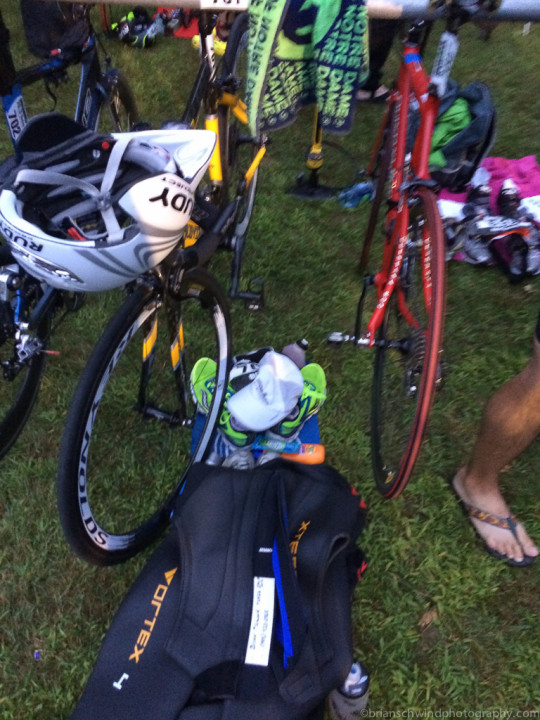 I easily found my bike due to the Notre Dame(Go Irish! – new good luck item for all races) towel and the close proximity to the bike exit. I quickly slipped my bike shoes on, sans socks. Donned my speed hat( as Denise referes to my aero helmet ) and shades and was out the gate. Easy peezy!
T1 Time: 0:02:29
Bike
I headed to the far side of the mounting area and hopped on my bike. I was on my way down the long, banner-lined driveway out of Ellacoya State Park. Spectators lined the fencing, cheering away. There is a slight incline once you hit the road out of the park and I had set my gearing to a nice spinnable gear start off. A guy heading out at the same time did not do so and I quickly spun past him as he struggled with a harder gear. Once I crested the incline it was mostly downhill cruise for the next couple miles. We passed the Fireside Inn and made a left at the light. A few sharp turns and then we started some more difficult climbing.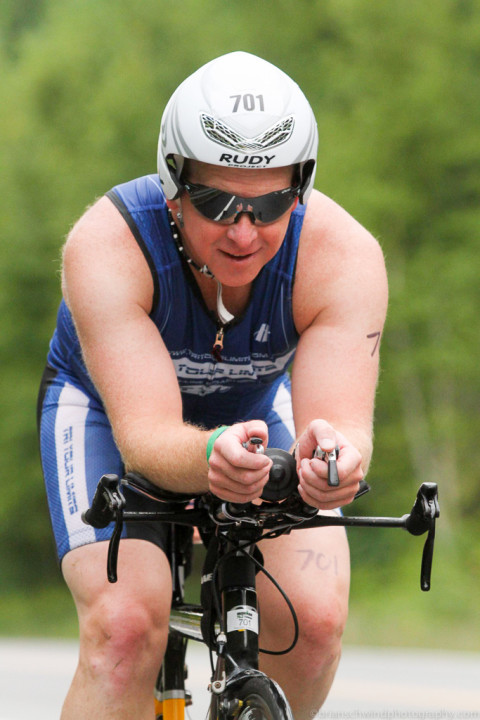 Mile three to six was another climb. This one a little higher but more gradual. I got into my spinning mode and just kept a consistent cadence. I was being very conscious not to burn any matches this early in the race. It could be a little tough to do since you are usually feeling good at this early point in the race. The tendency would be to just rip right up these, but you have to remember that your are going to have to hit them again at the end since it is an out-and-back course.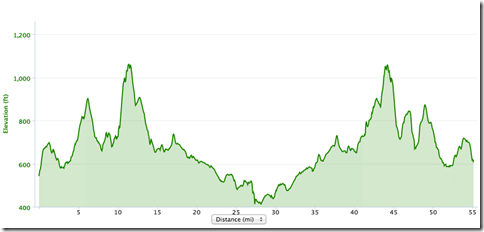 We peaked out and then quickly descended again before hitting a bit flatter section. We made a couple fairly sharp left turns,  which took a few guys by surprise and almost missed them. Then we onto the steeper climb of the course which is listed as a category 4 and referred to as the "Marsh Hill Monster" on Strava. Once we crested the "Monster" it was a pretty long, fast descent down a really gnarly road. There were some major cracks, potholes and sections of uneven patching of previous potholes. With the speed you were going it was an all hands on deck, white-knuckle ride. I reached around 35-40 MPH in this section. I had heard after the race that Andy Potts had flatted and crashed, breaking a finger in the process. I would not be surprised if that happened here. It was bad.
From the long descent, it was a pretty steady, slightly downhill cruise on to the mid-way turnaround  point. The road was in nice condition and had wide shoulders. It was eventually apparent why the road became so wide when we passed by the New Hampshire Motor Speedway near Louden, NH. I really did feel like I was driving a race car too since I was just cruising along at a nice ~25 MPH most of the way. Git-R-Done!! This is where you can really get some good speed by just settling into your natural cadence with a big gear. I was mostly cruising along at around 200-220 watts.
We made a right turn onto some smaller local roads before turning back on the main road(RT 106). It was back to cruising again despite a slight uphill grade now for most of the way. I didn't utilize any of the aid stations other than grabbing a half a banana towards the end. It was a last minute decision as I was going by and thought "hmmm…that looks yummy!" I had everything on board I needed. 3 bottles of Skratch Labs  for hydration and a mix of honey/maple Stroopwafels, Amrita Bars, and Chunks of Energy for nutrition. I just grabbed a small piece of whatever I got my hand on every 10 minutes when my Garmin 10 minute reminder chirped. It was kind of fun since I never knew what was I was going to get. The Stroopwafels are the big prize!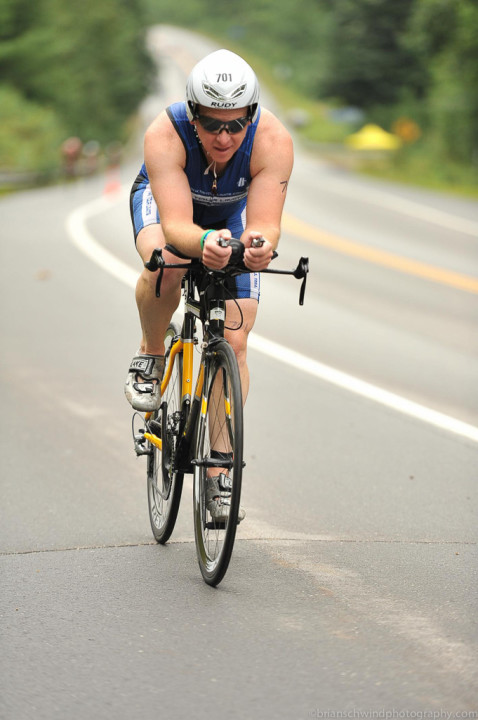 There were a handful of riders who I would continue hopscotching the entire way. I love the people that just sit in the left side of the lane going at a mediocre pace with no one on their right. I usually make a point yelling "ON YOUR LEFT!" extra loud for them.

There was the French-Canadian fellow who blatantly sped up as I passed him and would not let me pass him. Really? Read the rules lately? Perhaps they don't publish them French? Then, there was the 3-person drafting pace line that flew by consisting of two women and a dude. One of the women was decked out in a orange kit with a big Wattie Ink "W" logo on it. Perhaps she was trying to generate some advertising? Sorry Wattie…no tattoo for you! Ok…I am done bitching now!
When I reached the hilly section the course diverted off of the gnarly road onto some nicer back roads through more wooded areas. It was NOT less hilly at all, just less traffic and a nicer road surface. I spun my way through the hilly section and back to the final few miles and my legs were still feeling good. I was really just trying to keep a steady cadence and power output the whole time. No spikes if I can help it. Before I knew I was cruising back into the Ellacoya State Park entrance way. I didn't check my Garmin until the end and saw it was going to be well under 3 hours. Sweet!! A PR half-iron bike split for sure. But would I still have legs to hammer the run too?
Bike Time: 2:46:57 (20.13 mph)
T2
I quickly dismounted my bike and made the short jog to my transition area. I ditched the bike shoes and put socks on and slipped my running shoes on. I exchanged my helmet for a run hat and my Smith "running" sunglasses. My running sunglasses don't seem to catch as my sweat drips as my biking ones, but the running ones let a lot of air in on the bike and make eyes itch. I decided to skip the Fuelbelt and just take a couple Amrita bars in my jersey pockets. I was going to take a FuelBelt bottle of Skratch along in my hand, but I dropped it in the shuffle. Oh well. I took a few extra seconds to squirt some sunscreen on my face and arms. I had gotten burnt a bit the past couple races so I need to take care of that.
I was off for the run, but wasn't totally sure where the exit was. I finally realized it was over near where we came in for the swim. Fortunately a volunteer was directing traffic over that way. I had been looking for Denise since I came into the park on the bike, but hadn't seen any sign of her yet. Hmmm?
T2 Time: 0:02:19
Run
I headed out the run start archway and spotted Denise along the side. She yelled something like "You are kicking ass!" while she tried to snap my picture with her phone. I always give her a time that I will be at a certain point and then tell her plus or minus 15 minutes. Well, I was at the minus 15 minutes part of that range for once. Giddy-up!!!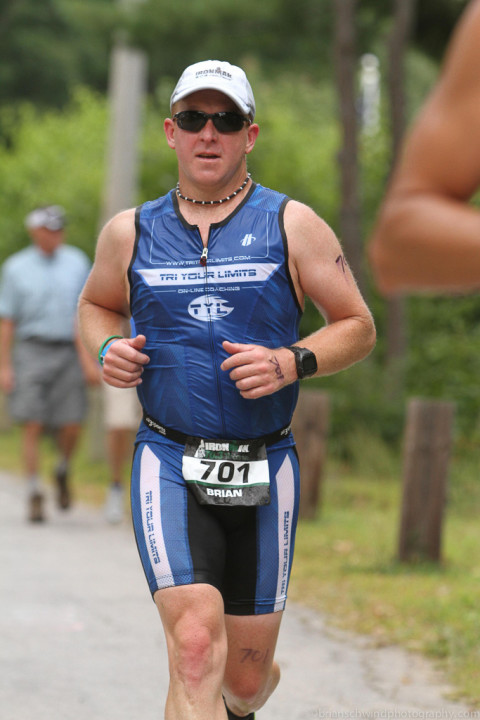 My legs were feeling pretty good out of the gate. I was running 8-8:20/mi pace for the first 4 miles and half of that was uphill. I hoped I could keep it up. I just concentrated on a steady leg turnover the whole time similar to how I did with my cadence on the bike. I pictured my feet being like a locomotive wheel and then long metal arm just turning over-and-over.
I continued a sub-9 pace for the rest of the first lap, despite a pretty long steep hill around mile 5. I passed Denise again and told her be ready for an "early lunch!" She seemed pretty psyched about my performance. I headed into the turnaround point and volunteer was directing us. There was a maze of cones which was very confusing. She told me to head down the grass to my left. As I headed there I saw the finish arch. Then a sign saying "To the Finish". WTH?? This is not right! I turned around and started heading back towards the lady. An Ironman guy came down towards me and signaled me to keep going the way I was going. I was getting pissed off now since I was having the incredible day and now it was getting F-ed up because of this stupid maze of a run route.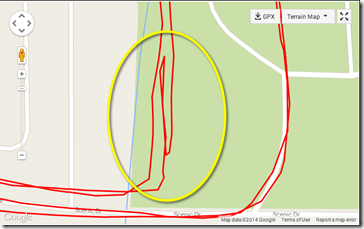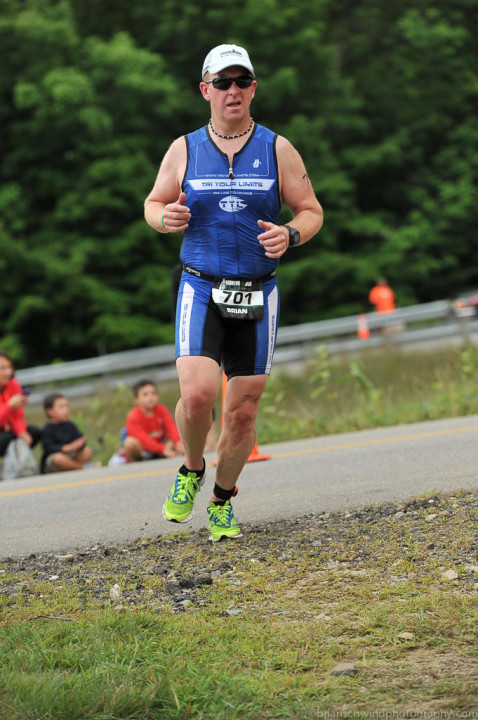 So it turns out the run goes practically right up to the finish line and then turns off to he right and heads back out the entranceway of Ellacoya State Park. I was a bit wound up over the screw up there, so I told myself to put it behind me and move on. Which I did. I came up to Denise again who had moved a little further up there road now. She was kind of squatting with the iPhone pointing towards the lake on our right. She told me to "hold up a sec!" so she could get a picture of my running by with the lake in the background. LOL…Ok you want a pose? I will give you a pose!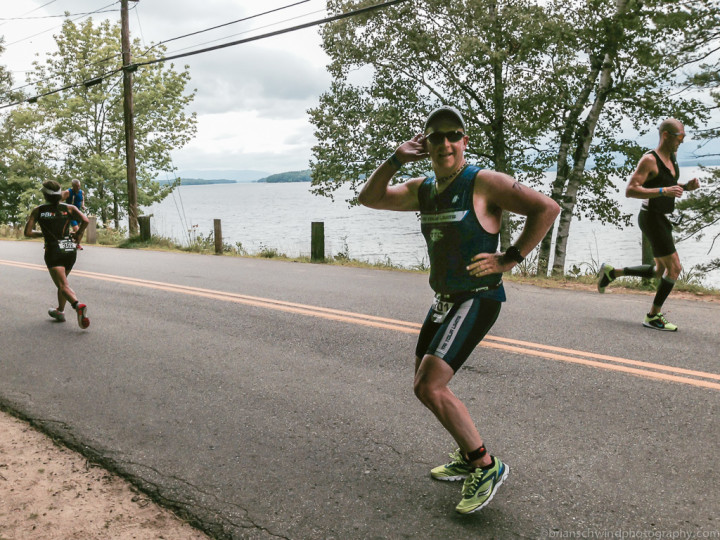 The lady running behind me started cracking up immediately. I didn't think the picture would turn out with the bright background and it didn't out of the camera. I managed to adjust a bit in Lightroom so it was at least usable. I probably lost a few precious seconds there, but it was worth the laugh and the photo too. Oh yeah, and I totally forgot about that little issue at the run turnaround.
My pace slowed down a little on the second loop. I could see that it was on my Garmin, but I didn't feel like I was going slower. There first two miles after the turnaround were the toughest. They were mostly uphill, especially mile 12 which was the big one. I kept running the whole time and didn't walk at all. I slowed a bit at the aid stations just to get liquid down. I had 2 cups of Coke at the last 2 aid stations that had it, which helped me power up the hills.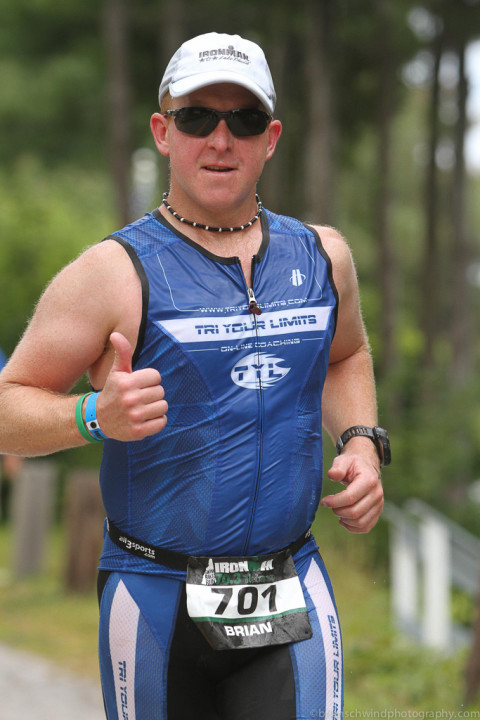 Once I crested the big hill it was go time. One more mile downhill into the finish line. I looked at my Garmin and saw something around 5:15 and some change. I was pumped! My fastest Half Iron distance was a 5:54 at Quassy and this was way under that. I turned it up for the final stretch and was back to a 8:27 pace for the last mile. I cruised down the finish chute passing one more guy right before crossing the finish line. I raised my arm and stopped my watch…5:24!!! 30 minutes faster than my previous Half-iron PR!!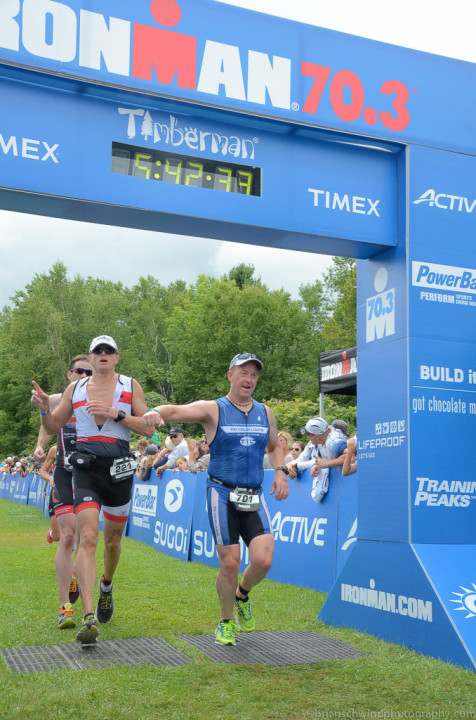 Run Time: 1:56:31 (8:53/mi)
Finish Time: 5:24:41
Summary
It was an Epic day for sure! Pretty much everything was executed perfectly. When the whole run turn issue happened I dealt with it and moved on. Looking at my splits it really didn't affect things much. My fitness, my nutrition and my head were all working together for the perfect day. I definitely owe some thanks to Tawnee Prazak and Lucho Wagoneer over at Endurance Planet for giving me the confidence to not overtrain in those 3 weeks in between Lake Placid and this race. I know I would have trained a bit more than I did had they not advised me. Also coming off a Ironman, makes a half seem so short. Not a total breeze though, but you can go after it a little more with the confidence to lay it out there a bit.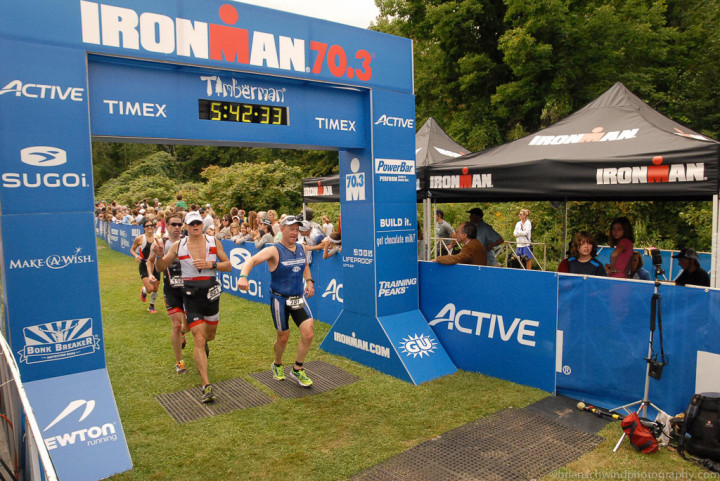 When I found Denise at finish line she yelled "What the F$#% was that??!!!" I said "that was a perfectly executed race, now lets go to lunch!" We walked around a bit and headed over to the Athlete's food area. They had some pretty good stuff too. Pasta salads and some chicken for the meat eating folks. They even had some homemade ice cream which I gave to Denise. She said it was pretty good. Then we walked up to  Ellacoya Barn & Grille for my traditional post-race Pizza & Beer! And it wasn't even crowded yet! I guess we beat the rush?
Well that is pretty much the end of my triathlon season for 2014. It was surely a great season and ending on high note like that really tops it off. I still have a trip to Italy and the MS City to Shore ride(click to donate!) coming up so plenty more to do this year. Then all focus will be directed to Ironman Coeur d'Alenems  for 2015. Stay tuned for another wild ride! Thanks so much for reading and sharing the journey with me! Hope you have learned some things from all my mistakes along the way too.