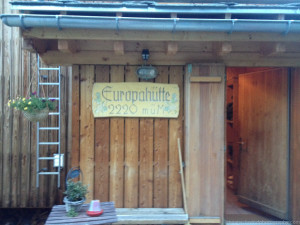 I heard Denise's watch alarm go off around 6am and I laid there until about 6:30am. We had shared the bunk room with another couple who slept on the bottom of the bunk and we were on top. They were a bit ricketty, so I was a bit self-conscious about moving around through the night, so I didn't sleep all that well. We packed up and made our way down to breakfast at the Europahütte. More cereal, bread, butter, jam and coffee. Standard fare these days. I really miss my smoothie! My first glance out the window revealed total white out. It was looking more and more like a valley walk so far us. We had assumed that the others were going to hike back up to the other side of the suspension bridge and walk the Europaweg in to Zermatt, but we never actually talked about it with them.
We finished eating, paid up our beer and water tab, packed up and made our way down the mountain to the town of Randa. We had to meet the taxi there around 8:30am and it was almost a 3 mile hike down to the pickup point. We left the hut around 7am.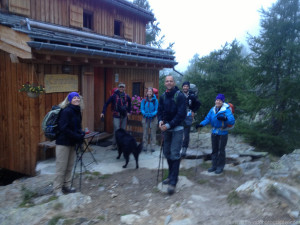 Denise and I started at the back of the pack as we all made our way down. The descent was pretty steep with numerous rocky zigzags paved the way down. My knees were not used to the steep descent first thing in the morning and they were letting me know that in no uncertain terms. We usually start the day with a good climb and end with the descent, so this was a bit of a change. Denise had been sagging back a bit and I tried to stay in between her and the rest of the group who had gained a bit of a lead on us. I glanced back one time to find her taking her pack off. I stopped and waited a bit and saw her doing some stretches. I went up to see what was up. She said she had taken a pretty good fall and now had a stiff neck. She hadn't fallen at all in the last 12 days of hiking and now she tumbled on our last day of hiking. This would solidify our decision to walk the valley in to Zermatt.
We continued down the trail slowly after Denise collected herself. She had been listening to the audiobook Unbroken by Laura Hildebrandt and was trying to finish it before the hike ended. Denise fell again a short time later. This time not quite as bad. I then stayed behind her a bit. I was now getting a little worried we may miss the taxi and have to walk that much further.
I caught up to Denise sometime later and she turned around in tears. I immediately thought she fell again and hurt herself and asked if she was ok. She turned around and headed down the hill not saying a word. I later found out that the book had a emotional ending that she had hit which was what caused the sudden burst of tears.
We eventually got down to the taxi pickup point and the taxi driver was coming up the road looking for us. We had decided we would walk the valley in to Zermatt since the clouds had not broken up high. It would not be worth climbing back up the other side of the bridge again. When we got to the taxi we were surprised to see all the others from our group were in there too. We thought they had left in another taxi already. The taxi van was quite full and Denise sat up front and I was crouched on the floor by the sliding door. The taxi stopped at the bus terminal in Tasch and we got out. We were surprised when all the others in our group got out too. They had also decided to walk the valley in as well due to the cloud cover.
We all walked over to a nearby coffee shop and reminisced for awhile about the trip some more. Afterwards we made our way to Zermatt on the trail that followed the river down the valley to Zermatt. The trail had a few undulations in it, much like the trail we started on 14 days ago in Chamonix. This time it seemed much easier now that we were all seasoned Haute Route hikers.
We eventually came to a small rise with a bench overlooking Zermatt and the Matterhorn peeking around the corner. We took a bunch of group pictures and had a big "group hug" to celebrate the long, two-week journey from Chamonix. It was a pretty special moment. We then continued down the hill into Zermatt town. It was the end of the journey.
Entering Zermatt was an immediate culture shock. There were throngs of tourists everywhere. Stores and restaurants lined the street. We spotted the Molino Italian restaurant for lunch and we headed in. It was a beautiful day so we decided to sit outside. I am sure we stuck out like sore thumbs amongst the extremely clean tourists. The pizza and the beer were really good!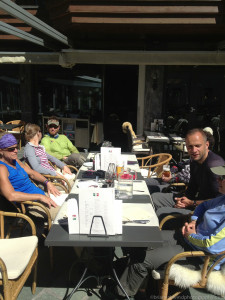 After lunch, we all parted ways to our respective hotels. As we were walking up the street, I heard my name being called. Huh? Someone knows me in Zermatt? It turned out to be Anne, Nate, Paul and Claire who had diverted off the trail earlier. We chatted a bit with all of them and then made our way to the Hotel Allalin. We had decided that the entire crew would get together for a big final dinner tonight and then hit some clubs afterwards. Sounds like a party!
The Hotel Allalin was quite the site for sore eyes. Especially after staying in a mountain hut the night before. The lady at the front desk was so friendly and gave us such a warm welcome. Denise had been hoping for a room with a view of the Matterhorn. She asked the lady if we had one, she said she wasn't going to tell us with a little smirk on her face. When we got to the gorgeous room I glanced outside to see the Matterhorn in all its glory right in front of us. Ahh! The folks at Alpine Exploratory made a good call on this place, especially for your last night of your hike.
We spent the rest of the afternoon relaxing and doing our wash in the sink. The day had turned super clear and sunny and it our clothing dried rather quickly on the balcony. The plan was to meet the others at 7pm at the church in town and go out for a final bash before everyone leaves.
We all met up in town and walked up and down the streets for awhile trying to agree on someplace to eat. We ended up eating at the Ristorante Molino again(same place we had lunch), except we ate inside. After a good dinner, we ventured out searching for some type of nightclub to go to. A couple were pretty lame, but we ended  up finding this one in a basement. There was no one in there when we got there, but the tunes were good. It ended up getting pretty crowded as the night went on. We also started getting crazier as the drinks flowed. We were all dancing on some little platform and then swinging from a beam in the ceiling. Denise and I decided to head out a little earlier along with Nate and Anne, so we said our goodbyes and parted ways. It was fun trip and even though we had planned on doing this trip on our own, we met such a great group of people anyway to share the experience with. It all worked out really well.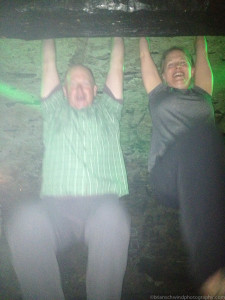 Well technically the Haute Route trek is completed, but we still have another day in Zermatt. Would we dare venture out for more hiking? Or would we just relax around Zermatt all day? Hmmm…stay tuned. While the entire trek was supposed to be a 14-day trek, we combined the first two days into one doing the 17+ miles from Chamonix to Trient.
Haute Route Hiking Stats-Day 13
Europa hut(Europahütte) to Zermatt
Day

Hiking Time:
3:42
Hiking Distance(mi):)
7.15
Elevation Gain(ft):
801

Cumulative Totals

Days Hiking:
13
HR Hiking Time:
76:14
HR Distance Hiked(mi):
128.0
Elevation Gained(ft):
40,977