Haute Route Hiking Stats-Day 11
Gruben to St. Niklaus
Day

Hiking Time:
8:05
Hiking Distance(mi):)
12.5
Elevation Gain(ft):
3,878

Cumulative Totals

Days Hiking:
11
HR Hiking Time:
63:35
HR Distance Hiked(mi):
111.5
Elevation Gained(ft):
36,246
We headed out of the Schwarzhorn Hotel after a relatively mediocre breakfast. It was an immediate grunt uphill as we left the building and switchbacked our way towards the Oberstafel . We started out at around 6500′ elevation and would peak at just short of 10,000′ in less than 4 miles.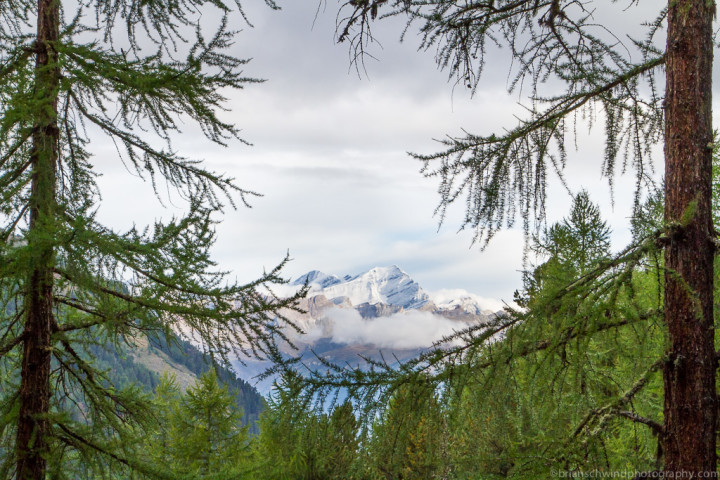 We were had a forced opportunity for a break part way up the mountainside as a stampede of cows were being coerced down the mountain by a young couple. They had a large bag of salt, which they would pour on some rocks on their way down. The cows would then follow along and compete with each other to get the salt. We were a bit startled by it at first as this large herd came bursting out of the trees. We didn't know which way to go. They eventually moved on and we continued our slog uphill.
The weather quickly turned windy and cold as we exited the tree line. Now we could see most of the way up to the pass that we would eventually climb to. The terrain became very rocky and barren from here up. The next section was a little less steep and then it kicked up for the stretch before the pass.
We took a bit of a break at a large rock to put on some more layers, hats and gloves. Rich from CA had passed on by us. Eventually Martign(Ned) and Garreth(UK) came flying up behind us in hot pursuit. They had practically flew up the hillside, which was evident by the sweat dripping off both of their faces. Martign is very tall guy and one of the faster hikers I have ever seen. He just goes consistently fast and you may keep up with him for a little while, but eventually he will vanish.
The others passed by us and we could see them making their way up the large, rocky summit. It had started to snow after we put our jackets on and the pass was going in and out of sight. Denise and I somehow took a path to the right that wound us on the right side of a small pond before the steeper stretch. We realized this had taken us out of the way of the main trail and it was a little tricky getting back over to the left due to the large rocks that covered the area we were on. There was no real trail so we had to figure a way back over. Kind of burned up some time there.
Heading up the very steep section before the pass, the snow was coming down pretty good and a very cold wind blew. The rocks and plants had a very windblown, icy look to them like Sastrugi which makes this pretty evident. We eventually reached the pass where the temperature was well below freezing and the winds were whipping. I took a couple shots of the trail marker sign which looked pretty cool with the windblown snow and ice on it. The Schwarzhorn summit was just to our left, but the fog did not allow us to see it.
We started on our down from the pass on route to St Niklaus. It remained foggy for a while as we descended the rocky path. The path angled to the right side of the valley. I passed an older couple taking a break who brought a small group houses just below in the valley to my right. They could just barely be seen through the dense fog.
We continued bearing to the right following the mountainside. Eventually we came to a landing where Martign was taking pictures. It was an amazing view of the entire valley or "Valais" leading down towards Zermatt. The view was amazing despite the fact that there was a large volume of clouds covering the peaks of the mountains on the other side of the valley. We also watched a couple Chamois(deer-like animals) run around on the flat just below where we stood. It was a just an amazing viewpoint. We stood there taking it in for a while and Kathy and Val eventually caught up. Val took the picture of Denise and I here.
We had a snack and continued on gradually down the mountain side towards the small town of Jungen. We were hoping for the clouds on the mountains across the valley to lift, but they never did entirely. The town of Jungen was supposed to have a cable car to take you down to St. Niklaus too, which we were contemplating a bit.
Jungen was a cute little mountainside village with matching slate roofed cottages. As we came out of the woods the trail angled around the left side of the village eventually coming a small pond and picnic area. There was a nice area to view the valley immediately after where we could also see the cable car. We decided to keep pushing down the mountain on foot. It ended up being a great decision because we found a little restaurant in the narrow village pathways with a big grass terrace and the most incredible view ever! Denise asked me if I wanted to stop for a beer…Yeah…twist my arm!
We unloaded our packs and made ourselves at home on the wood picnic table overlooking the valley. There was yodeling music playing which really made me feel like I was in the Alps for sure. I ask German speaking hostess if they had any food. She said "Brautwurst and Rosti" in some Germany-English language. I gave her the thumbs up! And added a big bottle of Feldschlosschen beer too. Ahh….Life is good!
We were entertained by a group of older gentlemen hikers with a table full of empty beer bottles and wine glasses. I don't think they were hiking down the mountain. I recorded a little video of Denise and I as we were enjoying the view. We thought it was funny.
Eventually Rich from California showed and joined us. My meal came out soon after and it was the best meal ever! I put my vegan hat off to the side for this one. Rich ended up ordering the Bratwurst and Rosti meal too after seeing mine. Nate and Anne(from Seattle) showed up too … it was becoming quite the party.
We eventually loaded up and started our way down the mountain. It was a little steeper now and consisted of switchbacks most of the way. Once down into St. Niklaus we had to navigate some train tracks and then we were in the town. It was a relatively modern looking town, but it seemed pretty deserted. There was a more quaint section with more shops and dining, but most places were closed. We eventually found our hotel, Hotel La Reserve, which was on the opposite side of town. Our hotel had a pizza place which was rated as one of the better places to eat, but it too was closed.
We settled into our bright yellow hotel room, unloaded our gear, took showers, and washed our clothes in the sink. I did some research on where to eat and decided to head back into town and do some searching there. We settled on the only place that seemed open. Turns out Nate, Anne, Val, Garreth and Kathy were there. Some of the others continued on up the mountain towards the town of Gasenried for the night. We would be starting there tomorrow, but would be taking a bus up to it.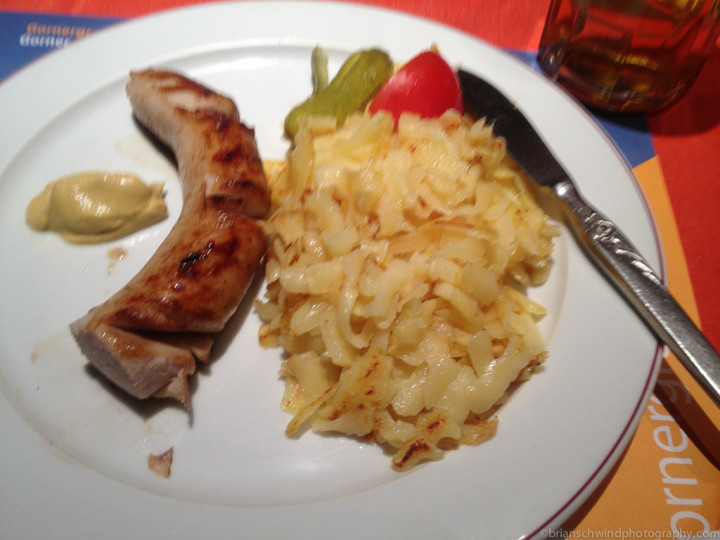 The waitress did not speak very good English so it was a bit difficult for me wife to order since she has so many special requests. She ended up having to seek help from Nate who spoke a some German. We found that we had more trouble language-wise since entering the German-speaking portion of Switzerland. I think some of that may be because we prepared a little more for the French. Dinner was ok, but not one of our best meals.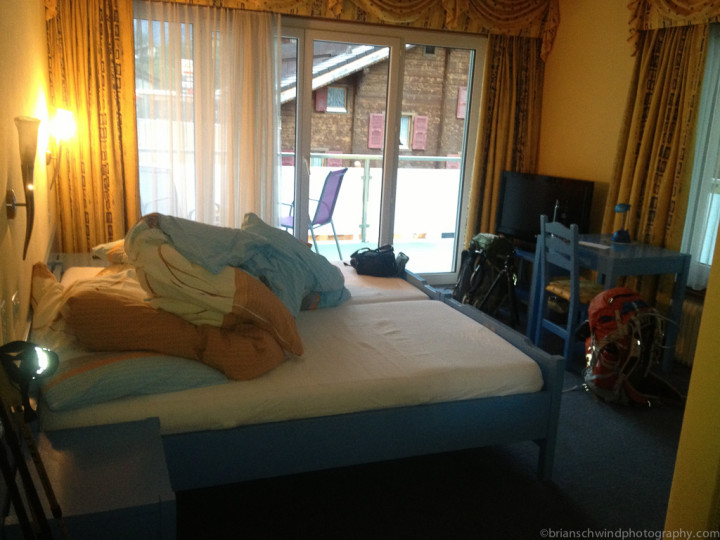 We headed back to the hotel for the night and settled in for a good night sleep. Or tried to. My side of the bed had the most enormous crater in the mattress I had ever seen. I ended up sleeping in "C" position on my side all night. We found out later on that Paul and Clare(UK) had slept in the same room a night or two later. Paul also had the larger crater to deal with. He ended up coming up with a more ingenious way of dealing with it, but I forgot what that was exactly.