I chose the Black Bear triathlon this season since had a half-iron distance and it was close to home.  I like to do a half-iron distance in the beginning of June to test out my fitness in preparation for Ironman Lake Placid which is at the end of July. This year I was trying to cut back on my triathlon-related expenses so doing a race that I can drive to really eliminates a ton of travel costs.
Saturday Packet Pickup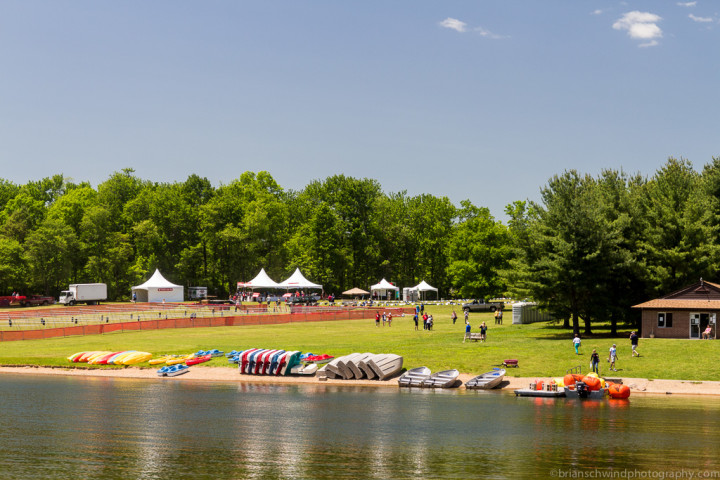 Saturday was the packet pickup for the race at the Beltzville State Park. It was a pretty uneventful packet picket with no expo or anything to make it a real worthwhile trip. They did have a warm-up swim course available in the lake so I did take advantage of that since I was making the 40 minute drive up there and back. It was a beautiful day, so I really didn't mind the drive at all.
After I got my race packet, I headed over to the beach and put on my wetsuit for a swim. The water was said to be around 65 degrees ( F )  and I found it to be the perfect wetsuit temperature. They had the sprint swim course setup with start line, and 5 buoys lined up at 100 yard increments. Each one was marked with the distance except for the last one. They were working on setting up the other distances at the time, but there was a large gap between the end of the sprint and the olympic turnaround.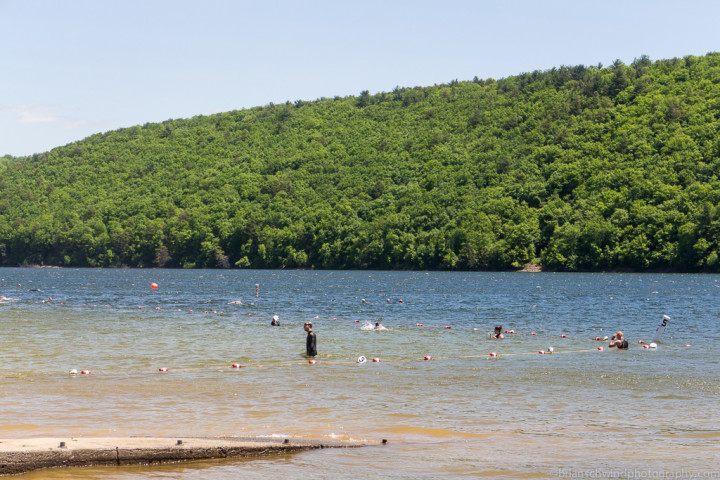 I ended up swimming the 1000 yards of the course plus what it took me to get to the start line from the far end of the beach. I tried going past the end of the sprint course but the boat guy setting up the buoys yelled at me. It was a nice swim and I felt pretty good. On the way back it was pretty windy and the chop was making things a bit difficult.
I prepared all my race gear Saturday night and loaded my bike into the car beforehand. The less stress I have on race morning the better. I noticed that I had taken my old size ML "fat" wetsuit for the swim earlier since my newer size "M" was still in the basement. I was wondering why it was fitting so loose. I had a delicious pre-race dinner of  Sweet Potato and Chickpea Curry with Green Peas and was in bed by 9:30PM.
Race Day-Pre Race
I got up around 4:45 am on race morning. I finished mixing up my water bottles filled with Skratch Labs Raspberry hydration mix and one bottle with UCann SuperStarch. I would then supplement with water on the course(see Race Nutrition Plan below). I finished packing up, said goodbye to my wife and my dog and headed north up the PA Turnpike. My wife has been working a lot lately and Sunday was here only day off that week. I told her she didn't need to spectate this race. It is an full 8 hour day and it just isn't worth her sitting around there all day just to see me whiz by for a total of 2 minutes during that whole time. It was a beautiful morning with the sun coming up and a low fog settling in the cooler low spots. And now wind! I so wanted to stop and take some pictures, but I needed to get there before 7AM. I fired up my Pre-Race playlist on my iPhone and jammed away for the ride up to Beltzville. I skipped ahead to Beautiful Day by U2, before I hit the exit at Mahoning Valley. That is my go-to pre-race song!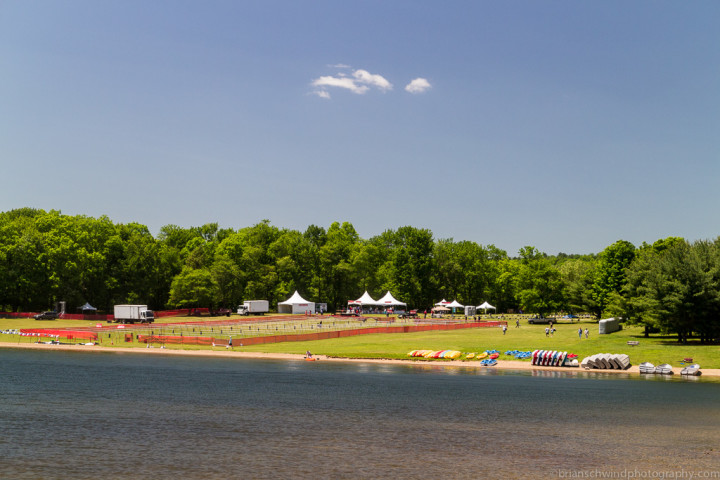 Pohopco Drive was backed up a little bit from the entrance to the park, but it moved pretty fast. They were filing the cars into the grass soccer field first and by the time I got in they directed me right up close to the lake, which is where I would usually park anyway. Sweet!  Sometimes it is better to be late I guess. I made a B line for the toilets by the beach to get that out of the way, then I could calmly get my stuff and setup transition.
I made the long walk over to transition, got bodymarked and setup my little spot. On the way to my rack, I spotted one of my Facebook friends Nikky. I had been Fb friends with her since the now defunct Ironman 70.3 Pocono Mountains when she was posting the water levels of the Delaware River, but I had never met her in person. It was nice to finally meet her in person. I wished her good luck and headed down to find my assigned rack. Most of the rack I was already filled up so I was forced to the end of the rack where the guys in there had spread out like kings. A British gent politely offered to push his stuff over to give me some room. I setup pretty quickly and then heard someone calling my name. It was my friend Kirsten who used to play ice hockey with my wife. Her partner Kim was doing the race as well and she pointed out that Kim was just a couple rows over. Kim had done the triathlon in Belleplain, NJ when I did my first duathlon, so we have always kept in touch on Facebook about our racing. Kim was doing the olympic distance race today. After setting up my stuff I headed over and talked to Kim and Kirsten for a bit.
I also saw my tri-blogging buddy Shanna from Swoon Style & Home on the walk to the swim start. We had been chatting about on each others blogs since last years' NJ Devilman race, so it was pretty cool to finally meet her in person. She is getting ready to do her first Ironman Lake Placid this year and I really enjoy following her progress and journey. She has also been doing really well in her age group with local races, so I think she is well prepared for July 27th!
So, my pre-race consisted of a lot of socializing which was fun! I find that I don't have pre-race anxiety like I used to. I don't know if that is good or bad? I am curious how Ironman Lake Placid pre-race will be this year. At least I know what to expect this year.

Race Nutrition Plan
Activity
Nutrition
Post-Race Comment
Pre-Race
water/skratch labs hydration
Vega Protein bar on arrival to venue
Bring spring water(throw away) bottle while waiting for wave start.
Swim
Lake Water(hopefully no pee!)
Bike
2-20oz bottles Skratch Labs
3-1oz servings of Chunks of Energy Chia Chunks
1 Clif Bar cut into small chunks(White Choc Mcadamia)
1 bottle of UCann SuperStarch
on course water to supplement
Clif Bar was yuk! Try Amrita bar next time instead for variationDidn't really drink much UCann. Other food was plenty. Better off with another Skratch bottle.Took one water from aid station
Run
2 8oz Fuel Belt bottles of Skratch Labs
1 Lemon Honey stinger Waffle(at start)
Aid station water
Hit many of the aid stations for water. It was very hot on course.
The Swim
I made one last bathroom stop before the swim and then waited on the beach watching all the early swim waves take off. My wave was the second-to-last swim wave so I had an hour to wait from the first wave. I cannot understand why they put the longest race last to start?? Why wouldn't let them go first so they can finish a little earlier and maybe they would actually have some specators still around when they finish.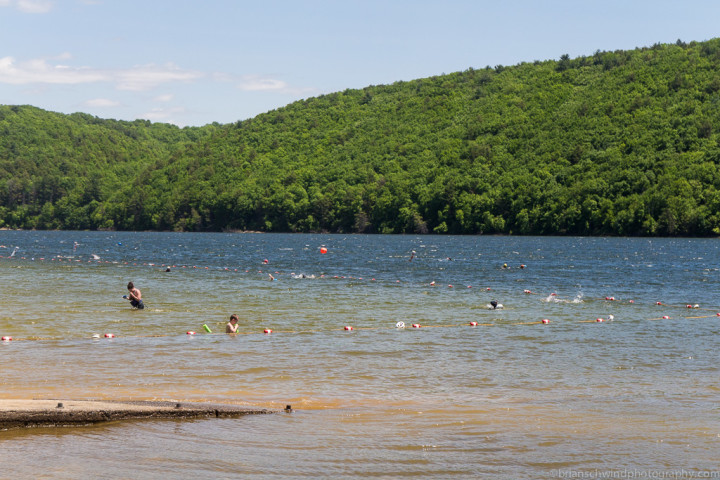 Eventually, the "powder blue" swim cap wave was on-deck and we swam out to the dark blue balls indicating the start line. I swam over to the far left side of the start and it was only about 15 seconds until they started us off. The swim went fairly well overall. I settled into a pretty easy pace and just enjoyed the ride. Every once in a while I would run up into someone, but would then quickly redirect to the closest open water area. I always seem to find these guys that zig-zag their way through the course. I really hate that because they just seem to come out of nowhere and run right in front or into you from the side. I tend to sight a lot because I am not the fastest swimmer. I figure the straighter I can swim the less effort I need to exert. Lifting my head up to see every 6 or 7 strokes is not a big deal to me. It is better than being one of those feckless meanderers that aimlessly swimming all over the place.
We swam down to what seemed to be the wall of the dam and made our right turn. My Garmin had buzzed at the 20 min reminder just past the 2nd right so I figured was on par for my usual time. I started seeing a bunch of the red-capped ladies from the wave behind passing me so the fact that I was getting "chicked" was playing with my confidence a bit. I soothed my soul a bit by telling myself they were young.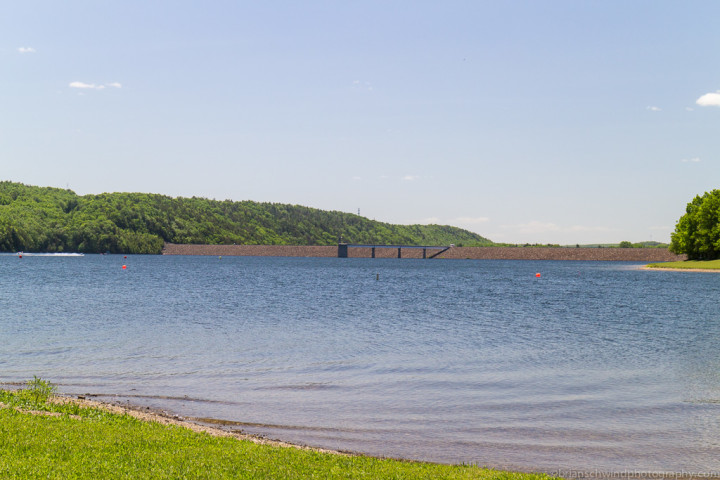 Sighting also became a bit more difficult after that 2nd turn since we were going right into the sun now. We also didn't need to follow the bouys on our right and could go directly at the one yellow one that was our last left turn to the exit. The only thing is, it was far away and I could not see it. I just followed the red cappers in front of me and kept an eye on the buoys on my right. Seemed to workout out alright. My watch buzzed 30mins just before the left turn buoy, so now I was eager to get to shore. I tried to increase my stroke a bit. I was soon spotting the lake bottom getting closer and closer. I would not stand up until my hands touched it. Bam…I am up!
As I exited the water I started searching for my zipper cord. I heard my name being called out by a male voice from the spectators to the right. Is that me?? Then I spotted Kenrick Smith waving to me. Kenrick is up-and-coming triathlon pro and coach from my area and is also founder of the Bruised Banana race report website. I don't how he could recognize me with my swim cap and wetsuit, but it was pretty cool to have someone like him cheering for you to start the race.
Lessons Learned: Need to keep swimming when zig-zaggers cannot swim straight in front of me. I keep stopping cause I get mad and I am losing time.
Swim Time: 37:21
T1
The first transition went pretty well with no major hiccups. I had socks out, but decided against them. My bike shoes are meant for no socks so they work pretty well like that. I put my shoes on at the rack instead of the flying mount stuff. That is usually more headache than it is worth. The walking of the bike to the mount area is a bit of uphill slog. Especially when all your blood is in your shoulders.  It was a long haul.  Time was not too bad considering that.
T1 Time: 2:39
The Bike
I fortunately left my bike in the small chainring and middle gear on the cassette which is perfect to start. I don't think I did that intentionally, but was happy it was there. I was pretty thirsty after the swim, so I hit the Skratch Labs juice pretty quickly and often right from the start. Once on Pohopco Drive I tried to settle into as much a rhythm as you can on that roller-coaster of a road. It was a little better this time(as opposed to my previous ride) since there was less traffic about and navigating the poor road conditions and lack of a shoulder was much easier. Being familiar with the road is very helpful since you can predict your shifts in a much more timely manner. There is lots of shifting to be done.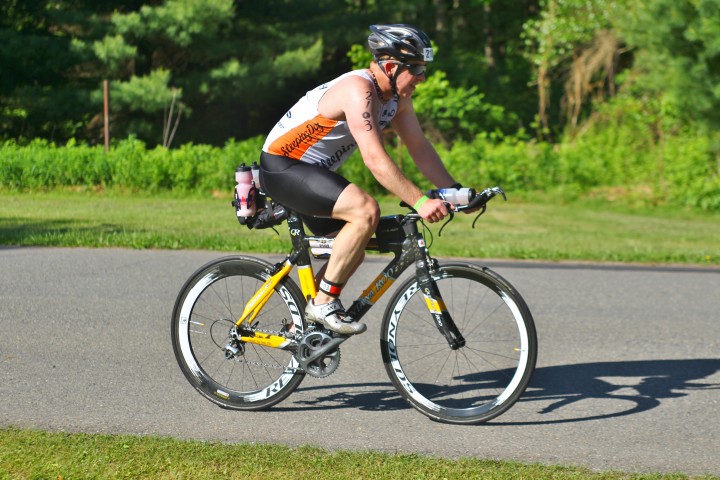 I found myself being entertained by the Endurance Multisport guy with the disc wheel who would fly past me at the end of each descent and then I would then spin by him going up the ascents. He would always climbing out of the saddle which made my quads cramp just thinking about it. That could come back to hurt him on the run I would guess. The course was pretty much as expected from what I learned on the pre-scout ride I did before and I really didn't have any issues. I managed to survive the out-and-back on Penn Forest Rd. unscathed. That is a totally nasty downhill section that is littered with potholes. It sucks and is an accident waiting to happen.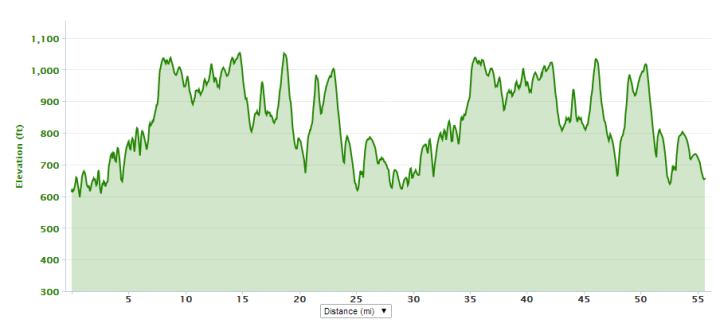 The only difference to the course was the change to accommodate the bridge out. Instead of making the right onto Owl Creek Road, we stayed straight on Deer Lane. This was a pretty nice downhill section where you could pick up some speed. I did run into a bit of a jam at the one little uphill section past Lakeside drive. The slower cyclist had decided to stay in the middle of the road and when I tried to veer left to blow by him there was a large crater of a pothole in the road!! By the time I saw it I had passed him so I was able to swing back to the right, which is where he should have been. As I did this I heard someone yell "Right!" I looked back to find two faster cyclist had decided to pass him on the right, which is illegal and obviously not safe. I had cut them off, but I didn't care cause they were in the wrong. I expected them to say something when they passed me, but they didn't since I figure they realized they were wrong.
We then made a couple sharp turns(there were a bunch of these too) and popped back out onto Pohopco Drive again crossing the bridge just before the park entrance. We then made a quick right turn onto Pine Run Road just so we could make a super sharp left to the hit the nice little steep section onto Jefferson St. Thanks CGI! We then circled back around to the park entrance and on for the 2nd loop. I remember thinking how daunting it was to have to do that again, but the second loop went pretty quickly.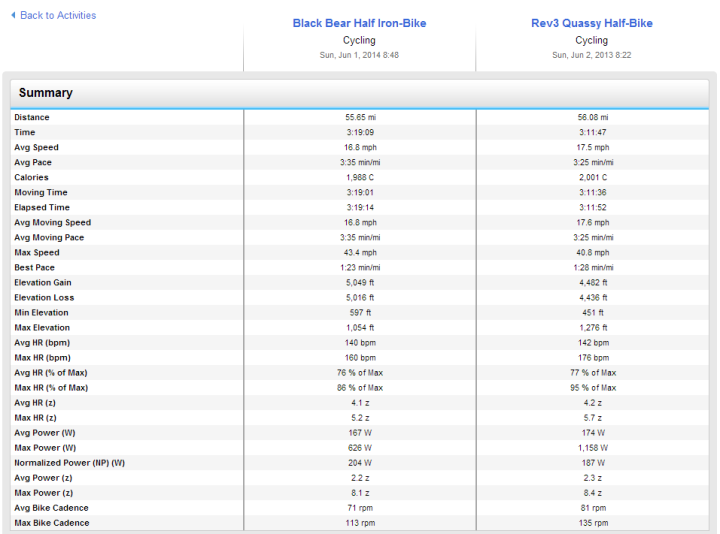 My pace after the first loop was around 17.5, so I must have slowed a bit on the second since I ended up around 16.9 overall. I felt like I was going faster the second time and their was a lot less bike traffic. I did mis-navigate one of the many potholes on Penn Forest Rd. this second time and had a bone-jarring thud of my front wheel. I kept checking my front tire for a flat for a while after that. My aid station-provided water bottle almost fell out between my aerobars too and I had a hard time getting that back in while navigating all the other potholes in the road while descending. I didn't want to lose that water since it was all I had until the run.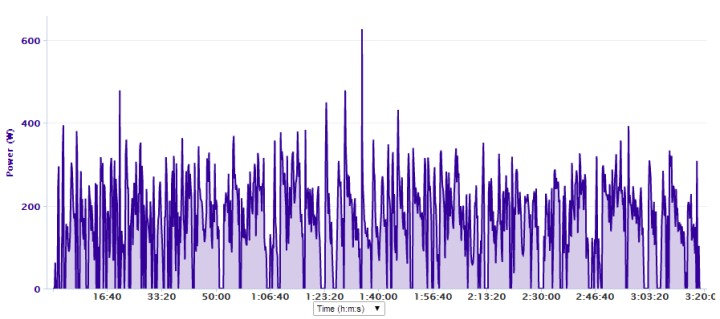 I finished up the bike wondering if I had given too much to the 5000+ feet of climbs and possibly hurt my run. My Garmin showed a Normalized Power of 204 watts for the 3:19 bike ride, which is pretty high for me given a 234 FTP. I raced the bike as strong as I could without totally dying and I still felt pretty good when I finished.
Lessons Learned:
More Skratch Labs hydration, less UCann Superstarch(for half-iron distance)
Skip the Clif Bar, more Chunks of Energy or Amrita Bar cut into pieces
Bike Time:  3:19:09
T2
While dismounting my bike, I knocked one of my water bottles off my X-Lab Turbo Wing. Not a problem. I sauntered down the hill to transition crossing over a very soft sand volleyball court. I didn't remember that on the way up? It just sucked all the momentum out of my legs…kind of an unexpected thing? Found my way to my rack space and racked my bike. Switched to my running sunglasses, hat, put socks on. Ripped one of them trying to get them over my semi-moist feet. Sneakers…forgot to untie or loosely tie them…doh! Left shoelace knotted trying to untie it(of course)! Argh! Relax…be calm…deep breath! You cannot untie a knot in panic mode! Finally undid the knot and got shoes on. Squirted blobs of sunscreen up and down my arms and shoulders. Fuel Belt…check. Run bib belt…check. Lemon Honeystinger Waffle to-go….check. Yum! And we are off…
While exiting  transition and chomping my Honeystinger waffle, I hit a button on my Garmin. Apparently I hit two of them because a minute or so later I realized my watch was stopped, but it was in the Run mode of the Multisport setting. I smeared around the sunscreen as best I could on my arms, shoulders, face and neck after my little lemon snack. Apparently I didn't so such a great job cause I got some weird sunburn around the edges of where my jersey armholes end. I wish they had sunscreen appliers at these smaller events! It was after this I realized the Garmin was stopped.
Lessons Learned: Untie or loosely tie running shoes in transition before race!
T2 Time: 4:05

The Run
The legs were feeling pretty heavy at the start of the run. No wonder because that bike was pretty challenging. The trail started out along the water and then turned right up some trails through the woods. This is were I started feeling like it was more of an XTerra race than a triathlon. At least it was shady here. I hit a short, steep little incline on the double-track going through the woods. My quads started to cramp up…NO!! I just passed Endurance Multisport guy with the disc wheel who was walking up it and started to walk a little until the cramping stopped. I settled back into an easy pace again by the time I popped out of the woods. Now it was all sun exposure as we circumnavigated all aspects of the Beltzville Dam. The first was was down the right side on a very gravelly dirt road. I could feel every rock and pebble that I stepped on. Everyone stayed in the narrow little track where the tires had pushed most of the stones out.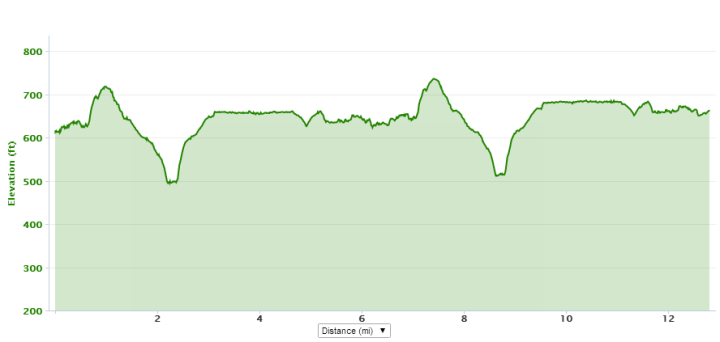 The trail then angled to the right and more swiftly downhill and the road became VERY loose stones which were hard to run on. I moved into the narrow grass shoulder to gets some better footing. The road got steeper at the end before it bottomed out onto sharp left turn to a cement road where there was a aid station. I filed up and took a couple splashes from the kids. They were really enjoying dumping water on us. I sipped on my 2 8oz bottles of Skratch Labs hydration evenly in between water stops so that the weight was always properly distributed.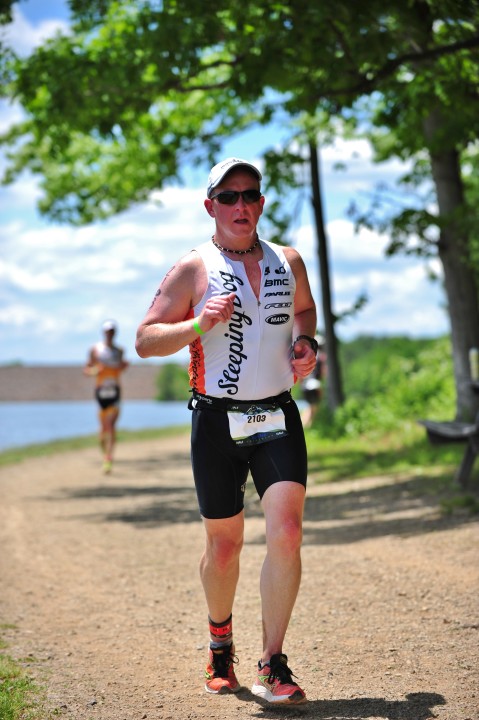 After the water stop, I looked up to find the trail leading up a VERY steep wall of the dam. What?! Holy crap! It had to be 20-30% grade and it was large loose rocks. There were a couple volunteers stationed there I guess to help people up. WTF?! I didn't even attempt to run this because it would not be worth the energy and I probably wouldn't go any faster. From there it was a steady incline up to the top of the dam. We then went back and forth across the top of the dam. There was a shithouse at the turnaround, so I popped in there quick to unload my bladder. Must have been hydrated well if I am peeing at this point? The top of the dam seemed like eternity. I think it must be a mile and half both ways. Fortunately there was a tailwind on the way back.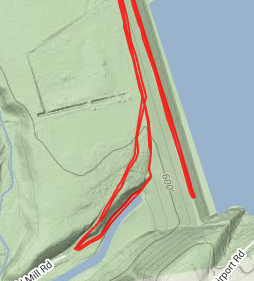 We then took another gnarly stone/dirt road down the left side of the damn almost to the water then turned around and back up to make a right. I lady in a teal one-piece tri suit passed me very easily…chicked again! Oh she had a "30" on her leg, so she has got the whole youth thing going there. That's my excuse! Ok the dam has been fully inspected now. And I somehow managed to do it without breaking an ankle! We then headed across a very flat open plain before going back through the woods we came in on.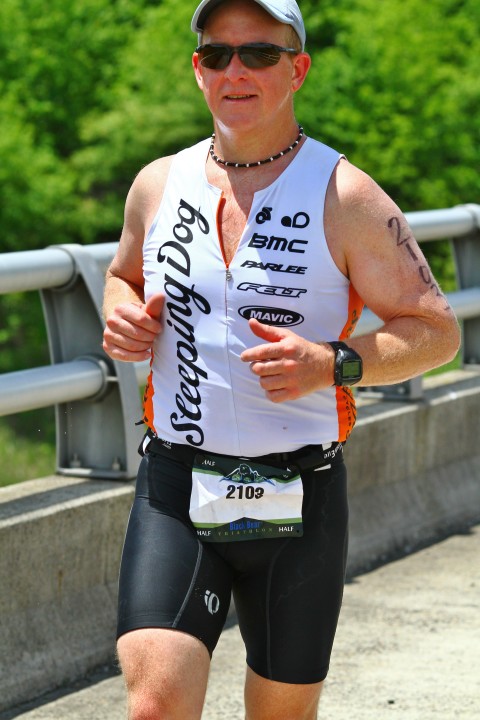 I made the turn to the right to make my second loop of the run course. The left turn to the finish line looked so inviting! I actually felt good on my second lap. I tried to stay  present take in the scenery and not focus on how far I have to go. It helps. One foot in front of the other. I walked the steeper hills and a couple aid stations to make sure the water got down my gullet. The miles ticked off. I was now getting pretty familiar with everyone in front and back of me since the whole route consisted of out-and-backs. I tried to make ends meat of whether I was getting relatively faster or slower, but it was hard to tell. I did pass one guy in my age group on the last stretch of the dam, which renewed my will a bit.
I hit the 13 mile mark right before heading into the shady wooded section. Ahh! Home stretch. It is funny how good feel at this point. Why didn't I feel like that 2 minutes ago? Running along the water, I angled to the left and stayed left into the finishing chute. It was pretty much empty with a few straggling fans along the fence. The announcer said something with "Alburtis, PA" in it and then announced my name as "Brian Schwind, with the wind at his back" lol! Not enough wind I thought! I crossed the line with a minimal fanfare except for a few golf-claps from the few remaining spectators. It was the most anti-climatic half Iron distance finish I have ever seen. Not a big deal. I got a bottle ice cold water and my very large finishers medal and walked around a bit.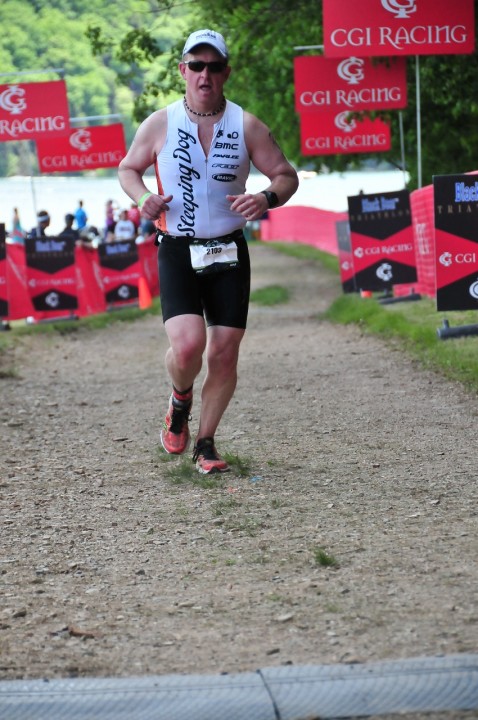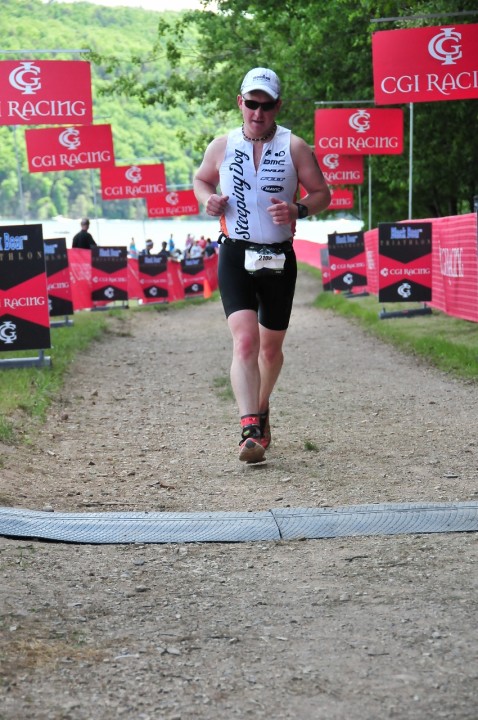 Lesson Learned: Bring mountaineering gear next time for run course!

Run Time: 2:06:51 (9:41/mi avg pace)
Overall Finish Time: 6:10:06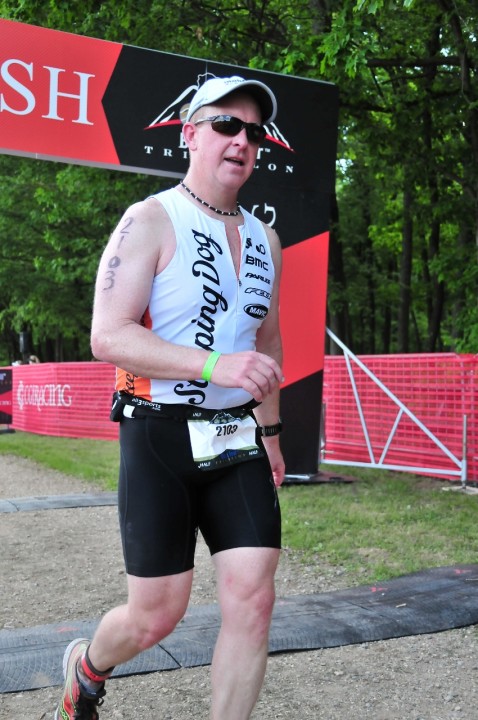 Post-Race Summary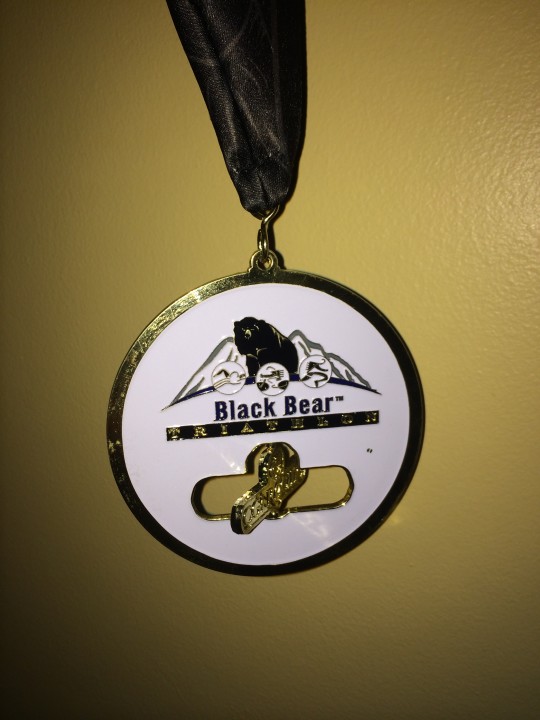 I circled back to the finish line chute to cheer for some of the folks coming in behind. I didn't want them to feel meager finish that I did. Having done a bunch of these it is not a big deal, but if this was someones' first half or A race of the year it could be pretty disappointing.
I walked around a bit after my cheering time and I found that there was a tent with bags of food for the athletes. It would have been nice if someone told me that?? It was the most laid back finish experience I have ever had. They didn't even put the medal around your neck, but just handed it to you. It was pretty heavy though. I sat down and chowed on my soft pretzel and a uncrustable PB&J which was pretty good.
I considered staying for awards, but they seemed a little disorganized there too so I figured I would not be getting one anyway. I ended up finishing 8th in my Age Group(of 33) which is alright. My actual finish time was my longest ever for a half-Iron distance, but given the course I am not that depressed about it. It is a good prep for Lake Placid and will give me some extra push to get faster. I really need to get my run speed up post-bike. I would really like to maintain a 9:30 pace at IMLP this year.
I have heard post-race that several folks were a bit disappointed by the course and the unsafe aspects of it. The road conditions are not very good and given the steep descents and still flowing vehicle traffic on the course it makes this a dicey situation. There many drivers in this area that are not cyclist-friendly and do give them the safe distance and passing speed that is necessary. CGI really needs to look into this a bit more before someone is seriously hurt. I am not sure if I will do this race again, but if I do that will play heavily into my decision.