I had the opportunity to head out to the Microsoft Build Conference in San Francisco this year. This consisted of a 3 day event so I decided to take advantage of the airfare and make a longer vacation of it. I had been itching to get to Yosemite the past couple years so now was my chance. My wife also decided to take advantage of a free place to stay and spend time in the city and visits friend who lives nearby.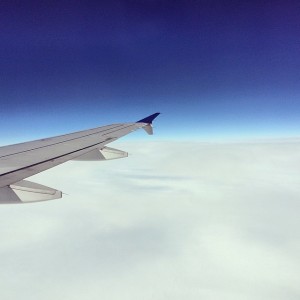 We flew out on Tuesday afternoon from Newark and arrived at SFO in the evening of the same day. The flight was about 5 1/2- 6 hours and was a little delayed due to sitting on the runway for about an hour or so. There was some bad storms in San Francisco which they were going to wait out. The flight went pretty well and they had WIFI on board which I decided to try out. Good for killing some time. We took a taxi from SFO airport to the Hilton Union Square where we were staying which was about $40. Glad I wasn't paying for that!
Since we arrived late, I didn't meet up with any of my work mates and instead Denise and I hoofed it down to the Bay and have dinner at The Plant Organic Cafe on Pier 3. I had wanted to check this place out so no time like the present. The walk was a bit longer than I had anticipated and it was getting kind of late. It had started raining pretty heavily by the time we got to the waterfront and we were getting soaked by the time we arrived. I had the soup of the day, which was a Southwest Tortilla soup, and the Quinoa Bowl with tempeh for my main course. Both items were really good. I paired that up with a Green Flash IPA and life was good. We made the walk back to the hotel, grabbing some things for breakfast at a Walgreens on the way.
The next couple days I was pretty consumed with the conference. Typically when a group from work goes to one of these conferences we go out for at least one meal together. Not this time. I did go out for a quick pizza with a few of the guys, but it was pretty low key. Most of the meals are provided by the conference, buy the food was not that great so we usually hit the food court across the street at the Moscone Center for lunch.
I did get to meet up with our one friend,
Nate
, from our recent
Haute Route trip in Switzerland
. Nate, who actually works at Microsoft, was in town for some other business and not the conference. We enjoyed a couple pints of Murphy's and chatted about our common interests. There is no shortage of things to talk about when you are both into travel, photography and software.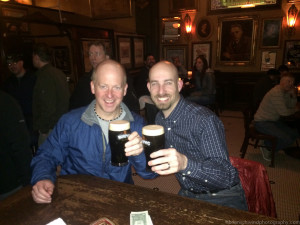 I Need to Run
On Thursday, I decided I needed to get out for a nice run after sitting in sessions all day. I skipped out on the last session of the day and made my way down through the city out to the Bay Trail that runs along the water. Running in a city really sucks! Dodging people and stopping at almost every light really breaks up the momentum. It makes me appreciate where I live!
Eventually, I got out to the Bay trail but I still had to dodge people most of the way. Fortunately, the scenery was pretty cool. Bay Bridge, Alcatraz Island, Downtown San Fran and Fisherman's Wharf where all along the way. It became more of a sight-seeing tour than a training run, so I didn't break any speed records here.
Swim Time
On the way back from my run, I headed up Mason St. to the Club One Fitness at Union Square to see if I could reserve a lane for Friday to get my long swim in for the week. They require that you reserve the lane ahead of time which is kind of nice since you won't have to worry about waiting around. The conference ended around 3pm on Friday so I got a lane for an hour starting at 4PM. It was $20 for a day pass which is kind of steep if you are just going for an hour, but in the grand scheme of things I need to get my swim in.
The pool consisted of 3 lanes of 25 yards long. It was a little dingy, but not real bad. They had towels and lockers which were all pretty nice. Gotta thank the Swim Radar iPhone app for hooking me up with a place to swim. It felt good to get my 2 miles of swimming in which kicks the weekend off to a good start.

I was planning to hook up with the work guys after my swim, but they blew me off so I ended up going with my wife down to Roam Artisan Burgers on Fillmore St. It is always a little difficult finding places to eat for a carnivore and herbivore, but Roam was the ticket. I had a killer veggie burger with the "French and Fries" topping selection and my wife was raving about her meat burger topped with an egg and no bun(I say "Yuk!!"). I paired my burger up with another Green Flash IPA which always makes everything taste so good.
Cycling the Paradise Loop
On Saturday, we headed up to Blazing Saddles bike rentals which was located just below the Club One Fitness on Mason St. I wanted to rent a higher performance road bike which they did not have at this location, but they hooked me up with a hybrid to ride down to their Columbus Ave location to get something a little nicer. My wife stayed with the hybrid. On the way down, we stopped at the pier and had a quick lunch at a couple of the little shops in there. Once at the other shop, they hooked me up with a Fuji road bike and put my pedals on it. The bike was a little long for me, but it was ok for the time being.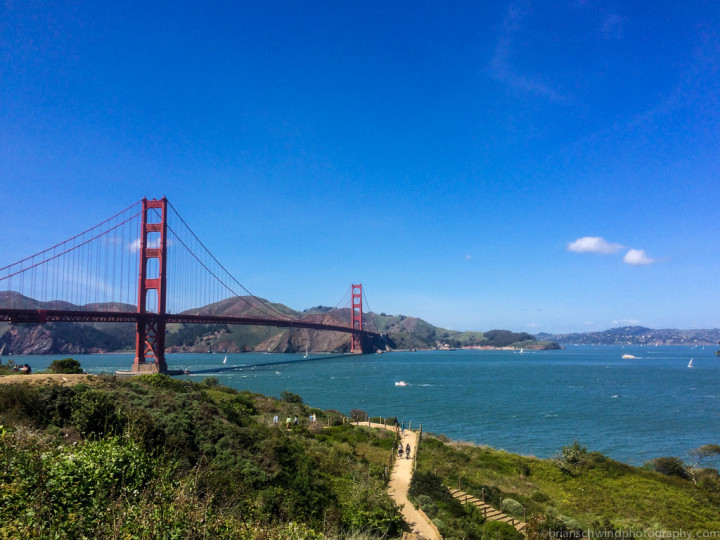 My plan was to do the Paradise Drive Loop which was supposed to be a really nice bike ride. My wifes' friend had recommended it to her and it looked like a good ride. It seems there are several variations on this ride and I created my own by getting mixed up several times. My wife headed straight down Tiburon Blvd to Tiburon while I headed north up to Paradise Drive in Corte Madera. We would then meet up in Tiburon and take the Ferry back to San Francisco. We had to have the bikes back by 7pm and the last ferry was at 6:30pm, so if we took that one we would not make it.
Denise kept riding along the Bay Trail to the Golden Gate Bridge while I picked up the other bike. I ended up catching her about halfway over the Golden Gate Bridge where we stopped to take a couple selfies. The bridge was pretty congested with bike traffic, so it was a relief to get off of it. Some guy almost clipped Denise while going the other way.
I had heard Sausalito was really nice, but I have to say it was very touristy as I rode through. It was also very congested with traffic and I was more than happy to get out of there. Much of the route after Sausalito to Corte Madera was on a bike path which was nice that I didn't have to deal with traffic. Once in Corte Madera I got a bit mixed up. One bike trail I was on had no one else on it and eventually dead-ended. I then turned back and found a turn off that I missed(Lomita Drive/Alto Sutton Manor) the bike route wound through some streets and up besides Hwy 101 for a bit.
After wandering through the streets of Corte Madera for awhile I eventually figured out that I needed to cross over the Hwy 101 overpass to get to Paradise Drive. Once on Paradise Drive it was finally a nice ride winding down the coastline. Much of the ride was also shaded too which I enjoyed since it was a pretty warm day. I received a text message from my wife along the way where she found that there were no more ferries until 6:30pm in TIburon. This would complicate things a bit with the bike returns. I would figure this out in TIburon when I got there. For now I just wanted to enjoy the ride.
I eventually got to Tiburon and met up with Denise there. I called the bike shop and they said just drop bikes off at there other store on Hyde St. We had a almost an hour to kill waiting for the ferry, so I hit one on the shops for a chewy coconut macaroon. Mmm! I ended up doing around 30 miles which was pretty lame given it took 2:30 hours. Oh well, it is a rest week and at least I am still getting some training in. How often do I get to ride over the Golden Gate Bridge and around the Bay area.
The ferry eventually showed up and we made our way back to the city. They had a little bar on board so I took full advantage and enjoyed a local microbrew IPA for the cruise back. We headed right past Alcatraz Island which was pretty cool. I took advantage of that by turning my Garmin on to record a "swim" from Alcatraz to the San Fran Pier to trick my coach. He had texted me the day before asking for a swim report from swimming from Alcatraz, so I had to play along! I am sure he didn't fall for it too long when he saw the 22secs/100 yds…I wish I could swim that fast!

We headed quickly over to the Blazing Saddles shop on Hyde St. to return our bikes. It was a bit of a madhouse with everyone from the ferry returning bikes and then trying to explain to them how we rented at Mason St., then I swapped bikes on Columbus and now I am returning to Hyde St. Hmmm…oh yea no chance of this getting messed up. I will be calling Mason St. shop tomorrow to make sure they credited my account correctly.
We then walked up the street to catch a bus back to the hotel. It was a pretty long ride and by the time we showered it was getting late for dinner. Hmmm…we ended up taking a taxi back to Roam Burgers again! Hey if it is good, gotta stick with it I guess.
Tomorrow I will be running in the San Francisco Rock 'n' Roll Half Marathon which will be a story in itself. I continue that in a separate post. That's all for now. Thanks for reading!