We decided to change things up a bit this Winter. We have been spending our Winter vacations in Lake Placid, NY for the past several years. This year we decided to give Stowe, VT a try mostly because they had much more kilometers of skate skiing trails than what LP has and I was starting to feel like I could ski the Mt. Van Hoevenberg trails with my eyes closed. This is surely not to say that Van Ho is not challenging me anymore…it surely does kick my butt every Winter! I just needed a change of scenery.
The surprising thing is we actually ended up Alpine(downhill) skiing this week much more than we usually do. That basically means more than once or none really. We ended up finding some more reasonably priced mountains to ski. We also got some nice snow midweek, which helped too. We found a nice little apartment for two to rent right in the heart of downtown Stowe. It was the perfect base of operations for the week. I have to say I was a little disappointed with the layout of the town of Stowe. I thought it was going to be much more consolidated so that you could walk everywhere. It was not. There were many places located up Mountain Road which heads north towards the Stowe Resort. We were in the most consolidated part, but we ended up having to drive most of the time to get to restaurants. Regardless, I did grow accustomed to this by end of the week.
Saturday(2/1)
We were packed up and on the road by around 9:30AM. We wanted to hit a place called The Hungry Fish in Troy, New York for some slow-food and also try to beat the snow forecast for NY & Vermont later that afternoon. Denise drove the whole way up, so I had time to play around on my phone surfing the web and stuff. Lunch was pretty good and they had several plant-based options and some locally sourced, grass-fed meats for Denise. We were also entertained by some live guitar entertainment.
We got into Stowe around 5pm or so. It was getting dark and snowing pretty good at that point. We stopped at a little health food store just before Stowe and got some snacks and things. People were real nice and the guy grew up near Collegeville.
One way to kill some time on the long drive up to Stowe…


We eventually arrived at the little apartment in Stowe and were pretty impressed from the beginning. The place was nicely furnished and very clean. Perfect place for the 2 of us to relax a bit for the week. We then headed out to the Crop Bistro & Brewery for some dinner. The place was pretty nice and fairly busy. They told us we may have to wait a bit, but everything came very quickly. They had a couple vegetarian/vegan dishes on the menu and great homemade microbrews. I was a happy camper. Our waitress, Kathrine, also hooked us up with some good local skiing info. Namely, Burke Mountain, which was $25 lift tickets on Sundays and it was about an hour east of Stowe. We were all over that tomorrow.
Sunday(2/2)
Sunday morning we got up and made some breakfast and were on our way to Burke Mountain near East Burke, VT. We didn't realize this until later, but this is the same town that is base to the Kingdom Trails mountain biking network that we had looked at going to some years ago. The drive over was long and the roads were still kind of snowy. We got there around lunch time and had lunch in their Tamarack Bar & Grill. We had a nice table overlooking the mountain. Mountain was really nice and we found some pretty decent runs with ample snow on them. It was a pretty good deal!
We made the long drive back to Stowe, showered up and headed over to the Bangkok Bistro Thai restaurant on the hill in Stowe. Food was good and pretty spicy(I did ask for that). It was Super Bowl Sunday, so no one was in the place except for us. Go Seahawks!!
Monday(2/3)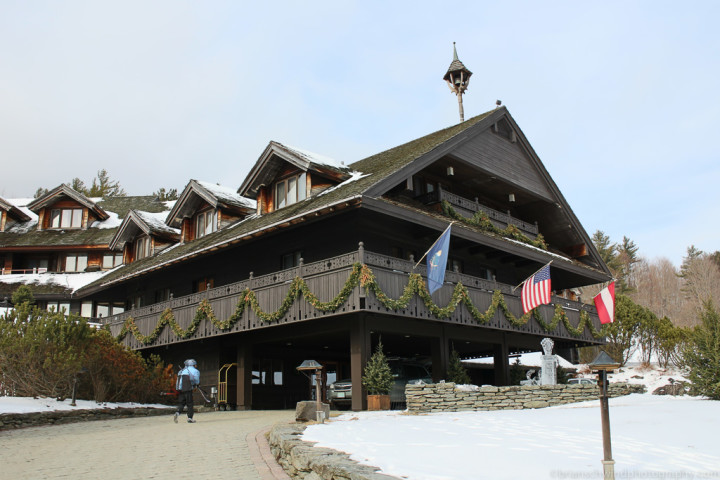 On Monday morning we headed up the road to the Trapp Family Lodge to do a little skate-skiing. Denise wasn't feeling quite up-to-snuff, so she decided to rent some classic cross-country ski's for a more relaxed day in the snow. On my first run, I headed out on the Telemark trail which was a little tough for the first run of the day and year for that matter. It went uphill right away around the back of the lodge, but eventually mellowed out a bit. I then headed down to some of the lower Deer Pond Trail section ending with about 6.5 miles for the morning jaunt.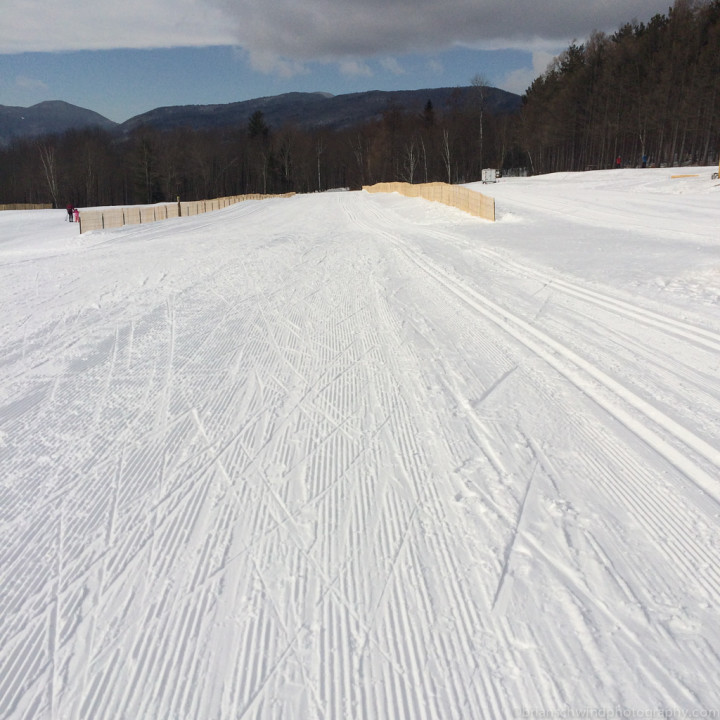 We then drove down the street to the Deli at Trapp Lodge for some lunch. We quickly realized we could have just skiied there. Lunch was pretty good and the Beer was equally good. I had a pistachio hummus wrap and a mug of Dunkel Lager, which was good fuel for the afternoon ski session. For the afternoon ski, I headed out the Luce Trail and then hooked up with the Haul Road trail which skirted the border of the property. I bumped into Denise out there but then we parted ways at the Oslo trail intersection.
"Cherish the cabin!"
– Mr. Ross(Susans' father on Seinfeld)
The Oslo trail sucked to say the least. It was steep uphill the whole way and I was dying. It did have nice scenery with the sun going down. I was planning on meeting Denise at the Slayton Pasture Cabin outpost. I eventually got there but Denise was still making her way around the mountain behind the cabin. Stopping at the cabin was a mistake as I got pretty cold as my sweat had chilled. I decided to ski out and meet Denise since the cabin was closing anyway.
For dinner we walked down the street to the The Whip Bar & Grill at the Green Mountain Inn for dinner. Food was very good and they had a nice selection of options. I had the Butternut Squash Ravioli, which was to die for! There bread was also incredible and I ate the whole loaf. What the hey…I burned a ton of calories today!!
Tuesday(2/4)
We enjoyed a nice, relaxing, and lazy morning on Tuesday. I enjoyed an extra cup of coffee while catching up on the latest the Internet had to offer. I eventually got a bit antsy and we headed out for a walk up through town to find the bike trail. It is located behind the Church in town and is well groomed for x-country and skate-skiing. It parallels Mountain Rd. and is far enough away so you feel a little bit out and about.
For lunch, we hit the Cafe on Main just down the street for a quick lunch. We enjoyed some soup and sandwiches. Denise dropped her glove over the counter and down into the store front window display. One of the skinny kids working there had to climb in and fish it out for her.
Later, I had Denise drop me off at the Stowe Cross-Country Ski Center which is located just before you reach the Stowe ski resort up Moutain Road. It was a bit more low-key than the Trapp Lodge, but was a little bit more expensive too. I heard it was more popular with the locals. I actually enjoyed the trails here much more than Trapp. They were a little more narrow(which isn't always great), but they were well-groomed and I had the place all to myself. It was a hard climb all the way out to the farthest outskirts of the area and then fast downhill all the way back. Some school kids had come out later on and came flying by me in the other direction.
We headed up the street to Harrison's for dinner. It was a little place tucked in the basement of one of the stores in town. We didn't make reservations and it was busier than we expected, so we ended up eating at the bar. I had the Vegetable Stir-Fry which was REALLY good! Denise enjoyed her meal as well, but I had forgot what she had. Their menu seemed very similar to the Whips' menu. They may be connected which isn't that surprising since they are across the street from one another. Worth a trip here, but make a reservation just to be sure.
Wednesday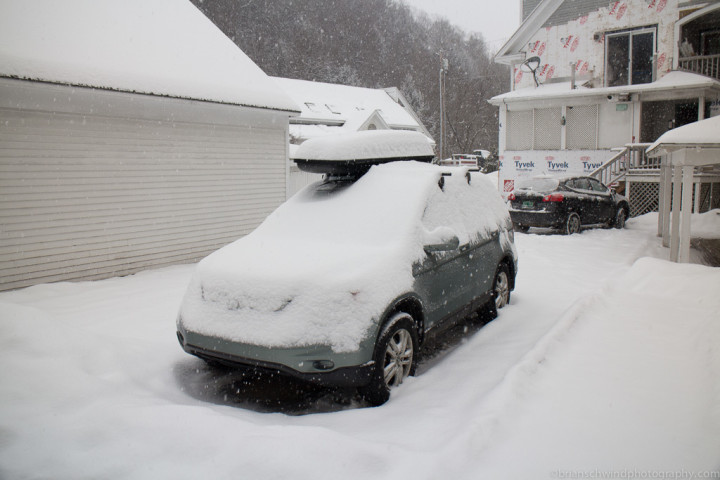 We awoke to a fresh coating of Snow on Wednesday and it continued all day. I think we ended up with a foot overall. We decided to head up Mountain Road to the Matterhorn Bar for some lunch. The place was pretty empty and freezing cold, but the food was really good. I had the Pizza which was excellent and Denise had a salad that she also enjoyed. The snow continued to fall as we overlooked the frozen stream behind the restaurant. This is probably a really killer atmosphere in Summer time too.
After lunch we headed over to the Sterling Forest to do some snowshoeing. We found our way via some unplowed roads to the trailhead at the start of the Sterling Upper Gorge trail. The plow actually came threw right behind us. We enjoyed a beautiful hike through the woods while the snow continued to pile up. We passed a few backbountry skiiers coming out as we headed in, but other than that we had the place to ourselves. The following Stowe area map provides a nice overview of the trails in the area.
For dinner we headed to The Bistro at 10 Acres Lodge just outside of town as you head towards the Trapp Family Lodge. It was a nice, cozy little place with good food. I had the Indian Vegetable Curry dish which was killer. The Stowe or Vermont Tourist board was also filming a video while we were there, so we may even make the Fox News on Channel 44 up there. Stay tuned for that. Anyway, this was a really good meal and I highly recommend it. It was also rated as one of the best restaurants in Stowe.
Thursday

We ventured about 45 minutes South on Thursday to do some skiing at Mad River Glen. MRG is a cooperative ski-area so it is owned by the public skiing shareholders. They pride themselves on preserving the traditional ski-area style complete with a single-person chair lift and NO SNOWBOARDERS!! (A beautiful thing!). They also have no snowmaking so they are dependent on the weather and getting good snow. Since we just got blanketed with a fresh foot of the white stuff, we figured this would be a good day to hit it. It did not let us down.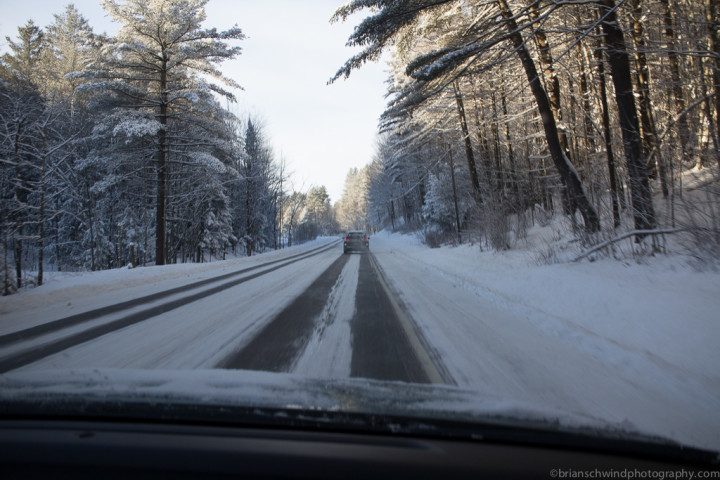 We found some really nice runs with ample snow for some fine skiing. There were a couple bad ones and some barespots here and there, but nothing bad. The barespots were also grassy and not rocks, so it was not a big deal. It was also a beautiful day too. The lift tickets were only around $47 each if you purchased them online, which we did, so that was a nice little bonus as well. I will let the pictures say the rest…
Denise shreddin' some turns on our favorite run of the day. It was the worst run to get to though.

 For dinner we headed back to The Crop Bar & Grill again. It was much less crowded this time, but the service was twice as slow. Hmmm. We sat in the bar(the nicer one) area this time. There were a handful of very loud drunkards at the bar when we first got there, but they soon left and things got back to normal decibel levels. For dinner I had asked if they could prepare the Chicken Green Curry dish without the chicken and put some of the veggies from the Winter "Spaghetti" Primavera in the dish instead. The waitress said no problem. While it was a little more tasty than the Winter "Spaghetti" Primavera dish, it didn't really taste at all like Green Curry. Not sure what it was. I did eat it and didn't complain since I was pretty hungry. I wasn't totally impressed with this place this time.
Friday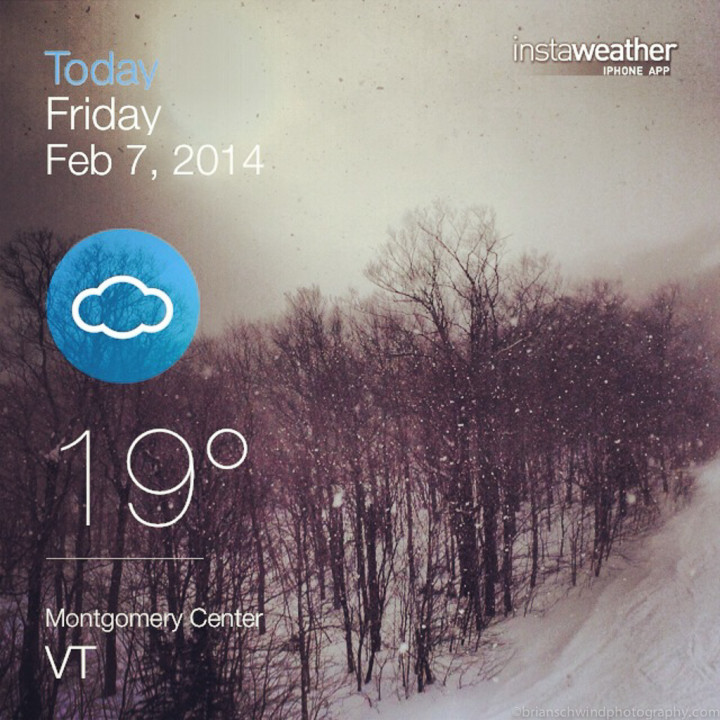 For our last full day in Vermont, we headed north towards the Canadian border to ski at Jay Peak. My wife always has horror stories about when she was young and here with family. It was apparently excruciatingly cold then and she has not forgotten it. Well, Jay Peak did not change too much…It was COLD!! Them temperature was actually much higher than yesterday at Mad River Glen, but the wind was brutal and it it was snowing most of the morning.
We payed for our most expensive lift tickets so far(~$70) and stood in the long, slow line for the tram to the top of the mountain. Fortunately, there was an entertaining gentleman ahead of us to listen to the whole time. We eventually got to the top and it was so brutal! Really high wind, snow and freakin' cold. I could not even see my way down the trail.  We ventured around the mountain to find some more protected runs and eventually found some on the western side of the mountain.
Finally lunchtime arrived and we headed to Alice's Table restaurant for some lunch. I had a extra beer because I really was in no hurry to get back out again to ski. Denise decided she was done, but I was venturing out for a few more runs. I headed up the eastern side of the mountain. It wasn't too bad at first but then I came up over a ridge on the chairlift and the wind was brutal again. Ugh! The chair was swinging side-to-side it was blowing so hard. I made two runs that pretty much sucked and then I had enough.
We headed back to The Bistro at 10 Acres again for dinner. It was another good dinner there. Pretty consistent. A bit more crowded this time. We had made reservations on OpenTable which I would recommend, especially on a weekend. OpenTable is great for easily making reservations via the web and we use it a lot, especially when traveling. Also, here is a listing of all the Stowe Restaurants on OpenTable.
Saturday
Saturday morning we packed up and started on the long drive home. We stopped over in Burlington, VT to do some shopping at the Eastern Mountain Sports store which had a huge sale and we had some gift cards to use from Christmas time. Next we stopped for lunch at Magnolia Bistro in downtown Burlington. It is hidden away in a basement of a back alley building, so it is a little hard to find. It was very busy though and the food was delicious. They had all local, organic foods and plenty of veg-options.
One thing with Vermont is that almost every place is local and organic. It seems to be a given there. It is great! Most every place had some veg-only options too. I wish PA would get with the program with that stuff. VT almost felt like Europe in this respect. It was a great week with plenty of Winter activities. I took my running and swimming gear with me, but I never really needed it. There were so many other activities to do to take their place. There will be plenty of time for that stuff during the rest of the season.
The drive home was not too bad. Of course I wasn't driving either…ha! We stopped in Clinton, NJ for dinner at one of our favorite Thai restaurants, Pru Thai. A good ending to a great week.
Thanks for reading!