Ok, I have been slacking big time on the posts here. I actually had aspirations of catching up during our recent winter vacation, but was so busy skiing and snowshoeing that I never even got one out. Since I have been home we have been getting bombarded with snow, so I have been busy shoveling away.
So all this shoveling got me thinking. How much effort does all this shoveling require? You know like calories, watts, and heart rate. Can I include this as training in my Ironman training plan? So armed with my Cycleops PowerCal power/heart rate monitor and Garmin 910xt, I decided to try to quantify it.
Here is a video from Day 1 of Winter Storm Pax…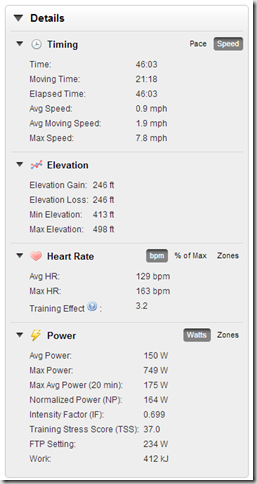 Day one was pretty easy. The temperatures was below freezing, so the snow was nice and fluffy making for a pretty easy job. I then uploaded the data from my Garmin after the first round of shoveling on day 1. Here you can see that in 46 minutes of shoveling averaged 129 beats per minute and normalized average power output of 164 watts. That is a fairly decent workout. If comparing that to a run or bike it is probably a Zone 2 or low Zone 3 aerobic or endurance type workout. The TSS and IF indicate about the same. I think that would be good enough to make up for the swim workout I missed that day. It also said that I burned 411calories too(not pictured), so I can have a little extra snack on top that too!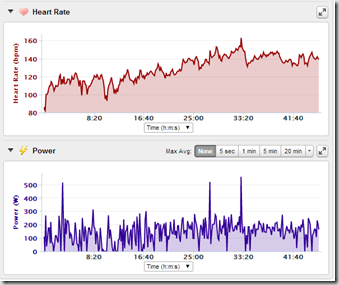 My heart rate may have also been a bit high since I was pretty jacked up on coffee while I did this too.
Day 2 of Snow Storm Pax…
The second day of shoveling was a bit more difficult. We had gotten a sufficient amount of rain, sleet and ice during the afternoon and then the snow in the evening was very wet. I was up early so I could clear the driveway for my wife to get to work. I attacked the end of the driveway first since I knew that stuff would weigh a ton. It did! I was also running out of places to put the snow, so I had to toss it higher and farther than before. Not cool. Anyway I eventually completed it in about the same time as yesterday, except I didn't include the back porch in this one.
My heart rate was surprisingly lower this time. Must be due to having a little less caffeine coursing through my veins today. Since the PowerCal calculates power based on a heart rate algorithm, my power was also a bit less. Intensity Factor(IF) was fairly close though. I also burned about 400 calories here too.
Now I at least have a idea of what type of workout shoveling snow is. At the end of the day, it is still a stress on your system and you need to take that into account when training. It could get you an extra nap too!