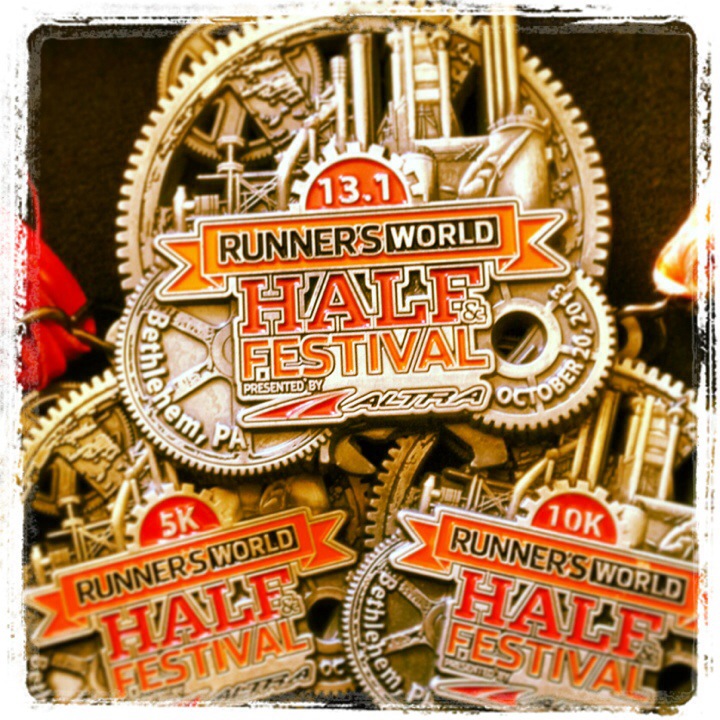 There was a little bit of a void after coming off of my first Ironman with nothing new to train for. I heard about the Runner's World Half Marathon & Festival that was coming up in mid-October which had a 5k and 10k on Saturday and a half-marathon on Sunday. They also had the "Hat Trick" which allowed you to compete in all 3 events. This sounded like a pretty unique test of speed and endurance and the timing seemed pretty good as well, so I signed up. It definitely put me back at ease to have some other event to look forward to. The event is also held in Bethlehem, PA which is only 30 minutes or so from my home.
We had returned from our fairly demanding little 14-day Haute Route trek through the Swiss Alps in mid-September. With a few days of recovering from that, I was left with about 3 good weeks of training to prep for the "Hat Trick". I was still carrying a pretty decent amount of fitness so getting back to my previous fitness level was not too big a deal. The problem was I was carrying about 10 extra pounds of weight from my 2-week diet of cheese, some meat and beer left over from our little Swiss excursion too.
I didn't have too much problem getting back to eliminating the meat from my diet again, but the cheese and beer were a little more difficult. I had regained my taste for pizza again and after finding a local Italian eatery that made authentic Italian pizza and even uses imported Italian flour, I was not able to wean myself off of that yet. The same place had a local Pumpkin Ale that was equally scrumptious to help me maintain those extra 10 pounds.
Anyway, the training had gone fairly well during the 3-3.5 half weeks leading up to the Runner's World event. I was fairly confident that I could that at least post a PR 5k time, since I hadn't run one in several years and the last PR time was done in the middle of a 100 degree day. My hope was to not overdo it for the 5k and 10k, and save something for the half-marathon on Sunday and possibly get a PR there. The other thing is that I thought if I could be at all competitive for the Hat Trick division, that I had more chance of gaining time in the half marathon given it is longer.
I got over to Bethlehem on Saturday morning around 7am and parked a few blocks up from the Steel Stacks complex at the recently refurbished Bethlehem Steel property. It was a pretty brisk morning with temps in the low 40s. I decided to keep a fleece on and head down to the race. After walking around a bit I was unable to locate any gear-check area, so I quickly jogged back to the car and threw my pullover back in the car. I tried to keep jogging to keep some body heat going. I made it back to the start line in plenty of time.
The 5K
They did the usual pre-race chatter and then the National Anthem was played by a violinist. It was pretty awesome! W were then escorted by the esteemed Bart Yasso down the street away from the starting arch to some other less obvious start line about 50-100 yards away. hmmm…Ok? We then got the start horn and we were off.
My goal was to just maintain a steady 7:00/mi pace for this. I thought this would give me my PR without totally wrecking my legs for the other races. We soon hit the ramp to the Fahy Bridge which started the hilly section of the course. We then ran around the Bethlehem library on the north side of town and then back over bridge again. Once over the middle of the bridge is was all downhill or flat until we made a right out to Daly Ave and headed up towards the Sands Casino before making a left back towards the Steel Stacks finish line. I averaged 7:16 for the race which I was pretty happy with. I willingly let off the trigger a bit on the last mile when I realized that I was pretty much going to PR at that point and I wanted to save a little energy for the next event. I finished with a 22:45 which beat my previous best time by over a minute.
The 10K
I had over an hour until the 10k started, so I had some time to chill a bit before the 10k.  I ran back up to the car to drop off my 5k finisher medal and refuel a bit. It was good to keep moving too so my legs didn't get all stiff. I also threw on some clothes just to help stay warm. Before I knew it was time to head back down for the 10k.
I got back to the start line area in plenty of time so I could hit the port-a-john before the start. I walked around a bit and chatted with some other runners I knew from work. It was getting close to start time so I made my way to the start line. I lined up in the 8:00 min/mi area since I figured that was about where I was planning on running. If I felt good I may pick it up. We were then seranaded by a young, local girl with a amazing voice to "God Bless America." And then we were off.
The 10k followed basically the same general direction as the 5k except that it extended out a bit. We headed up closer to Lehigh University on the South Side and then up Main St. on the North Side of town. It was a bit more scenic obviously than the 5k since there was just more to see. It went pretty well and I think I ran a relatively consistent race. My last 3 miles were a bit quicker than my first 3 which I was happy about. Some of that could be due to the more downhill grade of the last 3 miles. I missed PR-ing by around 40 seconds with a time of around 49:40, but I really wasn't trying to PR anyway. I still had a half marathon to run tomorrow so I wanted to try to save something for the next day.
 The Half Marathon
I had a much better nights sleep on Saturday night before the half marathon and arrived back on the South Side of Bethlehem ready to run. It was another brisk morning in the 40's, which was perfect running weather again. The half marathon started up by the large steel sign for the Sands Casino which was a bit farther away than the 5k & 10k start line at the SteelStacks complex. I started following the masses up the sidewalk, but then noticed the paved path through the Bethlehem "Greenway" on the other side of the street. I jogged over there and then jogged my way up to the start line. My bladder and started to feel ready to explode by the time I got up there and I was hoping there would be some toilets available. I eventually spotted them down a side street and the line was fairly long. While standing in line, two ladies behind were commenting about a couple of unusual looking porta-a-john's over to the right. I thought they were handicap stalls, but turns out they had trough urninals on both sides. Awesome! And no lines too! The ladies were whining about it not being fair, but what the heck, you just gained a spot closer since I moved out of your line??
I then made my way over to the start line after relieving the pressure in my bladder. I stood around the 8:00min/mi pace area and eventually it started to get packed in as everyone assumed their places. The horn blew and we were off. It was a downhill grade for the first 3/4 miles so, so I was going a little faster than what I was planning on averaging for the run. I was hoping to average around 8 min/mi pace which would secure a PR for me. My prior PR was a 8:06 avg which was at St. Lukes a few years back.
We eventually turned left and headed uphill towards Lehigh University. From here on out it would be primarily uphill for most of the race. Somewhere I heard someone say it was mostly uphill until mile 8 and then it was all downhill. So I would try to hold 8 min/mi to there and then let it rip after that. I was trying to stay just ahead of the 8 min/mi pace group but they soon got ahead of me. I vowed to myself to keep them in close proximity so that I could easily get by them again. We crossed the bridge to the other side of town and made our way up Main St. The 8 min/mi pace group was slipping a little further ahead.
We then headed downhill towards the Monocacy Creek and flattened out a bit while flanking it on the right. We then hit Elizabeth Ave and Schoenersville Road and things got a little rough. It seemed like a never ending uphill slog and the 8 min pace group slipped further and further away. My 7:55-8:00 pace slipped to 8:20-8:24 and I my legs were screaming. The muscle soreness from yesterdays' events decided to present itself. I was feeling a PR slowly slipping away with each incline. Every bit of flat or downhill relief was followed up with a nice energy sapping uphill. I could feel my mental state slipping into more negative self-talk. Not good.
I decided to just try to hold on as best I could. Mile 5.5 to mile 8 were brutal. My legs screamed for mercy but I just kept pushing as much as I could. I did slow down to a walk during one aid station just to get some water down without splashing all over myself. I figured what the hell, I am not PR-ing this now. Probably a mistake.
I finally hit mile 8 and thought "oh finally, all downhill from here!" Not! Yeah there was downhill, but also uphill too. The thoughts of hearing it being easy from here and it not really messed me up. Miles 8-11 were bad. I was struggling to keep my pace and actually was feeling nauseous too. I even had thoughts of packing it in and walking.
When I started approaching the Bethlehem Library complex, I finally realized the self-defeating thoughts going through my head. I started to mentally challenge those thoughts and reverse them into positives.  The course had now started downhill and flat and I began to pick up the pace a bit. Even though I thought a PR was out of the question, I committed to at least finishing strong and negative-splitting the last couple miles. I now began to pass people. I passed a couple people that had passed me earlier in the race which added to my motivation.
It was all flat through the old Bethlehem Steel complex and I only had one gradual uphill to go right before reaching the Sands Casino. I maintained a sub 8:00 pace held it through to the finish line. As I made my way down to the flaming arch finish line, I could see the time clock showing 1:46 and change. My stomach sank…My half marathon PR was a 1:46:41. I realized that I could have possibly beat that time. Ugh!
I crossed the line at 1:47:10! Only 29 seconds short of my PR. If only I wouldn't have walked that aid station and maybe pushed a little harder on those hills? I was so focused on my average paces for each mile that I didn't really take into consideration the overall time. 29 seconds is not much time over 13.1 miles. Oh well, it was not meant to be I guess.
The one factor I also forgot about was that I ran 5k & 10k the day prior and even PR-ed 5k, so coming 29 seconds off my best half time is not too bad considering that. All-in-all it was a great event and I would consider doing it again. Very well run and organized. It was also great for helping my push the boundaries of my running speeds too. One area I would really like to improve for Ironman next year.
Post-Race Recovery
The week after the Runner's World Hat Trick I was extremely sore. I definitely recruited some muscle fibers in my legs that had not been utilized much before. I did not run at all the week after and gave those muscle ample time to recover and grow a bit. We can save those for Lake Placid 2014 and training for it. Next up, we are planning on running the Cooper Norcross Run the Bridge 10k on November, 3rd for my wifes' and my birthday. It starts in Camden and runs back and forth across the Ben Franklin Bridge and then finishes up in Camden. There are usually about 4500 people in the event so it will be one of the largest events I have participated in. Not looking for any PR's in this one I think. Just enjoy the day and the fact that I am another year old and still in the best shape of my life!
Thanks for reading!