Saturday morning I had to be in town by 9AM to register for Ironman Lake Placid 2014. Yes, I am signing up again before even having done it. This is partly an insurance plan if things happen to go awry tomorrow. I have encountered this before with Ironman Pocono Mountains 70.3, my first half-Ironman distance, a couple years ago. My left crank arm came loose on my bike and I was forced to DNF(Did Not Finish). It was pretty devastating since I had trained all year for this race. Fortunately, I was able to find another late season race in Miami to do that month.
I made my way into town and headed back to the Lake Placid Conference Center for 2014 registration. The line was coming out the door and winding up the hill on Olympic Drive towards the Crowne Plaza hotel. As I made my way around the bending line, my coach, Scott and his family were just getting on to the back of the line in front of me. This made the long wait go much quicker since we were chatting the whole time. Before we knew it we were in room where the registration takes place. I think it took about an hour to get in there.
I was eventually put into another line for a registrar volunteer. I finally got up to the registration table and gave them the info and my credit card to pay the $742 race entrance fee for next year. Yikes!! Does this go up every year? Jee-whiz! Then the computer that the registration volunteer was using crashed during my transaction. Great! Is this a sign I should not be doing this or what? They brought in the supervisor girl and she straightened things out and made sure that my charge did not go through. Then we tried again. This time everything went through ok. I am in for another year. Would I regret this tomorrow?
On the way back to the car, I stopped into the Ironman store and picked up an "Ironmate" t-shirt Denise was looking at yesterday. I then headed back to the house to finish prepping my bike, bike gear and run gear bags. Fortunately you can access your bags again on race morning to put your nutrition in there. I needed to drop this stuff off in transition between 10am and 3pm today, and then after that I was done going to town until race morning.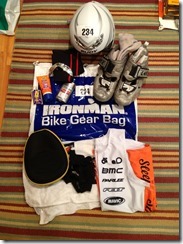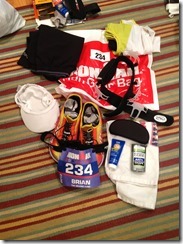 We headed back to town and Denise dropped me off at transition in the speed skating oval. First, I took my bike over to the bike racks. Having a low number, like 234, comes with some nice perks. My bike and gear bags are right in the front and very easy to find. I was 2 rows away from the pros. I hung my bags on the S-hooks on the dual level bag racks. I also made sure to double over the top opening of my bag and tying it off to prevent any rain from seeping inside. That's it…next time I would be here would be race morning.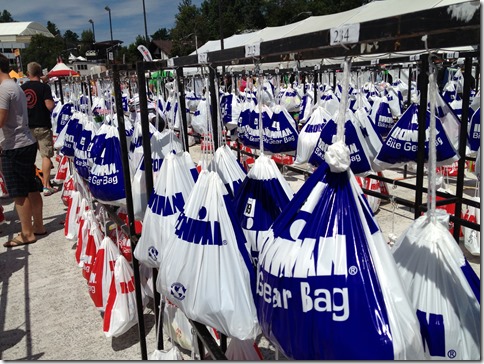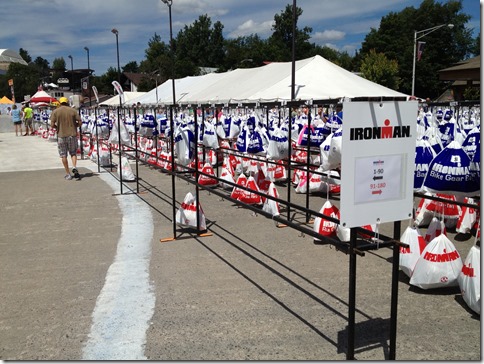 I met back up with Denise and we headed down to the ADK Café in Keene for some lunch. I had a veggie burger and some ADK Fries. We then took the long way back home following the Ironman bike route back, minus the out-and-back to Ausable Forks. It was nice to just review the course again before the big day. It is a gorgeous drive too.
The rest of the day we just chilled back at the house. Our hosts, Dan & Wendy, have a nice little yard with picnic table and Adirondack chairs, so we took full advantage of them and just chilled out for the rest of the day. We did some reading, listening to some tunes, and chatting with Dan & Wendy for a bit. Denise had a glass of wine while I enjoyed a couple non-alcoholic Old Milwaukee's.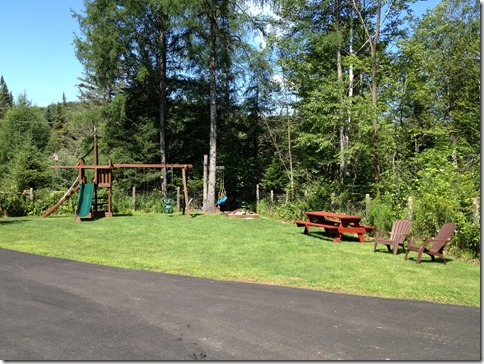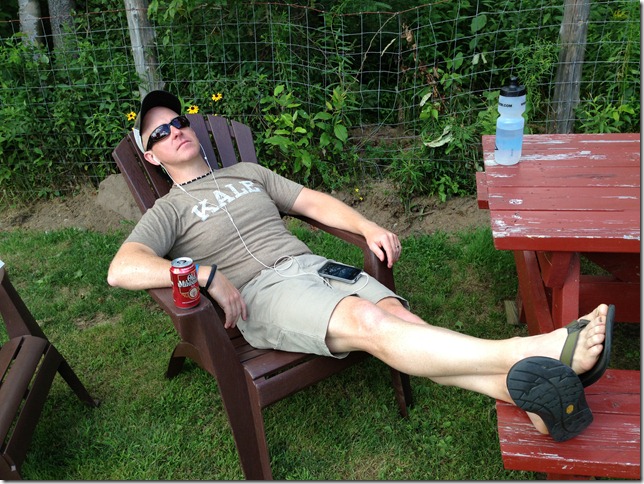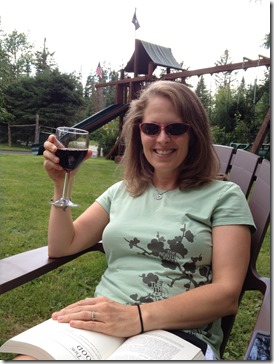 My parents had arrived in town in the afternoon and they stopped by to say Hi. They had brought our dog, Yuki, along too who was barking away at Dan & Wendy's dog Tucker. Tucker is a big Golden Retriever who is one of the gentlest dogs I have ever met. He was so good with Yuki. Yuki gets a little defensive with bigger dogs after being attacked a couple times now. Eventually, he chilled out and realized Tucker was no harm.
My parents headed back to their place and we started making some dinner. I made my old stand-by, Chick Pea Sweet Potato Curry, which I got from the No Meat Athlete website. It is just packed with good stuff and the perfect pre-race meal for me. It has a little spice, but nothing that really bothers me. It was a little late for a pre-race dinner, around 8pm, but  it ended up being ok.
I was in bed by around 9PM and fell asleep pretty quickly. Tomorrow was the big day. I cannot believe it is here already.