This is an update since my previous gear review post on this product and also the post where I compare the power output versus the Kinetic inRide power. It appears that the PowerCal company is now PowerTap instead of the former CycleOps. The weather has been very conducive to riding outdoors for the last few months, so I really don't have much data on comparing this device to another power meter. It seems pretty consistent and it is all I have to go by, so for me that works.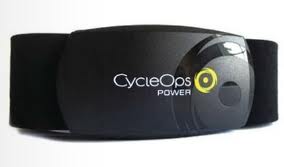 Biking and Power
One area that I do see an extreme difference is when comparing to other riders on equivalent segments in Strava. Below is one example of a speed run segment in my area shown below. My top result is highlighted below in between others for that segment. As you can see for roughly equivalent speeds, I putting out 201 watts compared to everyone else running around 270 to 290 watts. Hmmm? 70 to 90 watts off? Now most of these powers were calculated using Strava's algorithms, but the entry just above me used an actual power meter of some sort. That power meter seems more inline with what Strava is calculating for others compared to the PowerCal. So again, while the PowerCal is consistent, I don't believe the accuracy of wattage is very good.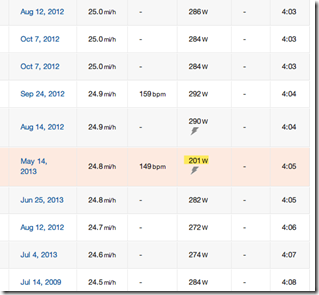 Problems on the Run
I also use my PowerCal for monitoring my heart rate while running. This is one area that I have had the most issue with this product. It appears to "flip out" frequently at different times during my runs. What I mean is that the heart rate just goes crazy and maintains a spiked reasding well outside my max heart rate. The first couple times this happened I kind of panicked at first, thinking I was having a heart attack or something. Eventually I realized it was just the unit. I always use a gel for the contact patches to help eliminate these spikes, but it doesn't really help. I have also tried new battery, tightening the strap and taking the unit off for a few minutes. The latter seems to have the best affect on resolving the issue. You can see from the heart rate graphs below from my runs what this looks like. The strange thing is that it doesn't occur on bike rides. It could possibly be from the up and down motion of running.