The alarm went off at 5AM on Sunday morning. 5AM has become a normal time for me to wake up anymore, even on a Sunday. Today was the 2013 St. Luke's Lehigh Valley Half Marathon. I had run this race once before, but his time the goal was getting my wife to the finish of her 1st half marathon. A task we thought would not have even thought possible a year ago. Dealing with fatigue issues, she had trouble running a mile a year ago. Well, she could run the mile, but she paid dearly for it afterwards. But through diet and lifestyle changes she has made it through the training, granted a few aches and pains, but today she had the chance to complete that goal.
I had run this race for the first time back in 2010 while on the path to my first olympic distance triathlon. It was a cold, rainy miserable day but I still managed to squeak out a 1:46 half. Today it was really just a Sunday training run for me. I had been running this distance every Sunday for the last several weeks in prep for Ironman Lake Placid, so covering the distance was no different than any other week. It was nice though to be focused on someone else's goal for a change. Especially for someone that eagerly goes to all of my triathlon events, lasting waiting many hours, for the couple of minutes that I pass by in transition to the next discipline.
Before we knew it was 8:00am and the race was starting at 8:10am. We started to panic a bit. Denise really had to go, so there was not many options for her. We stood there for a few minutes more and then as the other lines next to us thinned out. W could see even more toilets with what seemed to be no lines. I told her to run up there and see and if she was not back in a couple of minutes I would be up. Sure enough, she never returned and I ran up there right into a toilet. Ahhh!
We met up outside the toilets and booked around to the other side of the school. They still had not started and we jockeyed our way right up to the corral we needed to be in. And then the starter said "Go!" Nice timing.
There was a ton of people running and all you could see was a sea of runners filling the street sloping downhill from the starting area. We slowly weaved through the masses until we found an area that was paced similar to us. As we headed out along Cedar Beach, the 5k runners were coming back along a narrow chute bordered by an occasional orange cone. Several half-marathon runners had spilled over into the 5k lane and one 5k guy yelled at HM guy to get out of the way. My manager, Steve, was running in the 5k, so I was hanging by the chute looking for him to come by.  I gave him a shout as he flew by at blazing speed(brown-nosing here 🙂 ) and then blended back into the masses of running to catch up with the wife.
We made a left up Ott St. lined on each side by the pinkish-purple blooming crab apple trees and then another quick left down through Cedar Beach Park. We started settling into a steady rhythm after cresting the little hill on St. Elmo St. I had set my Garmin screen to show average pace for overall, lap and current. All three were showing 9:11min/mi. We maintained that pace for the entire stretch down Martin Luther King Boulevard.
We hit most of the rest stops for water and I ended up getting caught up in one for a bit and had to catch back up with Denise again. The run down MLK Boulevard goes pretty quickly since there is a lot to see. Both directions of runners are utilizing the entire street in a UK driving fashion, so watch the other runners coming the opposite way keeps your mind distracted from the task at hand. There were some people in crazy costumes, fireman in full gear and even a couple people I knew. There are also several bands playing along the way jamming away some pretty good tunes. There was apparently another girl named, Denise, running behind us who apparently knew many spectators. This was driving my wife bonkers since she kept hearing her name called all the time. Before we knew it we were crossing the little humpy bridge at the halfway point and into the gravel paths of the parkway. Time on clock said 1:00, but my watch said 0:59 due to the gun vs. chip time difference.
I run down the parkway pretty frequently, so this is like home sweet home. We continued to tick off the miles still maintaining our 9:10 pace. We hit the hilly section right past the Police training grounds which slowed us down a bit. We did start to pick it up a little bit after the halfway point, but not too much. I told Denise that if she wanted to pick it up more that I would let her set the pace. She indicated a slight niggle in her calf, so she wanted to wait a bit.
As we approached the covered bridge crossing the Little Lehigh Creek there were tons spectators lining the sides of the trail. It was pretty loud. I was scanning the crowd, but didn't see anyone we knew. We made our way through the covered bridge watching each foot step on the uneven boards comprising the floor.  I mentioned to my wife we had lost some time with the hills and I think that pushed her a bit. We passed a guy singing Bing Crosby-like tunes along the way, which was kind of different from most of the music playing earlier. Jam it dude!
Next thing we knew we were out of the park and back on MLK Boulevard. My wife just got the words out saying "we can up the pace at mile 11" when we rounded the bend displaying the 11th mile marker. I said "Ok." We than started into the 8-8:30 min/mi range which was actually feeling pretty good. We really started to pass some people as most were starting to fade a bit at the later miles of the course. On girl called out something to the tune of "nice pace" as we buzzed by. It didn't sink in at first, but then we said "thanks" after we were about 15 yards past her.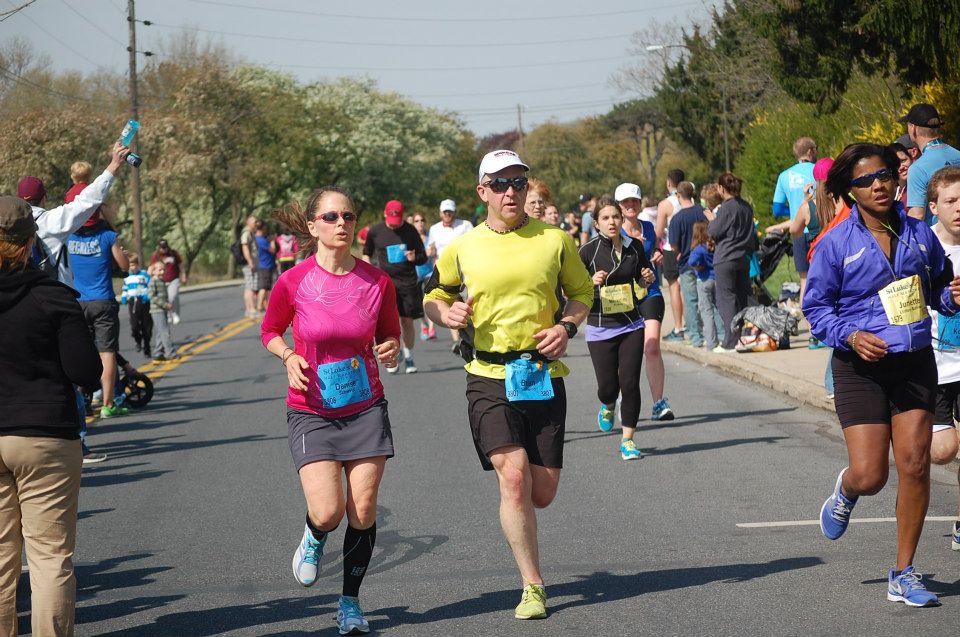 Next we could hear the thuds of the big drums pounding as we approached the short hill into the stadium. As we got onto the track for our little victory lap to the finish, my wife really started to crank up the speed. So much so that I was caught off guard and had to catch back up with her. She pointed out the finish clock time of 2:01 as we rounded the turn and I suddenly realized we could make it under 2:00 hours. I glanced at my Garmin and it read 1:59:48. I told her to "book it" and that we had 10 secs. We cranked it even more and crossed the finish with arms raised. Unfortunately it was 5 secs shy. Finish time: 2:00:05.
My wife was pretty happy with her results. Her original goal was to stay under a 10:00 min/mi pace which she far exceeded. The best part was that she felt great the rest of the day and even the rest of the week. No soreness or anything. I would say that was probably a bigger goal met than just finishing.
After the race, we decided to skip the race food due to the extremely long line and head down to Allentown Brew Works for lunch. I did have a celebratory IPA, which blew my 80 days of no beer. Oh well, I only had one anyway.
Next week is a race week with my first triathlon of the season. Back to training…