Race Name: Steelman Olympic 2012
Race Location & Country: Lake Nockamixon, PA US
Date: August 12, 2012
Race Category: Male 40-44
Why did I do this race? Close to home. Very well organized. Third year I have done this race(1 year Sprint, 2 year Olympic), so provides good test of fitness and improvements for me. Challenging course.
The Swim
0.9 miles. Shape is kind of a rectangle and goes in a counter-clockwise direction(see image below). Usually a non-wetsuit swim since it is typically very hot in August in SE PA. Although previous 2011 was wetsuit legal. Lake is pretty clean and I typically enjoy swimming here. This year I overate at the vegan buffet the night before and paid the price during the swim. You can usually find clear water after the first or second turn buoy. Exit is on a boat ramp which can be slippery, but there is always tons of great volunteers here.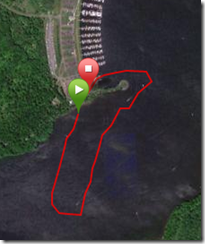 The Bike
24.6 miles. Steep little climb out of the marina right from transition is always a rude awaking to the quads. After that it is mostly downhill to rolling until the first turn. Course is a two loops of the park road(RT 563) for Olympic and one for Sprint. There are several pretty good climbs on this course with ~1300 feet of elevation gain overall. Road is totally closed to traffic during the race, but can get congested with athletes. Doing two loops causes you to run into the slower triathletes on your second loop. There is usually around 1000-1500 entrants in the race, so it can get a bit congested despite the full road. I usually end up out in the middle close to the yellow lines on my last loop. The southwest end of the course has some pretty good uphills and downhills that keep the legs in check. The lane back into T2 can get crazy with overeager athletes. This year one guy went flying past me as I was coming into T2 and took out a bunch of other triathletes dismounting their bikes. I had a first hand view of the carnage and then just tip-toed through them to the racks.
The Run
The run is probably my least favorite part of this race. It is run on a paved walking/bike path that parallels the shoreline of the lake. The path is only around 5-6 feet wide and supporting 2-way running traffic on here is extremely congested. Trying to pass a slower runner while not taking out another runner coming the other way is difficult. I have frequently had to turn sideways while passing someone. The Olympic race is 2 loops of the path and again running into more slow runners on the second loop is extremely time consuming. Path is mostly shaded, but can still get very hot and steamy. Must be from all the body heat in a confined space. Course is fairly flat with a few undulations along the way.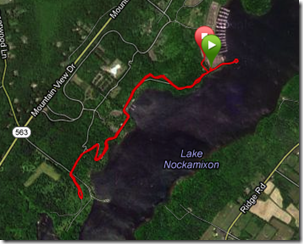 Transition
Racks are assigned by wave/age group, but there are no bib number assignments on the racks which kind a stinks. If you get there late you are most-likely at the end of the row. Things can be a bit cramped too if you are in one of the big age groups(M 35-39, 40-44, 45-49).
Race Organization
Race is very well organized and communications are great. You can count on play-by-play emails the week leading up to the race. Swag is good. Good food post race. Usually pizza, fruit, bagels, cookies. Not a lot of vegan fare though. Plenty of volunteers and they do a great job. Port-a-potty line was huge this year, so get in line early. They also have an expo the Saturday before with some decent vendors if you come down for early packet pickup.
Since they close the main road into the race area. You and any family/fans have to be in the race area by 7 AM and you are trapped there until around 10:30AM. The 10:30 exit is usually not too bad if you are doing the Olympic distance, but if you are a faster sprint triathlete you could be hanging out a while. The early arrival for any fans and family is a big detractor to getting any additional fan support. I don't really have any fan or family support other than my wife, so this is not an issue for me either.
Top Tips
Be prepared for non-wetsuit swim.
Put your bike in an easy gear heading out of T1 and easy spin up the hill out of the marina. You legs won't have much blood in them from swim yet.
Save some legs on the bike there are some good climbs on 2nd half of bike loop and you have to do them twice.
Practice your running crossovers(grapevine)  for the run. You will need it on the run course.
How did you do?
Very good. This was my second time doing the Olympic course and I shaved off ~13 minutes from the previous year. My swim was a couple minutes slower due to no wetsuit and stopping to dry heave occasionally this year, but my bike and run were both faster. It was also not quite as hot and humid this year.
Verdict
Fun local race. Good indicator of your end of season fitness and relative to most of the local tri scene in the Philly-Lehigh Valley area. If you are looking for a smaller race(entrants-wise) this may not be for you. If you like to test your meddle against most other triathletes in the area, do it up.