This review is meant to be a little more focused on the race itself and less on my performance.

Race Name: Ironman Muskoka 70.3
Country: Canada
Date: September 9th, 2012
Race Category: Male 40-44
Why did I do this race?
I wanted a late season race in September with a fresh water lake swim and cooler temps. Thought this would be nice time of year to take vacation in Canada and camp in Algonquin Park the week after(it was!). Smaller size of race entry was also appealing(~1500 entrants).
The Swim
A backwards "P" shape in a clockwise direction. Beautifully clear lake. Water was warm compared to air temperature. Last stretch to shore was shallow and it looked like I could stand up. Was my fastest 1.2 swim to date. Swim exit onto 18th green of a golf course.
The Bike
They call it the "Beauty and the Beast" for a reason. Gorgeous scenery but constantly up-and-down. Single loop. They also extended the distance to 58.4 miles(94k) with oil and chipped climbs in the last 2.5 miles. Hockey nets at aid stations to catch your empty h2o bottles was cool. Great volunteers! My legs were screaming at the end. ~3600 feet of elevation gain over 58.4 miles.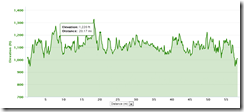 The Run
Mostly out-and-back, except for slight deviation onto a walking path on the way back. First 3 miles were up-and-down, then a steady, uphill slog to the midpoint turnaround. Then downhill until reaching the walking path that parallels the highway through some fields and woods. Path eventually connects back to highway crossing and pack along initial route. Long downhill and running on shoulder of the road took its toll on my IT Band and I am still recovering. PR-ed the run from previous years' IM 70.3 in Miami, but I think that was just due to better conditioning. Frequent aid stations. I only take water from these so not sure what else they had.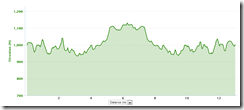 Transition
T1 was a "bear." The hill climb from the swim exit was steep and the distance to my rack was 0.34 miles total. It ended up taking me 5 minutes. It took the top pro males from 2:30-3:00 to complete as a baseline. T2 was pretty straightforward. The run exited out the back of the parking lot, opposite the bike in, and around the transition area. I started heading out the bike in until a volunteer straightened me out. My fault for not researching that better.
Race Organization
TriMuskoka is a top notch race organizer and it shows. Everything was well done and we stayed at Deerhurst Lodge which made race morning so not stressful. Volunteers are great and all the communities come out in full force to support the race. I was really hoping for Ironman Canada to come here, but it went west instead. Even still I would come back here again.
Top Tips
On swim, line up on the inside buoy opposite of what most people typically do. Because the outside buoy was in shallow water everyone lined up there and it was very crowded. I waded to the inside buoy and treaded water(over my head). There was hardly anyone there and I had open water the whole way out to first turn.
On bike, nice and easy. Save some legs for the run. Hard to really get any good rhythm on spinning with all the hills.
Stay at Deerhurst for a stress-free race morning and post-race. Worth the $$.
How did you do?
6:02:55. This was my 2nd completed half-Iron distance race(IM Pocono-DNF and IM Miami-6:08) and I accomplished everything I wanted to. Fastest swim so far. Wanted to finish under 6 hours, which I would have if the bike distance was the standard 56 miles. Wished I could have gone a little faster on bike, but I did save my legs to stay under 2 hours for run. Tore up my IT Band a bit with all the hills and road shoulder camber, which I am still recovering from.
Verdict
Great race! Will definitely consider doing it again. I highly recommend to anyone who enjoys beautiful outdoor scenery and a challenging course. Great community and Algonquin park is not far for any post-race camping vacation. Many good places to eat too with vegan options. Soul Sistas and Three Guys and a Stove were our favorites.