T2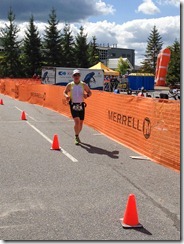 I was so relieved to arrive into T2! For one the hills were over. At least I thought so. And two, I had not suffered any mechanicals. While walking my bike to the rack, I did notice that my tire was just slightly rubbing the frame. Can I use this as an excuse for my slower bike split? T2 went really well. I had my socks on already, so I just slipped my New Balance Minimus Roads' on, grabbed my run hat and Fuel Belt and I was on my way. I did start heading out the bike exit and a volunteer quickly redirected me in the proper direction. I saw my Wife over, in what I thought was an out of the way area, but it all made sense once I headed out the run exit. She was standing along the chute that we headed out of. I swung over to give her a smooch, which I think surprised the shit out of her. Everyone around her made a loud "Ahhhhhhhh" as I hit the exit timer. Time for a run!
T2 Result: Good
T2 Time: 2:14
The Run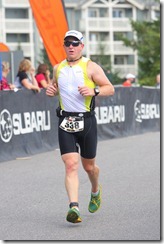 Well the anxiety of what my legs would feel like on this years run was swirling in my head. I was ecstatic to realize I had some legs this year. This was most likely due to an increase in brick workouts this season, increase in sodium intake and also saving it a little bit on the bike. I went out with the intention of running 9:30-10:00 pace for the first 2 miles. I noticed that I was having trouble going that slow unless I was going uphill. After that first two miles the course was relatively flat and ran along the major roadway Highway 60 for a bit and I got into a nice cruise pace. My legs were feeling so good. Then we crossed the highway and headed onto Fairyview Drive. This is where the hills began.
The course seemed to be constant uphill from this point until the turnaround on Williamsport Road, with one very long uphill right before. I really don't mind going uphill, except that obviously my pace slows down. When I reached the turnaround point I glanced at my Garmin and saw 57 minutes. I thought "Ok, cool under an hour, time to turn it up a notch!" All along I had been vaguely trying to calculate if I still was able to come under the 6 hour mark and thought I was most of the day. Even at this point I still thought I had a chance. The course should be mostly downhill or flat from this point on. The problem I didn't anticipate was the toll the downhills would take on my IT band.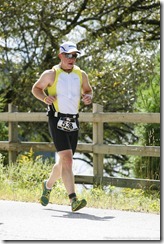 As I was cruising down Muskoka Road 3, I could feel a tinge of irritation in my left knee. I knew instantly that it was IT Band issues which I had dealt with about a decade and a half ago on my right side. That time it also occurred running downhill. I tried to take it easy and eventually I made it to the flatter section coming off of Fairyview Drive. Instead of heading back down Highway 60, we then took a little walking path that ebbed and flowed through the fields paralleling the highway. This seemed to slow me down a bit. Not sure if it was my knee, my mind, or just that I was getting a little tired. I eventually reached a wooded section that seemed to motivate me a bit and the pace picked up some. A relay guy came by me and gave me some words of encouragement which also gave me a boost. With about a mile to go, I finally realized this was going to be real close for hitting the 6 hour mark. I then tried crank up the pace a bit more.
The small section down Cookson Bay Crescent was a push. A volunteer at the turn down said "Almost There". To which I replied "Almost Molson Time!". The downhill stretch tested my IT Band some more and I hoped nothing disastrous would happen at this point. The climb out of Cookson Bay was a little killer of a hill. I even had to resort to the Jens Voigt tactic of telling my legs to "Shut Up!" I even became vocal and I am sure the guy in front of me heard it, but at this point I really didn't give a shit. It helped! As I turned onto Canal Road I blew past a bunch of people. I had less than 2 minutes and still had a half mile to go. It was not looking good. Then when I got to the Deerhurst entrance I realized I had to come in the back and all the way around the transition area. So there was no chance at this point. I was disappointed, but happy to be done and feeling pretty good.
As I came down Canal Road I was trying to spot my wife in the crowd but didn't see her anywhere. All through the finish chute I didn't see her anywhere. WTF?? As I came into the finish line there were two other pretty close in front of me, so in order to clean up there finish photos and mine, I laid back a bit. This gave me more time to scan for my wife, but still nothing. They held up the finish ribbon for me and I continued through the finish gate. Immediately greeted by volunteers and my finishers medal was placed around my neck. As the volunteer walked me back a bit and chatted I saw my wife running down from the road with a disappointed look on her face. She tried to catch me coming down the road and just missed me and then also missed me coming through the finish. She heard my name announced as she got up to the road. Thank God for pictures!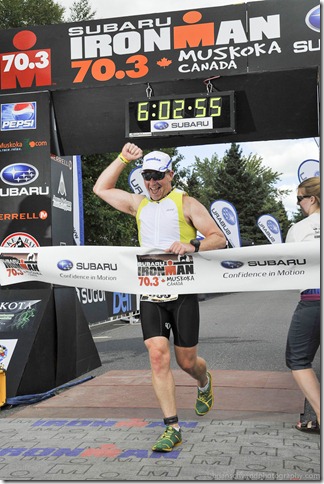 Run Result: Great
Run Time: 1:58:30(9:05 min/mile)
I finished and I feel like I finished strong. My wife commented that it looked like I didn't do anything. I really had to take a leak as I had been holding it for most of the run for fear of losing precious time. I didn't have the nerve to wet myself either, so l held it. Last years Miami 70.3 run was a 2:19(10:39 min/mi pace) and this year was a 1:58(9:05 min/mile pace). Chopping off 21 minutes is a huge improvement and I am very psyched about that. Especially considering the over 700 feet in elevation gain/loss compared to the bridge in Miami. All-in-all I am immensely happy with the way this whole season has progressed. I feel like I am making large improvements in every facet. I guess that is something that comes with the experience. Ironing out those mistakes every year.
Race Result: Great!
Race Time: 6:02:55(*for 72.8, not 70.3. I figure for 70.3 my time would have been around a 5:52:25)
Now it is time to relax! A week off camping in Algonquin Park is just what the Dr. ordered. Pretty soon I will be ramping up again to get ready for my race of races, Ironman Lake Placid.