I managed to get out of bed by 6AM on Thursday morning. Had some breakfast and finished loading the car, then we were on the road by 8:15AM. The wife manned the helm for the first half of the 8 hour drive to Toronto. It's funny how she always is ready to switch as soon as I start dozing off. On the way I searched out a lunch stop in Syracuse which we should hit around lunchtime. I found a vegan place called Strong Hearts in Syracuse that was not too far off 81.
This place was all about being "vegan" and not hurting animals, so the food was more about replacing meat & dairy-related items than being whole, plant-based foods. This is the big difference between these two "camps". I had their Red-Beet Sweet Potato chili soup which was pretty good. I also had a Seitan( pronounced Say-Tan) sandwich on rye and vegan chipotle potato salad. The sandwich was loaded with vegan "cheese" which became really overbearing after a while. The potato salad was made with vegan mayo, but was pretty tasty. The cheese and the mayo left quite congested and I spitting luggies the whole way back to the car. I don't think either of those things are very healthy.
We continued on up through to Canada and made our way through the border crossing. Eventually, we arrived at the Fairfield Inn in Oakville(West Toronto) where we were staying for the night. It really stinks not having data/GPS while traveling. It is amazing how you become dependent on that and take it for granted when it is available. The Fairfield Inn was very nice and quite clean. Not a bad deal for $99. I will definitely stay at one of those again. We settled into our room a bit and relaxed for a while. We contemplated going into Downtown Toronto and see the Second City comedy show, but realized it would have been a bit of a stretch to get it all in. There was also the TIFF film festival going on in the city so we weren't sure how congested that would be, so we ended up just going out for dinner instead.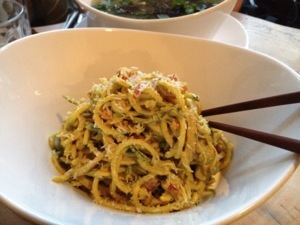 We ended up eating at Raw Aura Organic Cuisine in Port Credit. What a great find! This place was incredible. It is amazing how good raw, organic, plant-based food can be. For appetizer, we had their ravioli which was made of red beats and cashew "ricotta" cheese and a red pepper marinara. The dish was accented with their crispy Kale chips which were awesome as well. For our main course I had a Yellow Coconut Curry Noodle dish and my wife had a LARGE bowl of Miso soup. My curry noodles were made from zucchini and I actually argued with my wife that they were Soba noodles for a few minutes and then realized she was right(as usual 🙂 ). I washed it all down with a Mill St. Brewery Organic Lager. For desert I had a totally vegan brownie that was topped with a pureed cashew, coconut oil and agave icing. It was truly decadent! The meal was truly amazing and I would highly recommend this to anyone regardless of your dietary preferences.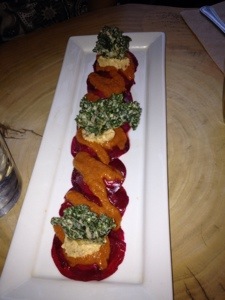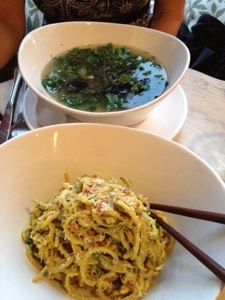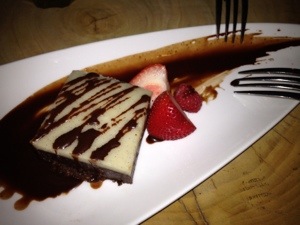 After dinner, we stopped at a nearby Irish pub so I could have a (full)pint of Guinness. Yum! It was
a long day of driving and we headed back to the hotel for a good nights sleep. Tomorrow we are planning on spending the day in Toronto. There is a Vegetarian Food Festival going on later in the day which we are hoping to hit. Found out that Rich Roll is supposed to be there too.